Aloe vera juice recipe, a healthy drink made using the gel or the flesh of the aloe vera leaf which is nowadays a sought after juice world wide. This aloe drink or water is also said to benefit in weight loss in the long run.
Other interesting indian drinks on the blog are: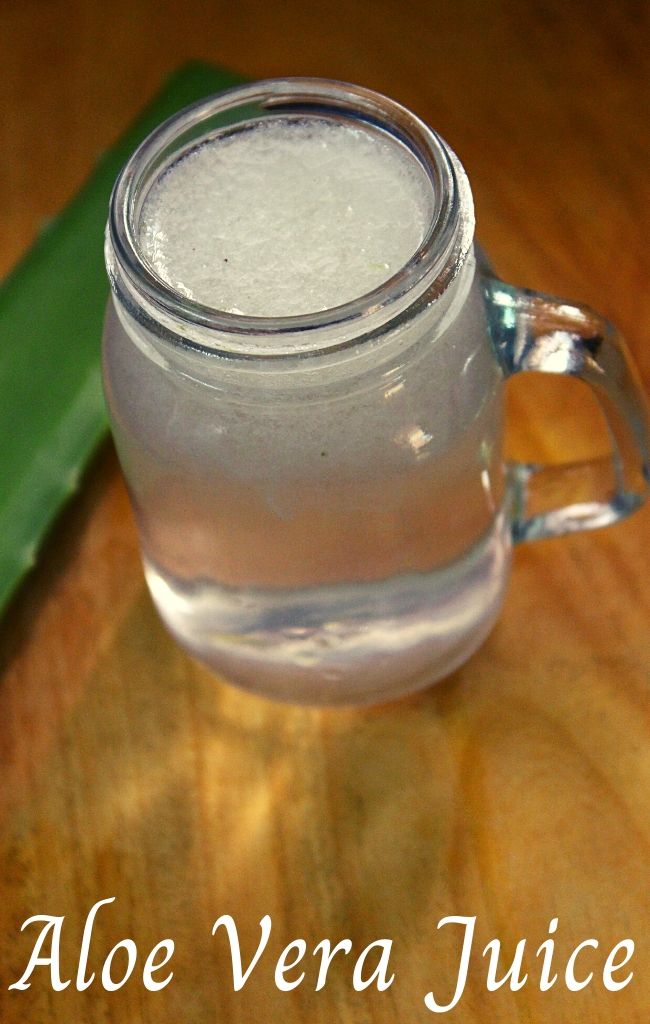 What is Aloe Vera?
Aloe Vera is a bright green leafy plant which has got big leaves with white flesh inside of the leaf.
In order to use the flesh, the leaf has to be peeled and then the flesh or gel needs to be extracted.
The extracted flesh is then used for various purposes such as its gel is made and used to treat many issues of health, skin, hair, beauty and also it is used internally in the form of a juice or a gel.
How do we use Aloe Vera Gel or Juice?
Aloe Vera Gel is nothing but the flesh that is inside of the aloe vera leaf which is crushed or blended well to get a gel out of it which is then used both internally or externally.
The Aloe Vera Juice is the diluted form of the gel which is mixed or combined with water and then consumed by adding ginger flavor or honey flavor or lemon flavor which is said to have a lot of health benefits.
Uses or Benefits of Aloe Vera :
It has lots of health benefits for hair such as applying freshly extracted aloe vera gel on hair makes your hair shiny and smooth and also prevents loss of hair.
It is also said to lower the blood sugar levels as well as benefits the heart if the aloe vera juice is consumed once in a while.
Aloe Vera helps in treating stomach related problems such as constipation and helps in proper digestion and hence keeps the weight in check.
Aloe Vera is highly used and is becoming very popular to treat beauty related issues such as sunburns and these sunburns lighten if the gel is applied regularly on the affected area.
It also keeps your skin fresh and glowing if aloe vera is applied on the face regularly.
It keeps the skin and body hydrated if the juice is consumed mainly in summers…
Consuming the drink once in a while is fine but taking heavy doses of the juice or the gel can cause serious health issues….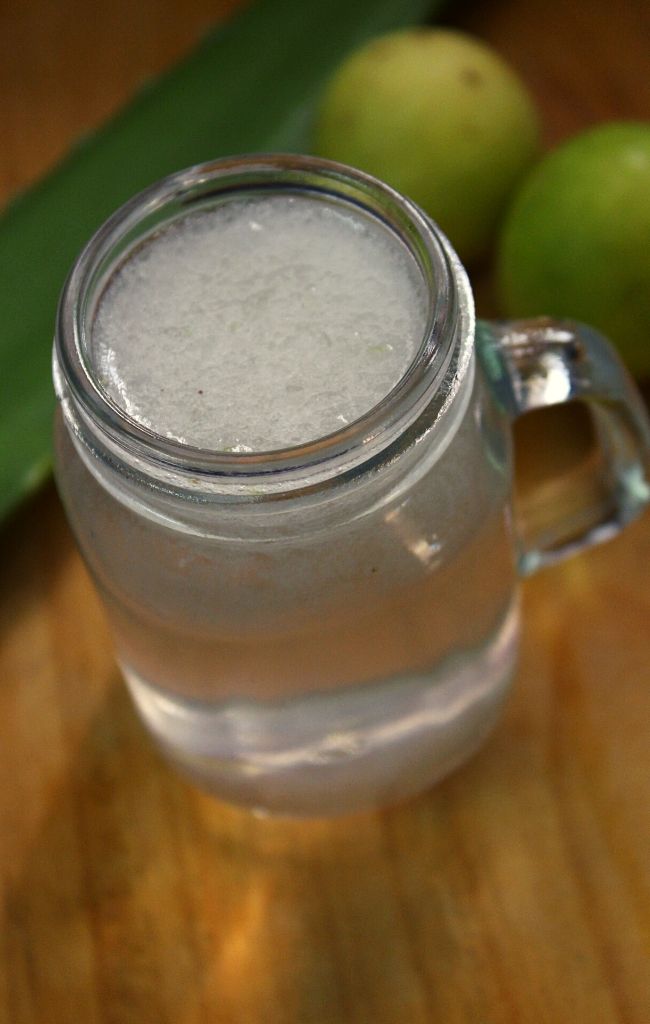 Note: Consult a doctor or a physician before consuming it daily as it has not yet been proved that is has great health benefits. Consuming weekly once or twice can be beneficial rather than using it in large quantities…
How to make aloe vera juice:
Just take a single long leaf and peel the skin of the leaf with a peeler or a knife.
Extract the gel out with a spoon.
Blend the gel by mixing some water until there are no lumps.
Use it by mixing honey or lemon extract or grated ginger which could even aid for weight loss…
Drink on empty stomach or after meals but not too often.
Making of aloe vera juice recipe is pretty simple and easy but we have to be careful while handling the leaf as the leaf while peeling is very slippery and tends to slip from the hands.
Make small chunks of the gel after peeling the leaf which would make the work of making the juice more easy.
Best way to consume aloe vera:
The best option is to mix the chunks of gel along with the drinks or juices or smoothies while blending as it is quite difficult to drink fresh aloe vera juice as it tastes slightly bitter and unique.
The other option is to add honey and lemon extract which makes it consumable and also the taste turns sweeter due to honey.
Consume it on an empty stomach for best results but can be consumed after meals as well.
There is also a video to this particular recipe which would be updated soon on the blog post…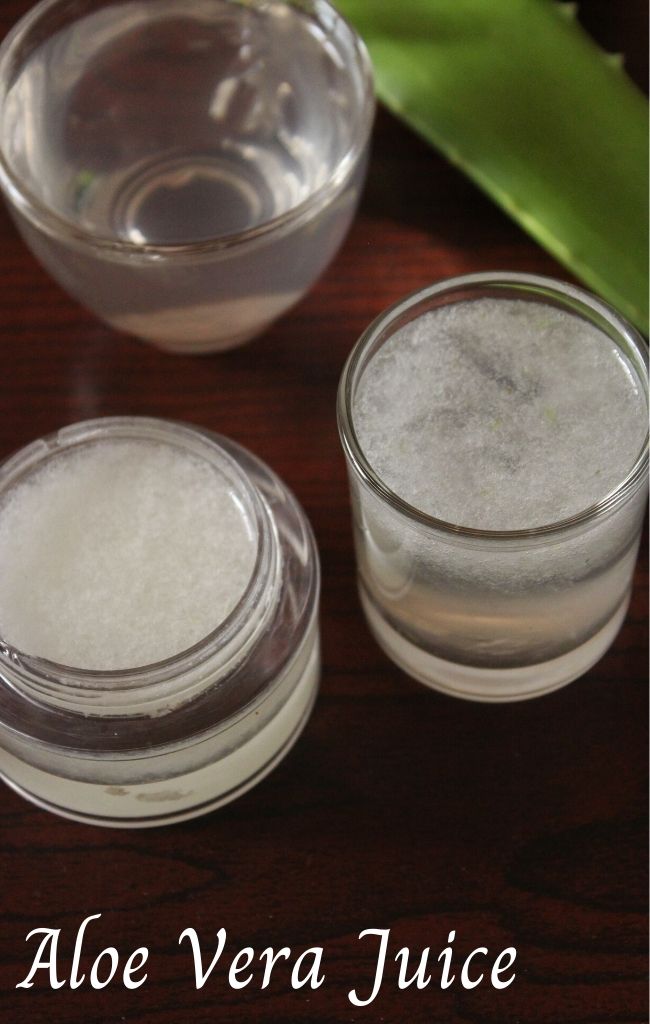 Please Note: This article is just based on how to make aloe vera juice and one must consult a doctor before using it as it is always better to consume after doctor's advice and should not be consumed with under lying health issues or during pregnancy without doctor's consent.
The uses mentioned are purely based on the various sources of information available on aloe vera which have not yet been proved and is mentioned only as a general information and for informational purpose.
Recipe procedure below:
Below are the step by step details on how to make this juice which can be consumed fresh and do not consume after storing for a long time as it can become toxic.
Check out the recipe on how to make the fresh aloe vera juice and below are the video details shared on how to make the simple aloe vera drink…
Video method with step by step procedure:
Making of Aloe Vera Juice Recipe: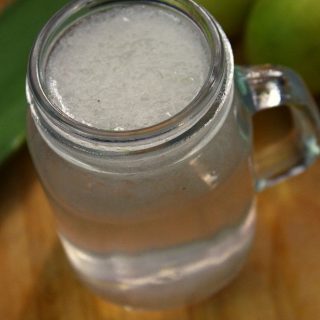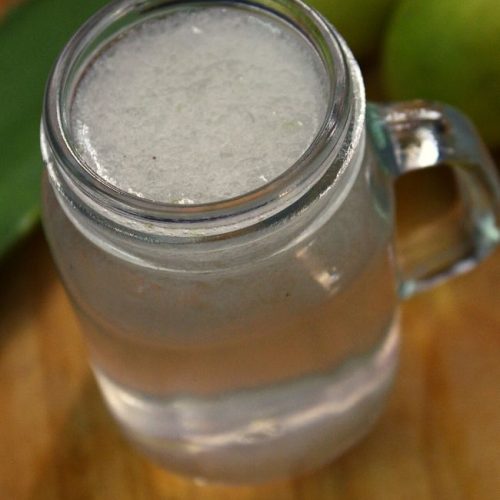 Aloe Vera Juice Recipe, Aloe Vera Drink or Water
Aloe vera juice recipe, a healthy drink made using the gel or the flesh of the aloe vera leaf…
Print
Pin
Rate
Ingredients
1

big aloe vera leaf

(6-7 cubes of aloe vera)

1

cup

water
Other ingredients required:
1/2

tsp

lemon extract

1

tsp

honey
Instructions
Extracting of the gel from leaf:
Take the leaf in your hand.

Take a knife or a peeler and peel the skin of the leaf from one end to the other.

Remove the entire skin of the leaf from all the sides.

The left over white part is the actual flesh or gel that should be used.

Cut the gel into small cubes with the help of a knife.
Making of the juice:
Take a blending jar, add the gel cubes of aloe vera.

Add some water and blend it for 4 to 5 minutes until there are no lumps of gel.

The juice should appear frothy without lumps.

Pour the fresh juice into a glass.

Add lemon extract, honey and stir well(optional).

Consume the drink fresh and immediately.
Notes
This drink should always be consumed fresh if it is home made and never drink after storing for a long time unless it is a store bought one with packaged and expiry date.
Adding lemon and honey can help in losing weight but adding these ingredients is entirely optional and can be skipped if choosing to drink only plain aloe vera juice.
Nutrition
Calories:
21
kcal
|
Carbohydrates:
6
g
|
Protein:
1
g
|
Sodium:
12
mg
|
Sugar:
6
g
Want To Watch Video Recipes?
SUBSCRIBE US ON YOUTUBE!