Ginger tea for cold is a simple tea recipe usually taken to get relief from ailments like cold, flu and sore throat. This tea is a soothing drink during colds and winters.
Other effective beverages to be tried on the blog are cinnamon water, cucumber juice, lemon for weight loss, apple cider vinegar for weight loss , turmeric water, haldi doodh tc...
Also check out simple DIY'S such as how to make rose water at home or how to make aloe vera gel at home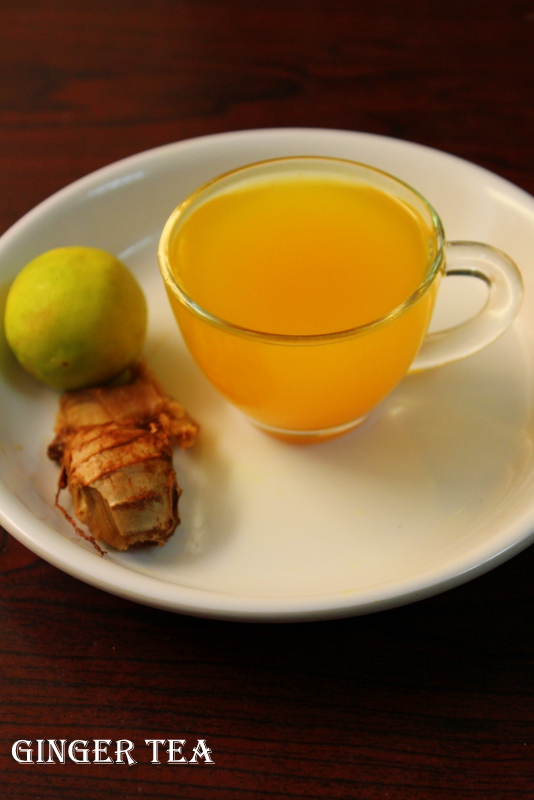 Ginger is basically a root and a useful ingredient in our kitchens. This ginger root is not only popular in Indian origin but it is a popular root all across the globe since it has various benefits.
How to use ginger?
In some countries the ginger is usually grated by removing the peel and sometimes if the ginger skin is fresh and pale then the root is directly grated and added into the cooking.
In Indian origin, it is basically added in the form of a ginger paste and also depending on the kind of a recipe, it is added in different ways such as by grating, chopping into small pieces to name a few...
Uses of ginger:
Ginger is often used to treat nausea.
It is also useful in digestion related problems and ginger helps in good digestion.
It is also used to treat cold related problems.
How to make ginger tea:
Ginger tea can be made in simple ways with many variations.
It is mainly used by steeping the flavors of ginger in warm water.
The ginger mixed water is then modified in various ways depending on the body problems.
In some ginger tea drinks, it is modified with turmeric powder, honey, black pepper powder, lemon juice and in several other ways.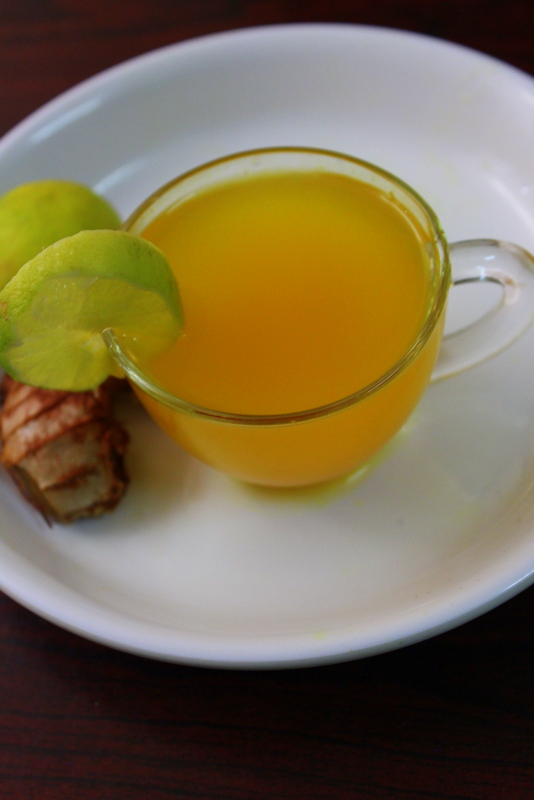 Benefits of ginger:
Ginger is mainly used to treat sore throat and this root helps in treating the inflammation or the swelling caused in the throat and also soothes it as well.
Ginger benefits a human throat by killing the virus and bringing a soothing relief if ginger is used by making ginger tea and consumed daily.
It is useful in fighting several infections and is also known to reduce menstrual cramps etc...
When to consume this tea?
The ginger tea can be taken any time of the day if one suffers from cold and throat issues. It should be taken at least twice or thrice to have a soothing relief inside the throat and to get rid of the virus that causes these ailments.
What if there is no ginger?
Ginger root is available almost everywhere and in every country. However, if ginger isn't available then it is better to look out for an alternative such as 'ginger powder'.
Ginger powder is easily available in grocery stores however, it is best when fresh ginger is used.
Making this particular ginger tea for cold:
Here in this tea, not only just ginger and water are the main ingredients but other ingredients such as lemon and turmeric too are important.
Lemon helps in reducing the mucous or the phlegm if mixed in this drink and turmeric is a great ingredient to fight against cold and flu.
This drink or tea not only relieves from cold but also relieves us from cough as well.
When is cold usually caused:?
Sore throat, cold and cough are ailments which are usually occurred during winters or during the monsoon. The reason is because of the low temperature as well as the increase in the duration of the viruses during those climatic conditions.
Therefore, in order to get rid of those problems we can try out these home remedies that are simple, effective and worth trying.
Without further ado, here is a simple tea recipe made using simple stuff easily available in every kitchen and is a quick to do tea just in a couple of minutes.
Check out the details below...
Ginger tea for cold remedy video below...
How to make ginger tea for cold: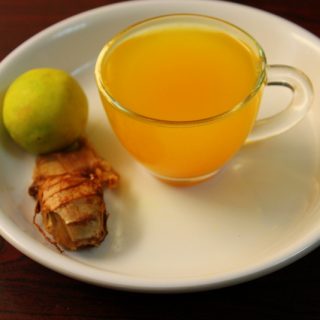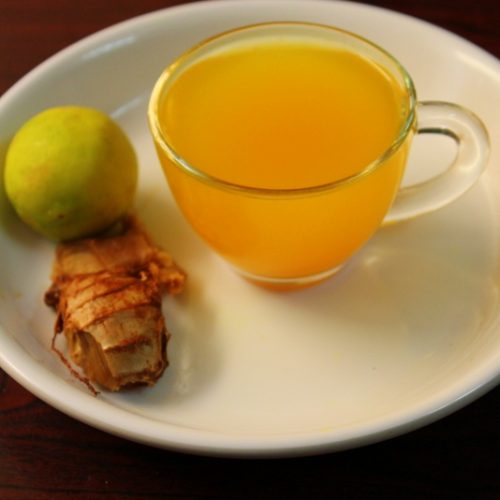 ginger tea for cold recipe, ginger for colds
A ginger drink used to treat cold and sore throat...
Ingredients  
1

glass water

½

tsp

grated ginger

(small ginger piece grated)

½

lemon cut into round slices

½

tsp

turmeric powder / haldi
Instructions 
Firstly, take a sauce pan.

Add a glass of water into the pan.

Switch on the stove.

Grate around half a teaspoon of ginger into the water.

Add thin round lemon slices into the water.

Lastly, add half a teaspoon of turmeric powder into it.

Bring all the ingredients to a boil.

Simmer and let all the flavors steep into the water well for 3-4 minutes.

Switch off the flame.

Let the tea turn lukewarm.

Pour the ginger tea into a glass or a cup.

Consume it during cold for relief and best results.
Notes
Consume this tea at least 2 times daily until one finds relief from swollen throat and cold.
Honey too can be added to this drink to make it a bit sweeter and consumable.
Grated ginger can be replaced with ginger pieces or finely chopped ginger but grated ginger gives out more juice than cut or chopped.
Hence, try to use fresh grated ginger.
Nutrition
Nutrition Facts
ginger tea for cold recipe, ginger for colds
Amount Per Serving
Calories 20
* Percent Daily Values are based on a 2000 calorie diet.
WANT TO WATCH VIDEO RECIPES?
SUBSCRIBE US ON YOUTUBE
Do try this effective home remedy and leave us your feedback after using this remedy and also leave in your suggestions for our homemade ginger tea used to treat cold....