Muskmelon juice or kharbuja juice is a dessert juice shared in this post today. Muskmelon is also called by its other name which is 'cantaloupe' and popularly named as kharbuja in India. This is a seasonal fruit and is found mostly in the month of February, march and April in Indian places. It has many benefits and this is a fruit loved by young and children.
Other juice recipes or healthy drinks to check out turmeric water, apple cider vinegar for weight loss, cinnamon water, lemon for weight loss, jeera water, strawberry juice, carrot juice, ginger for weight loss, aloe vera juice recipe etc...
Young people use this fruit in many ways such as juice or eaten by cutting small cubes of it.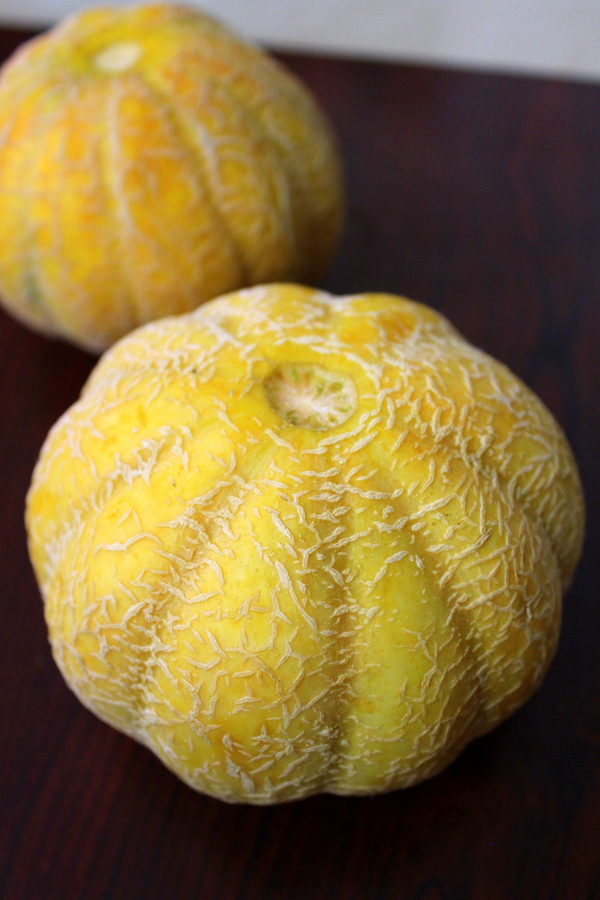 Jump to:
How does the fruit appear?
The muskmelon or the kharbuja appears round in shape and is slight white and orange mixed in color and inside it is orange in color when it is totally ripe. If it is not ripen fully then it is hard and mostly appears white in color.
The fruit tastes delicious if is ripen perfectly. Over ripen fruit tastes bad and never eat over ripen muskmelon as the tastes changes into a bitter one.
Have a look at the Indian muskmelons below.
How to take care of the fruit after buying?
Before the fruit is bought home from the market, first make sure it meets some of the necessary criteria before buying.
The fruit should not be too hard nor too ripe.
The kharbuja has to be ripen perfectly and should not be in a stage where our hands or fingers enter into the fruit once pressed. This happens in the case of over ripen fruit.
When the fruit is bought to be consumed immediately then make sure the muskmelon is properly ripen and not green.
If the fruit is not bought to be eaten immediately and it is found to be too hard and green then one better way to ripe the fruit is to leave the fruit open anywhere in the house and it gets ripen by itself with the room temperature.
Make sure it is not kept in a wet place or covered for days. Doing so might spoil the fruit completely.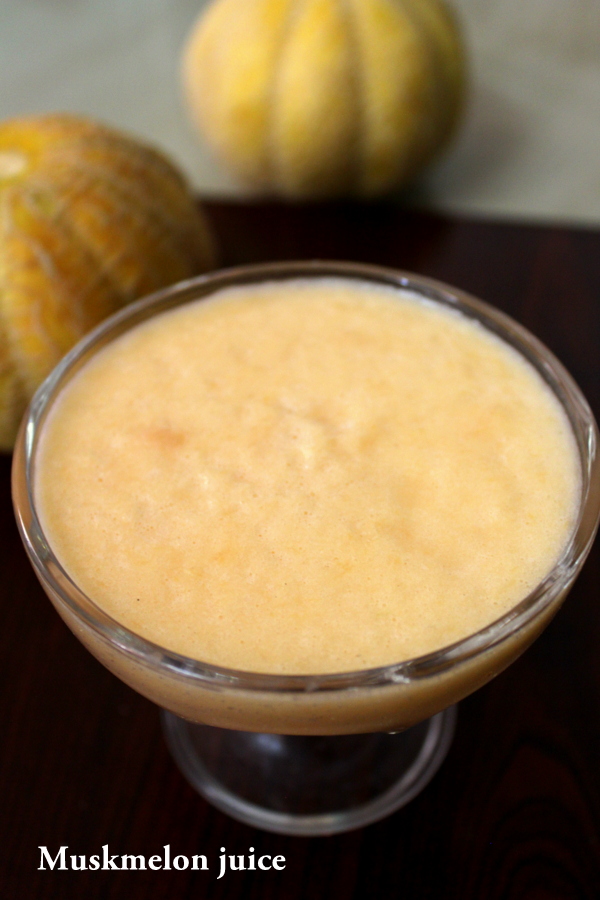 How to store or use the muskmelon fruit?
The procedure to use the kharbuja is basically peeling the entire skin of the kharbuja. Cutting it into two halves and remove the chunk of seed formation which is set in between the fruit.
Once the fruit is deseeded, cut the muskmelon into small cubes.
Muskmelon cubes can be eaten without adding anything or the tip to make it taste yummy is by adding some sugar into it.
If only half of the muskmelon is consumed and the second half has to be stored then, it should be stored inside the refrigerator and not outside nor covered.
If the fruit is covered for many days and ignored, the kharbuja would turn out to be tasteless and has to be thrown away.
How to eat the cantaloupe fruit?
Add some cubes into a bowl, add some sugar to the cubes, mix well.
2. Let the mixture sit for 10 minutes. Add milk, mix it well and eat this way.
The above method is the most common way of consuming the kharbuja fruit. This is however the solid form of eating and this post will share you the quick and easy method of making the muskmelon juice or milkshake and both are made almost in a similar manner.
This recipe shows the best and easy method of using this fruit in the form of a juice as juice helps in having the fruit in larger quantity than eating the solid part.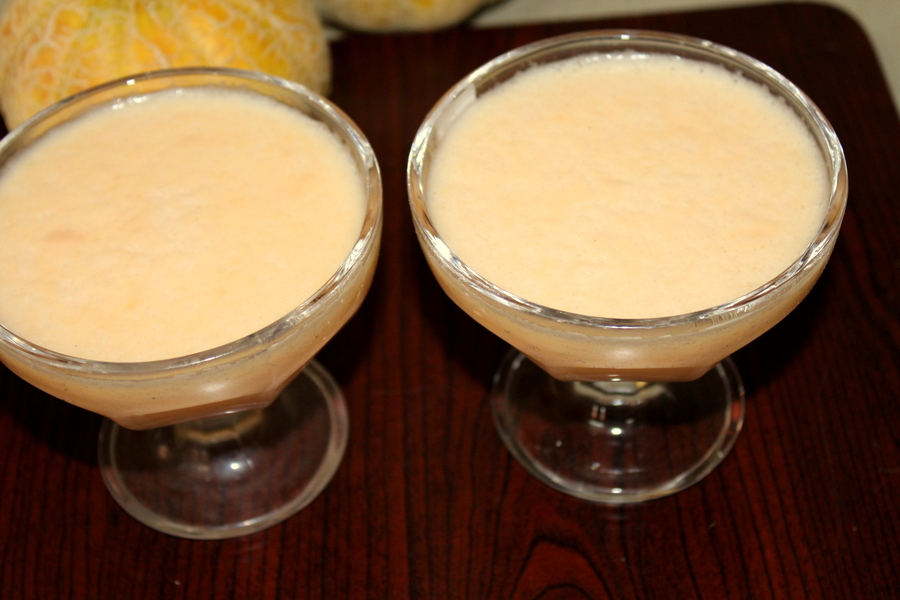 Below is a simple way of making its juice or we can call it as a milkshake by using our very own cultivated seasonal fruit of India.
It is also suggested to be used in the month of Ramadan in the fruit chaats or fruit salads that are made as it keeps our body cool and this amazing muskmelon has got many health benefits such as it reduces menstrual cramps, reduces cardiovascular problems, treats eye problems etc...
Let us have a look at one of the recipes muskmelon juice that can be made using it and enjoy the summers with various cold drinks updated on my blog.
Recipe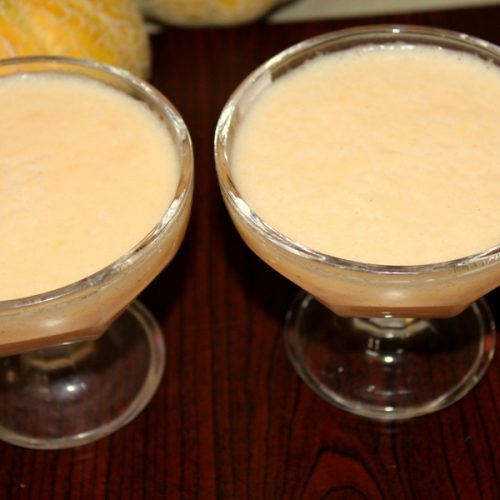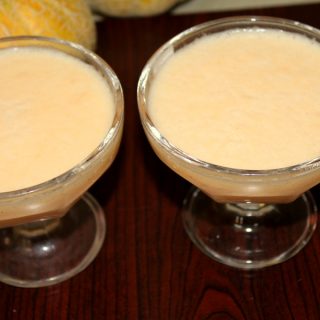 muskmelon juice recipe, kharbuja juice
A quick and easy fruit juice recipe.
Ingredients
1

small size muskmelon

peeled, deseeded and cut into cubes

sugar as per requirement or sweetness preferred

3

cups

milk

some handful of ice cubes
Instructions
Peel the whole fruit with the help of a peeler, cut into two halves and scoop out the seeds.

Cut the kharbuja into small cubes.

Take a blending jar or a juice jar, add all the kharbuja pieces into the jar.

Add some ice cubes, sugar as per preference.

Add milk as per the required consistency.

Blend all the ingredients for about 3 minutes.

Pour the juice into the glasses.

Garnish with small muskmelon pieces.

Serve chilled.
Notes
1. If the juice preference is without milk then milk can be skipped and instead milk, some water can be added and blended.
2. This juice does not require to be strained. It can be served directly without straining the juice.
3. If feeding this fruit to kids, then make a puree by mashing muskmelon completely, add little milk, mix well and feed the babies.
Nutrition
Nutrition Facts
muskmelon juice recipe, kharbuja juice
Amount Per Serving
Calories 149
Calories from Fat 72
% Daily Value*
Fat 8g12%
Cholesterol 24mg8%
Sodium 105mg5%
Potassium 322mg9%
Carbohydrates 12g4%
Protein 8g16%
Vitamin A 395IU8%
Calcium 276mg28%
Iron 1mg6%
* Percent Daily Values are based on a 2000 calorie diet.
If you liked this recipe then do leave your valuable comments in the comment section below or show us your liking by giving a star rating to our efforts...