Beef curry, a delicious gravy recipe made using easily available ingredients at home such as onions and tomatoes and this is a very simple yet tasty delicacy commonly asked for by many viewers.
There are many more meat or indian lamb recipes which should definitely be tried such as bheja fry or brain fry, tala hua gosht etc...
In India it is hard to find the beef but across the globe we see most of the population tends to eat beef and rely on searching many beef recipes that can be easily made without any hassle.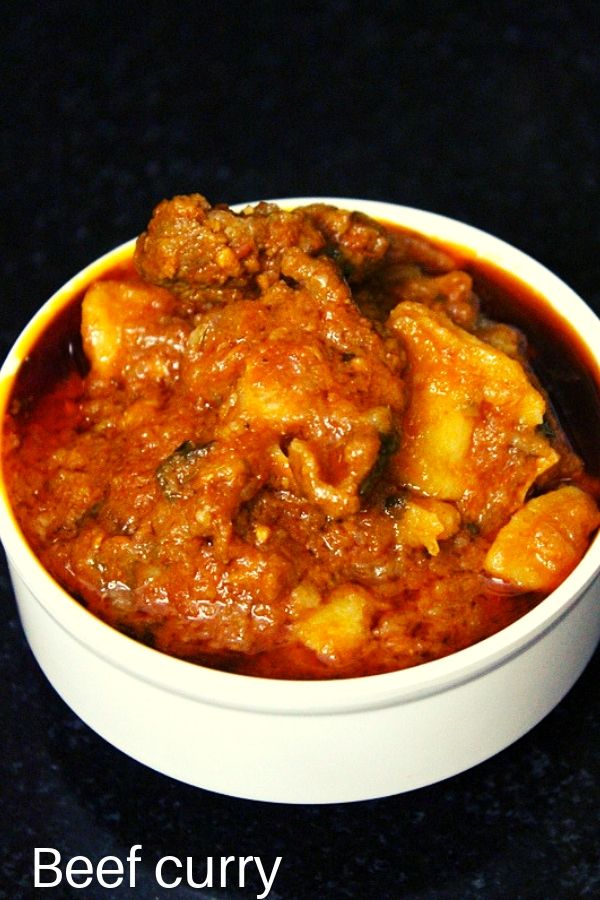 I have already shared few beef recipes such as beef fry which is a fried dish and would like to update few more beef recipes that are commonly looked for.
"Beef" is the red meat obtained from the flesh of a cow mainly that is mostly consumed in International countries and also the meat from ox or bull.
This recipe is for those who sometimes like to find simple gravy recipes or curry recipes which are quick and easy to make.
Like mutton we can make many different varieties of beef recipes such as fried stuff, kabab recipes, cutlets, gravies, biryani recipes and many more that are easily made at home.
Internationally, beef is loved by one and all and most of the restaurants serve this meat by making amazing variety of recipes in different forms.
I have here used it to make a mouth watering gravy and also by combining few potatoes which brings out the flavors of the curry if combined with veggies like potato.
Beef curry here made is one of a kind and it can be made in several ways and there are many ideas and techniques to make it.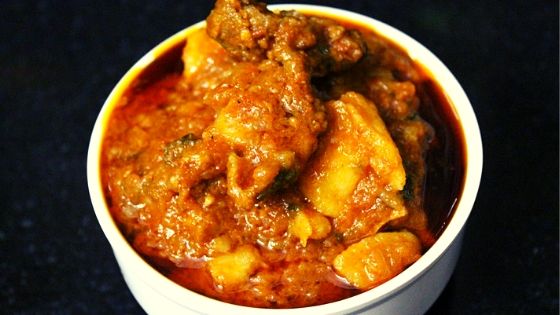 How can we make different beef curries:
First method to make simple beef curry is by using beef, onions and tomatoes. Pressure cooking the beef with these veggies and also combining with potatoes can make a delicious curry.
Second method to make this curry is by using beaten yogurt and fried onions paste which again makes a mouth watering gravy and this method too is a pressure cooker method.
Pressure cooking or slow beef is best?
Beef meat takes plenty of time to be cooked. In order to bring out the real flavors, slow cooking gives the best taste but not everyone has time to spend long hours in kitchen. In such cases, making this curry by pressure cooking too gives out unbelievable taste.
It is often very important that we buy a good quality beef meat and the flesh has to be fresh for it to get cooked soon if slow cooking method is preferred.
Normally beef can be pressure cooked since it takes 25 to 30 minutes to soften and tenderize and the best way is to give 3-4 whistles by pressure cooking which makes our work easier.
Beef good or bad?:
Beef is also said to cause some negative effects on body but including it sometimes in diet helps in body building, gives proteins to our body, repairs the cells well, strengthens immune system and keeps us strong.
Therefore, consuming it not very often is good for health and consuming it too regularly can cause damage to health.
Below I have shared my version of making beef curry recipe and would also like to here from my viewers there own version of making it and would love to here feedback from my viewers after trying out this recipe.
This particular dish can be served with steamed rice or any pulao recipe or plain roti.
How to make beef curry recipe:
Recipe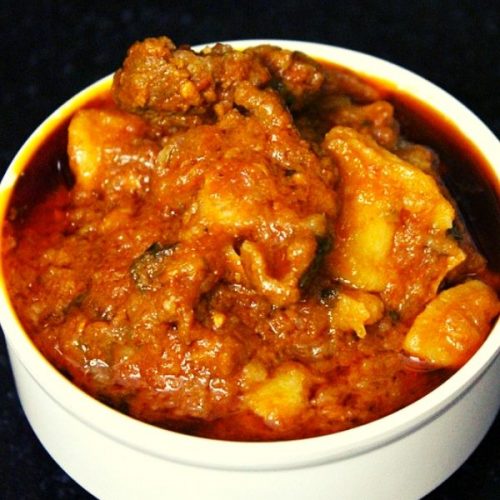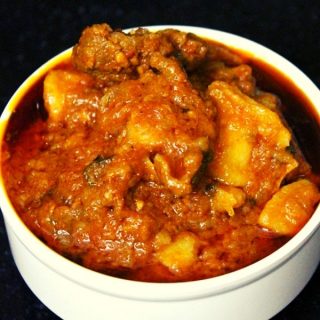 beef curry recipe, beef gravy
Simple beef curry to be eaten with rice or phulka or chapati.
Ingredients
250

gms

beef/ red meat

2

tablespoon

oil

2

onions

(finely sliced)

½

teaspoon

ginger garlic paste

2

slit green chillies

1

tomato

(finely chopped)

salt to taste

¾

teaspoon

red chilli powder

¼

teaspoon

turmeric powder/ haldi

1

cup

water

2

small potatoes

(peeled and cut into cubes)

2

teaspoon

freshly chopped coriander leaves

2

teaspoon

freshly chopped methi leaves/ fenugreek leaves

¼

teaspoon

garam masala powder

¼

teaspoon

kali mirch powder/ black pepper corn powder
Instructions
Firstly, clean the beef well and wash it well.

Take a pressure cooker, add oil and heat it.

Add the sliced onions, add slit green chillies, saute until onions turn soft.

Add the ginger garlic paste, saute for few minutes to get rid of raw smell.

Add beef and roast until the color of the beef changes and make sure to roast well.

Add the chopped tomatoes into the beef.

Add dry spices such as salt according to taste, red chilli powder, turmeric powder.

Mix well and cook the tomatoes and the masala on low flame.

Oil should start appearing at the sides.

Add water, stir well and pressure cook for 1 whistle on high flame and 3 whistles on low flame or pressure cook until the beef gets 90% tender.

Switch off the flame.

Reduce the steam.

Remove the pressure cooker lid.

Add the potato cubes, stir well.

Cover the pressure cooker lid, give one more whistle.

Switch off the flame and let all the steam escape.

Add the fresh coriander leaves and methi leaves.

Add garam masala powder and kali mirch powder.

Mix well and cook for 4-5 minutes on low flame until it becomes gravy like consistency.

Switch off the flame and serve hot.

Serve with rice or roti.
Notes
If this curry is tried using slow cooking method, then follow the same procedure in the recipe but just keep slow cooking until the meat tenderizes rather than pressure cooking and then add boiled potatoes to make the recipe cook quickly.
Rest of the ingredients can be added as mentioned in the recipe.
Adding methi leaves brings out the real flavors of the curry but if fenugreek seeds are not available then it can be skipped but they give out a good taste to beef curry.
Another simple way to make beef curry would be by slow cooking the beef in curd and fried onion paste along with some whole spices such as cinnamon, cloves, cardamom and bay leaf.
Nutrition
Nutrition Facts
beef curry recipe, beef gravy
Amount Per Serving
Calories 400
* Percent Daily Values are based on a 2000 calorie diet.
Hope my viewers enjoy this recipe in my own version and this method is traditionally hyderabadi style of making non veg curry and I would also like to show up some different methods as soon as I keep updating many more beef delicacies.
Do leave us your comments and any queries below in the comment section and we get back to you as quickly as possible.