Bheja Fry Recipe or Brain Fry is a non-veg recipe which is made with the brain of the lamb/sheep/goat. Many may not prefer eating but I must say that once eaten then nobody can resist it.
Related mutton recipes:
                       Bheja Fry is such a tasty recipe which is quick in making and good side dish for roti, naan, bread etc. It can also be eaten along with dal and rice, or can be eaten directly.
                        It is usually a breakfast combination with Roti. Bheja fry or brain fry masala is one such popular and mouth-watering dish cooked on Bakra Eid(Eid-ul-zuha).
                      While slaughtering, the brain of the animal so slaughtered is removed and cooked to make a delicious preparation known as bheja fry. It just melts in the mouth when eaten.
                    When we fry it just by adding basic spices it gives a yummy taste. I would advice to try and eat if it has not been tasted. Bheja masala fry is just boiled, fried in oil and eaten.
                           Have a look at the video or go through the instructions to know about the bheja fry recipe.
 Bheja Fry Recipe below: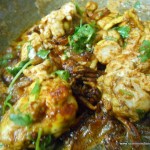 Print Recipe
Bheja Fry Recipe or Lamb Brain Fry Recipe
Easy and quick lamb brain fry recipe in Indian style...
Ingredients
1

Lamb brain/sheep brain

1

tbsp

oil

1

cup

finely chopped onions

salt to taste

1

tsp

ginger garlic paste

1

tsp

red chilli powder

a pinch of turmeric

1

tsp

coriander leaves

1/4

tsp

garam masala

1/2

tsp

coriander powder

1

tsp

lemon juice
Instructions
Wash the brain thoroughly and boil it in water with some salt and turmeric.

Remove the brain from the water.

Heat oil in a frying pan and add chopped onions.

Sauté the onions till they turn slight golden brown.

Add red chilli powder, a pinch of turmeric powder, coriander powder, garam masala, salt, ginger garlic paste . Stir well and and fry for about 10 minutes, adding a little water if required.

Add the brain and shake the pan gently to mix the brain with the spice mixture. Avoid stirring with a spoon(The brain can also be scrambled if required).

When the oil separates from the spice masala, add chopped coriander, lemon juice.

Serve hot with roti, naan or bread.
Nutrition
Like and Follow on Facebook:
Like or Follow us on our facebook page @YummyIndianKitchen to receive all the latest posts and videos from this blog....
SUBSCRIBE TO OUR YOUTUBE CHANNEL
To watch our recipe videos do SUBSCRIBE! and do not forget to press the bell icon to receive every update!!!