Bhuna gosht, a finger licking mutton delicacy using lamb which is nicely roasted until a thick roasted gravy is obtained and is different from mutton fry. This is one of the most requested recipes of mutton and I have shared many other various recipes on the blog that are related to mutton.
Each recipe is a tried and tested recipe that should definitely be attempted and also some of the recipes include video procedures too...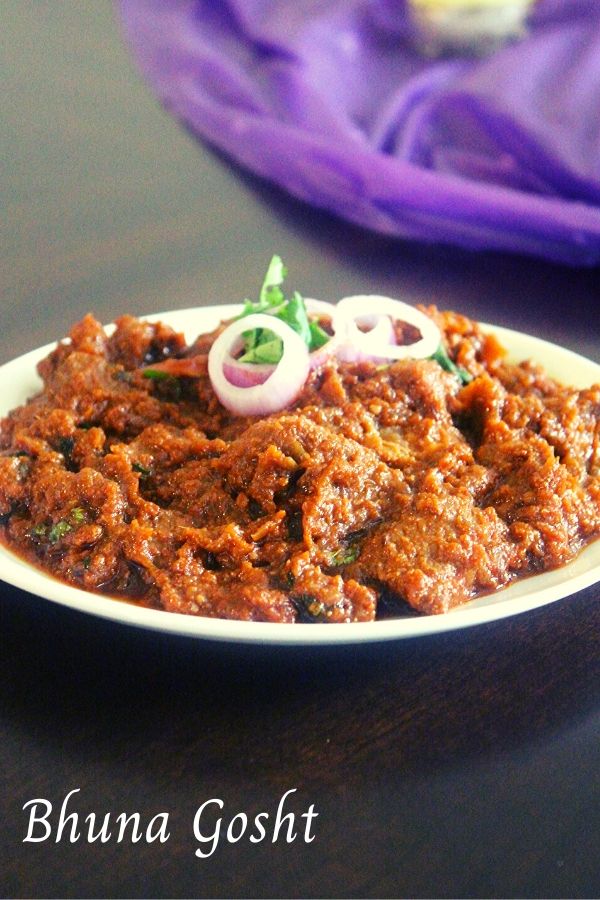 Some of the most common mutton recipes on the blog are mutton biryani, shami kabab, rogan josh , mutton soup, and mutton chops.
Recently, I have posted a south indian style of mutton recipe that is mutton kulambu which is an amazing mutton gravy recipe.
What is bhuna mutton?
Bhuna mutton is basically a hyderabadi style of roasted mutton recipe which is done in several ways but most common way is to roast mutton in onion, tomato puree...
The mutton here is slow cooked and roasted for at least 1 hour in order to get the prefect taste and the perfect result of the recipe.
To get the correct outcome it is necessary to slow cook and the cook pot has to be heavy bottomed or nonstick base in order to avoid the masala sticking at the base.
The mutton has to be roasted on low to medium flame until it is tenderized and at the same time bhuno well with the gravy.
The recipe that I posted has turned out awesome and I hope would be the best recipe made so far...
I shall upload the video soon for this recipe and for other mutton recipes too...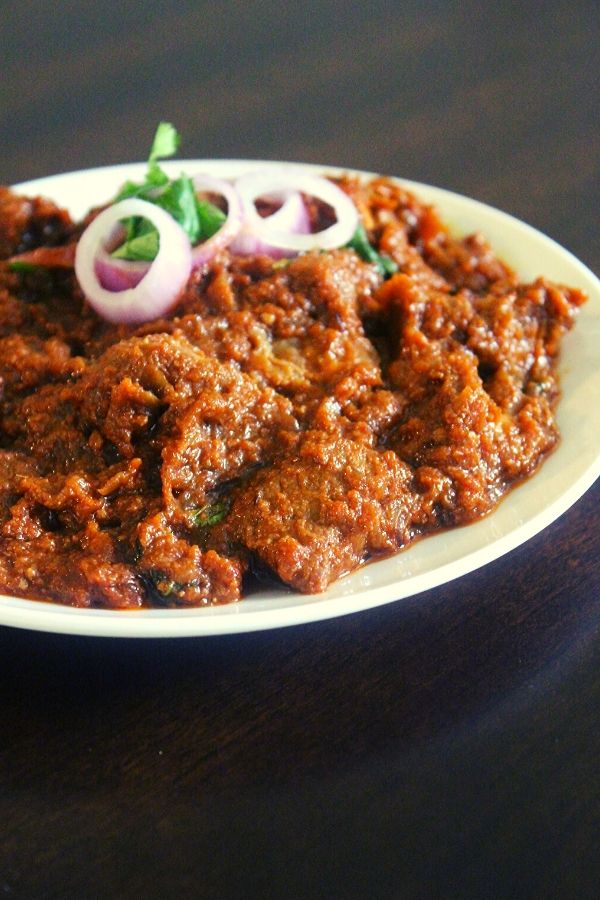 Other different ways of making mutton bhuna masala:
The other methods that can be followed to make are pressure cooking the mutton and roasting but that can be done if one has no time to slow cook as bhuna mutton tastes good only if slow cooked.
Requirements for a perfect outcome:
The mutton has to be boneless to make a bhuna gosht recipe.
There can be normal mutton too to make it and is entirely optional but it takes a while to get tenderized with bones.
Therefore, having lamb that is soft, fresh and boneless is the key to having a perfect recipe.
In order to get a good gravy it is must to add tomato puree, onions and curd which makes the gravy thick and serves as an accompaniment to chapati or phulka.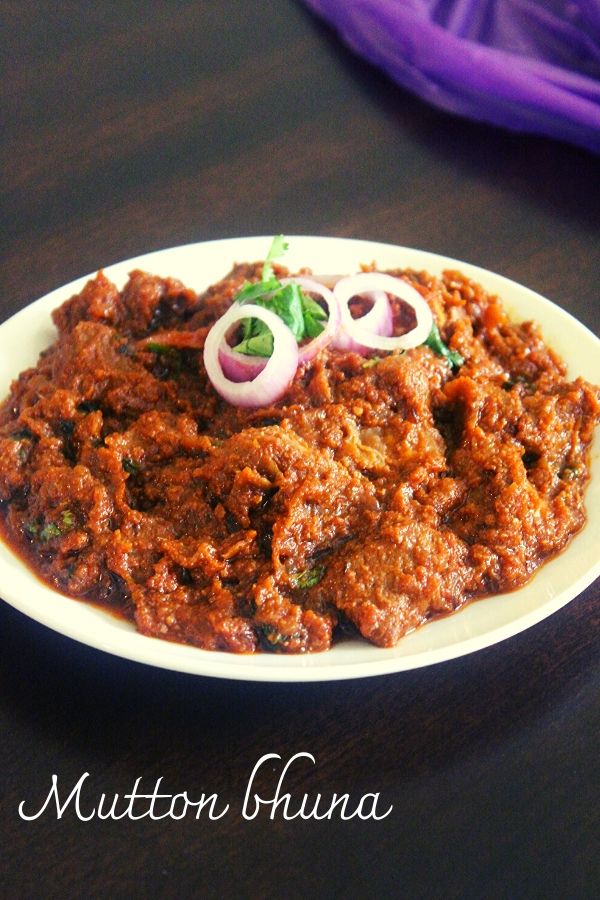 Is mutton healthy and cooks fast?
Mutton is an expensive meat of course and should not be eaten everyday as it does not turn out to be healthy if eaten often.... In order to maintain a healthy diet include mutton in diet weekly twice or thrice and try to include other healthy stuff such as fruits and vegetables in diet which completes the nutritional balance.
Having it regularly is definitely not an healthy option as it deposits lots of fat in a human body.
What are other mutton recipes?
Making mutton dishes is time consuming too and apart from few other mutton recipes it is best to pressure cook them in order to cook it quickly.
There are several ways in which mutton is used up in making various dishes such as they are made into curries, korma recipes, biryani recipes, kababs, pulao and many more...
I have shared a some of the kabab recipes such as mutton kofta which is mutton fry kind of a recipe and do check out those recipes which are made using fresh meat.
Below is a mutton bhuna gosht recipe written in detail and with step by step recipes and do check out the recipe and a video method too would be updated shortly....
How to make mutton bhuna gosht recipe:
Recipe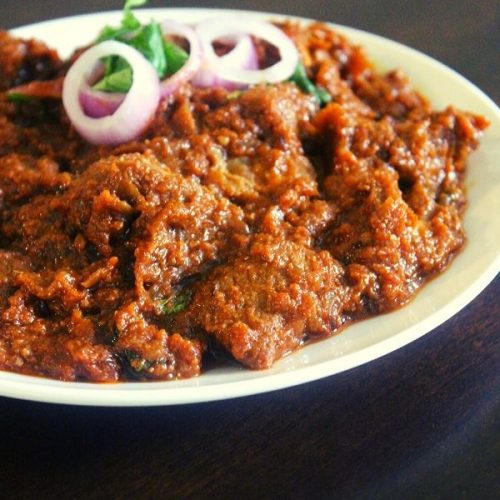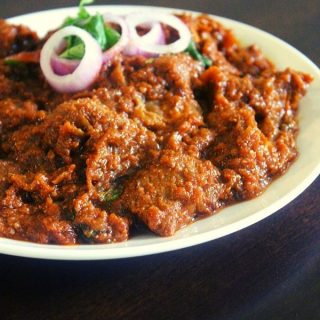 Bhuna gosht, mutton bhuna masala
A roasted mutton recipe which is slow cooked and roasted with spices.
Ingredients
250

gms

mutton/ gosht

3

tablespoon

edible oil

1

medium size cinnamon stick/ dalchini

2

cardamoms/ elaichi

½

teaspoon

caraway seeds/ shahizeera

3

cloves/ loung

1

bay leaf/ tej patta

3

medium size onions, finely sliced

1

tablespoon

ginger garlic paste

salt

to taste

1

tablespoon

red chilli powder

½

teaspoon

turmeric powder/ haldi

2

medium size tomatoes, chopped

3

tablespoon

curd/ yogurt

2

cups

water

½

teaspoon

garam masala powder

¼

tsp

black pepper powder/ kali mirch powder

½

tsp

coriander powder/ dhanya powder

3

tablespoon

chopped coriander leaves

1

tablespoon

lemon extracted juice
Instructions
Making of tomato paste/ puree:
Add 2 chopped tomatoes in a blending jar, add a pinch of salt, ¼ teaspoon red chilli powder and blend into a fine paste and keep aside for later use.
Cooking of the mutton bhuna masala:
Take a non stick pan or wok.

Add whole garam masala such as cardamoms, cloves, cinnamon, bay leaf and shahi zeera.

Add sliced onions and cook them until they turn golden brown in color.

Add ginger garlic paste and saute for few minutes on low flame to get rid of raw smell.

Add the lamb/ mutton into it and roast until the color of mutton changes.

Add dry spices such as salt, red chilli powder, turmeric powder, mix well.

Cook the masala until oil leaves the sides on low flame.

Add the tomato puree into the mutton and give a mix.

Cook the tomato puree masala for 10-15 minutes on low flame and oil should start leaving the sides.

Add beaten yogurt/ dahi and mix well.

Cook the gravy until oil leaves the sides on low flame.

Add water approximately 2 glasses, check for salt at this stage and add as per taste if required and mix well.

Cover and cook the mutton on low heat until it gets tender.

Keep stirring and keep checking in between.

If not stirred in between masala sticks to the bottom and may burn.

Once the mutton is about to tenderize, add garam masala powder, coriander powder and black pepper powder.

Cook until mutton is perfectly tenderized.

Once the mutton is almost done and soft, cook the mutton uncovered on low heat until the gravy is nicely roasted and let all the water get absorbed if there is any.

Keep stirring in between.

When mutton gets soft and roasted, add some chopped coriander leaves and cook for few minutes.

Lastly, add lemon extract, mix and switch off the flame.

Serve hot with roti, chapathi or paratha...
Notes
Slow cooking here needs patience and it turns out just as we expect it to be if slow cooked.
It has to be cooked on low flame to medium flame and not on high flame.
The masala burns and mutton may not tenderize well if done on high flame.
Slow cooking for more than an hour is the key to making a perfect mutton bhuna recipe.
Nutrition
Nutrition Facts
Bhuna gosht, mutton bhuna masala
Amount Per Serving
Calories 300
% Daily Value*
Sodium 10mg0%
Calcium 5mg1%
* Percent Daily Values are based on a 2000 calorie diet.