Would you like to convert and see the results for the query how many cups is 16 oz? We are here to help you with conversions and make you perfect in converting them in different ways that give the same results.
You can use a formula or calculate simply using simple mathematics or in your mind and get the values for simple questions and help yourself while you cook in the kitchen.
Coming from a Mathematics background, it has made it super easy to mention the conversions in a clear and precise manner.
Check out some more ounces to cup conversions below.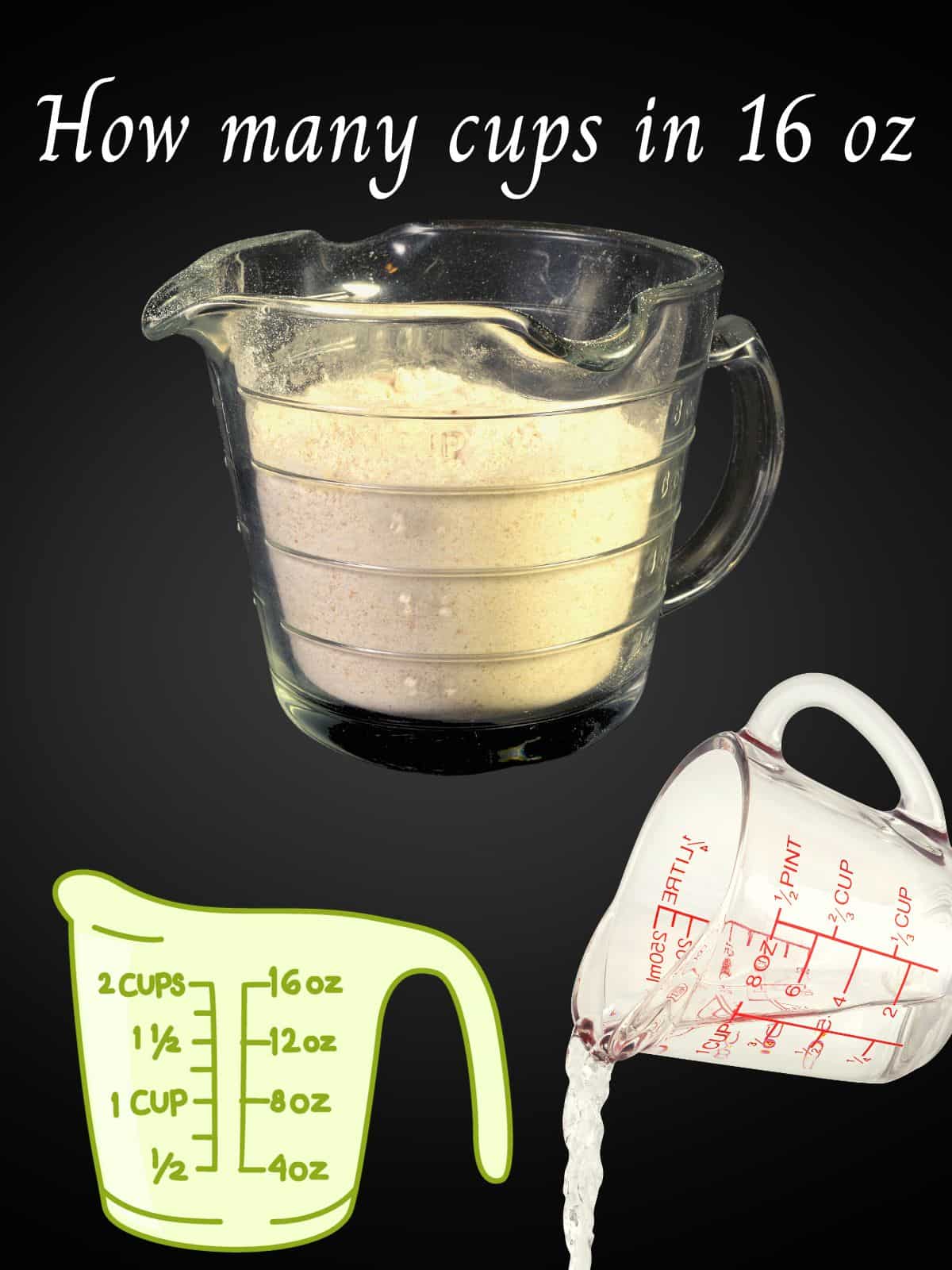 Jump to:
What is the use of cups and ounces?
It is the primary method of measuring foodstuff, and the units used are ounces.
Generally, in the cooking process, we come across ingredients that need to be measured in cups but not in ounces.
We must use a cup or a tablespoon to convert several ingredients from ounces.
Suggested: how many teaspoons in an ounce
In such a case, ounces and cup measurements are helpful. A cup in the United States is the top piece of equipment used in kitchens to measure volume and is the unit of volume.
The United States follows several customary units to measure volume, and cups and fluid ounces are a few among them.
1 cup = 236.58 mL
1 ounce = 29.57 mL
In the stores, food packaging mentions food packs in ounces for dry ingredients and fluid ounces for liquid ingredients.
In such a case, we get stuck and do not know the ounces in cups, which is where these helpful posts come into use.
You may come across sixteen ounces of a food pack that can be a dry or liquid ingredient, and you want to know how much it measures in cups.
Here, we will deal with that query in detail and learn about its conversion.
An ounce in the United customary measurement is a unit to measure mass, weight, or volume and food packages mention ounces for dry ingredients and fluid ounces for wet ingredients.
A general term used is ounces, but to specify dry and liquid, using ounces and fluid ounces clears the confusion.
How many cups is 16 oz?
To know how much 16 ounces in cups are, let us first figure out their relationship for one cup in ounces(oz).
1 US cup = 8 US fluid ounces.
1 ounce = ⅛ cup.
Now we know one cup equals 8 ounces(oz) and 1 ounce equals ⅛ cup, making it easier to convert cups to ounces and ounces to cups.
Let us simplify the above cups and ounces relationship and learn their relationship for 16 ounces.
The formula is simple; we need to divide the value of the ounce by 8 to get the number of cups.
Formula:
Cups = ounces/8
The above formula makes getting the cup value for ounces quick.
Here, we need 16 oz, and to get it using the procedure, the result is
16 oz = 16 /8
= 2 cups.
Therefore, the answer to the simple query of how many cups are in 16 oz is 2 US cups. We need to divide the ounce value by 8 to get this value.
Another method is 1 ounce, which is equivalent to 0.125 cups. To know the value of 16 oz, we get by using the formula below,
Cups = ounces * 0.125.
Therefore, to get the number of cups for 16 ounces, the result is
16 oz = 16 * 0.125
= 2 cups.
The above equation holds for fluid ounces as any liquid measuring 16 oz converted into cups is 2 US cups.
However, it varies when trying to convert sixteen(16) oz dry ingredients into cups; the answer is not 2 cups but varies with each dry ingredient of 16 oz.
Let us dive into those details below for liquid and dry ingredients.
How many cups in 16 fluid ounces?
Consider any liquid or fluid such as water, milk, oil, coffee, tea, etc., and the measurement of sixteen oz in cups is always 2 cups.
All the above ingredients mentioned are in liquid form, and all remain 16 oz as they are all in a liquid state.
Let us see some of the liquids below in the table in cups.
16 oz of water equivalent = 2 US cups.
16 oz = 473.17 mL
Check out the conversion table below for common liquids.
| | | |
| --- | --- | --- |
| Ingredient | Fluid ounces(fl oz) | US cups |
| water | 16 fl oz | 2 cups |
| milk | 16 fl oz | 2 cups |
| oil | 16 fl oz | 2 cups |
| liquid | 16 fl oz | 2 cups |
The above table shows liquids and their measurement when transferred to a cup, and the measures remain the same for most of the fluids but are not the case for the dry foodstuff.
How many cups are 16 dry ounces?
Dry ounces specifically refer to dry ingredients' weight, but generally, they are referred to as ounces on food substances packaging.
Dry ingredients do not weigh the same measure in cups for 16 oz ingredients.
The reason is that every ingredient's density is different and varies. Also, the density depends on temperature, moisture, and many other factors.
The density can be less or more depending on the dry ingredients.
Generally, food items such as flour and powdered foods have less density and occupy more volume in the cups.
For example, consider any flour that weighs 16 ounces, but when converted into cups, it is not the same as fluids that measure 2 cups—the flour weighing 16 oz measures more than 2 cups in volume. 
16 ounces of all-purpose flour = ~ 3 ¾ US cups.
Below, let us check some more examples and know the volume of dry ingredients in cups that weigh 16 oz.
Example of 16 oz dry ingredients in cups.
16 oz flour is equivalent to 3 ¾ US cups.
16 oz cake flour is equivalent to 3 ½ US cups.
16 oz almond flour is equivalent to 4 ¾ US cups,
16 oz sour cream is equal to 1 ¾ US cups
16 oz of Powdered sugar is equal to 4 US cups
16 oz of Dry pasta is equivalent to 4 ½ US cups
16 oz of Peanut butter is equivalent to 2 US cups
16 oz of Dried beans is equal to 2 ½ US cups
Table for 16 oz dry ingredients to US cups.
| | |
| --- | --- |
| 16 oz dry ingredients | US cups |
| Dry pasta | ~ 4 ½ US cups |
| All-purpose flour | ~ 3 ¾ US cups |
| Cake flour | ~ 3 ½ US cups |
| Sour cream | ~ 1 ¾ US cups |
| Flour | ~ 3 ¾ US cups |
| Peanut butter | ~ 2 US cups |
| Water | 2 US cups |
| Dried beans | 2 ½ US cups |
| Powdered sugar | 4 US cups |
In the above table, one can notice that different dry ingredient shows different volume but weighs the same, 16 oz.
The reason for showing other volumes in cups is that every ingredient has a different density, and flour usually has less density than butter.
Also, dry pasta has a lesser density than flour and occupies more volume than flour because dry pasta's density is much less than flour.
The density of water, cheese, or butter is more than flour or powdered sugar and thus needs less volume, unlike ground sugar flour.
16 oz in tablespoons and teaspoons
Sometimes, we like to measure ingredients using tablespoons or teaspoons in case we run out of cups, although it can be challenging and takes a long time as they are more prominent in number.
Still, to remember ounces in tablespoons and teaspoons, 16 oz in tablespoons is 32 tablespoons and 16 oz in teaspoons is 96 teaspoons.
Looking at the above numbers, we can say it is easier to measure in cups or use a food scale to measure the weight of the ingredients in ounces than using spoons.
Use tablespoons and teaspoons only for smaller measures, and use cups or scales to measure ounces for larger quantities.
Suggested:
Conclusion
In conclusion, using a cup is a better choice if measuring any ingredient, such as liquids.
For dry ingredients, using a food scale or a digital scale is a perfect choice as the scale helps you make accurate measures and never go wrong in adding any ingredient of any weight.
For liquid substances, 16 ounces equals 2 US cups, and dry ingredients vary for every 16 oz weight of dry ingredients, such as 16 oz of powdered sugar occupies a volume of 4 US cups, and 16 oz of flour occupies 3.75 US cups in volume.
Thus, it varies for dry and liquid ingredients, but generally, 2 cups are equivalent to 16 ounces in their volume.
If you have any questions, leave us your feedback in the comments below, and we can give you the correct solution for your conversion questions and help you solve your cooking measures.