Looking for an answer to know how many tablespoons in ¾ cup? The answer is easy to calculate, which is highly useful in daily life, mainly in cooking while measuring various ingredients, especially in baking multiple dishes such as cakes, cookies, doughs, etc.
Also, check out many more conversions I have already posted on the blog. I look forward to updating every conversion to make it easy for the readers to get insights into unit conversions.
Suggested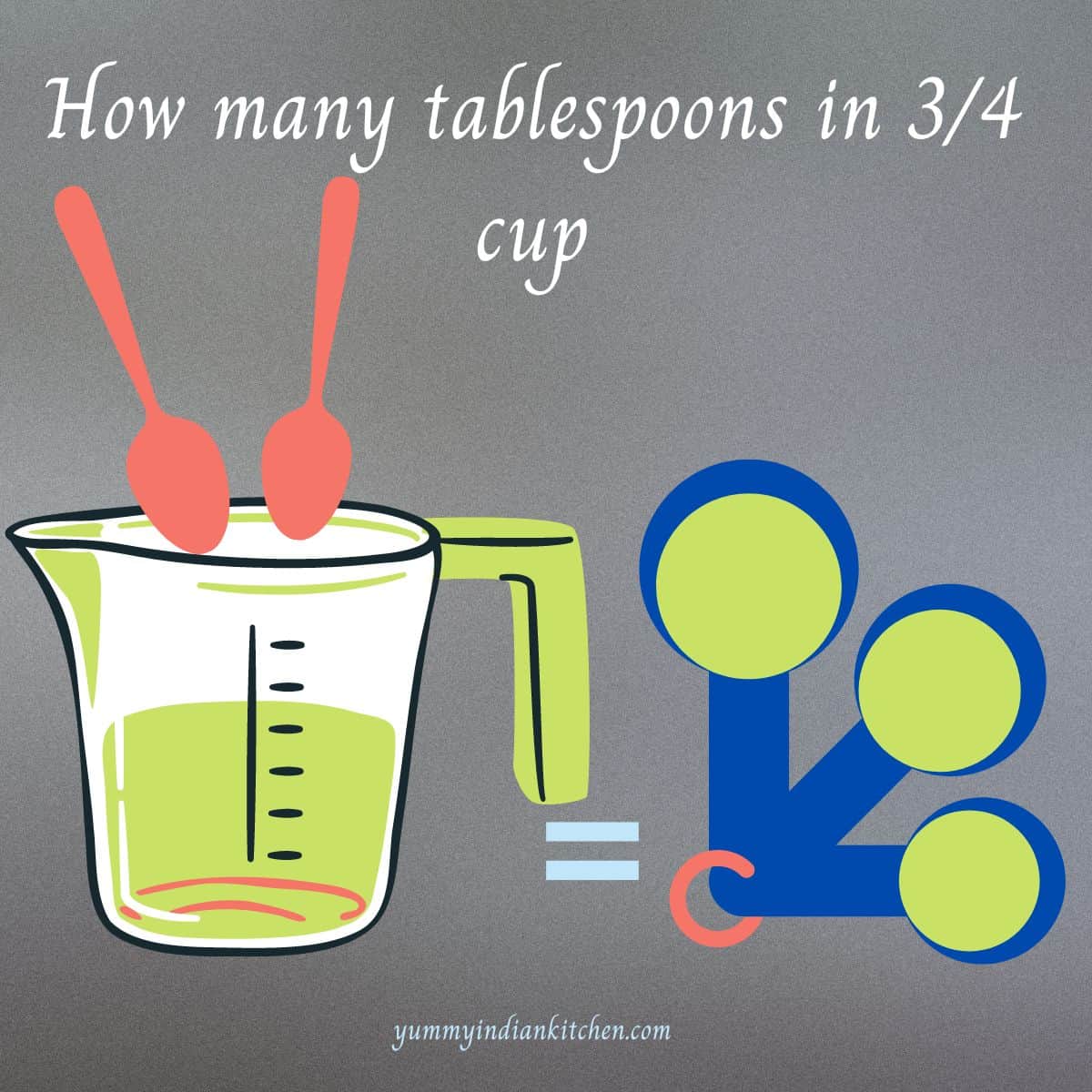 Tablespoons and cups
A tablespoon is a large spoon equivalent to 15 ml commonly used for stirring or serving food items in the kitchen. In contrast, a teaspoon is a small spoon equivalent to 5 ml.
A tablespoon is three times more than a teaspoon and is commonly used to replace cups to measure many ingredients.
A cup holds ingredients of liquid and dry properties and helps to measure them quickly because of the marking available on the cups.
The cup's marking is of ounces, milliliters, and cups to help measure quickly.
The cups do not mention tablespoons, and the measuring cups are mainly used to measure liquids, whereas a tablespoon can be used to measure a solid and a liquid ingredient.
Therefore, this easily replaces cups with tablespoons to measure any substance.
Tablespoons and cups are a unit of volume measurement in the United States Customary measurements. A tablespoon is denoted by tablespoon or tbs, whereas a cup is denoted by 'c.'
1 US tablespoon = 14.78 mL and 15 ml (for nutrition labeling).
How many tablespoons are in ¾ cup and 1 cup?
Let us get straight to the topic and convert how many tablespoons a cup is. A cup can hold 16 tablespoons, and each cup contains 8 ounces.
Simply put, 1 ounce consists of 2 tablespoons, and 8 ounces consists of 16 tablespoons.
Now the question is, how many tablespoons in ¾ cup? The answer is 12 tablespoons.
The three-fourth cup consists of 6 ounces and 177.44 milliliters.
1 US cup = 8 ounces = 16 tablespoons = 236.58 mL
¾ US cup = 6 ounces = 12 tablespoons = 177.44 mL
Let us check their formula and conversion methods below.
To get how many tablespoons for any cup value, multiply the number of cups by the number 16, as 1 cup contains 16 tablespoons.
A tablespoon equals 1/16 of a cup. Check out the conversion below for how many tablespoons is ¾ cup.
Formula
tablespoons = cups * 16
Now, let us check and justify that 12 tablespoons are for ¾ cup by using the formula above.
¾ cup = ¾ * 16 = 12 tbsp
¾ cup can also be represented in decimal form as 0.75 cups.
Therefore using the same formula, we get
0.75 cup = 0.75 * 16 = 12 (the result is same).
| | | | |
| --- | --- | --- | --- |
| US cups | US tablespoons | milliliters(mL) | Ounces(oz) |
| 1 cup | 16 tablespoons | 236.58 mL | 8 fl. oz |
| ¾ cup | 12 tablespoons | 177.44 mL | 6 fl. oz |
¾ US cups to tablespoons table
We have seen how US cups can be converted to US tablespoons. A cup divides into 16 tablespoons; we can further divide 8 tablespoons for half a cup, 4 tablespoons for ¼ cup, and 12 tablespoons for ¾ cup.
1 cup = 16 tablespoons
¾ cup = 12 tablespoons
½ cup = 8 tablespoons
¼ cup = 4 tablespoons
Suggested: how many milliliters is a tablespoon
Where do we use ¾ cup?
The measurement of ¾ cup is essentially used to measure liquids such as water, milk, oil, etc.
Apart from fluids, you can use solids to measure in cups, but there can be a lot of differences in their weight.
For example, 1 cup of flour equals approximately 4.5 oz, whereas 1 cup of water weighs 8 ounces.
Therefore, the best option is to use a cup to measure fluid or liquid and a scale for dry foods.
If you want to measure any solid such as sugar or butter, you can put tablespoons in place of cups which is a better way of measurement than using cups, as cups weigh differently for each dry ingredient.
While baking or making batters or dough, we add milk, water, and oil, and we need a cup to measure them.
Most of the time, they must be added in ¼ cup, ½ cup, or ¾ cup. In such a case, a measuring cup works wonders.
For the same recipe, if you need to measure dry ingredients such as flour, you may need to measure their weight again.
In such cases, use a food scale to measure a dry ingredient such as powdered sugar, flour, chocolate chips, etc., or use tablespoons if the added ingredients are less in quantity.
If using cups, level the ingredients after adding them to the cup and use them as directed by the recipe.
Sometimes, if you like to use a teaspoon which can be tricky as a teaspoon is a small measure than a tablespoon, use 36 teaspoons in place of 12 tablespoons for a ¾ cup.
12 tablespoons = 36 teaspoons.
Using a teaspoon can make it hard to move on with the measurements as it needs a lot of work.
Therefore, use tablespoons for small measures and use cups to measure ingredients on a food scale.
If you do not have a food scale, calculate approximate measures by noting standard US measurements, as this article shares.
Does the US use Imperial or Customary cups?
The United States follows US customary standard measurements, and Imperial cups and tablespoons are currently outdated(not used).
Still, if you like to learn and gather knowledge on how much an Imperial cup measures in tablespoons, check out the information below.
1 Imperial cup = 19.21 US tablespoons and 16 Imperial tablespoons.
¾ Imperial cup = 14.41 US tablespoons and approximately 12 Imperial tablespoons
| | | | |
| --- | --- | --- | --- |
| Cups | US Tablespoons | Imperial Tablespoons | Milliliters(mL) |
| ¾ US cup | 12 US tablespoons | ~10 Imperial tablespoons | 177.44 mL |
| ¾ Imperial cup | 14.41 US tablespoons | 12 Imperial tablespoons | 213.09 mL |
¾ US cup to Imperial and US tablespoons
One need not worry about the Imperial measures for cups and tablespoons as the US does not use them and only uses customary units of volume as cups and tablespoons are a standard volume measure in cooking.
Remembering that 1 cup equals 8 ounces and its ¾ equivalent is 6 ounces or 12 tablespoons keeps you away from any confusion.
Does the metric system use cups and tablespoons?
The Metric system does not use cups and tablespoons to measure cooking volume but uses SI units to measure mass or volume.
It mainly uses milliliters or liters to measure the volume and grams to measure the mass.
A metric cup or UK cup equals 250 ml, and a ¾ cup equals 175 ml. Generally, different countries have different cup sizes, and remembering the size of the US cup, and its equivalent tablespoons are necessary if you live in the US.
Faq's
How much does ¾ cup of sugar weigh in tablespoons?
If you replace the cup with a tablespoon to measure sugar and if you are measuring ¾ cup sugar, use 12 tablespoons.
How many cups is ¾ cup of butter in a tablespoon?
The butter equals 12 tablespoons for ¾ cup, which comes into use quite a lot while cooking as we use butter in everyday cooking.

Remember it, or check out the marking on the butter wrapper that mentions tablespoon markings on it.
How many cups are 12 tablespoons?
Twelve tablespoons equal ¾ cup or 0.75 US cup.
How many teaspoons are in ¾ cup?
There are 36 US teaspoons in ¾ cup.
In conclusion, the answer for how many tablespoons in ¾ cup is 12 tablespoons, and if you need in ounces, it is equivalent to 6 ounces.
Need more help? Leave your comments below, and we will try to get back with the answer and help you with quick conversion.