Hyderabadi Chicken Korma is an authentic Chicken Curry also called as Murghi Ka Korma is a special delicacy made with some roasted ingredients like dessicated coconut, roasted peanuts, roasted onions and roasted poppy seeds.
This dish is served during special occasions with rice delicacies and roti along with biryanis such as chicken dum biryani which is the iconic food symbol of Hyderabad and is very common in almost every Hyderabadi Muslim household.
The Korma appears slightly thick, tastes absolutely delicious and tastes even more better with bagara pulav khana which is mainly made during small gatherings or on special days.
The texture of the dish is smooth and soft and juicy as it contains fine blended paste of all the masalas which went into making it.
I have posted many chicken dishes which are murghi ka salan but this Hyderabadi Chicken Korma Recipe stands out from the rest as it tastes awesome with special rice delicacies. It can also be tried with rotis or phulkas.
This dish is very special for me as I have been watching my siblings making this dish very often in our day to day life and have also been fed this Chicken Korma very often. So, it always remains a special delicacy to me.
I thought of sharing this special recipe with my readers and gain your appreciation on this special recipe. Do try this dish and would be pleased enough to get your feedback and comments on my Chicken Recipe.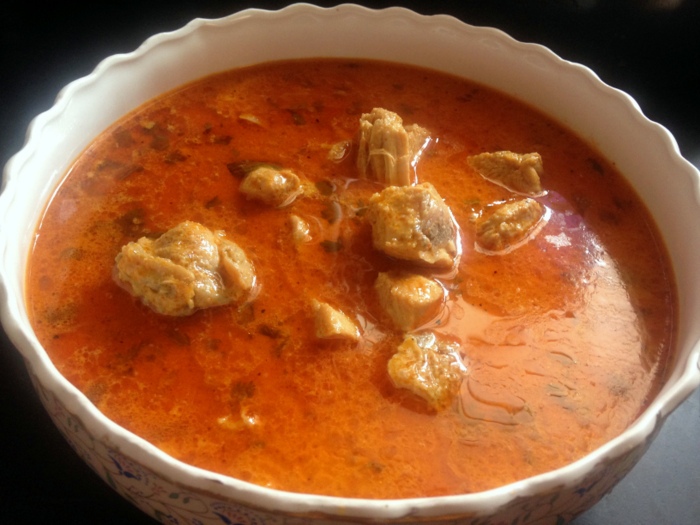 I have also shared and shown all the ingredients in the video procedure which can be followed easily...
Check out the recipe steps below...
Hyderabadi Chicken Korma Recipe Below:
Recipe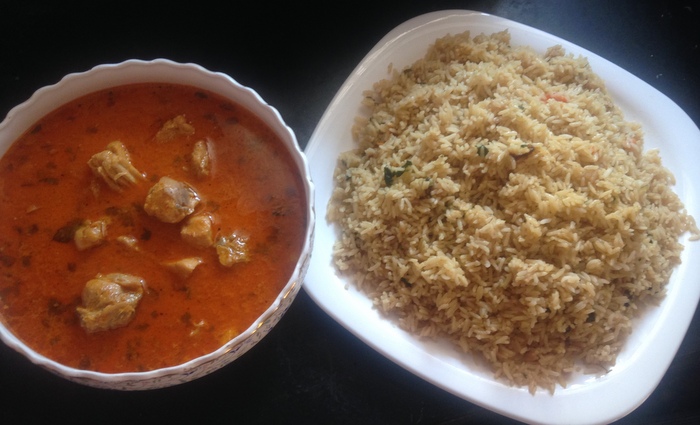 Hyderabadi Chicken Korma Recipe
Chicken cooked in hyderabadi style in coconut peanut masala.
Ingredients
1

kg

Chicken cut into pieces

1

tablespoon

oil

salt - to taste

1

teaspoon

red chilli powder

½

teaspoon

turmeric powder

1

tablespoon

ginger garlic paste
For the masala:
2

tablespoon

dessicated coconut

1

tablespoon

peanuts

1

tablespoon

khus khus

poppy seeds

2

medium sized onions finely sliced
For garnishing:
1

tablespoon

finely chopped coriander leaves

1

tablespoon

finely chopped mint leaves
Other ingredients:
1

tablespoon

oil

1

cup

yogurt

1

teaspoon

garam masala powder

2 - 3

green chillies
Instructions
Firstly, in a pressure cooker, add oil and heat it.

Wash the chicken pieces well and add them into the pressure cooker.

Roast the chicken well until slight change in color appears.

Add the dry spices which are salt, red chilli powder, turmeric powder, mix well and cook over medium flame for few minutes.

Add little water and pressure cook for two whistles until chicken gets tender and rest it aside.
Korma Procedure:
Dry roast dessicated coconut, peanuts, poppy seeds(khus khus), blend them all and make a fine paste of all.

Take a pan, heat it and add the sliced onions, smear 1 teaspoon oil all over the onions and slightly roast them for about two minutes and make a paste of it too.

Now, in a curry cooking vessel or pot, add oil, add ginger garlic paste, add green chillies or add paste of it.

Saute well and add the paste of coconuts, peanuts, poppy seeds and onion paste.

Mix and cook the masala for two to three minutes.

Add salt, red chilli powder and cook the mixture until oil leaves the masala.

If the masala paste sticks to the base then add very little water in order to avoid the burning of masala.

Add beaten yogurt, mix it well and again cook the whole korma until the masala is cooked well and also the oil should start leaving the masala.

It takes about 15 minutes for the masala to cook well on sim flame.

Finally, add the cooked chicken curry into the Korma and mix well. Add little water if you find the gravy too thick.

Add the garam masala powder, coriander leaves, mint leaves and let it cook for about five - ten minutes.

Switch off the flame and serve hot.

Tastes best when served with Pulao or Bagara Khana.
Notes
1.Whenever we add nutty ingredients like almonds or cashews or coconut or peanuts or poppy seeds, it is better to dry roast them and make a paste of it.
2.The curries taste much better by doing so.
3.Cook the masala on sim flame as the masala may stick to the bottom and may burn and spoils the Korma taste.
4.Add little water if the masala sticks the base.
5.Always add coriander and mint leaves in making any Korma as they enhance and better the taste of the Korma.
6.Also few more dry spices like coriander powder or cumin seeds powder can be added if one would wish to.
7.The dish can also be garnished with fried onions.
Nutrition
Nutrition Facts
Hyderabadi Chicken Korma Recipe
Amount Per Serving
Calories 450
* Percent Daily Values are based on a 2000 calorie diet.
Also watch my youtube videos on recipes and master your cooking art and do not forget to watch us on youtube.