Karela juice, a healthy juice recipe made using karela termed a bitter gourd in English. It is one of the healthiest drinks which cures many ailments. There are many health benefits of drinking karela juice and of course, we all hesitate to drink it due to its bitter properties.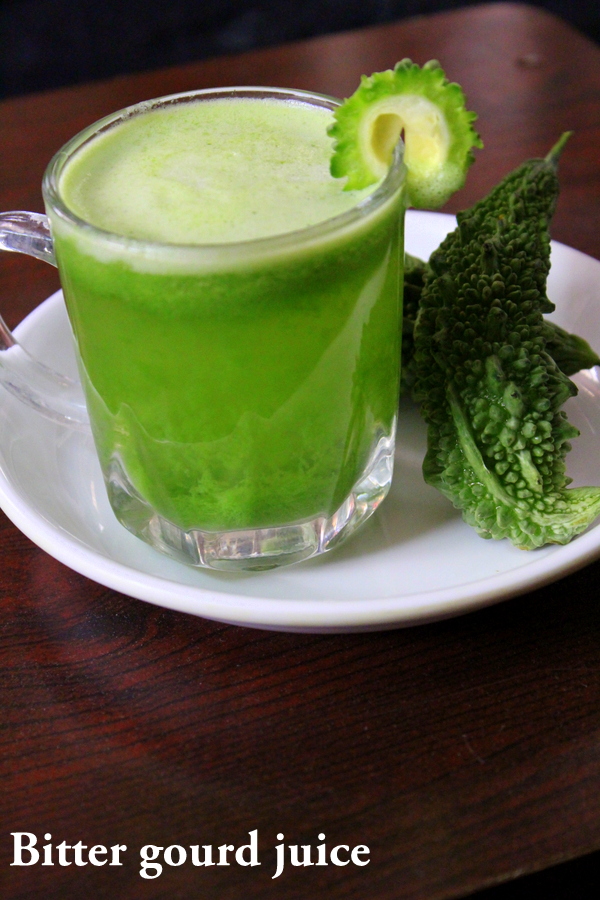 Jump to:
About karela
Karela has already been discussed on the blog with a few of its recipes like karela fry and in that recipe post, I have discussed how to remove the bitter taste of karela by mentioning certain tips and tricks.
Karela can be fried in the form of chips or can make its sabzi or extract the concentrated juice out and enjoy its benefits.
However, we can't always have equipment at home that can extract naturally with a juice extractor and too expensive to buy and there comes to my version of the recipe to be made in a mixer grinder or blender.
I have shared other healthy drinks on the blog like carrot juice, ginger water, aam panna, chaas recipe, jeera water etc...which are healthy drinks for our body and do check those drinks out and hope you like my healthy drinks.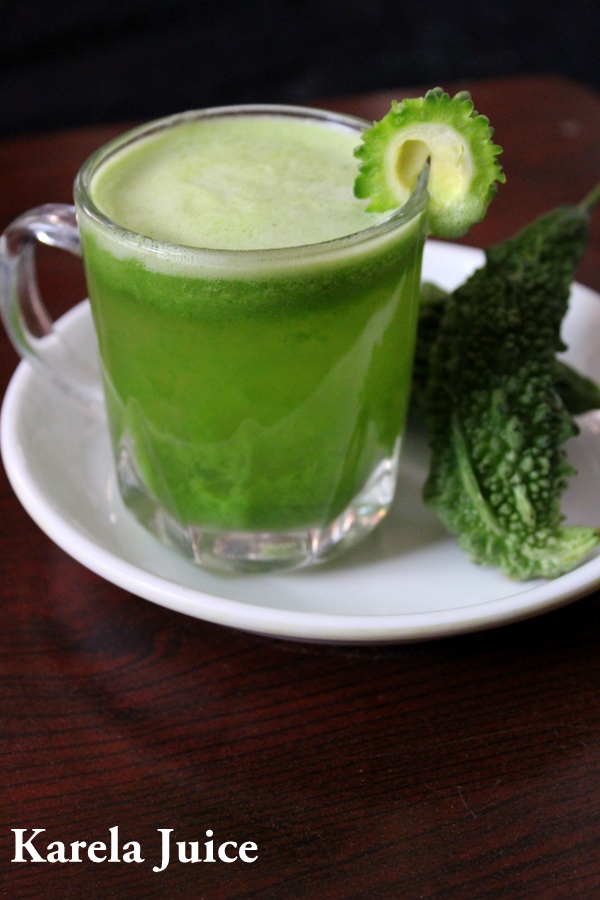 It has got many advantages if taken often or at least twice a week. The main benefits of bitter gourd juice are to those who are suffering from increased glucose levels or diabetes.
Benefits
Diabetes is mainly caused by increase of blood sugar levels and consuming this bitter drink helps to reduce blood sugar levels to certain extent according to studies.
2. It also helps in lowering of cholesterol levels and also reduces the risk of heart problems.
3. This drink works wonders for those who are not suffering from diabetes as well. Consuming this drink often makes our skin glowing and also cleanses our body because of its amazing properties.
Studies also suggest that this juice helps in reducing weight and bad cholesterol in our body.
So all the weight conscious and beauty conscious viewers do consider the miracle properties of karele ka juice and try to include this drink in diet at least once in a while and see the resluts.
Important points to remember
1. First thing to remember is bitter gourd is a very bitter vegetable and tastes bitter too after cooking or making juices out of it.
2. Some of us would like to take the bitter taste out and then consume the juice. Therefore, in order to remove its bitter taste after cutting the pieces, add some salt and turmeric water, add little water, allow it to rest for 30 minutes and then squeeze the pieces well to remove all the bitter taste, strain the karela and discard the water.
3. The pieces are now slightly without bitter taste and are ready for cooking or making the karela juice.
4. Use the washed and squeezed pieces to blend its juice.
5. If one is willing to consume the drink in bitter form, then directly cut the bitter gourd vertically, scoop out the seeds and blend the pieces by adding little water.
6. If one finds the juice too bitter, then add little honey, turmeric powder and black salt as well. It makes the juice tastier and healthy.
7. Do not add honey if suffering from diabetes.
Disadvantages
Do not consume the drink regularly or in excess.
 It in turn causes negative effects to our body.
It may cause harm to women who are expecting or pregnant and can cause miscarriage. Please avoid these drinks when one is expecting are about to conceive.
Excess intake may cause bad effects on our body and therefore, any drink should be balanced and taken in moderation without making it cause negative effects to our body.
Recipe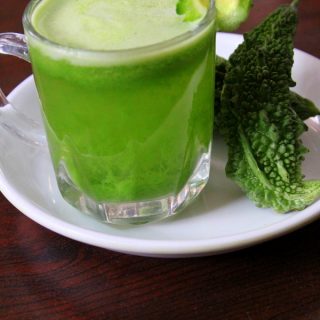 karela juice recipe, bitter gourd juice | karele ka juice
Karela juice, a healthy drink made by using bitter gourd pieces with some additional flavors to make it yummy and tasty...
Ingredients
2

bitter gourds/karela

salt to taste

1

tablespoon

lemon juice

1

cup

water
Instructions
Wash the bitter gourds or karela well.

Cut the bitter gourd vertically.

Deseed the karela by removing all the seeds with a spoon or by scooping out.

Cut the bitter gourd into small pieces.

Add the karela pieces into a blending jar and also add little water to blend them well.

Blend the karela juice finely.

Take a strainer and a bowl, strain the bitter gourd juice into the bowl.

Press the solid remains well in the strainer in order to extract all the juice out into the bowl.

Pour the juice into a glass.

Add some water if required in case the juice is very concentrated and thick.

Add some salt, lime juice, stir well.

Serve the juice.
Notes
1. If one finds the juice bitter, adding honey, turmeric powder and stirring well before consuming may make the juice a bit palatable.
Nutrition
Nutrition Facts
karela juice recipe, bitter gourd juice | karele ka juice
Amount Per Serving
Calories 3
Calories from Fat 9
% Daily Value*
Fat 1g2%
Sodium 12mg1%
Potassium 15mg0%
Carbohydrates 1g0%
Protein 1g2%
Vitamin A 1IU0%
Vitamin C 6mg7%
Calcium 8mg1%
Iron 1mg6%
* Percent Daily Values are based on a 2000 calorie diet.
However, do consult a doctor before trying out any of the healthy vegetable drinks or weight loss drinks before consuming and the article is purely based on studies suggested all across the web.
If one is suffering from various ailments or if expecting please do not drink this juice and cause bad side effects internally.