The name of the recipe pepper mutton itself is quite mouth-watering and today I would like to share an interesting version of the mutton recipe and the name pepper says it all. Here, I have used black pepper corn powder to bring the spicy flavour and also to give a hot spicy taste to the routine mutton gravy with a twist and black pepper has got amazing medicinal values and it's healthy to use in recipes...
Related mutton recipes:
This is a sort of spicy mutton recipe usually preferred in south indian regions and here to get that spicy touch I have used green chillies and the same can be replaced with red chilli powder as well.
These kind of gravy curries taste good during cold winter evenings or during the monsoons when the weather is cold and we crave for something like these kind of recipes.
Similar recipe on the blog which has lots of warm ingredients that go into the gravy curry is a recipe which is a popular Kashmiri style of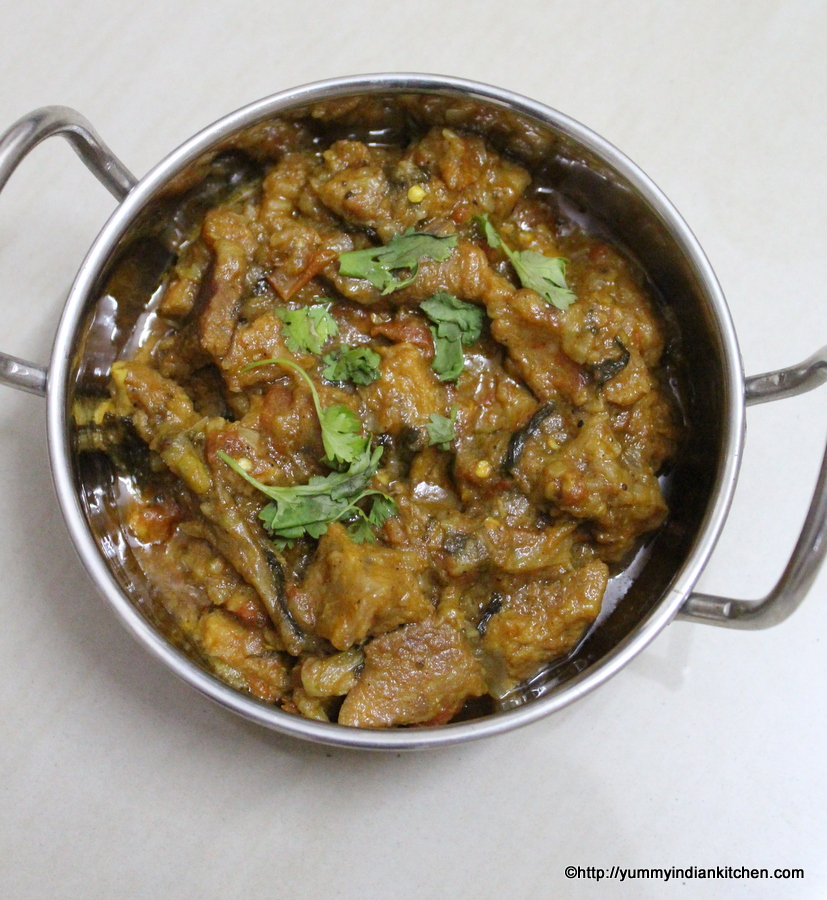 I have made the pepper mutton masala in a regular style but usually red chilli powder is added into the curry and here I have chosen to add green chillies and black pepper to bring the spicy flavor out of the mutton gravy.
Pepper mutton recipe is quite common down south as well as in andhra region. Whenever we make mutton recipes, the quality of the meat has to be fine and red.
There are various versions of making mutton recipes and each region follows its own method and procedure but the outcome is always perfect.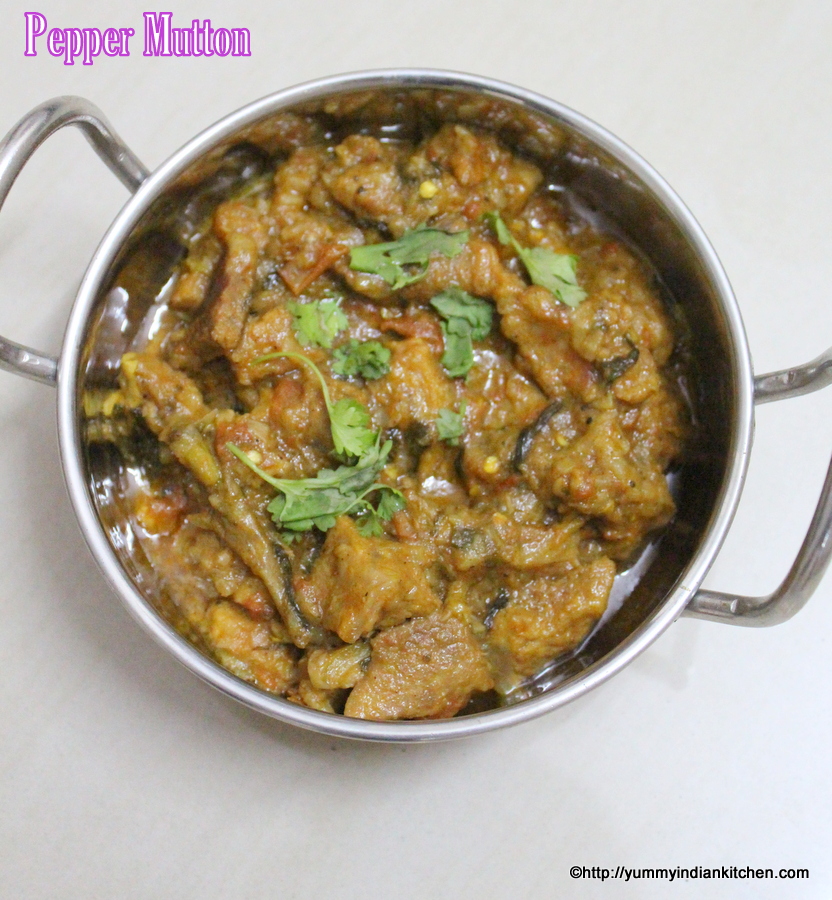 In this mutton pepper masala, I have made the masala by using onions, tomatoes and green chillies and black pepper which is perfect for winters and rainy.
The recipe goes quite well with roti/chapati as well as rice...Mutton gravies are common in hyderabad and all across south india and it is used to make curries and is also used to make many rice delicacies and used to make kababs too...
Mutton if cut into medium pieces and not large then the dish comes out perfectly and also the mutton tends to cook faster and also juicier...Large mutton chunks take long time to cook.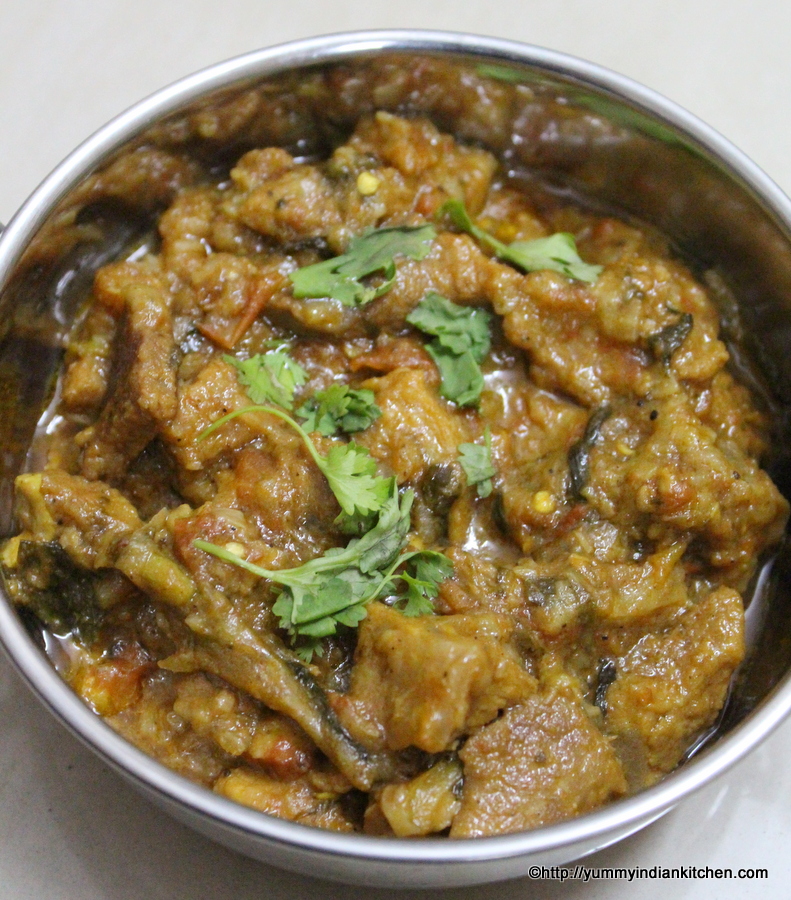 In order to make mutton pepper masala, making use of small or medium mutton chunks is necessary as cooking mutton prefectly blended with all the spices gives out a perfect and yummy taste.
Mutton or meat usually tastes best with rice delicacies and whenever we get meat at home I try to make best recipes of mutton so that I can share with my blog readers and also I try to make curries that are suitable to be eaten with rice...
Below are the recipe details on how to make the mutton recipe or mutton pepper masala which is spicy and hot with the main ingredient being pepper in the gravy...
Recipe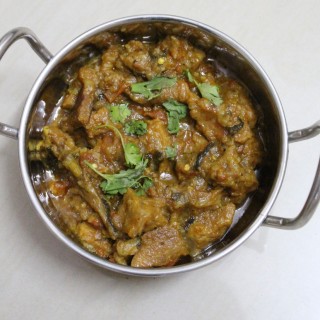 Pepper Mutton Recipe, Mutton Pepper Masala Gravy Curry
A hot and spicy pepper mutton gravy made using onions and tomatoes and best to be eaten with rice and rotis as well...
Ingredients
250

gms mutton chunks/meat cut into medium pieces

cleaned and washed

2-3

tablespoon

oil

3-4

medium size onions

finely sliced

3

vertically slit green chillies

1

tablespoon

ginger garlic paste

½

teaspoon

turmeric powder

salt - to taste

4

medium size tomatoes

finely chopped

½

teaspoon

roasted coriander seeds powder

1

tablespoon

black pepper corn powder

½

teaspoon

garam masala powder

2

tablespoon

fresh coriander leaves

4-5

curry leaves

optional

1

bunch fresh fenugreek leaves/methi leaves
Instructions
Firstly, in a pressure cooker, add oil and heat it.

Into it add sliced onions and saute for few minutes until they turn soft.

Into it, add slit green chillies and saute.

Add ginger garlic paste, turmeric powder and saute well to get rid of raw smell.

Add mutton chunks and roast them until a change in color appears.

Add tomatoes, salt as per taste and mix well.

Add black pepper corn powder according to the quantity mentioned, add coriander seeds powder, garam masala powder and mix.

Add coriander leaves, curry leaves, methi leaves and mix everything well.

Cook the whole mixture for about 5-10 minutes on low flame.

Add about 1 or 1 ½ cups of water and pressure cook the whole pepper masala until the mutton gets tender or cook until it gets soft.

Reduce the steam.

Cook for few more minutes on low flame.

Serve hot with rice or chapati!!!
Notes
If one prefers more spicy flavor then increase in quantity of black pepper corn powder is advisable as this is the key ingredient in the recipe...
Nutrition
Nutrition Facts
Pepper Mutton Recipe, Mutton Pepper Masala Gravy Curry
Amount Per Serving
Calories 400
* Percent Daily Values are based on a 2000 calorie diet.
Have you tried or liked this recipe? If yes, then do drop your comments below and give us your feedback and also if you have any queries then do ask your questions in the comments section regarding the recipe and I shall try to reply your queries as soon as possible…