Sabja seeds recipe, a basil seed drink is the best body coolant recipe to be made during summer and in this post I shall describe how to use sabja seeds in every drink and sharing with you one of the best drinks for summer using sabja seeds.
Also check out some more interesting summer drinks on the blog such as nimbu pani, badam milk, chikoo juice etc...
Sabja seeds are termed as basil seeds in english. They are also called as sweet basil seeds or most of the time they are called as tukmaria seeds.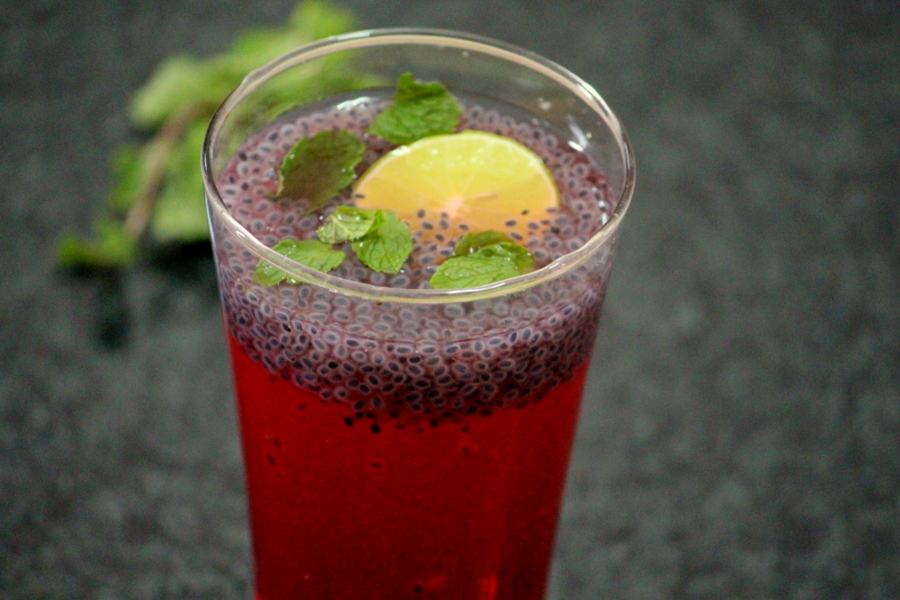 Sabja seeds are usually known for their benefits and are mostly used in summers as they beat the heat and are usually added to drinks or sharbat.
The basil seeds or sabja seeds are collected from sweet basil plant and the seeds are very nutritious and have high medicinal value. They can help in preventing constipation and also help in weight loss to some extent and also helpful as a body coolant.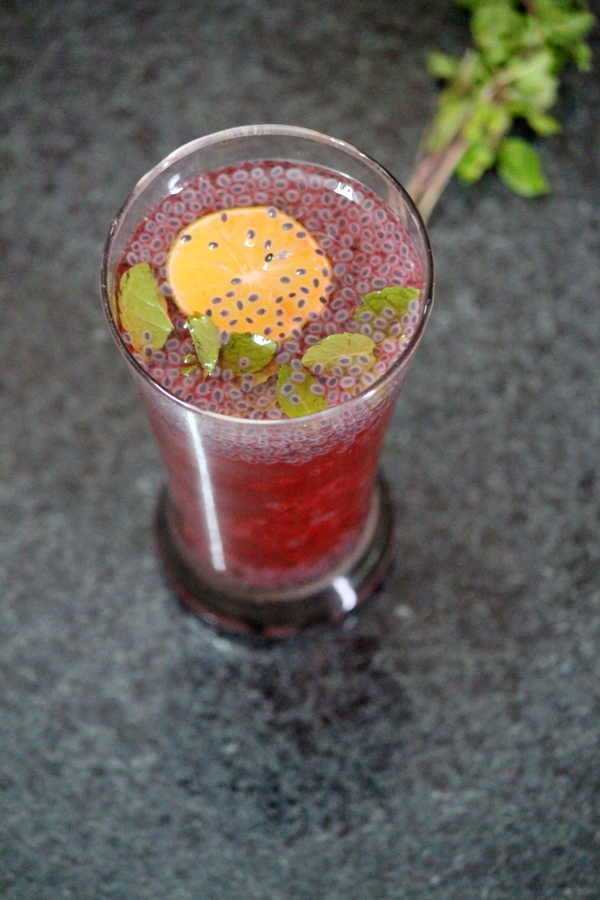 These seeds have to be soaked generally before using and they increase their size 20-30 times more than the actual size by absorbing the water and therefore the soaked seeds can be added to any drinks once they are swollen well enough and below is the pic showing how they appear once they absorb water and are soaked well.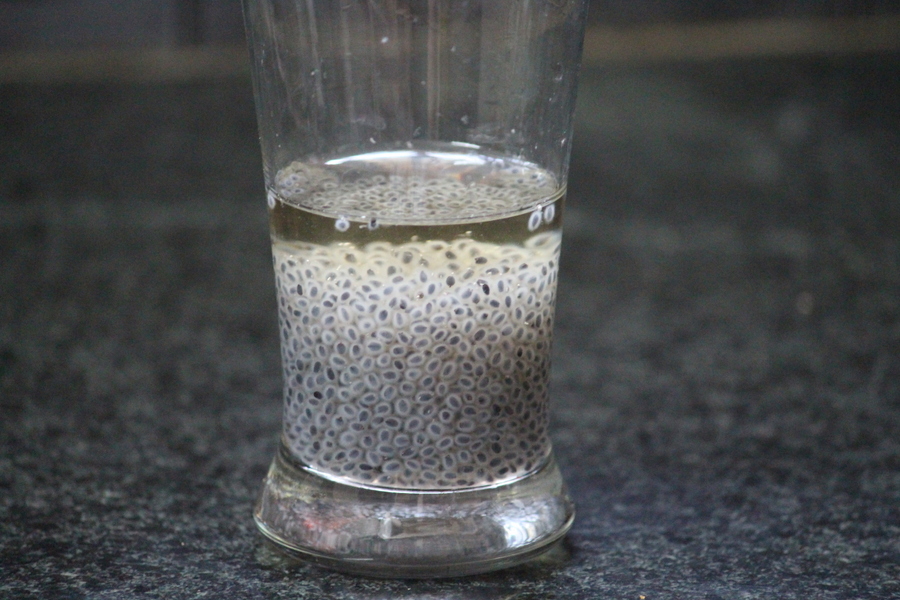 Here in this post I have made a basil seed drink which I am sure would be loved by all my readers and its the perfect blend of seeds and also a syrup called as roohafza with lemon touch into it and the drink gives a crunchy bite of the soaked seeds while chewing the seeds.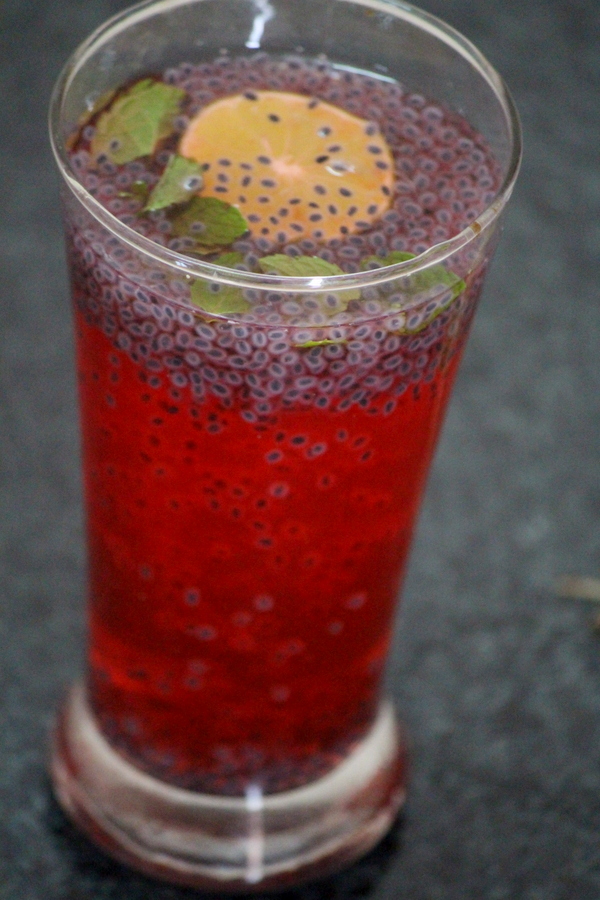 These sweet basil seeds are becoming popular worldwide for their nutritional benefits and they are quite popular in India during summers and are mostly added to Falooda/Faluda which is a special summer drink in India.
Below sharbat is the most quickest and simplest recipe to be made when a guest arrives home in hot summers and all we need is a few teaspoon of soaked sabja seeds handy.
Sabja Seeds Recipe:
Recipe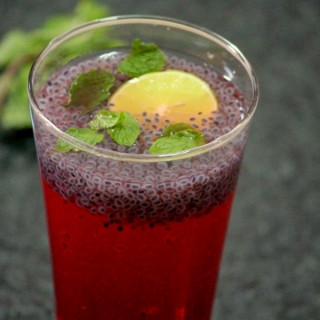 Sabja Seeds Recipe, How To Use Sabja Seeds
A sweet drink or sharbat recipe made using soaked sabja seeds which is a good drink during summers as they are a great body coolant.
Ingredients
2

teaspoon

sabja seeds/sweet basil seeds

2

glasses of chilled water and ice cubes

6

tablespoon

roohafza/rose syrup/strawberry syrup

2

teaspoon

lemon extracted juice

5-6

mint leaves
Instructions
How To Use Sabja Seeds:
Firstly, handpick any small unwanted pebbles from the seeds and discard them.

Wash the seeds once or twice.

Soak 2 teaspoon sabja seeds in 1 small bowl of water for about 2 hours.

Once they are soaked, we observe that they have increased their size many times and swollen.

Once the seeds appear swollen perfectly, strain out the excess water that remains.

The swollen soaked seeds should be added in drinks such as lemonade or falooda or any drink of our choice.

The soaked seeds can be kept in refrigerator for 2-3 days and can be added to any drink while drinking.
Making Basil Seed Drink or Sabja Seeds Drink:
In a glass, add 3 tablespoon roohafza/rose syrup/any syrup.

Add chilled water into the glass and stir well.

Add a table spoon of soaked sabja seeds into it.

Add in some lemon extracted juice.

Add in some mint leaves.

Stir the drink well.

Add ice cubes and serve chilled!!!

Similarly prepare another glass of sabja drink and serve chilled!!!
Notes
1. Here I have added sabja seeds to a syrup called as roohafza which is usually available in India but it can also be added into any rose syrup drink or strawberry syrup drink or any fruit flavored drink.
2.Adding few lemon drops and mint leaves adds in good taste to the sabja drink.
3.Soaked sabja seeds can be added to even chilled milk or fruit custard.
Nutrition
Nutrition Facts
Sabja Seeds Recipe, How To Use Sabja Seeds
Amount Per Serving
Calories 160
* Percent Daily Values are based on a 2000 calorie diet.