Soya chunks curry, a simple meal maker curry using chunks or meal maker in onion tomato gravy. 'Soya chunks' is also referred to as 'meal maker'. Other Indian veg recipes on the blog are vegetable pulao recipe, veg fried rice recipe, aloo methi, bhindi masala, bhindi ki sabji .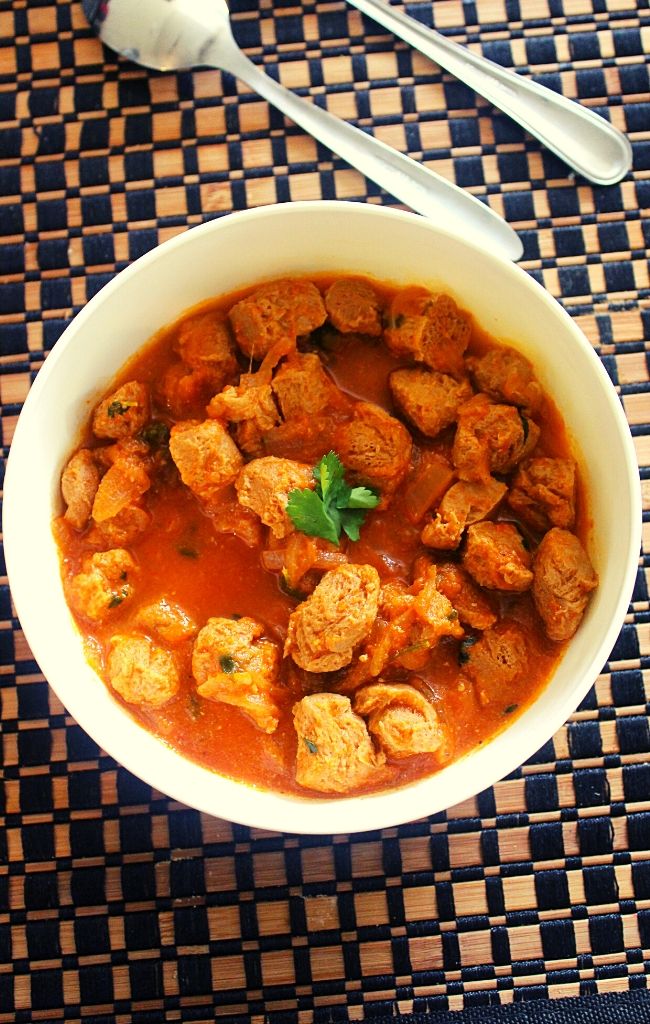 Jump to:
How are soya chunks obtained?
They are obtained from soy flour and soy flour is obtained from soya bean oil and soya chunks are a by product of soya beans.
Basically these are small brown round balls made from soy flour which have a high protein content.
Soya beans are small legumes while soya chunks are small ball shaped brown in color.
Soya bean and soya chunks both are of the same family while soya bean is small in size and soya chunks are of bigger size.
How healthy are they?
It is a substitute for meat and poultry and it has high amount of protein content and is more nutritive than eggs and meat.
This is a wonderful way of having proteins in our diet and these chunks can be included in our diet in many ways such as curries, gravies, masala recipes as well as added in mixed veggies too such as veg pulao and other flavorful rice recipes.
How to cook a meal maker?
There are certain important things that should be done before using it directly and then any recipe can be made using the meal maker.
First important thing is to boil them before adding into curries.
Never add them directly into curries.
First boil them in water by adding salt for 4-5 minutes.
Boiling makes the chunks soft.
Strain them out and run the chunks under cold water.
Squeeze them well and remove all the water from the meal maker chunks.
These soft chunks are now ready to be used in any gravy recipe.
If the chunks are not squeezed well they absorb all the gravy and make the gravy dry.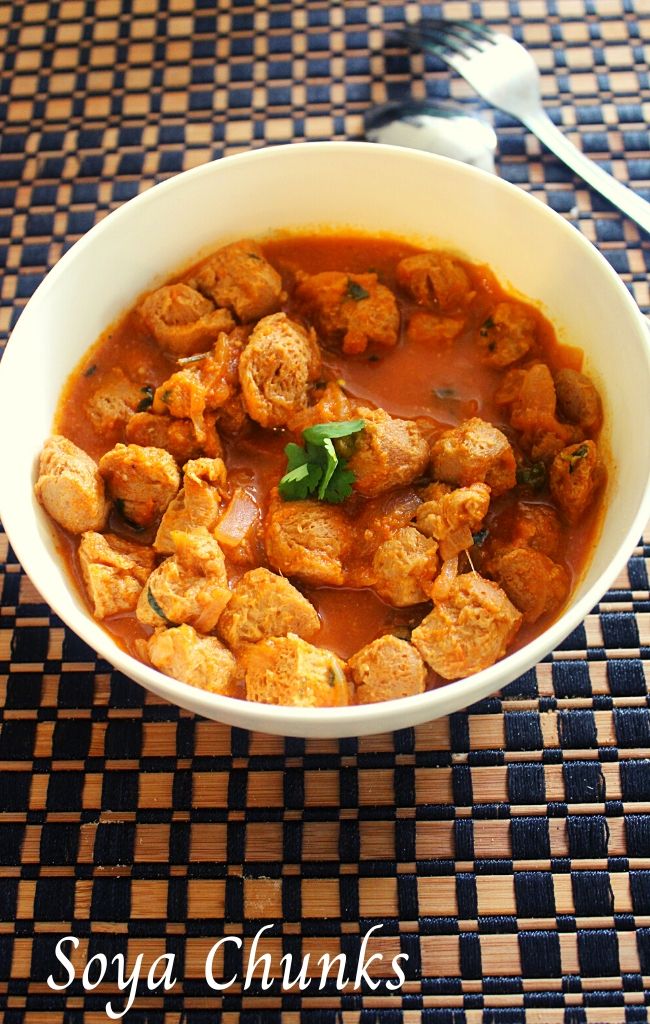 Are the chunks healthy?
Yes they are good if not eaten daily as they are rich in protein but may cause side effects too if eaten often.
Always eating any food item in moderate is healthy and the same goes with soya chunks.
Do not use them often for consuming as they may cause negative effects too.
They may affect thyroid functioning or they may cause allergies in some.
Including them weekly once or twice could be better for a human body and not daily.
These are said to cause allergies in many such as itching sensation or rashes and do avoid eating this veggie if such symptoms appear after eating meal maker.
Ingredients
Onions: Here, in this recipe I have used sliced onions but onions can be made in the form of puree too and added.
Tomatoes: I have made a puree of tomatoes by adding dry spices and then cooked the puree.
Curd: A little bit of yogurt may balance the sour flavor of the curry and therefore it is better to add yogurt or can be skipped as an optional ingredient.
Spices and whole spices: To make the recipe light I have added mild whole spices such as cinnamon and cloves.
The recipe is simple to follow and quick to make and one needs to follow the below step by step details which are pretty easy and simple to follow....
Step by step procedure
The first step is to boil the meal maker for few minutes by adding some salt and then straining them and squeezing the water from each meal maker. Then the curry is made by heating oil and spices. The sliced onions are cooked until slight brown.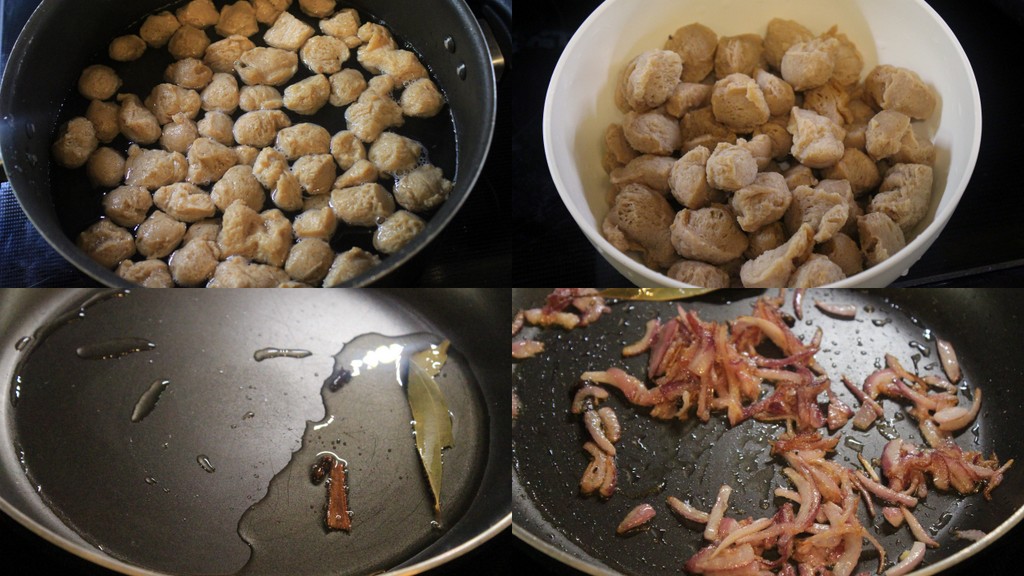 Tomatoes are chopped and blended into a puree by adding some salt and red chilli powder. The puree is added into the curry along with dry spices.
The puree is cooked well and then yogurt is added and the whole gravy is cooked well.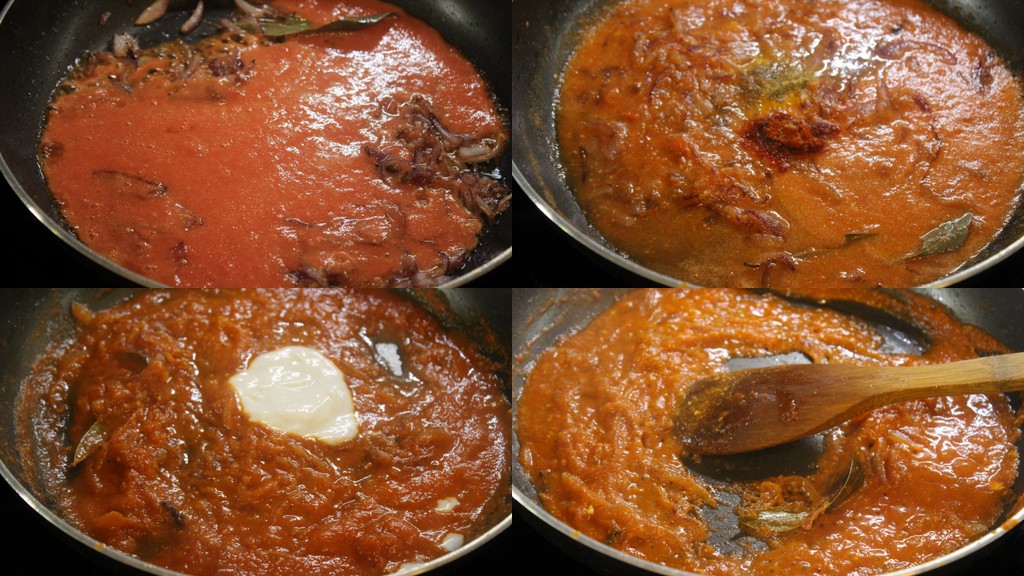 Water is then added to the gravy and then the boiled and squeezed chunks are added into the gravy and cooked for few minutes. The gravy becomes thick and the chunks absorb the flavor of the curry after few minutes of cooking.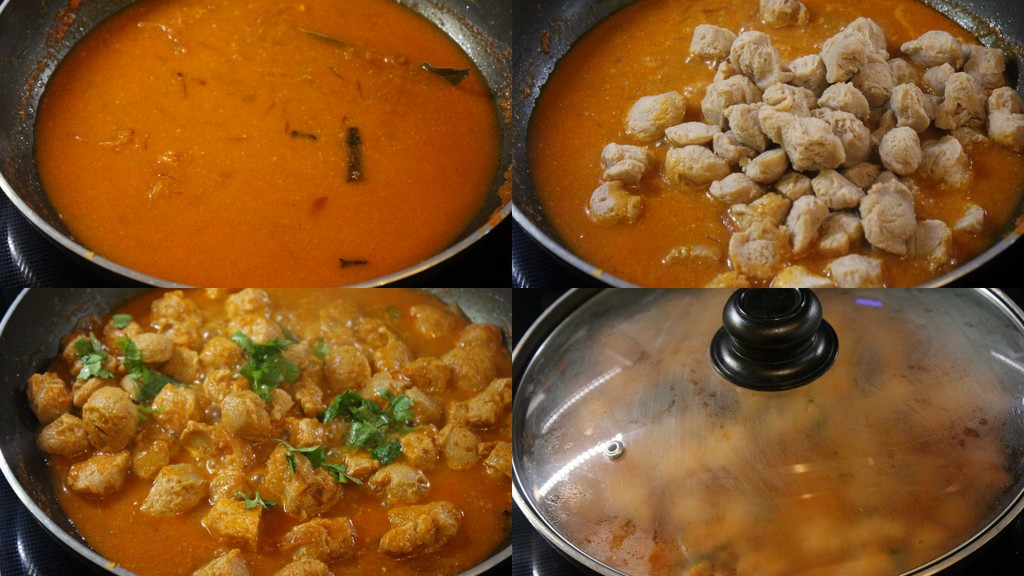 This curry is perfect to be eaten with rice, chapati or mainly it tastes good with pulao recipes such as vegetable pulao or bagara rice.
Recipe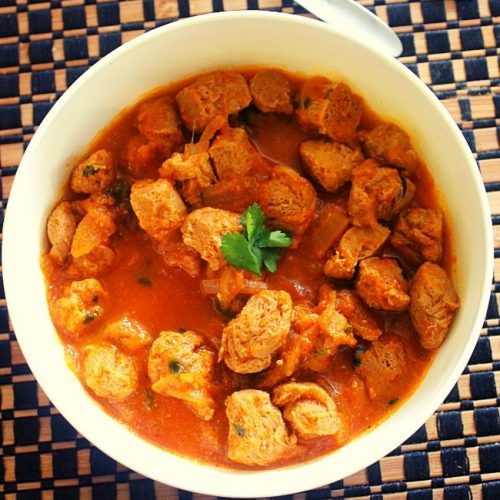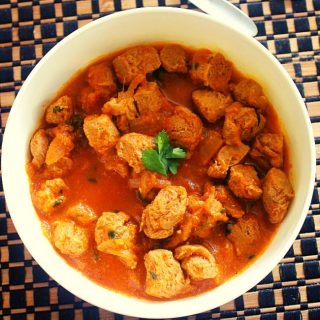 Soya Chunks Curry Recipe, Meal Maker Gravy
A meal maker gravy recipe using soya chunks in onion tomato yogurt gravy.
Ingredients
1

cup

soya chunks

(meal maker)

2

tbsp

oil

1

bay leaf

1

small cinnamon stick

(dalichini)

2

cloves

(loung)

2

medium size onions finely sliced

1

teaspoon

ginger garlic paste

3

tomatoes. chopped

½

teaspoon

red chilli powder

salt to taste

¼

teaspoon

turmeric powder

½

tsp

coriander powder

(dhania powder)

½

tsp

cumin powder

(jeera powder)

¼

teaspoon

garam masala powder

3

tablespoon

yogurt

(dahi or curd)

1

cup

water

2

tablespoon

chopped coriander leaves
Instructions
Boiling the meal maker:
Take a cooking vessel, add enough water, add some salt and bring it to a boil.

Add the soya chunks or the meal maker into the water.

Let them boil for 5-6 minutes.

Strain the chunks and run them under cold water.

Squeeze out the water from the chunks.
Making of tomato puree:
Add 3 chopped tomatoes in a blender, add some salt, red chilli powder and puree them finely.
Making of the curry:
Take a wok, add oil and heat it.

Add the cinnamon stick, bay leaf, cloves and saute for for few seconds.

Add the sliced onions and let them cook until they turn slight brown in color.

Add ginger garlic paste and saute for few seconds.

Add the tomato puree into it.

Add dry spices such as salt, red chilli powder, turmeric powder, coriander powder, cumin powder, garam masala powder.

Cook the gravy on low flame until oil appears at the sides.

Add yogurt, mix and cook the gravy until oil releases.

Add water, add the boiled and squeezed soya chunks.

Cover and cook for about 5 to 8 minutes on low flame.

Lastly, add coriander leaves and cook for 2 minutes.
Notes
In this recipe, I have used sliced onions, but one can also make a paste of boiled onions and add  in place of sliced onions.
If using onion paste, then the onion paste have to be sauteed for 2-3 minutes on low flame before adding ginger garlic paste.
Rest of the procedure can be followed the same way as mentioned.
Nutrition
Nutrition Facts
Soya Chunks Curry Recipe, Meal Maker Gravy
Amount Per Serving
Calories 268
Calories from Fat 99
% Daily Value*
Fat 11g17%
Cholesterol 3mg1%
Sodium 605mg26%
Potassium 804mg23%
Carbohydrates 27g9%
Protein 19g38%
Vitamin A 501IU10%
Vitamin C 38mg46%
Calcium 251mg25%
Iron 8mg44%
* Percent Daily Values are based on a 2000 calorie diet.