Cabbage curry or patta gobhi recipe is a veg curry that can be eaten with rice or roti. Cabbage is round in shape, light green in colour and a leafy vegetable. Cabbage is also called Patta gobhi in Hindi and is a widely used vegetable all across our country.
There are various veg curry recipes or vegetarian recipes made using vegetables like aloo matar, aloo palak etc..
Cabbage is available all acroos the world and is a wonder vegetable packed with full of vitamins. It is a vital source of vitamin c and protects us from various skin problems like scurvy, aging etc...
Cabbage tastes good in any form and it is commonly used in salads, curries, sabzi etc... It is also used to make manchurian, pakoda etc..
Cabbage is a healthy vegetable and cabbage curry can be mixed with rice and eaten. Here in this post, I have made this curry using cabbage, onions, tomatoes, methi leaves, coriander leaves etc...
To this cabbage curry or any curry I always prefer adding methi and coriander as these ingredients enhance the taste of the curry and the dish gets a nice aroma.
Cabbage contains lots of fibre in it and treats constipation and roughage in our body. Cabbage is a great vegetable for digestion as it helps in preventing constipation.
I managed to get fresh cabbage or patta gobhi in this winter season and could not stop myself from making delicious cabbage curry.
The kind of cabbage curry that I have posted here is something that can be tried in northern and southern india.
It has got a curry consistency and can easily be mixed with rice and can be served with roti or chapathi too.
I have used very less spices and main ingredients to make this curry are onions and tomatoes. Methi and hara dhaniya can be skipped if they are not readily available at home.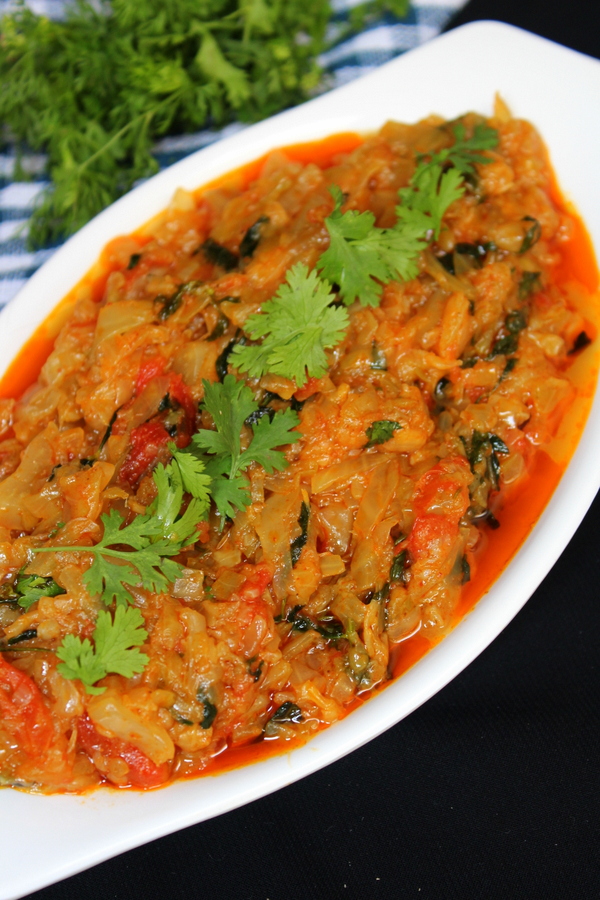 However adding these herbs give a wonderful aroma and taste to the dish and I prefer that these herbs should be added but they are optional ingredients and yet can make a tasteful curry.
This curry can be carried and packed for lunch with rice as well as good to eat during dinners too.
Below are the step by step details on how to make this simple patta gobhi recipe with detail instructions.
This is a one pot meal and can be made very quickly by pressure cooking method.
I have used a pressure cooker and not a cooking utensil to make this curry.
The pressure cooking method is the quickest method to make curries and yet the taste and flavours remain the same.
Recipe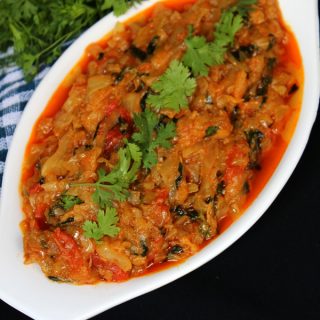 cabbage curry recipe, patta gobhi recipe
A basic veg curry made by using cabbage/patta gobhi.
Ingredients
½

kg

cabbage/patta gobhi

1

tablespoon

oil

2

green chillies

slit vertically

1

medium size onion

finely sliced

salt to taste

½

teaspoon

red chilli powder

¼

teaspoon

turmeric powder/haldi

½

teaspoon

ginger garlic paste

2 to

matoes

finely sliced/chopped

¼

cup

water

½

bunch methi leaves/fenugreek leaves

2

tablespoon

fresh coriander leaves
Instructions
Wash the cabbage:
Firstly shred the cabbage or cut into thin strips.

Wash the cabbage well under running water.

Strain all the water from the shredded cabbage if there is any water content.

Make sure the cabbage is free from water content.
Cooking the cabbage:
Take a pressure cooker.

Add oil and heat it.

Add green chillies, sliced onions and cook until the onions turn soft.

Add salt, red chilli powder, turmeric powder, ginger garlic paste.

Mix well and cook the masala for few minutes on low flame until oil leaves the masala.

Add the shredded cabbage, mix well.

Cover and cook for 2-3 minutes on low flame.

Add chopped tomatoes, mix and cook the curry for about 5 minutes on low flame.

Add very little water, mix well.

Cover the lid of the pressure cooker.

Pressure cook the curry for about 3 whistles on medium flame.

Switch off the flame.

Reduce the steam.

Remove the lid.

Add methi leaves and coriander leaves.

Switch on the flame.

Mix and cook for 3-4 minutes on low flame.

Switch off the stove.

Serve hot with rice or roti.
Notes
1. Adding of methi leaves is optional. Since it is a seasonal leaf, add if it is available else skip methi.
2. If one does not prefer a pressure cooking method, then instead of pressure cooking, cook the curry until the cabbage turns soft.
3. Never cook on high flame as the curry might burn on high flame.
Nutrition
Nutrition Facts
cabbage curry recipe, patta gobhi recipe
Amount Per Serving
Calories 280
* Percent Daily Values are based on a 2000 calorie diet.