Cauliflower curry posted here is along with a video procedure which is a vegetable curry using gobi florets in onion tomato gravy. The cauliflower curry is in the form of curry and goes well along with roti, rice and parathas and it is slightly different from cauliflower kurma, gobi 65 and cauliflower fry, cauliflower sabzi.
The gobi curry tastes perfect in the form of a curry and gobi can be tried in various ways.
I would like to update many various gobi recipes as I keep posting and gobi can be made in the form of a fry or paratha, curry or pickle etc...
This is a vegetable with which we can try any form of recipe and yet it tastes amazing.
I usually make gobi in various ways like gobi 65, gobi fry, gobi curry, gobi sabzi etc... which are interesting combinations with roti and rice...gobi 65 can be eaten just as a starter or as a snack and tastes really yum.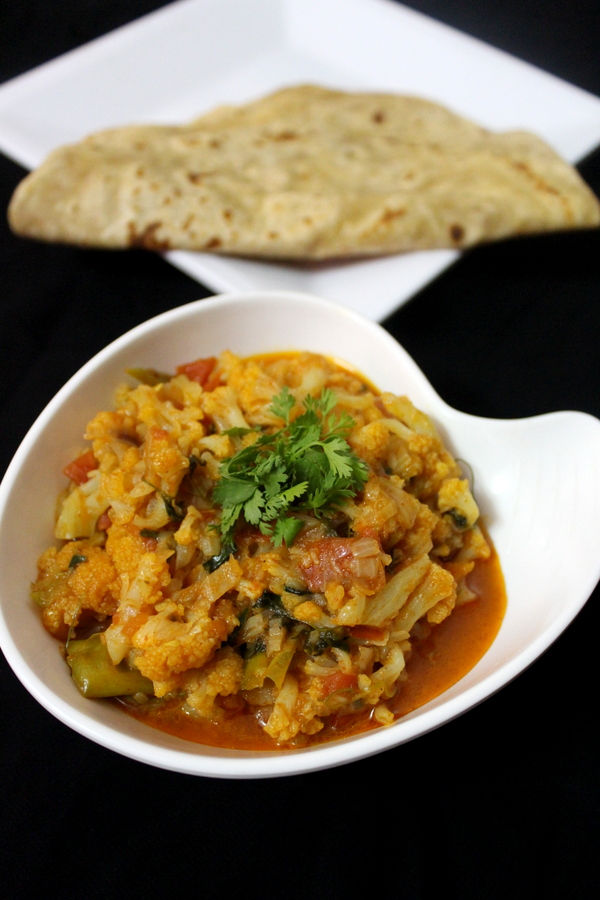 Phool gobi or cauliflower curry here is made using chopped onions and chopped tomatoes which gives a good gravy to the curry and hence it goes good with roti and rice.
This gobi masala is commonly made in north india and south india and with some slight variations. In south india usually curry leaves are added into the curry recipes but its totally optional to add curry leaves into the curries.
We can add some variations in making the curry and here I have shared the common version of making the cauliflower curry along with the video procedure.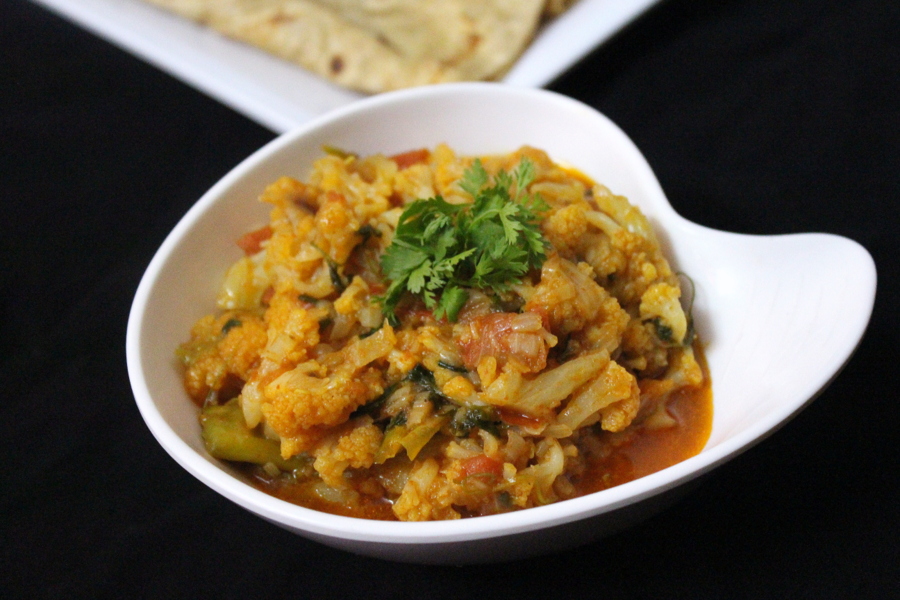 How to wash gobi florets to make gobi curry
Cut the florets into medium sizes.
Boil water and add the florets into the water, blanch them for 2-3 minutes.
Strain the florets and rest it until there is no water content left on the florets.
Once the florets are cleaned well, they are ready to be used for any dish.
Doing this cleaning process helps in getting rid of minute worms or tiny particles out of the gobi florets.
Below are the recipe details to make this simple cauliflower curry with step by step details and video procedure.
Video
Recipe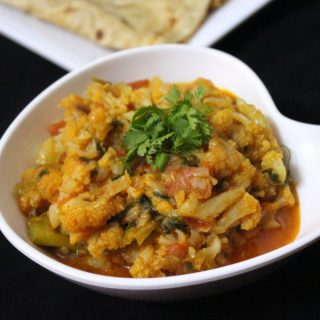 cauliflower curry recipe | cauliflower gravy | gobi curry
Cauliflower curry is a vegetable gravy made using tomatoes and onion gravy.
Ingredients
1

bowl - cauliflower florets/gobi florets

2

tablespoon

oil

2

medium size onions

finely chopped

3-4

slit green chillies

salt - to taste

1

teaspoon

red chilli powder

¼

teaspoon

turmeric powder

1

teaspoon

ginger garlic paste

3 to

matoes

finely chopped

1

bunch coriander leaves

1

tablespoon

methi leaves
Instructions
Firstly, in a wok, add oil and heat it.

Into it, add chopped onions and saute for few seconds.

Add slit green chillies, saute until onions turn soft.

Add salt, red chilli powder, turmeric powder, ginger garlic paste.

Mix everything and cook the masala well for 3-4 minutes until oil oozes out and the masala is cooked well.

Add chopped tomatoes, mix and cook well until the tomatoes turn soft and the whole gravy is cooked well.

Cook the onion tomato gravy for few minutes until oil leaves the masala and is cooked well.

Add the gobi florets into it.

Mix well and cook the gobi for 4-5 minutes.

Add water, mix and cook the curry until gobi turns soft.

Add coriander leaves, methi leaves and cook for 4-5 minutes.

Serve hot with roti or rice.

Watch the video procedure above.
Notes
1.The curry can also be pressure cooked instead of cooking in a cooking vessel.
2.Once water is added, pressure cook it for 1 or 2 whistles and the curry will be ready.
3.Washing of the florets well before making the curry is a very necessary step to get rid of any tiny particles stuck inside the florets.
Nutrition
Nutrition Facts
cauliflower curry recipe | cauliflower gravy | gobi curry
Amount Per Serving
Calories 280
* Percent Daily Values are based on a 2000 calorie diet.