Double Ka Meetha Recipe, a sweet or dessert or meetha is an authentic Hyderabadi cuisine which is made of bread pieces. It is made by frying bread pieces, making them crispy, and soaking them in sugar syrup.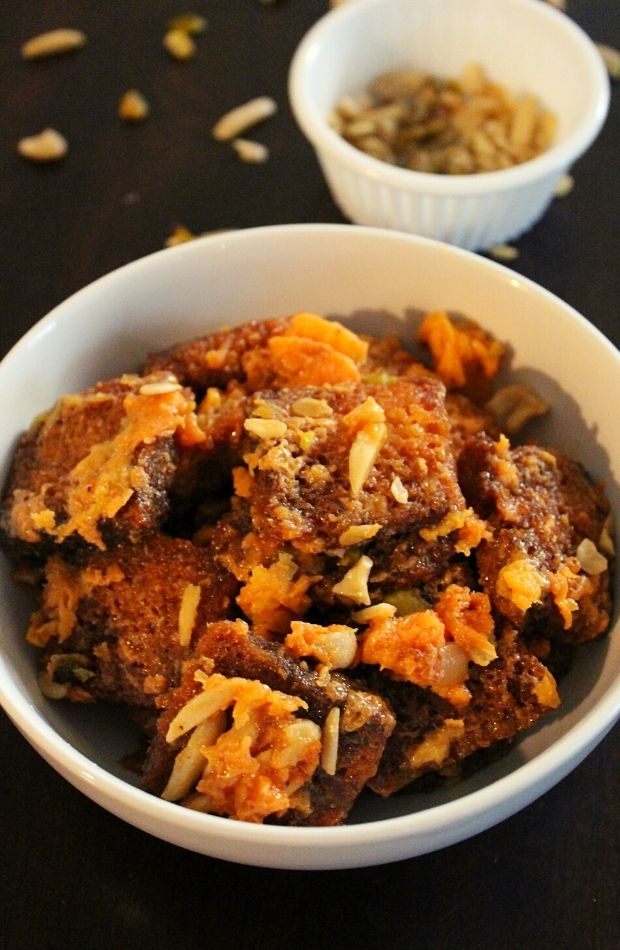 Related Hyderabadi Desserts or other common sweets :
There are many desserts to be tried from the blog are gajar ka halwa with milkmaid etc..
           This is one of the most common desserts or meetha which is usually found in many occasions like south indian weddings and festivals.
How does it look like?
Double Ka Meetha is basically a Hyderabadi version of Shahi Tukda. Double Ka Meetha tastes even more better if garnished with khoya and cashewnuts or any dry fruits which are available at home such as pistachios/pista and almonds/badam.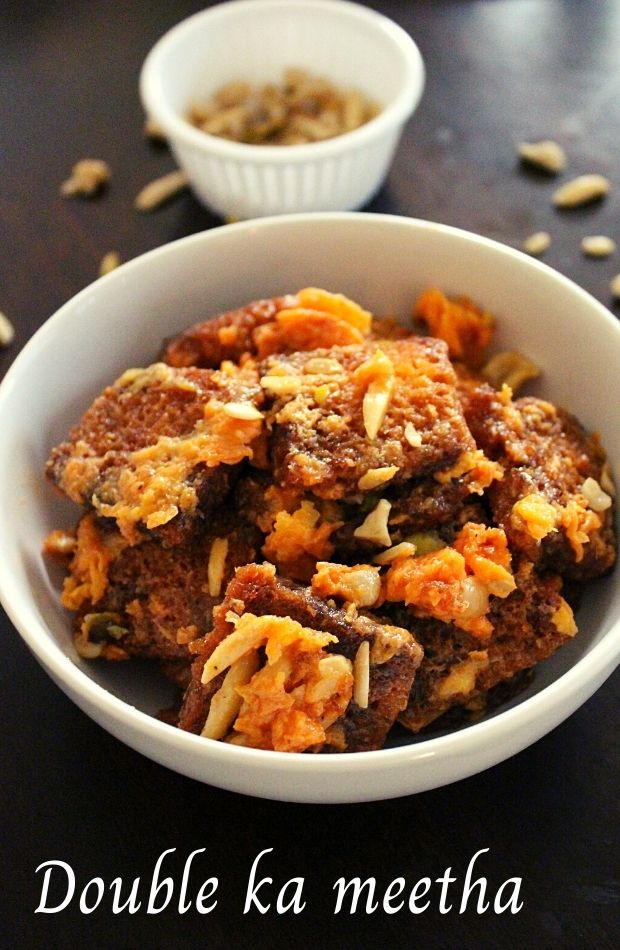 Double Ka Meetha is very soft in texture and the bread melts in your mouth while eating this meetha. The meetha recipe is made in different shapes but I usually prepare it in the form of square.
It is basically a bread sweet in sugar syrup to put in simpler words but there are some tips that need to be followed to get the dessert right.
            Shahi Tukda is another version of this bread sweet which is usually made in triangle shape and the method of making it is slightly different.
                                  Hyderabad is not only famous for Biryani but is also famous for yummy desserts too. The meetha is usually eaten after the meals and traditionally in Hyderabad people prefer to eat any sweet or a dessert at the end of the meals.
                The bread meetha recipe is a famous dish across India as well but is commonly known as 'Shahi Tukda' in Northern India. The dish is mainly prepared during Ramadan or during Eid.
It is usually served in Hyderabadi weddings and it tastes very juicy, sweet and the dry fruits as a topping enhance the bread sweet. The dish gets more tastier by adding ghee over the top but is entirely optional.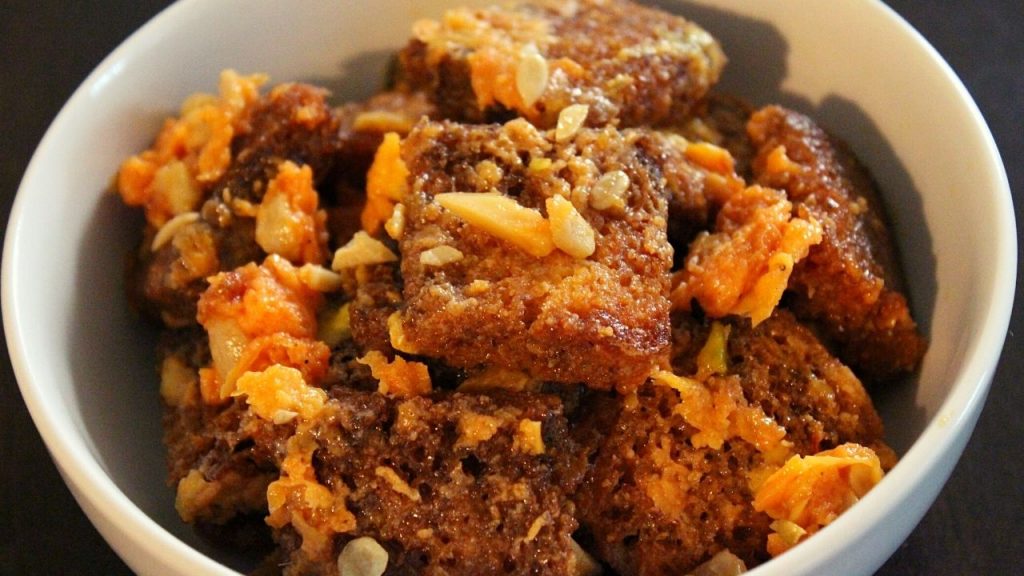 How to make this bread ka meetha:
                This bread meetha recipe is very rich as it contains milk, saffron, cardamoms, khoya, cashewnuts etc... The meetha tastes well when hot and also when it is cool.
The bread slices can be any bread slices such as a bakery bread or the normal bread that is already sliced.
Any bread can be used to make this meetha.
The borders of the bread slices should first be removed and then the slices have to be cut into cubes and then fried.
The fried pieces are then dipped in sugar syrup and thickened milk and cooked for a while which are then given a topping of sliced dry fruits.
Tips to make perfect double ka meetha:
The bread should be dried first before making the sweet.
The reason for drying the bread is nothing but it absorbs less oil while frying bread slices.
The bread slices can be sliced in oil/ghee/dalda.
I would suggest to fry in half dalda and half ghee as the sweet tastes good if followed this way.
If both are not available the fry them in oil and still the meetha tastes good.
The vessel that is chosen to cook the bread slices and sugar syrup has to be flat and not deep as the bread slices have to be kept separately and not one over the other.
Placing the bread slices one over the other makes it like a halwa as the bread slices become soggy and break up in sugar syrup.
The double ka meetha is always made in a flat heavy bottom vessel but if making at home just make sure to use a flat wok or pan to place the bread slices separately while dipping in syrup.
The milk that is added on top should be thickened or reduced well before adding over the sweet.
The dry fruits topping makes the sweet crunchier and tastes best if served by adding many dry fruits.
The meetha tastes good if served hor cool.
I have shared a video which is easy and simple to understand.
Using full fat milk , thickening it and adding on the bread tastes good than adding khoya.
I have not sprinkled khoya on the topping but if handy it is good to add all over the bread while serving.
Storing the sweet:
The double ka meetha if transferred in a container and stored in the refrigerator tastes good for 3-4 days and tastes even more better if served cool.
Video to make the bread ka meetha below:
 How to make double ka meetha recipe :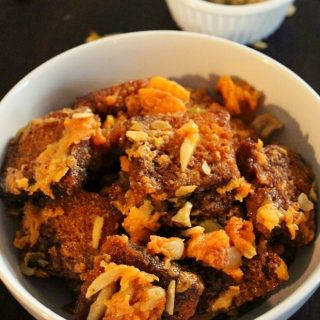 Double Ka Meetha Recipe
Double Ka Meetha made with dry bread and sugar syrup...
Ingredients  
6

bread slices

ghee or clarified butter or vanaspati dalda for frying

2

cups

water

¾

cup

sugar

pinch of orange food color

¼

tsp

cardamom powder

500

ml

full cream milk

8

saffron strands
For Garnishing:
½

cup

sliced cashews, pistachios, almonds
Instructions 
Make Sugar Syrup:
In a cooking vessel add water, sugar, cardamom powder and orange food color.

Stir well and boil the syrup on low flame until the syrup is sticky when touched with fingers.

Rest it aside and allow it cool down.
Thickening milk:
Add ful cream milk in a pan and add saffron strands into it.

Stir well and keep boiling it until the milk is reduced to half.
Frying the bread:
Cut out the corners of the bread, then cut the bread slices in the form of square cubes.

Deep fry the bread slices on medium flame in ghee or dalda or oil until golden brown.

Remove the fried bread slices.

Saute sliced cashews, sliced almonds and sliced pista in ghee for few seconds and take them out.
Making the meetha:
Take the fried bread slices and place the slices separately in the sugar syrup.

Pour the reduced milk all over the bread.

Let the bread slices cook for few minutes until the syrup and milk gets absorbed.

Top it up with sauteed sliced dry fruits over the meetha.

Add crushed khoya over the bread slices but is entirely optional.
Notes
Before deep frying bread slices, dry the bread cubes for few hours. Using this tip helps in frying the slices very quickly and also requires less oil/ghee/dalda (vanaspathi).
Instant cutting and deep frying absorbs more oil while frying.
If oil is used for frying the bread slices then spread some ghee from the top while cooking bread in syrup and milk for a better taste.
Check out the video for more help.
Nutrition
Nutrition Facts
Double Ka Meetha Recipe
Amount Per Serving
Calories 600
* Percent Daily Values are based on a 2000 calorie diet.
WANT TO WATCH VIDEO RECIPES?
SUBSCRIBE US ON YOUTUBE