Fish curry recipe, a south indian style of making fish recipe which has a tamarind flavor and also has a gravy like consistency due to the masala ingredients added into the curry.
Check out some of the various sea food recipes on the blog such as prawn curry, masala fish gravy , fish pakoda etc...
Fish is a non vegetarian seafood recipe and it is one of the highly used seafood apart from prawns and other seafood stuff.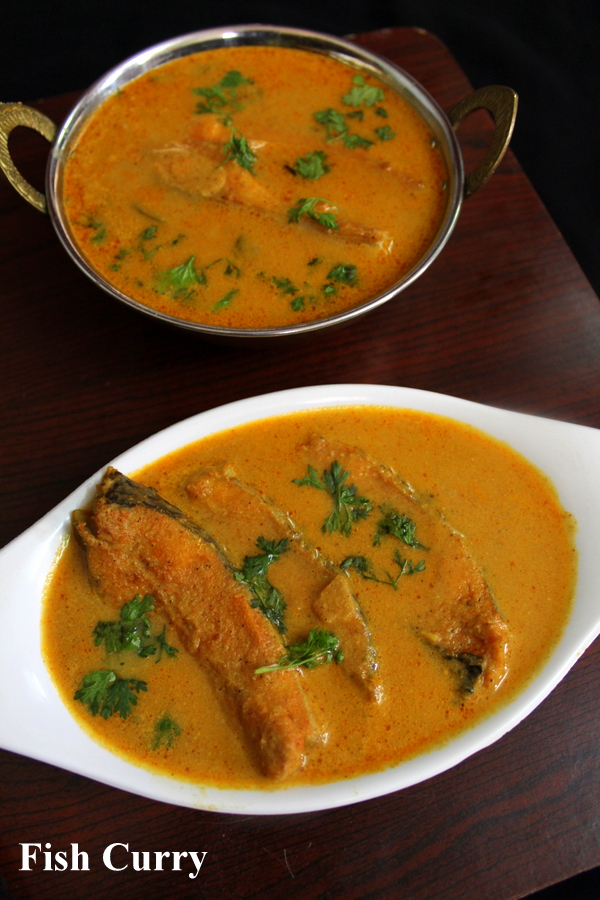 Fish is one the most healthiest non veg food and including fish in daily diet which has omega fatty acids is even more beneficial for the health.
Types of fish:
Fish is obtained in many varieties and there are hundreds of different species of fish and the most common fish used in India is Rohu, Tuna, Tilapia, Hilsa, Salmon, Pomphret etc...
Fishing in Indian water bodies give us thousands of different species. Fishermen wake up early in the morning and go fishing to catch variety of different fish species.
Indian people love to cook fish and the best time to eat fish is during winters and rainy. Different regions get different shapes and sizes of fish such as small fishes, big fish and small fishes are directly cooked by applying some masala and giving a steam or they can be pan fried.
Big fish is usually cut into pieces and is cooked with any of the cooking techniques such as steaming, baking, frying or boiling methods.
How to store fish when bought:
Fish tends to spoil in summers soon and it has to be cut fresh immediately before cooking and do not leave it in room temperature for a long time.
If there is some raw fish remaining after cooking then store at very cold temperatures when fish is cut such as fish remains good if stored in deep freezers. Take the fish out from freezer to a room temperature just few minutes before cooking.
This cold temperature storage technique helps in keeping the fish fresh even for a week and more if there is continuous power supply to the refrigerator.
When fish is being bought then always choose a fish that is alive and then cut it so that we are aware of the freshness of it something that cannot be known from store bought ones.
How to wash the fish:
There are some experts who are good at cutting skills of fish and I have bought this fish from the hyper market by cutting them into big round or oval shape pieces.
It does not take much time to clean the fish if it is already cut. Pour some salt and turmeric powder on the fish pieces, mix them and wash the pieces well with water.
It can also be cleaned with lemon juice as it takes away the fishy smell and gives us a fishy free smell if washed well under running water.
Therefore, to simplify, it can be washed with salt, turmeric or lemon to get rid of the stickiness as well as the bad odour.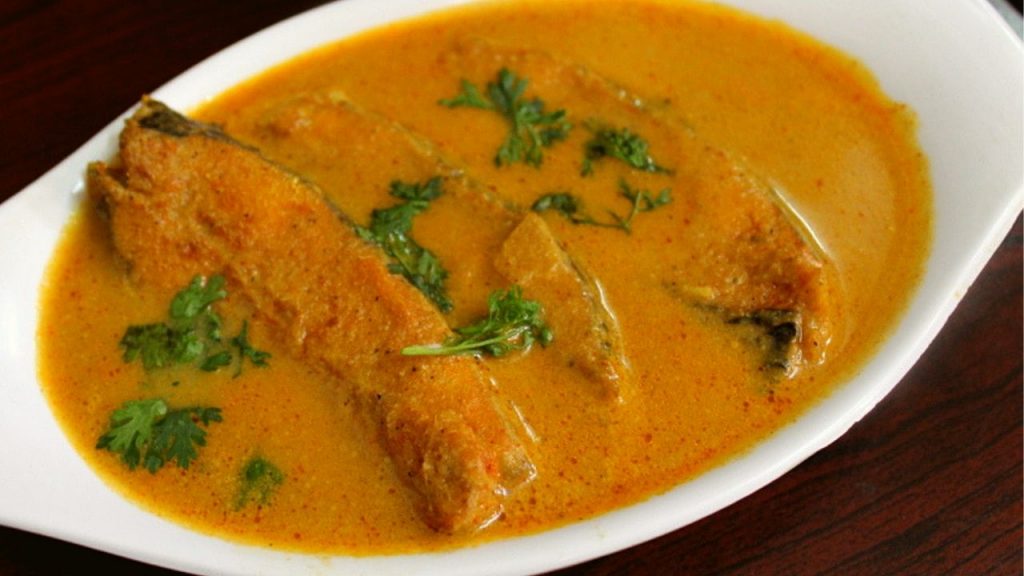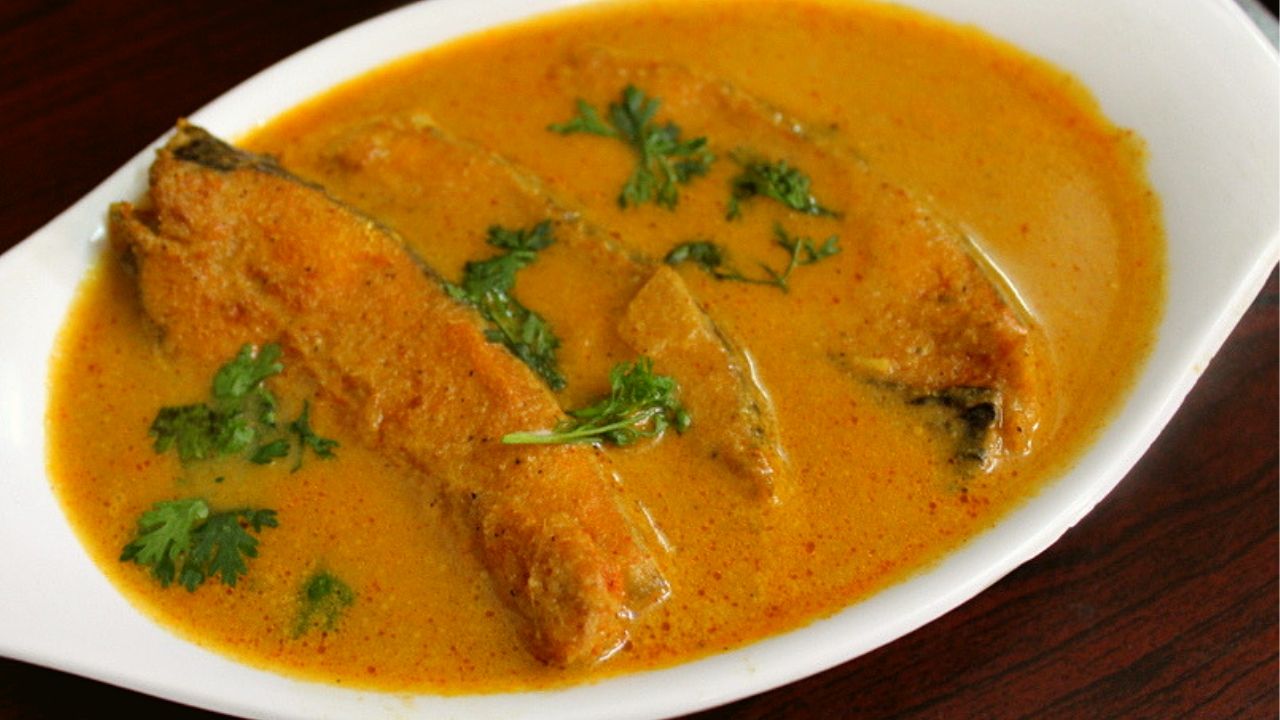 How to make fish curry with important tips:
Fish curry can be made in several ways but fish curries taste the best only if they are given a tangy touch to it with the help of tomatoes or tamarind.
It is always a better idea to add tamarind extract to fish curries which help in the curry remaining fresh for a long time.
Whenever fish curry is made, make it fresh and consume fresh as the taste of the curry changes after 5-6 hours.
The reason : Since fish is kept inside the curry which is naturally at room temperature and fish starts spoiling in the curry and therefore, the taste of the curry too starts changing.
Always use fresh fish pieces and make curry in less quantity as it cannot be used after long hours.
If in case the cooked curry remains, then it is better to store the curry in refrigerator and use it within 24 hours.
The tamarind added helps in keeping the gravy fresh if stored in fridge.
These fish curries tend to spoil quickly in summers or at hot room temperatures and at cold room temperature they last  fresh for few hours.
Fish curries are made in different ways in different regions and I am sure all the fish curries taste yum and I can't wait to try out regional fish curries and post it on my blog so that all the various kinds of fish curries are available at one place and can be tried with rice.
Usually fish is eaten plain or it tastes best with steamed rice. In south india, fish is highly used in the coastal regions and we can find plenty of fish species over there.
How to make this south indian style fish gravy:
In order to get good gravy I have used some masala such as coconut, onions, coriander and cumin, made a paste of them and added tamarind extract to the masala which gives a good gravy perfect to be served with rice.
Benefits of eating fish:
Fish is highly recommended for those suffering from poor vision as it has high amount of Vitamin A.
It is rich in proteins and high in omega 3 fatty acids which is healthy for heart, eye.
It is also rich in Vitamin D which is good for the bone development.
Check out the recipe below and the video procedure too...
South Indian style of making fish curry recipe: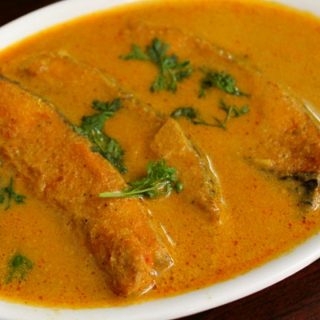 Fish curry recipe south indian, fish gravy
fish curry in south indian style made using tamarind pulp and masala ingredients
Ingredients  
8-10

fish pieces

(approximately 750 gms)
To marinate fish:
salt to taste

1

tsp

red chilli powder

a pinch of haldi powder/turmeric powder

1

tsp

ginger garlic paste
To make masala paste:
2

tbsp

desiccated/fresh coconut pieces

1

tbsp

coriander seeds/dhania

1

tbsp

cumin seeds/jeera

2

onions

(sliced/chopped)
To make the curry:
1

tbsp

oil

salt - to taste

1

tsp

red chilli powder

¼

tsp

turmeric powder/haldi powder

2

lemon size tamarind

(soaked and pulp extracted)

8-10

fresh curry leaves

salt if required
Instructions 
Step 1 (Washing of the fish):
Take fish pieces, clean and wash them well with salt and haldi water to get rid of the foul smell.

If smell continues, add some lemon drops all over the fish and wash them with water.
Step 2 (marinating the fish):
Take the washed fish pieces, add some salt, red chilli powder, turmeric powder, ginger garlic paste, mix all the ingredients with the fish well.

Marinate the fish for at least 10 minutes.
Step 3(Roasting the masala and blending them):
Take a pan, add coconut pieces and dry roast them until they turn into slight brown color.

Roast them on low flame.

Take them out on a plate.

Add coriander seeds and cumin seeds into a pan and dry roast them slightly until they release a pleasant aroma.

Take them out and transfer into the same plate.

Add onions into the pan, add oil all over the onions and roast the onions until they turn slight brown in color.

Take the onions out in a plate.

Cool down all the ingredients.

Take a blending jar, add all the roasted ingredients into the jar, blend them.

Add some water into the jar and make a smooth paste of the roasted masala ingredients.

Keep the paste aside for later use.
Step 4 (Stir frying the fish):
Take a pan, add around 2-3 tsp of oil and heat it.

Add the marinated fish pieces into the pan.

Stir fry them on both sides for few minutes.

Take them out.
Step 5(Making the fish curry):
Take a cooking vessel, add oil and heat it on low flame.

Add the blended masala paste into it.

give a mix and keep stirring the masala to avoid burning.

add salt as per taste, red chilli powder, turmeric powder, ginger garlic paste.

give a mix and cook the masala on low flame for 5-10 minutes and stir in between.

add the tamarind extracted pulp and adjust the sourness as per requirement.

give a stir and check the salt and add more as per requirement.

add the stir fried fish pieces into the curry.

add some fresh curry leaves.

let the curry boil well.

stir delicately in between.

cook for 5 minutes on sim flame.

serve hot.

serve the curry with rice.
Video
Notes
Here in this recipe I have stir fried the fish to enhance the flavors but stir frying the fish can be skipped and the marinated pieces can be directly added into the curry while boiling. 
Marination step too is optional and the fish pieces can be directly added without marinating.
Tamarind pulp can be increased or reduced according to one's preference.
Nutrition
Nutrition Facts
Fish curry recipe south indian, fish gravy
Amount Per Serving
Calories 400
* Percent Daily Values are based on a 2000 calorie diet.
WANT TO WATCH VIDEO RECIPES?
SUBSCRIBE US ON YOUTUBE