Prawn fry recipe is a sea food dish tried by me and prawns fry is shallow fried in little bit of oil and I must say the recipe which has been made has turned out amazing.
Also do try prawn curry, andhra fish fry , fish fry masala , fish curry recipe and chepala pulusu , masala fish from my blog for more sea food recipes.
Some more fry related recipes in non veg to try out:
                I basically try my hands at fish and when I started trying my hands on prawn fry I was amazed that it tasted very well. Therefore, I decided to share this sea food recipe with my blog readers to try it out and share with your family and friends.
                   Prawn fry recipe or royyala vepudu is shallow fried with the basic spices and its an instant dish that can be made in few minutes. But, the most important point in making a prawn recipe is cleaning and deveining the prawns.
Freshness of the prawns:
Prawns too is a sea food like fish and it cannot sustain for long time if kept in room temperatures. They perish soon and they start smelling with bad odour if stored in room temperature.
Consume them fresh by cooking them or store the cleaned prawns at extreme cold temperature such as deep freezers in fridge which help keep the uncooked prawns remain fresh for at least 3-4 days without break in power supply.
Even if the prawns are cooked, consume them as they can last only for few hours to room temperature and the cooked prawns begin to smell as the time passes and the reason is they cannot withstand the room temperature.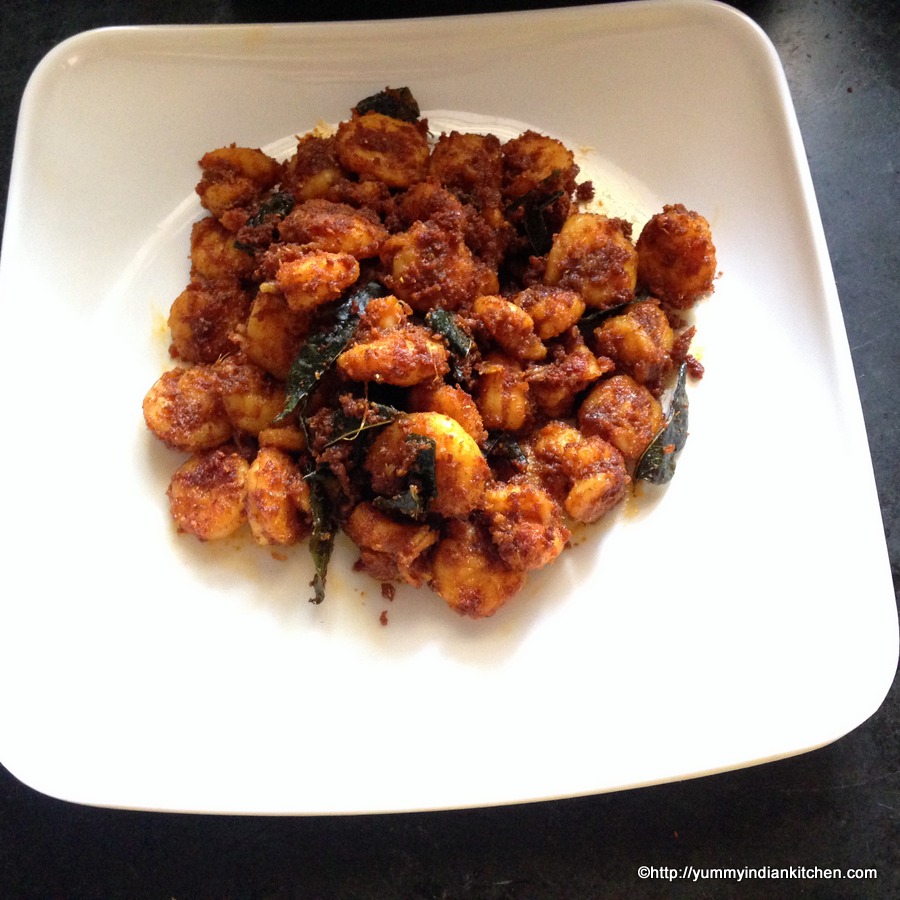 Once that is done, the prawn recipes don't require lots of time and are quite simple dishes. There are lots of videos available on the procedure to clean prawns.
Extracting the vein is quite important in cleaning prawns for prawn fry. Sea food is mostly prepared in coastal regions and is mostly loved by the people in Bengal region.
Health benefits of eating prawns:
Including prawns in diet gives many good benefits such as it has high amount of Vitamin E which is quite beneficial for the skin as Vitamin E promotes healthy skin and gives a fresh glow and youthfulness to the skin.
Prawns have high amount of omega 3 fatty acids which help in reducing cardio vascular problems and increases in maintaining good heart conditions.
It supports in building strong immune system, improving bone health, it is also said to have good amount of vitamin b12 which can improve iron deficiency and helps those suffering from anemic conditions.
Fish and prawns are the common sea food dishes that are preferred across the country. Prawns can also be called as shrimp or shrimps and are so delicate in handling and to touch.
Cleaning the intestinal area:
All the prawns have a long line which is black in color which is basically the intestinal tract and just giving an incision and pulling the black line out gives us a clean prawn.
Sometimes, prawns are bought with the shells and there are many sources available online that direct the procedure on removing the shells and cleaning prawns.
Many tend to cook prawns without cleaning and removing the intestinal tract as it is not extremely harmful but I would suggest to remove them as it contains all the impurities which may effect in the long run with regular consumption.
One needs to master the art of deveining it, then they can be made in no time.
Prawn fry can be used as a starter or can be eaten along with dal rice… Prawns can also be made in various forms such as stir frying, steaming, into gravy varieties, curries etc…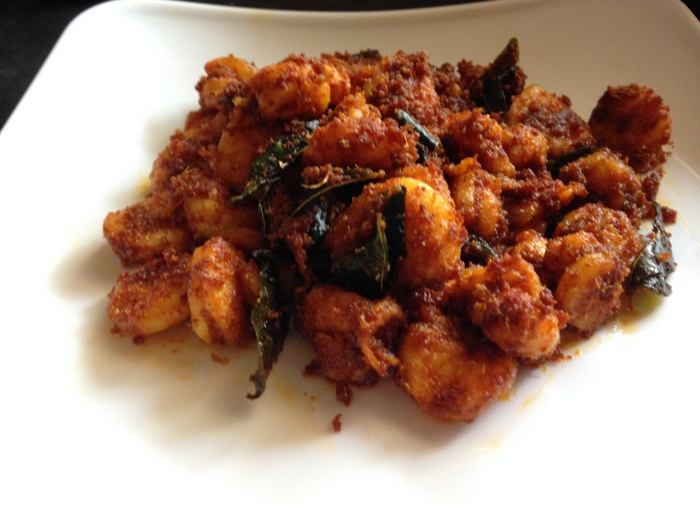 Rainy season is the best time to make sea food as the wonderful and pleasant weather increases our craving to make amazing sea food recipes like fish fry or prawn fry or their curries.
Check out other collections:
Let us learn to make this simple and yummy dish of prawn fry with detailed steps along with the video recipe…
Cleaning the prawns: Run a small sharp knife down the back of the prawn, and pull the meat apart enough to expose the vein. Pull the end of the vein up with the tip of the knife, grab it with your fingers and pull it off.
Prawn Fry Recipe Below: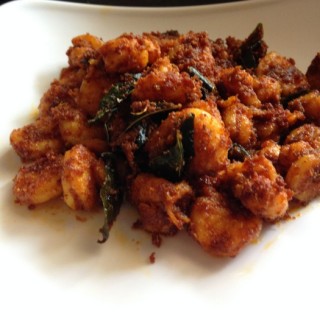 Prawn Fry Recipe, How To Make Prawn Fry
Prawn fry recipe - a delicious sea food recipe...
Print
Pin
Rate
Ingredients
500

gms prawn/shrimp cleaned and deveined.

salt to taste

1

tbsp

red chilli powder

1/2

tsp

turmeric powder

1

tbsp

roasted coriander seeds powder

1

tbsp

ginger garlic paste

2

tbsp

oil

7-8

curry leaves

1

tbsp

coriander leaves for garnishing
Instructions
Firstly, after cleaning and deveining the prawns wash them well with water and drain the excess water.

In a bowl, add the prawns, add salt to taste.

Add ginger garlic paste into it.

Add red chilli powder and turmeric powder.

Add roasted coriander seeds powder.

Mix the whole mixture well so that the prawns get coated well with the masala.

Rest the mixture in the refrigerator and marinate it for about 5 - 10 minutes.

Take a frying wok, add oil and heat it.

Add the prawns into the heated oil.

Stir the mixture well with the oil and stir it delicately.

Add fresh curry leaves into the cooking prawns.

Give a nice mix.

Cook the prawns for about 10 -15 minutes and give a stir in between.

Prawns fry is done...

Sprinkle with lemon juice over it(optional).

Garnish it with coriander leaves.

Ready to be served with dal rice or can be eaten plain...
Nutrition
Want To Watch Video Recipes?
SUBSCRIBE US ON YOUTUBE!
Watch the video recipe on how to make Prawn Fry: