Prawn curry or prawns curry here in this post is a gravy based masala prawn curry made using shrimp in south indian style.
A video is also posted for prawns curry below and please leave your feedback below for any queries on this recipe.
There are some more interesting sea food recipes on the blog such as fish fry masala, prawn fry , fish curry recipe , fish pakora etc...
how to buy prawns:
Prawns are usually sold by fishermen who do fishing early morning, catch prawns and sell immediately as the prawns perish quickly.
They are also sold in supermarkets by storing them in very low temperatures and make sure to inquire and buy good quality and fresh prawns from the hyper markets.
If one is aware of removing shells then get them with shells else always buy them by removing shells. Request the seller to remove the shells and they could charge extra bucks for removing shells and cleaning.
This makes our work easier and easy to cook them.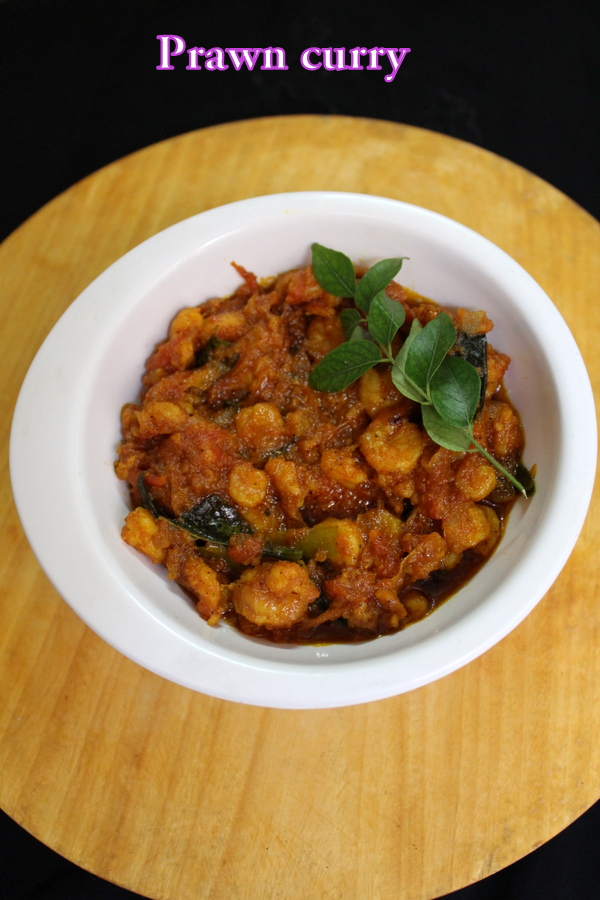 How good are the prawns for health?:
Prawns should be made a part of diet at least twice a week as it has high amount of iron,zinc which improves the iron deficiency in our body and keeps us strong.
It also increases our immunity and helps to keep various ailments away.
It is said to help in strengthening our bones and also improving and preventing heart related issues.
How to clean the prawns:
Cleaning prawns is not a difficult task and there are many online videos that show how to de vein them.
If prawns are bought with shells, cleaning methods for removing shells are also available online.
It is better to buy the prawns with shells removed and half job is done and the only step in cleaning would be to remove the intestinal veins which is a long blackish line.
Giving a slight cut with a knife and pulling the black vein out gives us more clean prawns which are absolute perfect for cooking.
If one finds no time to remove the vein then it is absolutely fine and can be cooked without removing veins but my choice would be to get that removed and cook it as the intestinal vein contains lots of unhygienic impurities.
There are many more non veg curries on the blog like mutton curry, mutton gravy , rogan josh etc which can be prepared for several occasions and ceremonies and these are some special recipes in non vegetarian section that could be easily tried from this blog.
Regional prawn curries:
All the different states across India make prawn curries in different versions and some of the regional prawn curries are kerala prawn curry, goan prawn curry etc...
Fish and prawn curries are usually common in coastal regions. I have made prawns recipe by using coconut and hopefully I post more and more prawn recipes without coconut and other prawn related recipes.
One prawn recipe that is a commonly read and viewed on my blog is prawns fry and I have got another interesting south indian style prawn curry for my viewers that can be served with steamed rice.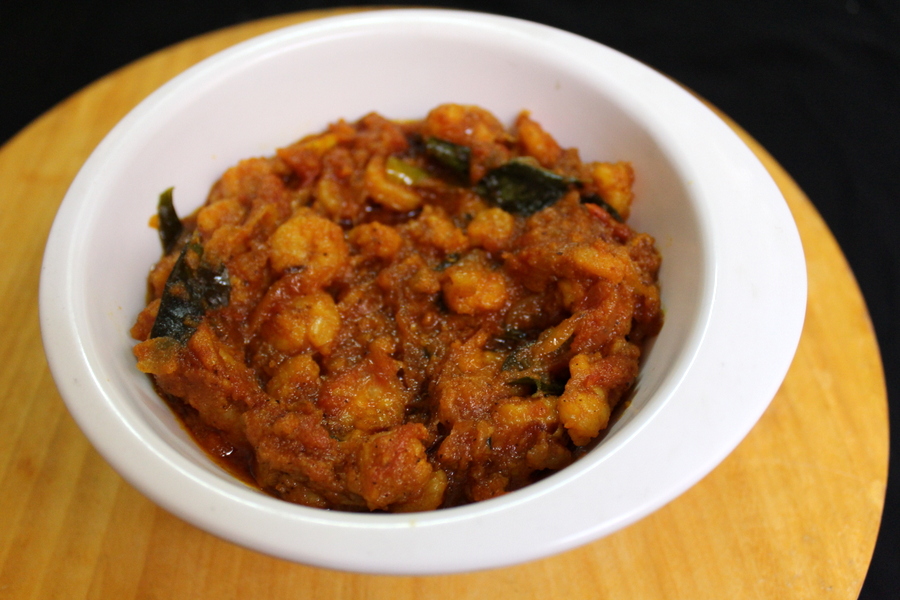 Making prawns is very easy but to clean and devein the prawns is a very tedious process.
Cleaning prawns by deveining is a very important step as eating prawns without deveining causes severe health issues.
Make sure to devein them prior to making any prawn recipe.
Prawns are quick in cooking and they take not more than 15 minutes to get cooked and they taste delicious in any form of cooking such as prawns fry or prawns curry.
In this recipe I have added onions, tomatoes, coconut to make it a gravy form of curry. This form or prawn masala curry tastes yum with rice.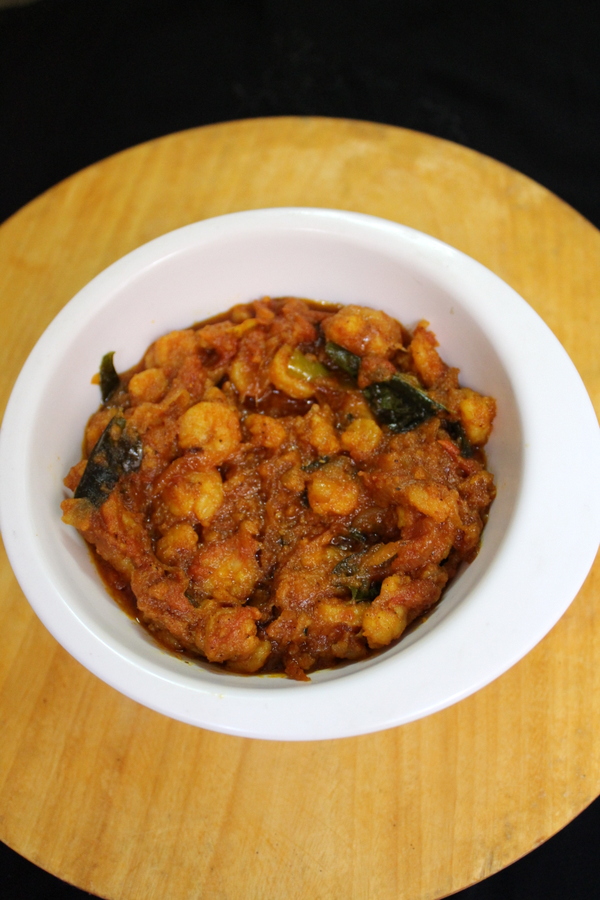 Firstly, we need to clean the prawns well, saute them in salt and turmeric powder for few minutes and then we need to add these prawns into the onion, tomato and coconut gravy.
It is a very easy recipe and can be made without any difficulty.
Seafood is always delicious in any form and every non vegetarian wishes to have seafood like fish, prawns/shrimp in any form but seafood should be well cleaned before using it.
Let us learn the recipe in written format and also with step by step procedure with the help of a video.
Video procedure for making prawn curry:
Prawn curry or prawn masala curry: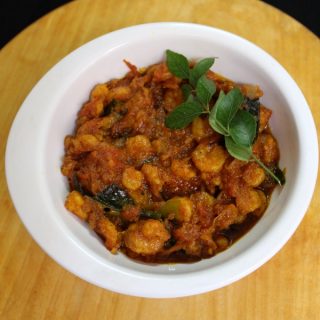 prawn curry recipe, how to make prawn curry | prawn masala
A south indian style prawns curry recipe made using onions, tomatoes and coconut.
Ingredients  
Sauteing prawns:
250

gms prawns - clean and devein the prawns well

1

tbsp

oil

salt - to taste

½

tsp

turmeric powder
Cooking the prawn masala curry:
1

tbsp

oil

2

slit green chillies

2

medium size onions

finely sliced

salt to taste

½

tsp

ginger garlic paste

2 to

matoes

finely sliced

1

tsp

red chilli powder

½

tsp

roasted coriander seeds powder

2

tsp

coconut powder

dessicated coconut or fresh coconut

1

cup

water

6-7

curry leaves

1

tbsp

chopped coriander leaves
Instructions 
Sauteing the prawns:
In a wok, add oil and heat it.

Add prawns, add salt and turmeric powder, mix well.

Saute the prawns until the water gets absorbed and cook for 5-10 minutes.

Switch off the flame and rest the prawns aside for later use.
Cooking the prawns:
In a separate wok, add oil and heat it.

Add green chillies, add sliced onions and cook the onions until they turn soft.

Add salt as per taste, ginger garlic paste and saute until raw smell of ginger garlic paste disappears.

Add chopped tomatoes, mix well.

Add red chilli powder, roasted coriander seeds powder, mix well and cook the masala until oil leaves the sides.

Add coconut powder, mix well and cook the gravy for few minutes.

Add the sauteed prawns into the masala gravy, mix carefully and cook for 4-5 minutes.

Add 1 cup water and stir well.

Add curry leaves, coriander leaves, mix well and cook the gravy on low flame for few minutes until oil appears at the sides.

Switch off the flame.

Serve the prawn curry masala with steamed rice.
Notes
In this recipe I have added coconut in powdered form but if you have coconut milk then go ahead and add it instead of coconut powder.
Cleaning of prawns properly is a very important step mainly deveining the prawns bu can be avoided if one does no know how to do it.
Do not overcook the prawns as they tend to get harder if cooked for longer time.
Nutrition
Nutrition Facts
prawn curry recipe, how to make prawn curry | prawn masala
Amount Per Serving
Calories 340
* Percent Daily Values are based on a 2000 calorie diet.
WANT TO WATCH VIDEO RECIPES?
SUBSCRIBE US ON YOUTUBE