Mutton rogan josh, a Kashmiri style of making mutton curry with some different warm spices and is a very simple way of making curry with little ingredients.
Detailed rogan josh video recipe too is shared for the recipe I have written here. Do check out the video and hope this recipe is loved by everyone who ever searches for it.
I have written many mutton recipes on the blog and would love my readers to check out some more mutton dishes such as haleem recipe, mutton masala, mutton liver, mutton soup etc...
Meat/ mutton occasionally including in diet gives lots of health benefits and non vegetarians love to eat various meat delicacies.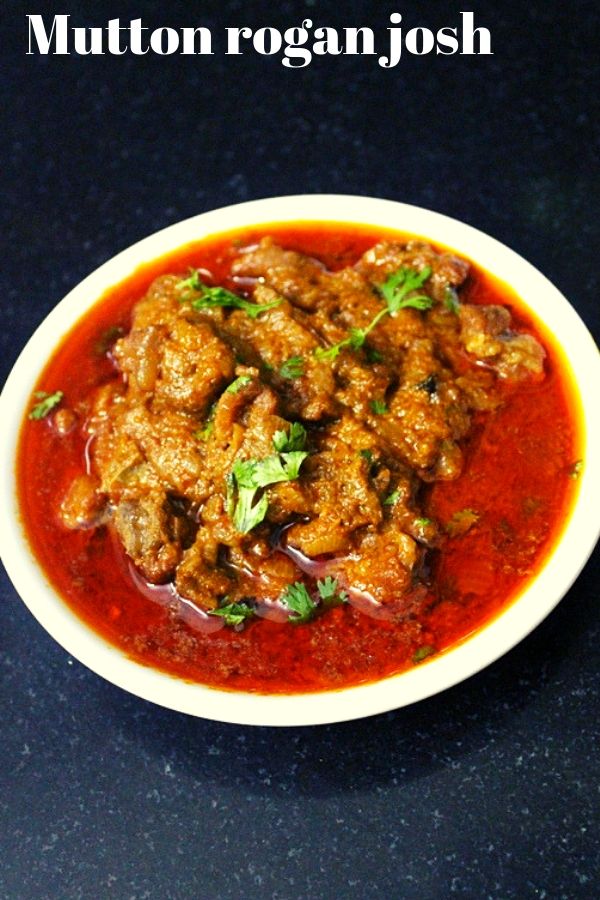 What is mutton rogan josh:
It is a mutton gravy recipe infused with aromatic flavors such as whole spices and also spices that are warm to our body such as cinnamon, cardamom, bay leaf and mainly we add warm spices such as dry ginger powder, fennel seeds powder which is commonly called as saunf as those regions need to make curries that give warmth.
The word 'Rogan' means the oil that separates the curry in slow cooking method. Here, I have made using pressure cooking technique for quick process but it can be made by slow cooking which infuses all flavors perfectly.
Mutton Rogan is the oil that leaves while cooking the mutton.
Mutton or meat can be made in several ways such as frying the mutton, making curries, making korma recipes, or making rice recipes mixed with mutton.
Meat is often said to affect our body in a negative manner but including it in our daily diet occasionally can help in body building and makes us strong and healthy.
Mutton curries can be made in several varieties and every region makes use of meat in a different way.  Northern Indian style of mutton curries use certain different flavors and southern Indian style of mutton curries normally use different flavors.
Every region in India makes plenty of varieties of mutton curries or gravy recipes that are suitable to be eaten with pulao recipes, rice recipes or roti recipes.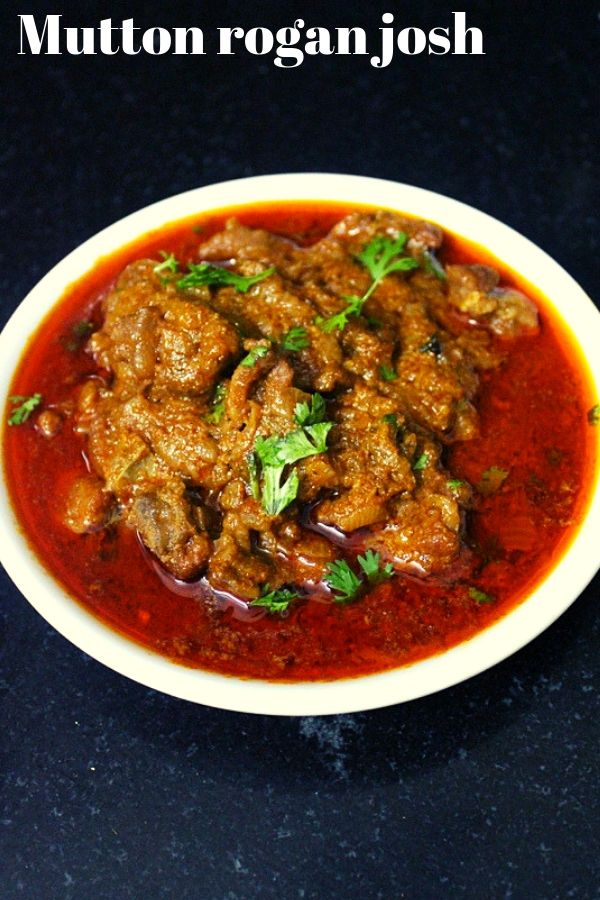 How to buy meat:
It is very essential that we buy good quality meat for better taste and better health. If meat is bought from supermarkets it is always necessary to check the date of packaging and date of expiry as a safety precaution before consuming it.
Meat should appear fresh and the appearance should be red and not blackish. If the meat is of lamb then it tastes much more better and can be tenderized very quickly.
Benefits of eating meat: 
Meat of goat or lamb gives us fresh red meat and along with it comes many health benefits such as it has the ability to cure protein deficiency, it has vitamins and mainly it has vitamin B12 and some other minerals which work wonders for our health.
Points to remember while making this rogan josh:
Firstly, this recipe definitely takes in spices such as saunf powder and dry ginger powder if one lives in cold places.
If one is making this recipe in normal conditions then one can skip these spices as these are not required if the regions are not cold.
To make this curry perfectly with delicious flavors then one needs to slow cook this curry rather than pressure cooking.
In this recipe to bring mouth watering gravy I have made use of brown onions and beaten yogurt and these ingredients are totally optional, however, adding them gives a different flavor of the rogan josh.
Not only meat is used to make this recipe but also chicken can be used to make it and serve with roti, chapati or rice.
Below are the recipe details to make this simple and delicious mutton gravy straight from the region of Kashmir.
Video for rogan josh:
Mutton rogan josh recipe card below: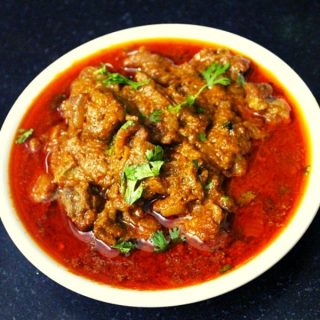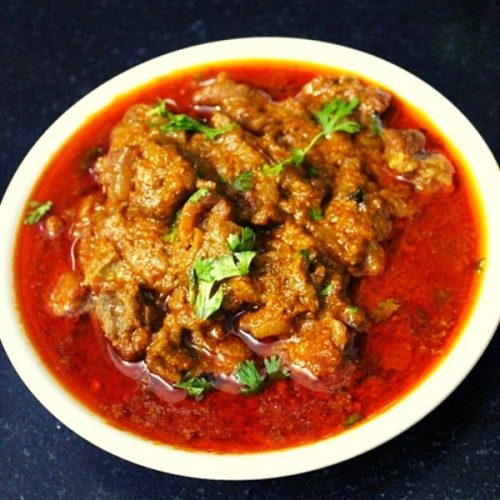 mutton rogan josh, rogan josh recipe kashmiri
A simple kind of mutton curry made in northern indian style.
Ingredients  
250

gms mutton/meat

(cleaned and washed well)

2

tbsp

oil

whole spices

1 medium size cinnamon stick, 2 cloves, 1 green cardamom, 1 bay leaf

4

onions

(finely sliced)

salt - to taste

1

tsp

ginger garlic paste

1

tsp

kashmiri red chilli powder

¼

tsp

turmeric powder / haldi

¼

tsp

roasted coriander seeds powder

1

cup

yogurt / dahi

(beaten well)

1.5

cup

water

¼

tsp

elaichi powder / cardamom powder

¼

tsp

dry ginger powder

(optional)

salt - to taste

1

tsp

freshly chopped coriander leaves
Instructions 
Firstly, take a pressure cooker, add oil and heat the oil.

Add whole spices such as cinnamon stick, cardamom, cloves, bay leaf.

Add finely sliced onions, saute and cook until they turn golden color.

Add ginger garlic paste and saute on low flame until raw smell disappears.

Add the mutton pieces, roast until the color of the mutton changes.

Add salt to taste, mix 1 tsp of kashmiri red chilli powder in some water and add to the mutton.

Cook the masala well on low flame.

Add turmeric powder, roasted coriander seeds powder, mix well and cook until oil appears at the corners.

Add beaten yogurt into the mutton, mix well and cook the gravy until oil starts leaving.

Add 1.5 cups of water and stir well.

Add additional spices such as cardamom powder, dry ginger powder mix well and cook for few minutes.

Pressure cook the mutton by covering the cooker lid.

Give whistles until the mutton gets tender.

Switch off the flame.

Reduce the steam.

Remove the cooker lid.

Check the softness of mutton.

Once the mutton gets tender add a tablespoon of freshly chopped coriander leaves, mix well.

Cook for 2-3 minutes on low flame.

Switch off the flame.

Serve hot with roti or rice.
Notes
 Additional spices such as black pepper corn powder or it can also be commonly called as kali mirch powder can be added as this spice too goes perfect for the chilled climatic conditions.
 Other spices such as fennel seeds powder/ saunf, cumin seeds powder, garam masala powder too can be added to enhance the flavors.
In kashmiri style of mutton curry, mainly dry ginger powder and fennel seeds powder are added as those regions are always cool and they usually had to opt for warm spices to keep themselves warm.
In place of oil, one can add ghee as well as per traditional method of cooking the rogan josh.
Nutrition
Nutrition Facts
mutton rogan josh, rogan josh recipe kashmiri
Amount Per Serving
Calories 400
* Percent Daily Values are based on a 2000 calorie diet.
WANT TO WATCH VIDEO RECIPES?
SUBSCRIBE US ON YOUTUBE
If you have your version of making this mutton rogan josh, then do send us your suggestions and feedback using the comment section right below this post... Also share us your recipe of rogan josh with chicken or mutton and hope my viewers enjoy our version and share with your friends and family.