Rava cake or suji cake is a different cake variation to sponge cakes and tutti frutti cake. This is made similar to regular cakes but with additional ingredients and this cake is made using rava as main ingredient.
As the name suggests it is a rava cake recipe, a cake made using suji/rava/sooji in cooker.
I love making cakes and now I have learnt the art of making cakes after making some of the baking stuff and cake recipes like eggless cake recipe in cooker , eggless vanilla cake, vanilla sponge cake , plum cake etc...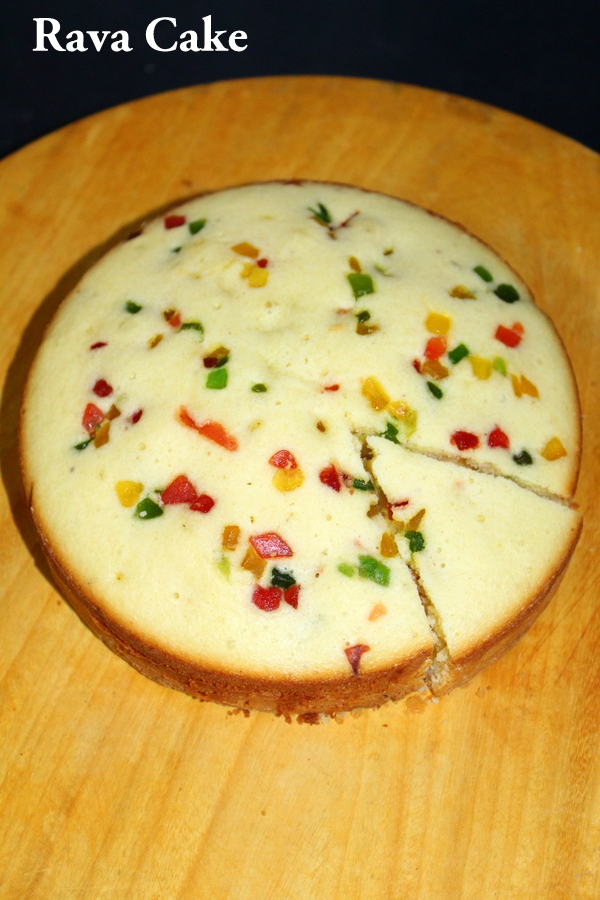 Generally, there are many many cakes that can be made and with so many different flavors... I am very keen to add many more cake recipes with different flavors for my blog readers.
Each cake recipe that I would be posting is definitely a tried and tested cake which has turned out soft and spongy.
We all love making moist cakes and making the right batter with right consistency gives a moist, soft and spongy cake.
Here rava/sooji is used as the main ingredient in making suji ka cake and it turned out amazing. When I started making cake recipes in pressure cooker I was scared to even give an attempt as I never had any experience in making baking stuff.
I started with sponge cake without oven as my first cake in pressure cooker. When it turned out amazing and a best watched video on youtube too, I developed more liking towards making various cakes.
I made few other cakes with videos too which I have already mentioned above and when they too started doing well I decided to make many more cakes as I keep doing baking related recipes.
I am fond of making cakes and hence decided to make another cake variation that is rava cake or semolina cake which has an amazing taste with a soft and spongy texture.
This cake is made using eggs and shall also be uploading and posting these cakes eggless as well.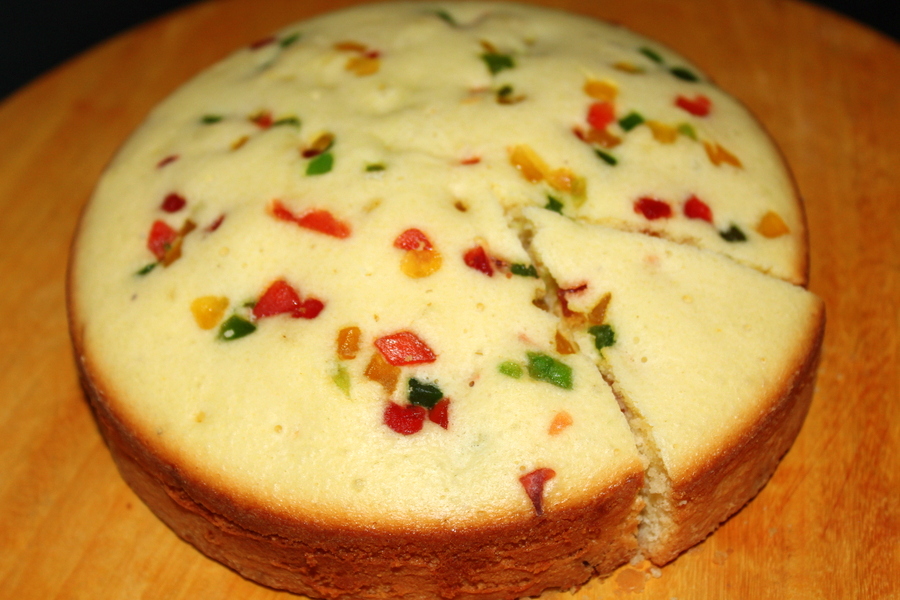 Making cake is an art and once we master this art we enjoy making them.
Suji cake is made using rava, maida, eggs, sugar, yogurt, and some more baking stuff and it is not tough to make cakes in cooker or oven.
Making cakes in cooker or oven procedure is the same. The method of making batter for cakes in any cooking method is the same.
Important points in making a cake:
 Always grease the pan well with butter. Flouring is also very important to the pan.
Greasing and flouring helps in removing the cake easily.
The batter should not be too thin while making a cake in cooker.
There are many kinds of cake pans easily available and every baking related stuff is also easily available online or in supermarkets.
If eggs are used then, baking the cake well for 60 minutes is essential to get rid of the eggy smell.
 Over baking the cake makes the cake too dry.
Never bake the cake on high flame.
Steps to remember while making cake in cooker:
There should always be a medium between base of the cooker and the cake pan.
 The medium can be sand, salt or water.
 If we directly place the pan inside the cooker, cake might burn.
 Always use salt/sand inside the cooker and then place the pan over it.
Rava cake can be made using eggs or eggless and this is a cake made using eggs along with a video procedure.
Video procedure to make suji cake recipe:
How to make rava cake recipe card below: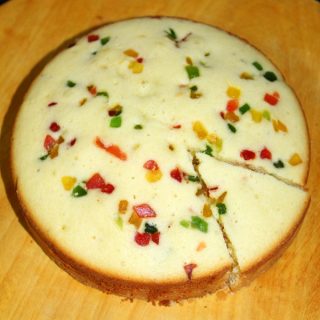 rava cake recipe, suji cake recipe | suji ka cake
Rava cake made using rava/sooji with maida and eggs into it.
Ingredients  
2

eggs

1

cup

powdered sugar

sugar powdered with 2 cardamoms

2

tbsp

oil

any cooking oil

1

cup

maida/all purpose flour

½

cup

sooji/rava

a pinch of salt

½

tsp

baking powder

2

tbsp

yogurt

2-3

drops of vanilla essence

2

tbsp

milk

handful of tutti frutti
For greasing and flouring the pan:
1

tsp

melted butter

1

tsp

maida/all purpose flour.
Instructions 
Pre heating the cooker:
Firstly, take a pressure cooker, add about a cup of salt/sand all over the base of the cooker.

Spread the salt evenly.

Cover the cooker lid.

Pre-heat the cooker on low flame for 10 minutes without any whistle.
Greasing and flouring the cake pan:
Take a small cake pan, take some melted butter and grease the cake pan completely at the sides and at the base.

Take a tsp of maida, spread maida all over the cake pan and dust off the excess flour.

Greasing and flouring is done.
Making of the rava cake batter:
Take a mixing bowl, add 2 eggs and beat them well.

Add powdered sugar, add oil, mix the batter well.

Add maida, sooji, pinch of salt, baking powder, yogurt, mix all the ingredients well.

Add vanilla essence and milk.

Mix the batter well without any lumps until the batter is fluffy and smooth.

The batter should not be too thin.

Make a slight thick batter.

Take the greased and floured pan, spread some tutti frutti at the base of the cake pan.

Pour the cake batter from the centre.

Tap the pan slightly to remove air bubbles.

Spread some tutti frutti all over the batter.

Cake is ready to be baked.
Baking the cake:
Open the cooker lid.

Place the cake pan inside the cooker.

Cover the cooker with the lid.

Do not use any whistle.

Bake the cake for 50-60 minutes on low flame.

Remove the cooker lid.

Test the cake with a skewer/tooth pick by inserting a tooth pick.

If the tooth pick comes out clean, cake is perfectly done and if the batter sticks to the tooth pick after inserting, then bake the cake for few more minutes.

After cake is baked well, switch off the flame.

Take the cake pan out carefully with a holder.

Allow the cake to cool down for few minutes.

Run a knife at the sides of the cake pan to loosen the cake.

Invert the pan and pat the pan.

Lift the cake pan carefully and it comes out clean.

Cut the cake and its ready to be served.
Notes
1. To make the cake look more delicious, spread some whipped cream all over the cake and garnish with some fruits etc...
Nutrition
Nutrition Facts
rava cake recipe, suji cake recipe | suji ka cake
Amount Per Serving
Calories 400
* Percent Daily Values are based on a 2000 calorie diet.
WANT TO WATCH VIDEO RECIPES?
SUBSCRIBE US ON YOUTUBE