Eggless chocolate cake is a vegetarian version of making a cake. It is a basic chocolate sponge cake made without eggs. It is made without an oven and the cooking vessel that I have used for baking this cake is a pressure cooker.
There are many such cooker cake recipes or without oven cake recipes such as cooker cake , chocolate cake in cooker, rava cake, vanilla sponge cake, eggless vanilla cake, plum cake etc...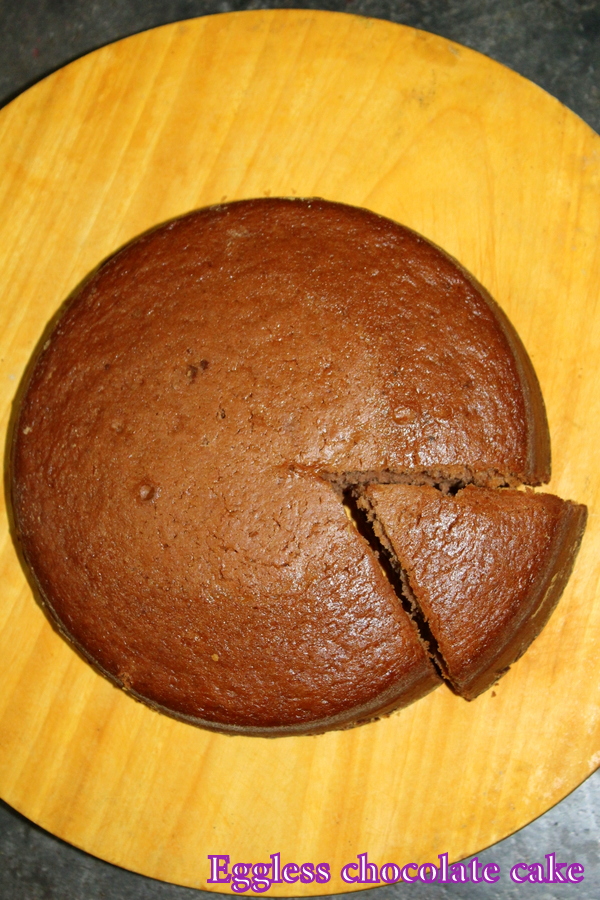 Here I have used condensed milk in place of eggs and it is also preferable by most of us as there are no eggs and there is no smell of eggs in it.
Most of my you tube channel viewers have requested me to show a cake without using eggs and I could now post this eggless recipe after such a long time.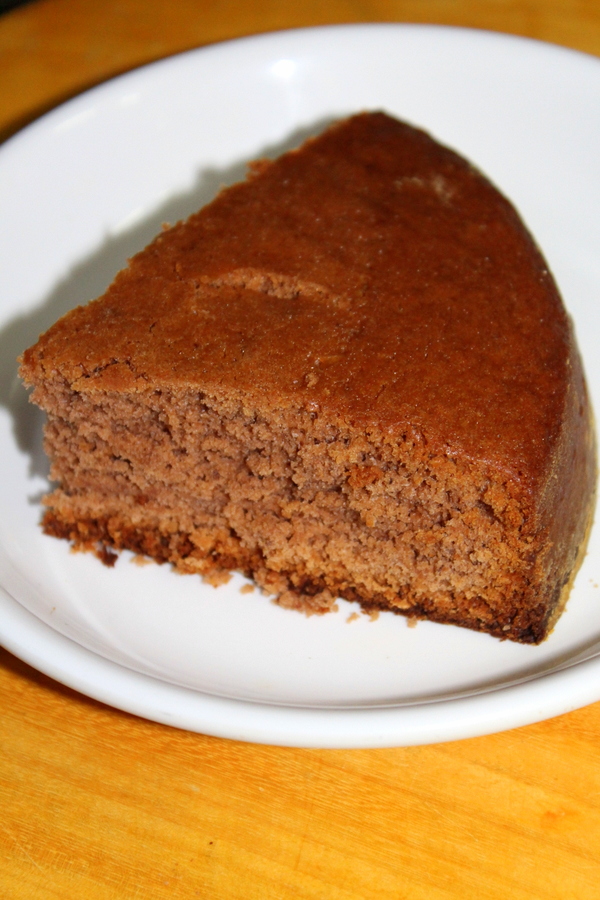 This eggless cake recipe is shown here with the help of a video procedure and it is indeed a simple and an easy cake recipe made with simple cake ingredients and also can be easily available at home.
Eggless cakes are common as most of them do not prefer to use eggs as its quite difficult to use eggs as they give a raw smell if they are not baked well.
Making eggless chocolate cake is not a difficult task and here I have even more simplified the procedure of making a cake by baking it in pressure cooker without oven.
One main thing to remember while baking a cake in pressure cooker is never use a whistle for the cake to be baked well.
Things to be remembered well in making a cake in pressure cooker or cooking vessel:
1.If pressure cooker is used, then always use a salt or sand at the base.
2.Never use a whistle while baking the cake.
3.If salt and sand is not available then, a stand too can act as a medium between the cooker and the cake pan.
Below is the recipe on how to make eggless chocolate cake recipe without oven.
The cake recipes which I have posted so far are very basic and simple sponge cakes with different flavors and hope to add more cake recipes in future with icing and frosting and with lots of decorations.
Eggless chocolate cake video procedure:
Eggless chocolate cake recipe:
Recipe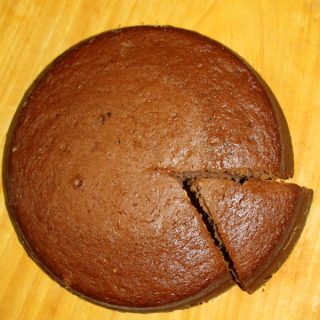 eggless chocolate cake recipe, pressure cooker without oven
A quick and easy chocolate sponge cake recipe.
Ingredients
For the eggless cake batter:
1

cup

condensed milk

3

tablespoon

oil

1

cup

powdered sugar

1

cup

maida/all purpose flour

2

teaspoon

cocoa powder

1

teaspoon

baking powder

a pinch of salt

2

cups

milk

½

teaspoon

vanilla extract
For greasing and flouring the cake pan:
a cake pan

some melted butter

some maida flour
Instructions
Pre heating the cooker:
Take a pressure cooker, add some salt at the base and spread it evenly all over the base.

Cover the cooker with a lid.

Preheat the cooker for about 10 minutes on low flame.
Greasing the cake pan:
Take a cake pan, grease the cake pan with some butter all over the pan at the sides and edges.

Take some flour and spread the flour all over the pan.

Place the greased and floured pan aside.
Making the cake batter:
Take a bowl, add condensed milk, add oil and mix the batter well.

Add powdered sugar, maida/all purpose flour, cocoa powder, baking powder, salt.

Gradually add milk and mix the batter well without any lumps.

Add vanilla extract and mix again.

The batter should be of milkmaid consistency.

Take the greased and floured cake pan.

Pour the cake batter from the centre.

Tap the cake pan slightly.

Open the cooker lid.

Place the cake pan inside the cooker.

Cover it with the cooker lid.

Do not put any whistle.

Bake the cake for about 70 minutes on low flame.

Take a tooth pick and insert into the cake.

If the cake comes out clean, cake is done well, else bake the cake for few more minutes and do a tooth pick test.

Switch off the flame.

Take the cake pan out and allow it to cool down for few minutes.

Run a knife at the sides and at the edges.

Invert the pan, pat the pan slightly.

Carefully lift the pan and be careful while taking the cake out.
Notes
1.To make the cake even more delicious make a chocolate ganache or frosting and spread all over the cake or melt any chocolate and spread on the cake.
2.There are many chocolate spreads that are readily available in super markets. One can even opt for those ready made chocolate spreads to apply all over the cake.
Nutrition
Nutrition Facts
eggless chocolate cake recipe, pressure cooker without oven
Amount Per Serving
Calories 460
* Percent Daily Values are based on a 2000 calorie diet.