Veg Manchurian gravy is a very popular Manchurian recipe in Indo Chinese cuisine and is made using Manchurian balls in Manchurian gravy. Check out other chings recipe which is chow mein recipe made using noodles as well as smith and jones pasta ...
Vegetable manchurian gravy takes in different sauces like soya sauce, chilli sauce to make a gravy consistency but here, I have a special manchurian ready made masala which gives an instant manchurian gravy taste which is similar to the manchurian gravy we eat at restaurants or at the fast food stalls.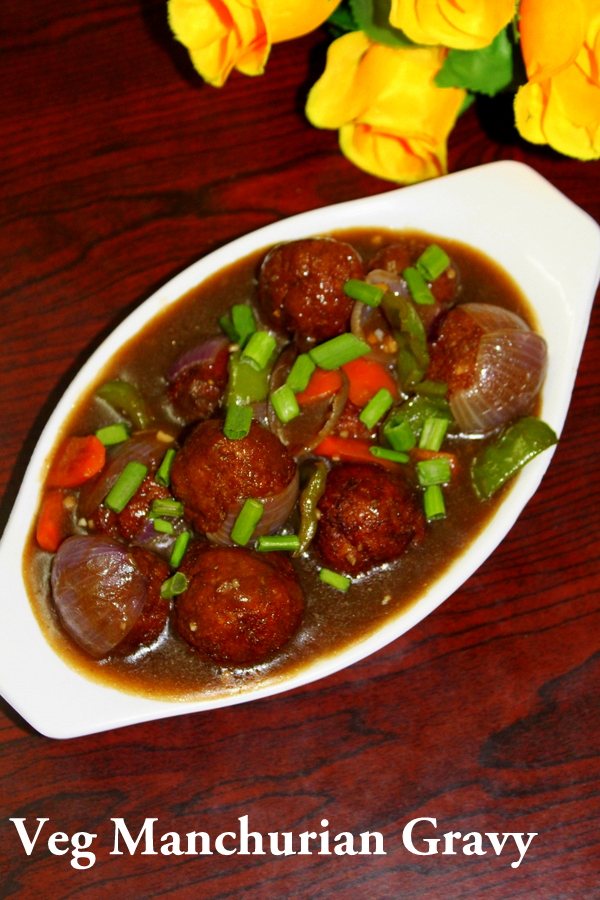 Veg manchurian here in this recipe is made by making manchurian balls using grated cabbage and deep frying them. The balls are then added in a gravy.
Now how the manchurian gravy is made?
The answer is very simple and to make the gravy I would be using ching's secret veg manchurian masala which gives us a good gravy instantly and can be used to make the gravy for the manchurian balls.
This ching's veg manchurian masala is mixed with some water and then made a manchurian masala mixture, this masala mix is added into the manchurian balls, cooked until we get a thick gravy and served hot.
The traditional method of making veg manchurian gravy requires lots of sauces, spices, salt but this veg manchurian masala has everything into it that does not give us the pain of adding all the traditional ingredients that are required to be added.
Just without adding any corn starch, spices, salt and sauces, this method gives us a gravy consistency.
To make veg manchurian here, I have made use of grated/chopped cabbage but one can use any kind of vegetables like grated carrots or grated cauliflower too and then deep fry those balls.
This is a simple 3 step recipe and can be cooked quite easily and be given to kids as evening recipes and nothing could be as simple as these ching's masala recipes which dish out the recipes in simple 2-3 steps and in just a couple of minutes.
I would be sharing a video procedure too inorder to help my viewers understand it in a more better way.
Below are the recipe details on how to make veg manchurian gravy which is a very simple recipe made using ching's veg manchurian masala.
Video
Recipe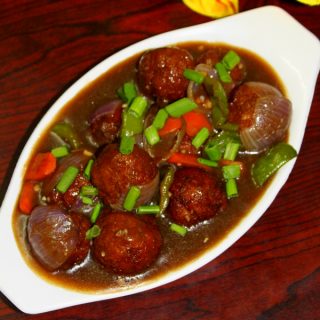 veg manchurian gravy recipe, chings manchurian masala
An easy method of making manchurian gravy by using a ready made ching's manchurian masala.
Ingredients
To make manchurian balls:
2

cups

of grated/finely chopped cabbage

1

teaspoon

very finely chopped ginger

1

teaspoon

very finely chopped green chilli

¼

cup

besan

gram flour

salt to taste

oil for deep frying the balls
To make manchurian gravy:
300

ml

of water or 2 cups

1

full packet of ching's veg manchurian masala

2-3

tablespoon

oil

100

gms of diced vegetables

diced onion, diced carrots, diced green capsicum

spring onions for garnishing
Instructions
Making of manchurian balls:
Grate/chop 2 cups of cabbage.

Squeeze out the water completely from the cabbage.

Now take a bowl, add the grated cabbage free from any water content.

Add chopped ginger, chopped green chilli, chick pea flour(besan), salt to taste.

Mix all the ingredients well.

Make small round balls of the cabbage mixture.

Take a wok, heat oil for deep frying the balls.

Add the balls one by one carefully and deep fry the balls on low flame until they turn crisp and golden brown.

Take the balls out on a plate on an absorbent paper.
Making of veg manchurian gravy:
Step 1(making of veg manchurian masala mixture):
Take 300 ml or 2 cups of water, cut and add 1 full packet of chings veg manchurian masala.

Stir the manchurian masala mixture well without any lumps and keep this masala mixture aside for later use.
Step 2:
Take a pan, add 2-3 tablespoon oil and heat it.

Add the diced vegetables such as diced onions, diced carrots, diced green capsicum.

Stir fry the vegetables for 2-3 minutes.
Step 3:
Add the manchurian balls into them.

Stir again the manchurian masala mixture well and add into the veggies and balls.

Stir the mixture slightly.

Bring this to a boil.

For more thicker gravy cook the gravy for 2-3 more minutes.

Switch off the flame.

Garnish with chopped spring onions.

Serve hot.
Notes
1. Here, I have used cabbage to make manchurian balls but one can also make use of cauliflower or carrots or any other preferred vegetable to make the balls.
2. The masala is a ready made masala which does not require any other salt, spices and sauces.
3. You can find these masalas anywhere online or in grocery stores.
4. With the same masala, we can not only make veg manchurian but we can also make chicken manchurian with the same procedure just by replacing vegetables with minced chicken.
Nutrition
Nutrition Facts
veg manchurian gravy recipe, chings manchurian masala
Amount Per Serving
Calories 350
* Percent Daily Values are based on a 2000 calorie diet.