aloo cutlet is a quick patty kind of a dish which is completely vegetarian and a simple snack for the evenings or can be made for kids as well.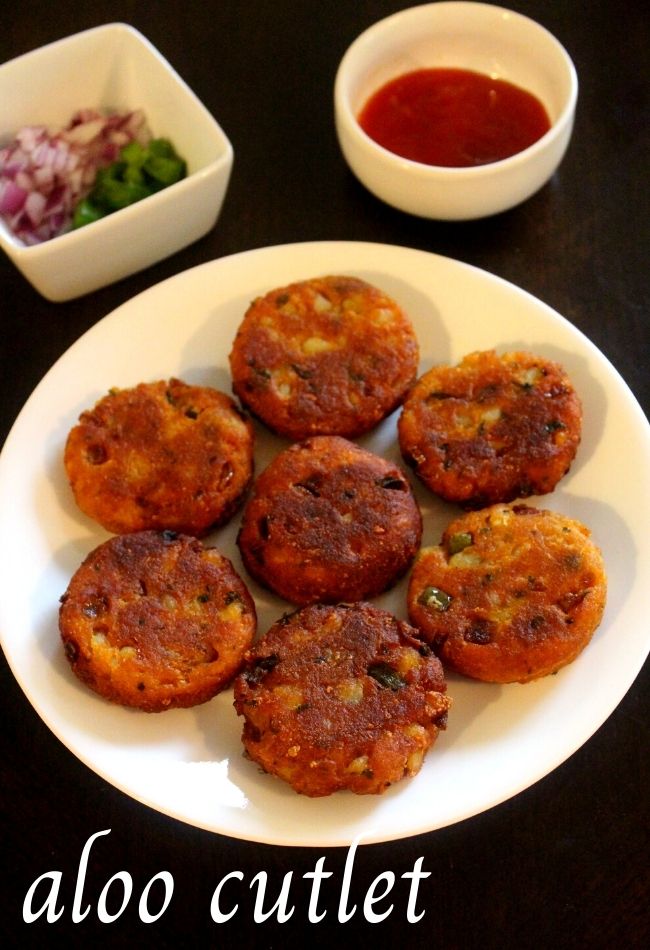 There are many ways aloo patties or aloo k kabab can be made and here I am sharing one of the simplest and quick ways to make the recipe just by using simple ingredients.
What exactly is aloo cutlet or potato cutlet?
This is a round shape potato patty made by mixing boiled mashed potato with bread crumbs and some spices and herbs.
The potatoes are boiled first and then they are allowed to cool down. The boiled potatoes are then peeled and mashed first.
The mixture is then made by adding bread crumbs which help in binding the mixture well and not allowing the patties to get broken while frying.
The potato mixture is made without adding water and then small portions of the potato dough is taken into hands and then made into round small biscuit shape patties which are then either shallow fried or deep fried.
How to best make use of potatoes?
Potatoes are usually termed as 'aloo' in Indian lingo basically in hindi terminology and it is used in thousands of recipes of all kinds.
I have shared many ways aloo is used on the blog from snacks to other main course recipes such as in biryanis but there are many more indefinite amount of recipes that use this vegetable as the main ingredient to make different kinds of recipes.
Some of the aloo recipes from the blog are potato fry, jeera aloo, aloo paratha, aloo bajji, potato curry, spanish omelette .
Potatoes are good for health if used by boiling them in making recipes but there are many appetizers and snacks in which the aloo is made by deep frying or shallow frying.
This recipe which is the potato cutlet is quite filling and can be taken for breakfast as well along with a chutney or dip which is accompanied along with patty to give the best taste.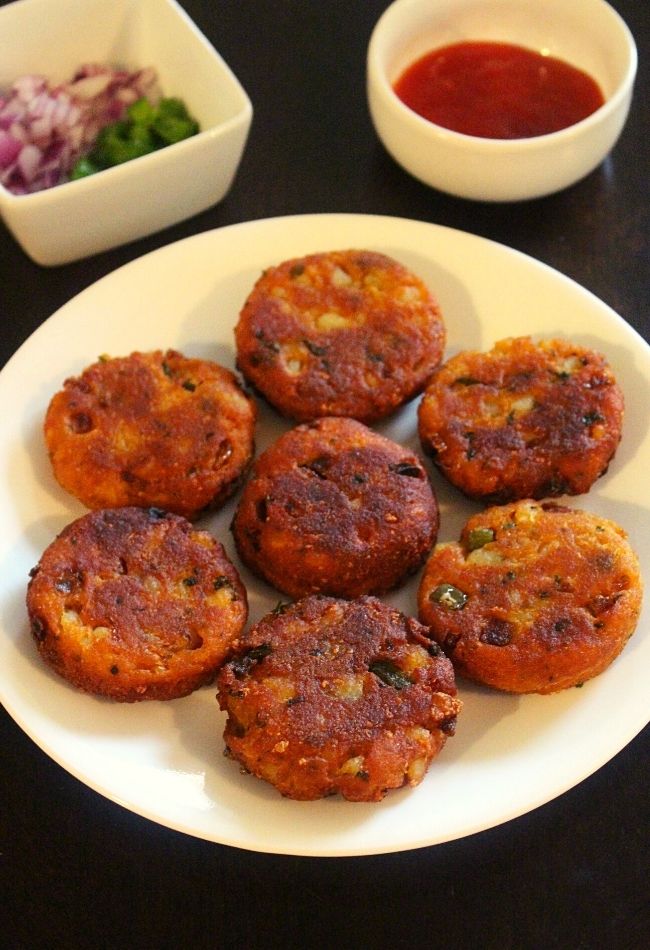 Tips to make the perfect aloo cutlet:
The potato should be boiled and then the potatoes are allowed to cool down completely.
If the potatoes are peeled and then mashed immediately, it would get soggy and starchy which may ruin the dish totally.
The boiled potatoes have to be kept under cold running water for a while before peeling them and using them.
To bind the potatoes well without breaking it is best to add bread crumbs as it is handy and easily available or can be made at home just by blending bread slices in a blender.
If in case bread crumbs are not handy, it is good to use poha/ beaten rice which also acts as a good binding agent with the potatoes.
If the mixture is mixed well and proper binding is done the next step would be to make the patties and frying them.
While frying they can be shallow fried or deep fried but if the mixture is not done correctly, the cutlet or the patties may break open in oil.
Rice flour too is added to get a slight crunchy texture and these ingredients added altogether give a perfect outcome.
How to make bread crumbs at home?
There are many recipes mainly snacks where the requirement of bread crumbs is highly essential.
Below is the simple procedure to make bread crumbs easily at home…
Take bread slices, cut off the four corners of each bread slice and let the, dry for few hours.
To quickly dry them they can be kept in a microwave too or just keep them open for a while until all the moisture from the bread goes away.
When the slices are dried up, add the slices into a mixer grinder and grind them until they get powdered.
These finely powdered form of bread can be used to coat any snack recipes as well as add it to the cutlet mixture.
Brown bread or white bread can be used to make crumbs.
The bread crumbs can be stored air tight for many days and can be used when required to coat the snacks.
Some of the recipes where I have used bread crumbs to coat are chicken cutlets and chicken popcorn kfc style.
Check out the detailed recipe below which is shared along with a video procedure.
Video to make aloo cutlet below:
How to make aloo cutlet or potato cutlet: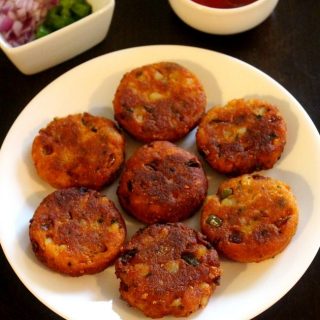 aloo cutlet, aloo patties or potato cutlet
boiled aloo mixed with herbs and spices and shallow fried.
Print
Pin
Rate
Ingredients
2

potatoes/aloo

2

tbsp

rice flour

1

cup

bread crumbs

1

tbsp

chopped coriander leaves

1/4

tsp

very finely chopped green chillies

1

tbsp

finely chopped green capsicum

1

tbsp

finely chopped onion

1/2

tsp

red chili powder

1/4

tsp

turmeric powder/haldi

1/4

tsp

cumin powder

1/4

tsp

garam masala powder

1/4

tsp

black pepper powder

salt to taste

1

tbsp

lemon extract

1

cup

oil for frying
Instructions
Boiling the potatoes:
Take 2 potatoes, add little water into them and then boil them by pressure cooking or by slow cooking method.

Once the potatoes are boiled well switch off the flame.

Take them out and place them in cold water.

Once they are cooled down, peel the potatoes.
Making the cutlet mixture
Take a mixing bowl, add the boiled potatoes and mash them well by hand or using masher.

Add rice flour into it, add bread crumbs.

Add chopped coriander leaves, add chopped green chili, add chopped green capsicum,

Add finely chopped onions.

Add dry spices such as salt according to taste, red chili powder, turmeric powder, cumin powder, garam masala powder.

Also add black pepper powder and mix everything well.

Add lemon exract and mix well.

Take small portions of the dough, make a round ball, press them in the form of small round patties or tikkis and place each of them on a plate.

Make patties or cutlets of the remaining dough.

Place the patties carefully into the heated oil.

Deep fry or shallow fry all the sides on low to medium flame until all the cutlets are done.

Take them out and place them on a tissue paper.

Serve hot with ketchup or chutney dip.

Enjoy with a cup of tea or coffee.
Notes
Do not add water to the dough.
The dough gets mixed well without water as the potatoes contain starch and help in mixing.
Bread crumbs can be replaced with poha if bread crumbs are not available.
These cutlets can be deep fried or shallow fried.
Nutrition
Calories:
897
kcal
|
Carbohydrates:
55
g
|
Protein:
8
g
|
Fat:
2
g
|
Saturated Fat:
1
g
|
Sodium:
280
mg
|
Potassium:
668
mg
|
Fiber:
5
g
|
Sugar:
3
g
|
Vitamin A:
133
IU
|
Vitamin C:
28
mg
|
Calcium:
83
mg
|
Iron:
3
mg
Want To Watch Video Recipes?
SUBSCRIBE US ON YOUTUBE!