Chilli cheese toast, a simple snack as well as a breakfast idea using bread slices, butter and cheese made in oven as well as on a griddle/pan on stove top.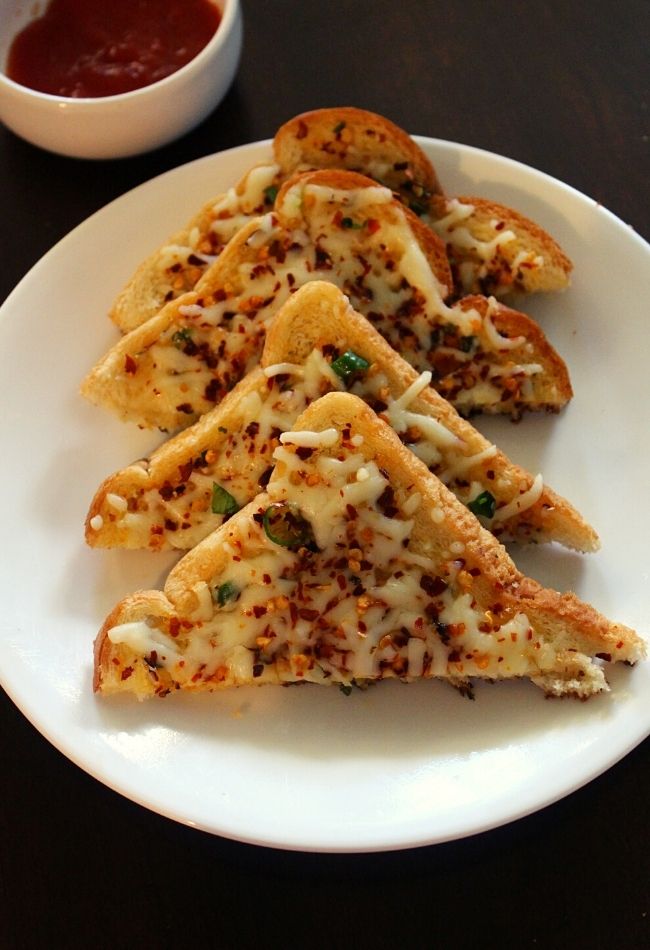 This toast is a quick snack recipe that can be made in just 5 to 10 minutes no matter which cooking technology is used.
What is chilli cheese toast:
The toast is made by toasting bread and is done by applying butter mix to the bread and then spreading grated cheese all over the bread.
The bread is then placed in the oven for about 5 minutes or 2 minutes more for the cheese to melt perfectly and for he bread to turn out crunchy and tasty.
The same arrangement can be done on a griddle by heating the tawa, applying butter to it and then toasting the bread well for 5 minutes on low to medium flame or until the cheese melts.
For more help with the making procedure, I have shared a video as well.
Baking in oven or tawa?
I would personally prefer to bake in the oven as the bread turns out crunchier and the toast is toasted to perfection at right temperature and timing without the base of the bread burning or turning black.
The tawa toast too comes out well but the toast if cooked on the griddle/tawa for a longer time burns the base of the bread and turns the base to black if not checked in between.
Which butter to apply?
The butter used here is unsalted and I have added salt to butter and mixed it well before applying to the bread.
Any butter could be applied and if salted butter is used, do not use salt while mixing butter with other spices.
There are other bread recipes on the blog and bread sometimes goes well with eggs and such recipes are bread toast and other bread dishes to try are bread upma, bread gulab jamun which are other unique recipes to be tried with bread.
I have also shared a sweet recipe using bread which is the double ka meetha that tastes good if had after meals or during occasions, it is a special sweet made to relish with other main course meals.
What kind of bread to use to make this toast:
Generally, toasts taste good with white bread and if one is choosing an healthier option, then using a brown bread would be suggestible but the taste of the toast is not as good as the one made with white toast.
Organic bread too can be used but overall, white bread slices taste good to make this simple bread recipe.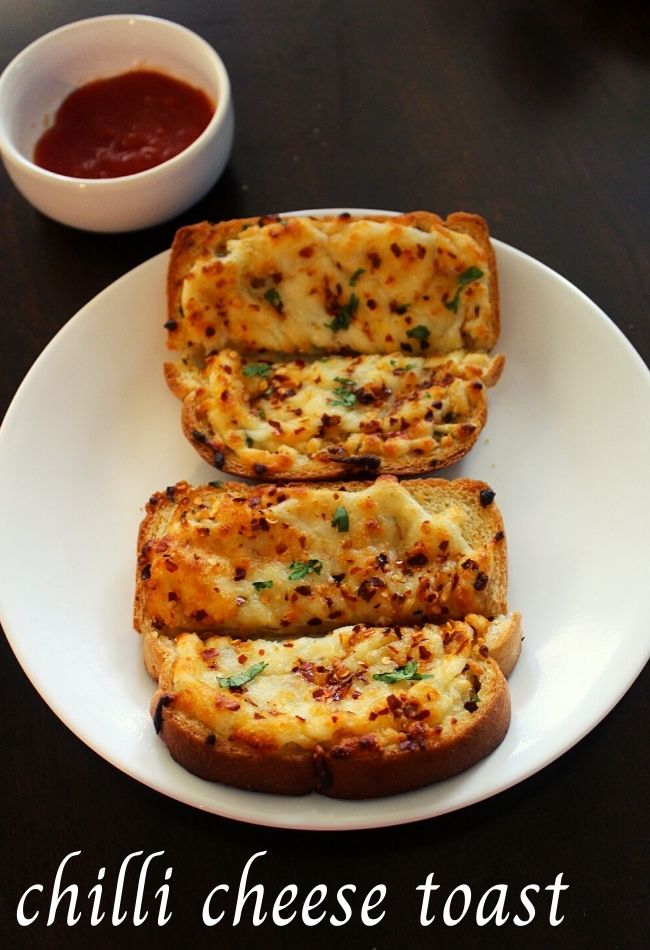 Other kind of bread recipes?
There are many ways a bread can be used such as making snacks like bread pakora, bread roll and many sweet dishes like the one shared above.
Another similar bread recipe that can be made on a griddle or an oven is the recipe which is a best snack or breakfast recipe loved by even kids as well.
If one is familiar with other breads such as pav then do try this special pav recipe such as pav bhaji recipe which tastes like the restaurant one's and the bhaji made with pav can be used with any bread recipe.
Is it healthy to use bread?
Bread is healthy if used in a right way such as to make sandwiches or toast recipes which does not make use of oil/butter/cheese to it.
The best way to use bread in a healthy way would be to use a brown bread which might not be tasty as the white one but is a much more healthier option...
Which cheese to use for the toast?
There are many varieties of cheese available in market ranging from cheese chunks to grated cheese and with several brands but in this particular recipe I have used mozzarella cheese which is grated and it tastes good to make cheese toasts.
Check out this completely vegetarian dish which can be used as snacks or a breakfast...
Check out the video procedure below to make the bread snack:
How to make chilli cheese toast recipe below: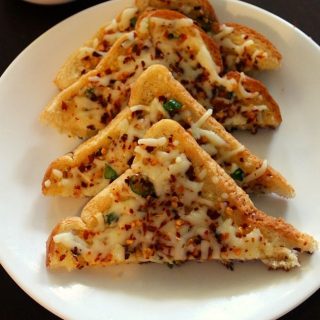 chilli cheese toast recipe, chilli toast
a simple bread snack toast using cheese and butter.
Ingredients  
4

bread slices

3

tsp

butter

¼

tsp

oregano

¼

tsp

finely chopped green chilli

salt to taste

¼

tsp

red chilli flakes

1

cup

mozzarella grated cheese
Instructions 
Make butter mix:
Take a small bowl add 2 tsp butter, dried oregano, finely chopped green chilli, red chilli flakes, salt as per taste, mix it well.

Take 2 bread slices and apply this butter mix to one side of the bread.

Use grated mozzarella cheese and spread all over the bread slices.

Sprinkle some chili flakes on the bread slices.
Toasting on the pan/griddle:
Add little butter to the pan or a tawa.

Melt the butter by heating the pan.

Place the cheese bread slices.

Close the lid and cook the bread slices for about 2-3 minutes on low flame.

Check in between if the cheese is melted or not.

Cook for another 2-3 minutes until cheese melts and bread is toasted well.

Do not cook for longer time as the base turns black and keep checking in between to avoid burning.

Take the chilli cheese toast out and serve with dip or ketchup or sauce.
Baking the toast in oven:
Make the same arrangement by applying butter mix to bread, spreading cheese and chili flakes.

Pre heat the oven to 180 °C or 350 °F and then place the bread slices in a tray and place them in the oven.

Bake the toast for 5 minutes and check in between for the cheese to melt.

If cheese is melted well, take it out or bake for 2 more minutes.

Serve hot with ketchup or dip or sauce.
Nutrition
Nutrition Facts
chilli cheese toast recipe, chilli toast
Amount Per Serving
Calories 110
Calories from Fat 108
% Daily Value*
Fat 12g18%
Cholesterol 32mg11%
Sodium 115mg5%
Potassium 20mg1%
Carbohydrates 1g0%
Protein 1g2%
Vitamin A 532IU11%
Vitamin C 1mg1%
Calcium 13mg1%
Iron 1mg6%
* Percent Daily Values are based on a 2000 calorie diet.
WANT TO WATCH VIDEO RECIPES?
SUBSCRIBE US ON YOUTUBE