The bread roll is an evening snack recipe made using bread slices and the filling done inside is of boiled potato spicy filling and therefore, these are called bread potato rolls. Bread rolls are an interesting way if we are using bread slices and these are a deep-fried popular snack in India.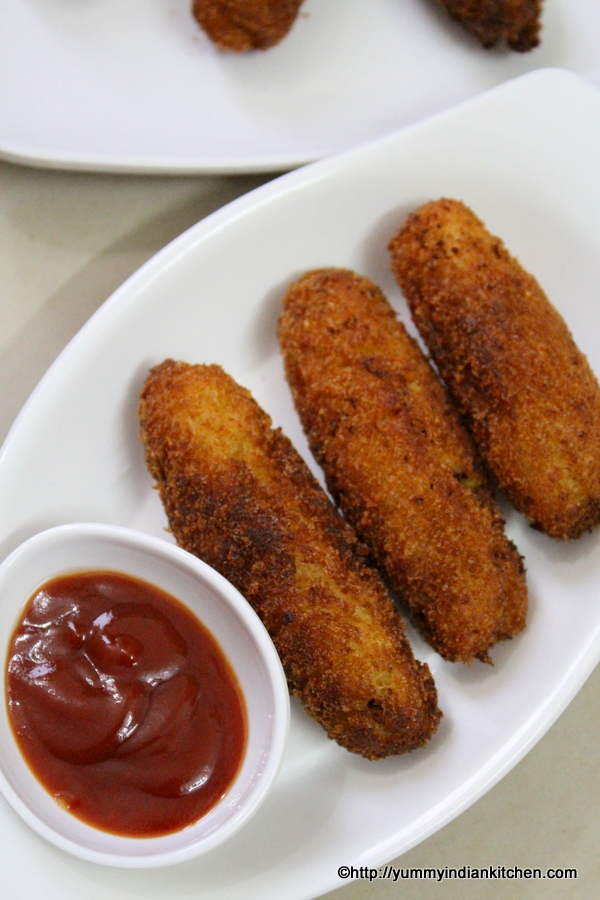 Jump to:
About rolls
This snack recipe can be used as an iftar snack during the month of Ramadan and due to time constraints, I could not write down iftar special recipes and hope to add many more iftar recipes as much as I can.
This particular snack is perfect for winter evenings or during the rainy season. The best time to have this snack is while drinking tea... Other snacks to try out are chilli cheese toast
The bread roll is crunchy from outside and soft from inside and is quite a good looking snack dish which is very appealing to our eyes...
The snack recipe needs few bread slices and other main ingredients include boiled potatoes and some spices to make the wonderful stuffing.
Stuffings
Inside the bread there are various stuffings that can be done and fried but, here, I have used boiled potato stuffing but, various stuffings using egg, paneer, veggies too can be done to this snack.
The rolls which are made here are in bullets shape and these rolls are coated with bread crumbs to get a crunchy texture to the outer covering.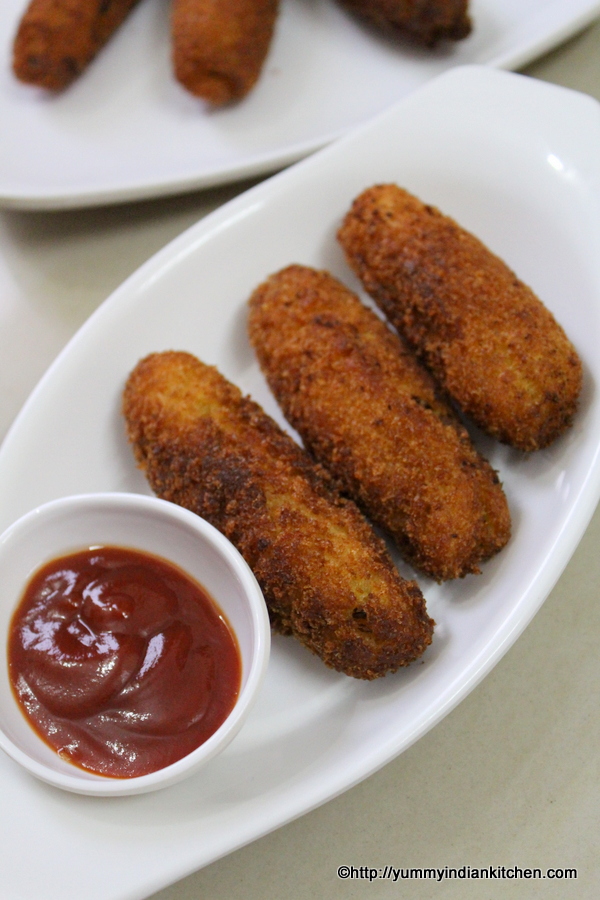 These deep fried snacks go perfectly with sauce or ketchup or they can also be eaten plain without any dips...
The stuffing has to be placed on the bread slice and should be rolled very carefully in such a way that it takes oval shape and also the stuffing should be covered with bread from all sides...
Steps on how to make rolls
To make this recipe we first need to boil the potatoes, peel them, and make the stuffing by adding certain dry spices like salt, red chilli powder, coriander seeds powder, turmeric powder, coriander leaves and all the ingredients mixed well.
We also need to add green chillies into the stuffing and the stuffing that appears for this rolls looks like the one in the picture below...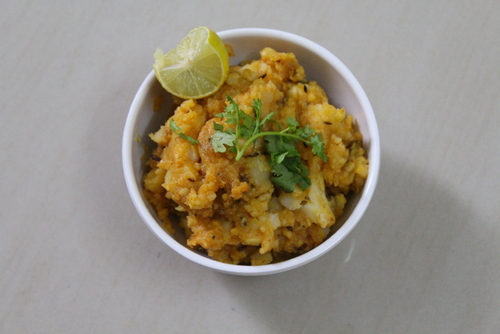 Once the stuffing is ready, take each bread slice and cut out all the corners of the bread, dip all the four corners in water slightly, squeeze it by pressing the bread slice. Take a spoonful of the stuffing and place the stuffing over the bread slice and fold and make a shape as shown in the picture. Coat the bread roll with dried bread crumbs completely...Set these bread crumbs aside and deep fry them.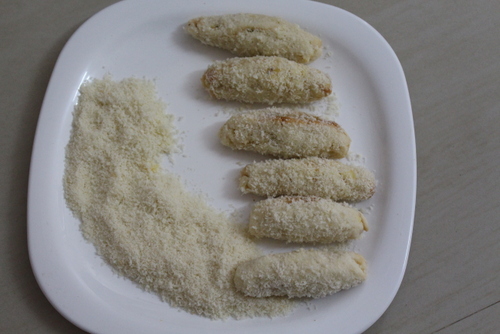 After deep frying, the bread rolls attain an amazing look like shown below...
Recipe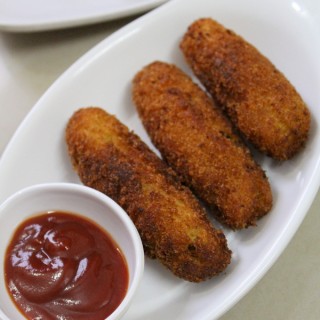 Bread Roll Recipe Indian or Bread Potato Rolls
An evening snack food made with bread slices, stuffed with potato masala, rolled and deep fried in oil.
Ingredients
5-6

bread slices

½

cup

bread crumbs

oil for deep frying

water in a bowl for dipping bread slices
Stuffing:
3

potatoes boiled

peeled and mashed

oil - 1tbsp

½

teaspoon

cumin seeds

1

tablespoon

green chillies very finely chopped

salt - to taste

½

teaspoon

red chilli powder

¼

teaspoon

turmeric powder

1

tablespoon

coriander leaves

½

teaspoon

coriander seeds powder

1

teaspoon

lemon extract
Instructions
Step 1(Make the stuffing):
In a wok, add oil and heat it.

Into it, add cumin seeds and saute well.

Into it, add finely chopped green chillies, stir well.

Add mashed potatoes, salt, red chilli powder, turmeric powder, coriander seeds powder and mix the whole mixture well.

Cook the whole potato mixture for a minute on low flame.

Add coriander leaves, sprinkle lemon extract all over and toss the potato mixture well.
Step 2(Cut the bread slices, stuffing and deep frying):
Take each bread slice, take a knife and cut out all the corners of the bread slice.

Cut out the corners of the remaining bread slices.

Dip the four corners of each bread slice slightly in water, squeeze it completely.

Fill a teaspoon full of potato stuffing onto bread slice, fold and make into bullets shape.

Coat the roll with bread crumbs.

Similarly, stuff and make rolls of all the remaining bread slices, coat them with bread crumbs and place aside.

Heat oil in a wok for deep frying.

Drop rolls in oil and deep fry them on low to medium flame until they turn golden on all sides.

Take them out from oil.

Place them on a tissue paper.

Serve them with sauce or ketchup!!!
Notes
The potato filling here I have made is very light with less spices and if one tends to include more herbs and spices then just go ahead with it and additional spices that could be added are finely chopped garlic and ginger while making the filling and black pepper corn powder for more enhanced flavors...
Nutrition
Nutrition Facts
Bread Roll Recipe Indian or Bread Potato Rolls
Amount Per Serving
Calories 199
Calories from Fat 27
% Daily Value*
Fat 3g5%
Sodium 375mg16%
Potassium 131mg4%
Carbohydrates 36g12%
Protein 7g14%
Vitamin A 14IU0%
Vitamin C 1mg1%
Calcium 101mg10%
Iron 3mg17%
* Percent Daily Values are based on a 2000 calorie diet.