Spanish Omelette, is an egg based omelette made using potatoes and eggs combined in the form of an omelet.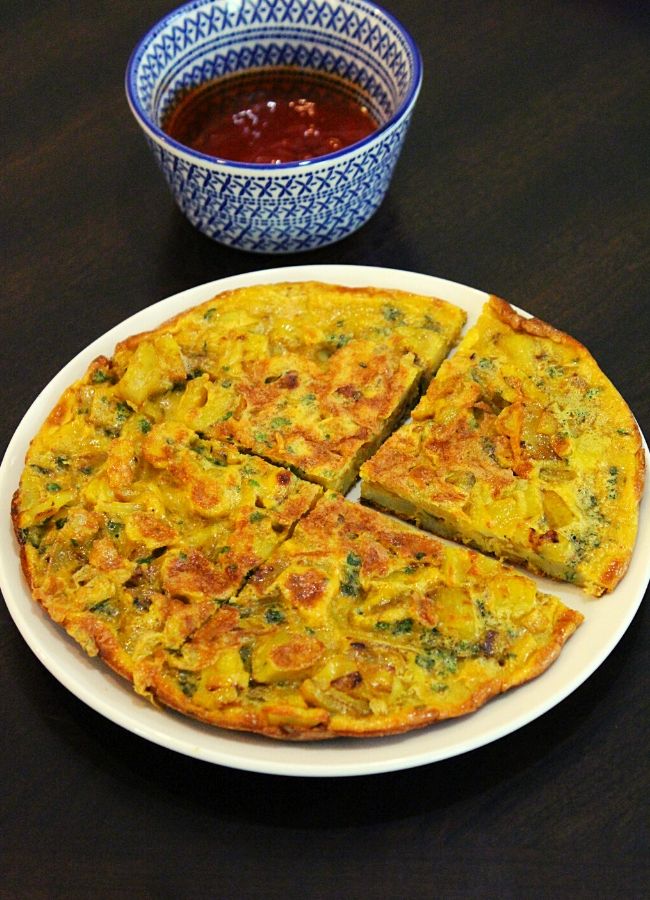 There are various other omelettes already shared on the blog and shall be posting many more as I update but the one's posted are masala omelette, egg omelette, bread omelette etc…
What is spanish omelette?
It is a very simple and easy omelette similar to the one made using eggs which are basically beaten well. It is then spread like an omelette and cooked well on both sides.
It is mainly made in Spain and is one of the popular recipes in those regions and is popularly known as 'tortilla espanola' in Spanish.
The difference in making spanish style of omelette is mainly the use of potatoes which are finely sliced and stir fried a little before adding them to the omelette mixture. Once the potatoes are done well, they are mixed with omelet mix and made in the form of an omelette.
It is mainly the use of potatoes which makes the omelet a very special and delicious.
When and how to serve this omelet?
It is mainly served as a breakfast recipe because it has all the ingredients that actually make a good breakfast.
It tastes best if eaten plain or can be eaten with any flat breads or have it as a snack by dipping it with some ketchup.
Different ways of making it?
Here, in this omelette, I am making it by adding some spices and herbs to the omelet mixture and just using stir fried potato slices in the mix.
But, there are several ways to make this omelette and to make variations to it such as adding cheese to make the omelette more cheesy and this can be easily done by just adding some grated cheese into the omelet mix along with potatoes and eggs.
But since we mainly use potatoes to make the omelet, it can be called as Potato Omelet as well.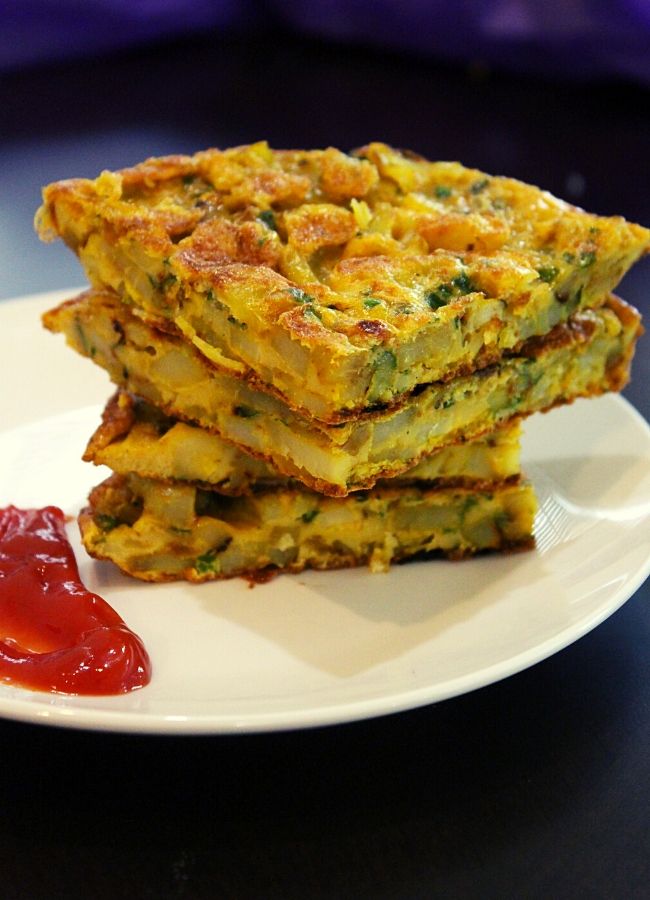 Healthy way of making this omelette:
We all are familiar with the health benefits of Eggs but if one is looking forward to make it in a healthy way, there are few things that should be kept in mind while making it.
Instead of using edible vegetable oil, it is healthy to make use of olive oil.
If looking for more healthy options then add only egg white rather than adding both yellow and white part of the eggs.
One more healthy option is to add the mashed boiled potato pieces into the omelette instead of adding stir fried one's.
These are few ways to make the omelet healthy and have it as a breakfast dish.
Health benefits of Eggs:
Eggs are quite healthy and should be included regularly in diet. They are a good source of Vitamin A and should be mainly eaten as boiled for more benefits and the white part of the egg is even more healthier than the yellow one.
Difficulty level of making the Omelet?
The omelette takes just few minutes to get perfectly cooked once the potatoes are done and it takes approx… 15 minutes for perfectly stir fried potato. Then the rest of the procedure is as easy as the basic omelette method.
Two important points to cook potatoes/aloo:
Here, I have just added salt, turmeric and a tablespoon of chopped onions to cook the potatoes. But it can be cooked in many other ways ranging from light to spicy such as I have already mentioned one way of potato fry on my blog, which is stir fried by adding some more dry spices.
Check out the detailed recipe on making potato omelette or spanish omelette recipe below and do check out the video for the recipe too as it would be more helpful…
Video procedure to make potato omelette:
Recipe card for Spanish Omelette below: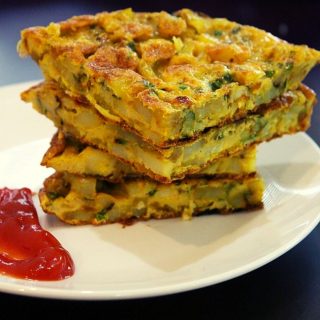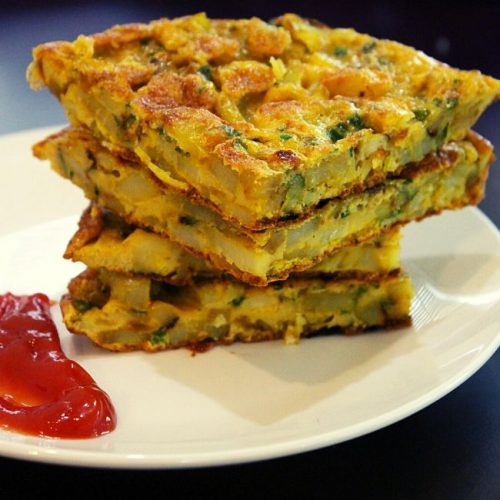 Spanish Omelette Recipe, Potato Omelet
An omelet spread of potatoes and eggs cooked together.
Print
Pin
Rate
Ingredients
To stir fry potatoes:
3

tbsp

oil

(edible oil)

2

tbsp

chopped onions

3

potatoes

(peeled and finely sliced)

salt to taste

1/4

tsp

turmeric powder/haldi
To make the omelette:
3

eggs

salt to taste

1/2

tsp

red chili powder

1/4

tsp

turmeric powder

1/2

tsp

ginger garlic paste

2

tbsp

chopped coriander leaves

2

tbsp

oil

(to make the omelet)
Instructions
To stir fry the potato:
Take a pan, add oil and heat it.

Add the chopped onions and saute two minutes.

Add the finely sliced potatoes, salt to taste, turmeric powder, mix well.

Stir fry and cook until the potatoes turn tender and it takes about 12 to 15 minutes to get soft.

Keep them aside once they are done.
Make the omelette mixture:
Take a bowl, break the egg.

Add salt, red chilli powder, turmeric powder, ginger garlic paste, chopped coriander leaves.

Add the cooked potatoes into the egg mixture.

Heat a tawa/gridle to spread the omelet.

Add 2 tbsp of oil and heat it.

Spread the egg potato mixture like an omelette.

Let it cook for 4-5 minutes on low to medium flame.

Do not flip until each side is cooked well.

Flip after the bottom side cooks well.

Cook the other side too perfectly for few minutes.
Notes
Additional spices such as black pepper powder, or any preferred spices can be be added as per preferences.
Here, I have kept it very light to make it suitable for kids as well as young can have it as a breakfast or a snack recipe.
Nutrition
Calories:
654
kcal
|
Carbohydrates:
57
g
|
Protein:
15
g
|
Fat:
42
g
|
Saturated Fat:
5
g
|
Cholesterol:
246
mg
|
Sodium:
124
mg
|
Potassium:
1436
mg
|
Fiber:
7
g
|
Sugar:
3
g
|
Vitamin A:
557
IU
|
Vitamin C:
63
mg
|
Calcium:
75
mg
|
Iron:
4
mg
Want To Watch Video Recipes?
SUBSCRIBE US ON YOUTUBE!