Masala omelette, an easy and quick to do breakfast made using eggs by quickly beating them with fresh herbs, spices, spreading into a crepe and cooking them.
Also check out other masala included recipes from the blog such as egg masala, masala corn, chicken masala recipe, paneer butter masala, matar paneer masala, paneer tikka masala, mutton masala, masala chai, baingan masala etc…
Which eggs are healthy?
Eggs are available from various chickens that is broiler chicken and also poultry hens as well as poultry farms that are usually found in Indian homes which are domesticated and fed which then produce healthy eggs and meat.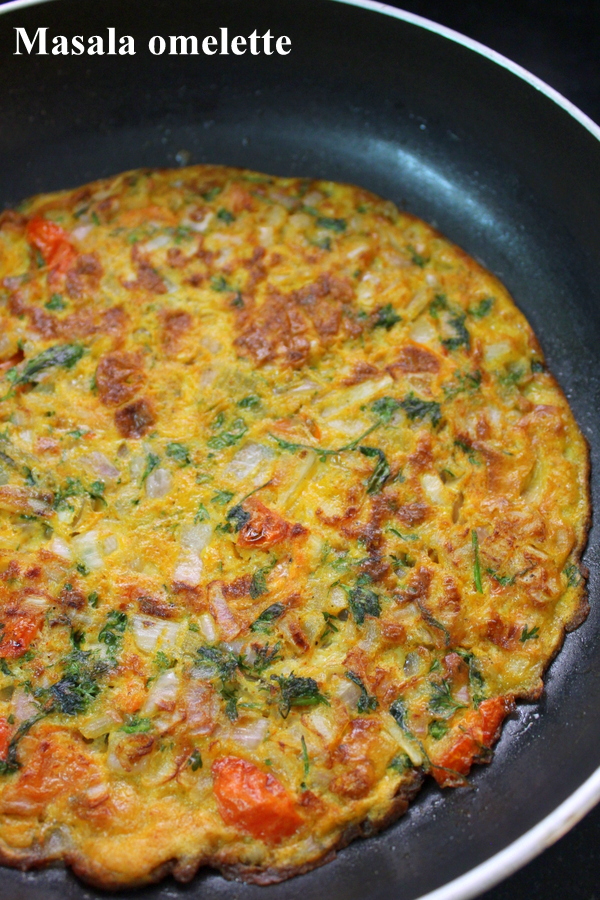 The eggs obtained from broiler chicken are usually sold more often and almost everywhere as these are available in abundance in markets. The eggs that are available from poultry are found rarely but extremely healthy and should be consumed more often.
They are good to be eaten during winters, rainy or during cold weathers as they produce lots of warmth. The broiler chicken eggs too can be consumed when poultry eggs are not available but the healthiest option is to go for domesticated eggs.
Anda recipes on the blog:
Do check out egg fry, bread omelette, egg fried rice, egg roast, egg paratha, ande ki sabji, hyderabadi egg biryani, egg kulambu , south indian egg curry , anda bhurji and so on from some of the egg related recipes on the blog.
Color of eggs:
The color of eggs is either white or light brown in color. Broiler chicken eggs are usually white in color and poultry eggs color is usually light brown in color or brown in color.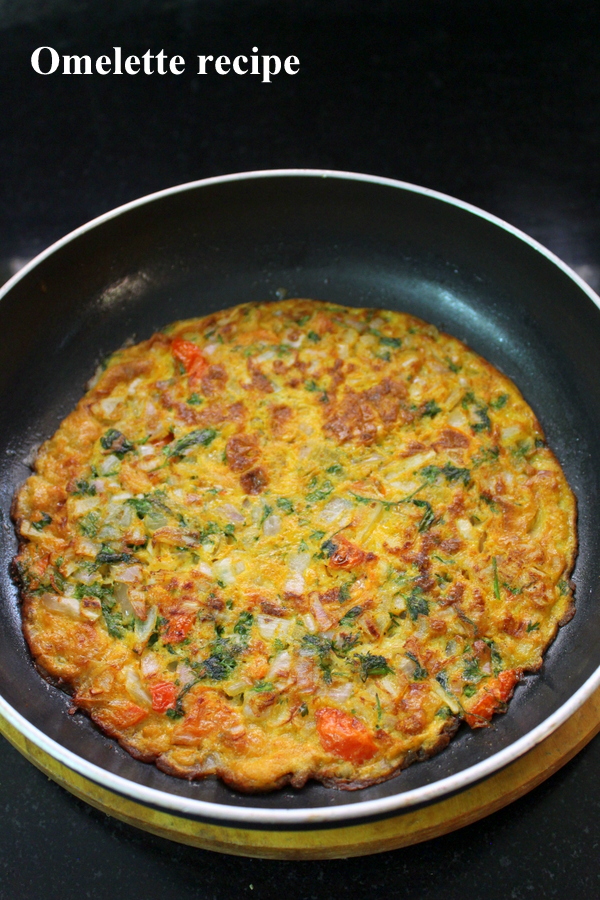 Size of the eggs:
The eggs that we buy can be small and oval in shape or bigger in size and oval shape. The size of the eggs from domesticated poultry eggs are usually smaller in size compared to the eggs from broiler chicken.
Which eggs taste good:?
The eggs obtained from poultry taste better than the broiler chicken eggs. The reason is poultry eggs are raised in good environment and with lots of health care tips but broilers are just multiplied artificially which could also be a bit unhealthy and do not taste well.
Why should domesticated eggs be preferred?
These eggs are given by hens that are fed in a healthy manner in poultry farms and also taken care well by the people of poultry farms where as broiler chickens are purely produced by artificial insemination only for the purpose of selling their eggs, chicken and other stuff.
The eggs are produced in large quantities by artificial methods which are healthy but not more than poultry eggs.
I would suggest to get poultry eggs from the poultry farm once in a while and include in diet.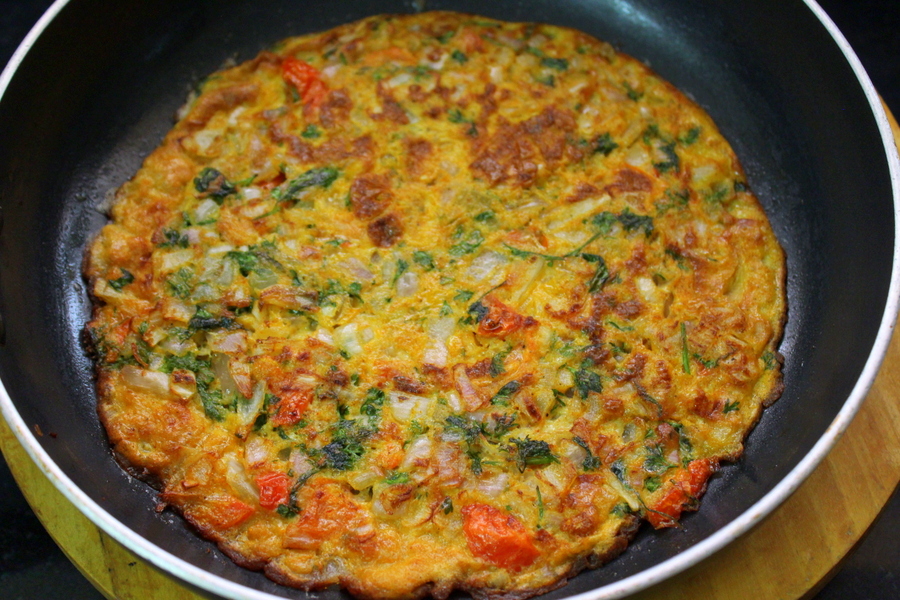 Benefits of eating eggs:
Eggs are a rich source of calcium and Vitamin D and they are good for bone development in body.
It is also a rich source of protein which helps in building muscles and body building.
Eggs have high source of Vitamin A too which is essential for eyes and helps in having a better eyesight.
Egg white is more beneficial and nutritious than the egg yolk as yolk has high amount of cholesterol and egg white should be included more in diet than the egg yolk.
Although eating eggs are healthy, people suffering from diabetes should take care before making it a part of their diet as eating eggs may cause them heart related problems such as heart diseases etc…
When and how should eggs be eaten?:
Egg is such a healthy food that should not be ignored and vegetarians can substitute eggs with paneer/ cottage cheese.
Egg is more healthy when boiled and eaten rather than eating omelet as boiled egg white is very nutritious.
Eggs can be scrambled and they can also be added into various curries and made as egg curries, egg rice recipes, fried eggs and so on…
Check out the article below on how to make Indian breakfast omelette which is quick, easy and an instant option as a breakfast recipe and also check simple egg omelette which is made without tomatoes.
Normally, omelet is made in various ways and omelette is made in many different varieties such as french omelet, spanish omelet and each method has a different way of making.
How masala omelette is made:
Masala omelette is made by beating eggs with dry spices and also by adding very finely chopped onions, tomatoes, freshly chopped coriander leaves, black pepper corn and chilli powder which gives a masala flavor to the omelet which can be accompanied with rice, roti or bread as well.
Check out the detailed recipe below and the video method too in the recipe card…
How to make masala omelette recipe: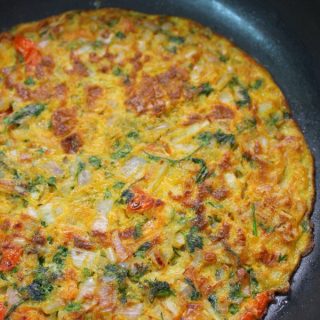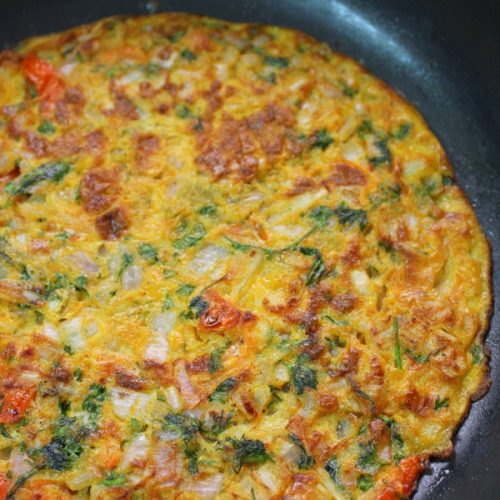 masala omelette recipe, indian omelette for breakfast
A simple Indian breakfast accomplishment made using beaten eggs and spices.
Print
Pin
Rate
Ingredients
Beaten egg mixture:
2

eggs

salt - to taste

1/4

tsp

red chilli powder

a pinch of haldi/ turmeric powder

1/4

tsp

ginger garlic paste
Masala omelette mixture:
1

onion

(very finely chopped)

1

tomato

(deseeded and very finely chopped)

1

tbsp

very finely chopped coriander leaves

salt - to taste

1/4

tsp

black pepper corn powder/ kali mirch powder

1/4

tsp

red chilli powder

1/4

tsp

oil
Instructions
To make beaten egg mixture:
Take a bowl, beat 2 eggs, add salt as per taste, red chilli powder, turmeric powder, ginger garlic paste.

Mix all the ingredients well by beating them well with a beater.

Set the mixture aside
To make masala omelette mixture:
Take a bowl, add very finely chopped onion, very finely chopped tomato, very finely chopped coriander leaves, salt to taste, black pepper corn powder, mix all the ingredients well.

Add red chilli powder, mix the masala well.

Add oil into the mixture and mix well.

Take the beaten egg mixture and add it into the onion tomato masala mixture.

Combine all the ingredients well.

Make sure the egg mix and the onion tomato masala mixes well.
Making of the omelette recipe:
Take a pan and heat it.

Add oil into the pan and heat the oil.

Take the omelette mixture and pour it on the pan from the center.

Spread the omelette mix evenly and round.

Cook the bottom side until all the sides are evenly cooked.

Flip the omelette and cook the other side too until it is done well.

Make sure both the sides are done well.

Once done, take the omelette out on a plate.

Serve hot with roti, bread or rice.
Video
Notes
Masala omelette can be served along with roti.
Plain paratha or plain roti can be served as an accompaniment with omelette which tastes yum and reduces our time of making a curry for the roti or chapati.
It can be placed between the bread slices and served as an omelette sandwich which is more quick and reduces the time to make even a roti.
This omelette is a great option for breakfast in Indian households.
While having it with bread, it is preferable to have it with brown bread which is a very healthy option during early mornings.
Tomatoes can be skipped and the omelette can be made just by using onions and still the taste comes out amazing.
The omelet can be made plain as well by skipping onions and tomatoes.
Nutrition
Want To Watch Video Recipes?
SUBSCRIBE US ON YOUTUBE!