Ambur Chicken Biryani is an authentic and traditional recipe from Tamil Nadu which is a dum style Ambur chicken biryani from the Ambur region. This ambur dum biryani is totally different from traditional Indian biryani recipes or Hyderabadi biryani. This is almost similar to the tahari recipe from Hyderabad with slight variations.
Other chicken recipes collection to check out are methi chicken .
Here, in this recipe I have used raw onions, tomatoes and yogurt and the biryani making method is totally different from the usual biryani which we regularly make...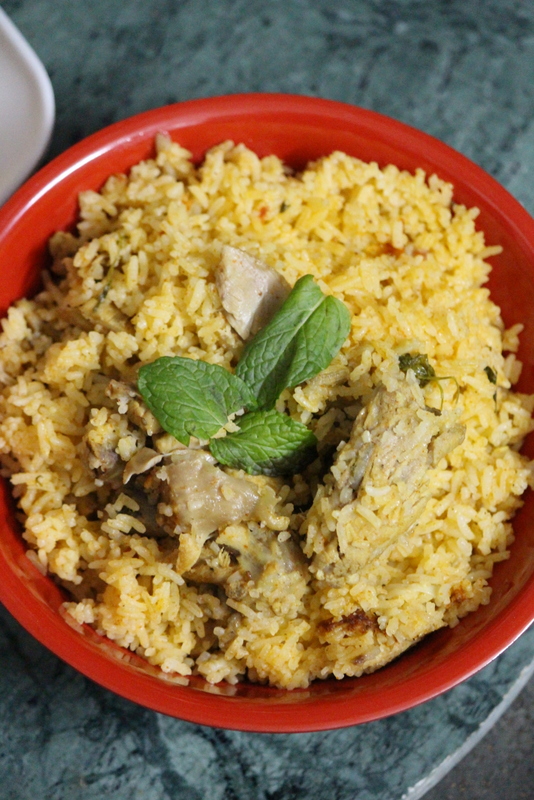 I have already posted ambur mutton star biryani which I really loved making it and now I wanted to make this delicious ambur chicken biryani recipe and post it for my blog readers....
Biryani recipes do require patience as they take up lots of time but the end result is absolutely perfect and satisfying. I love to try out various style biryani recipes from different regions and post it on my blog and shall continue doing so as I keep updating...
This recipe has been made by slightly changing the traditional method and I must say the outcome is as good as the traditional recipe and also tastes as good as in hotels or restaurants...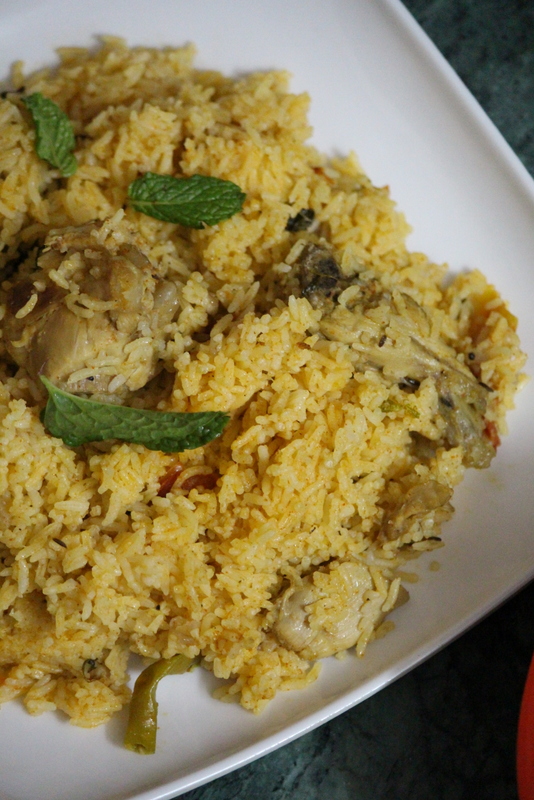 I just hope my recipes are loved by my blog readers and do send your feedback and comments below regarding any doubts on the recipes that have been shared on the blog...I shall be glad to clear every doubt that is asked...
This ambur chicken biryani can also be made using a pressure cooker rather than placing on dum....however, here I have used traditional method of cooking and used a cooking pot to make the biryani... It is almost like the tahari recipe where I have used mutton to make it.
Note: In Tamil Nadu biryani is usually made with seeraga samba rice but, in other regions it can be replaced by basmati rice or ordinary rice which is handy at your place.
Recipe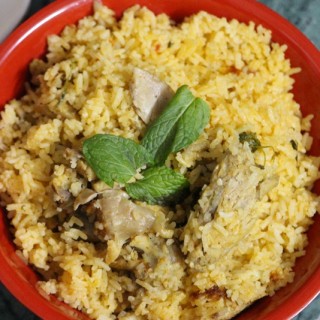 Ambur Chicken Biryani Recipe
A Tamil Nadu special biryani recipe from ambur region which is very popular in south india mainly in vellore district of Tamil nadu...
Ingredients
750

gms chicken

1

cup

oil

2

cinnamon sticks

2-3

cardamoms

2-3

cloves

4

medium size onions finely sliced

4-5

slit green chillies

salt - to taste

2

tablespoon

ginger garlic paste

2

tablespoon

dried red chilli paste

6-7 dried red chillies soaked in water and made a paste

½

teaspoon

turmeric powder

haldi

4-5 to

matoes finely chopped

1 ½

cup

yogurt/curd

1

bunch of chopped coriander leaves

½

bunch of mint leaves

1

teaspoon

garam masala powder

½

teaspoon

black pepper corn powder

1

tablespoon

ghee

1

tablespoon

lemon extracted juice.
For boiling rice:
500

gms rice

2 glasses approx...

1

cinnamon stick

1

teaspoon

caraway seeds

shahi zeera

2

cardamoms

2

cloves

salt as per taste

1

tablespoon

oil

water for boiling
Instructions
Firstly, take a cooking vessel, into it add oil and heat it.

Add cinnamon sticks, cardamoms, cloves and saute it.

Add sliced onions, saute, add green chillies, stir well.

Cook until onions are slightly soft.

Add ginger garlic paste and saute for few minutes.

Add chicken pieces into it and roast well.

Add salt, turmeric powder and roast until chicken leaves oil.

Add chopped tomatoes, mix and cook until they get soft.

Add dried red chilly paste, mix and cook for few minutes.

Add beaten yogurt, mix and cook for few minutes.

Add garam masala powder, black pepper powder, chopped coriander leaves and mix well.

Add little water and cook until the chicken gets tender.
For the rice:
Meanwhile when the chicken is cooking start preparing the steps of rice.

For that, take a cooking vessel, add water generously, add salt, cinnamon stick, caraway seeds, cloves.

Add little oil into the water and boil the water.

Add the washed rice into it.

Cook until it is 60-70% done.

Strain the rice.
For the dum:
Add the strained rice onto the chicken curry that is cooked.

Mix the chicken well with the rice.

Add chopped mint leaves all over the rice and chicken.

Add a cup of water all over the rice.

Add ghee and lemon juice all over.

Add little oil all over the rice.

Cover the lid tightly with any weight or seal it with chapathi dough.

Switch on the stove.

Place a tawa/gridle.

Dum the biryani for ten minutes on high flame.

Reduce the flame to sim and dum the biryani for another 15 minutes.

Serve the biryani with raita or any curry!!!
Notes
1.Red chilli powder too can be added in place of dried red chilli paste.
2.If basmati rice is used to make this biryani then soak it for about 30 minutes before adding it to the boiling water or add directly if plain ordinary rice is used.
Nutrition
Nutrition Facts
Ambur Chicken Biryani Recipe
Amount Per Serving
Calories 420
* Percent Daily Values are based on a 2000 calorie diet.