Apple juice recipe is a very healthy juice or drink recipe made here in a sweetened form. There are many ways apple juice can be made but today here I will be sharing the quickest and the best version of making it in a couple of minutes and is often spotted here in the street corners of India.
Other healthy juices on the blog are strawberry milkshake, kiwi juice etc...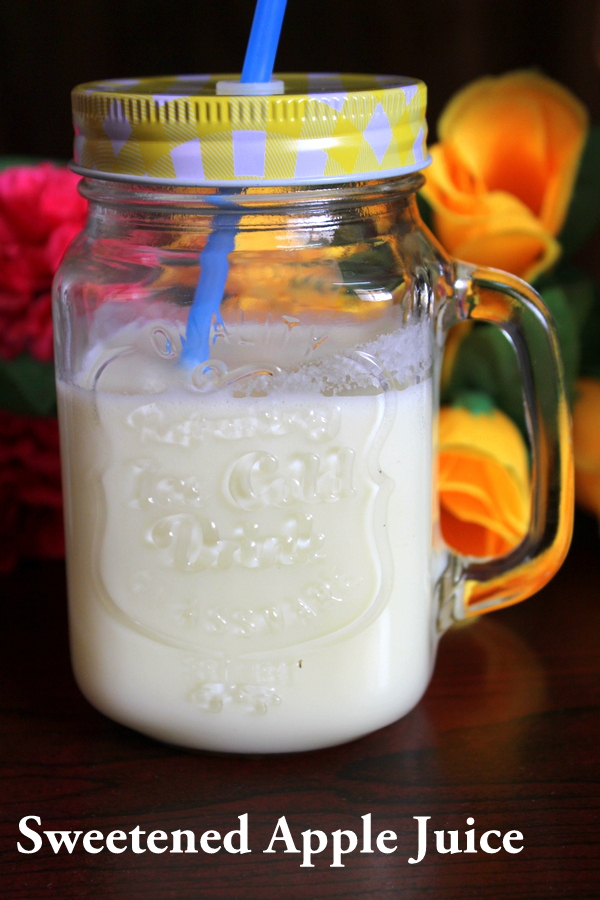 I have practically watched them making these juices and it is the tastiest juice I have ever witnessed.
Making apple juice by boiling them in water, mashing them and then extracting the juice is a time consuming process and therefore here is the quick summer juice recipe that does not require any juice extractor and can be made easily at home.
We just need to have a blender or a mixer where this juice can be blended and strained.
As we all know eating apples everyday is quite healthy and we are all aware of the saying "An apple a day keeps the doctor away". Therefore, eating apple regularly keeps us away from various ailments and chronic diseases like cancer, heart problems, asthma problems etc...
There are many health benefits of apple and eating them in any form daily is very good option for maintaining a better health.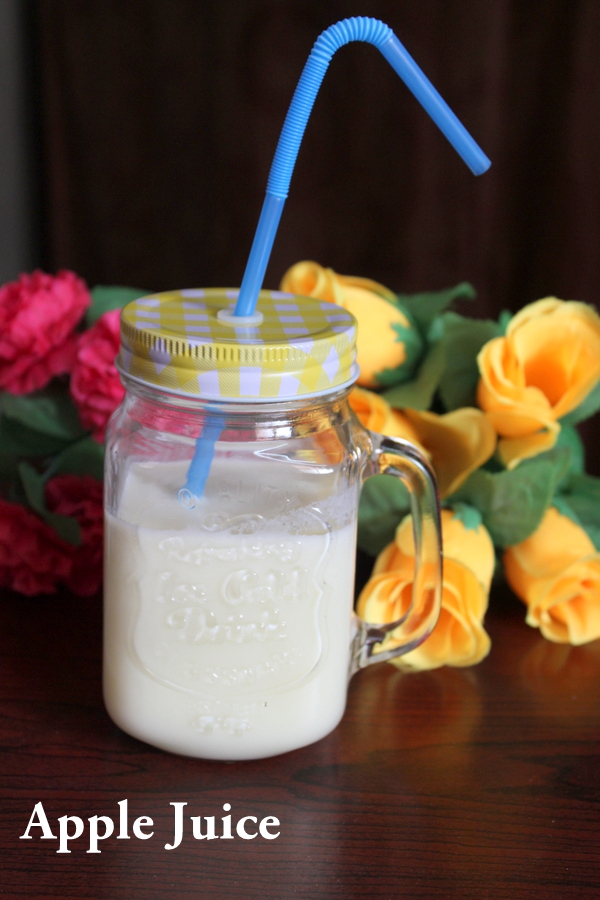 Apples are available in plenty in India in many varieties and in all seasons and having them during early morning breakfast keeps us filled and is a good option for healthy diet too.
It relieves us from constipation, improves immunity levels and they are rich in anti-oxidants and one of the best fruits for babies, kids and adults.
Here, I have not made it like the drinks that are obtained in the grocery markets which are extracted from the sauce by boiling the apple but I have made it instantly by blending the apple pieces in milk.
Normally, the apple juice that we get in tetra packs are highly processed with preservatives and do not taste good but making fresh apple juice at home without any preservatives and consuming immediately is a better option.
The juice I have made here just uses apples, milk , ice cubes, sugar and blended to get a smooth and fine juice.
Important points while making the juice
It is optional to peel the apple, the juice can be made without peeling the apple too since most of the nutrients and minerals are available in the skin of the apple.
If one is suffering from ailments like diabetes then, do not add sugar to the apples while blending the juice.
Consumption of apple juice reduces the risk of heart attacks.
Do not use any juice extractor for this recipe since this instant juice needs blending and straining the juice.
Apple juice is a perfect summer drink to keep us cool, healthy, hydrated and filled during the scorching heat.
Apples are usually mashed and given to kids too and I shall be updating a few baby food recipes too as I keep writing down recipes.
Below are the simple steps to make this apple juice that is homemade and quick.
Recipe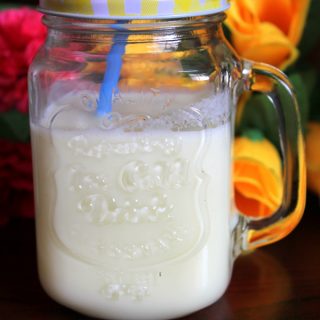 apple juice recipe, how to make apple juice
A cool and instant juice recipe made out of fresh apples at home using a blender.
Ingredients
3

fresh apples

2

cups

milk

boiled and chilled

sugar as per requirement

approx... 3 tbsp

4-5

ice cubes
Instructions
Take apples, cut the apple, remove the seeds and chop them into pieces.

Add the apple pieces into a blender.

Add sugar as per requirement.

Add ice cubes.

Add milk, blend the juice for few minutes.

Take a bowl and a strainer.

Strain out the apple juice into a bowl and discard the left over pulp.

Take a glass and pour the apple juice into the glass.

Serve chilled!!!
Notes
1. I have not removed the peel since it contains lots of nutrients and minerals.
2. Sugar is optional, one can add honey instead of sugar for more healthier option.
3. If one is removing the entire peel of the apple and seeds properly, then no need to strain the juice. Just blend the juice, pour it into the glasses and serve chilled.
4. Do not add milk without boiling. First boil the milk, cool it down and then add to the blender while blending.
5. Since this an instant drink and no preservatives are added, consuming it fresh and immediately is good and do not store it for the next day. Please consume it fresh.
Nutrition
Nutrition Facts
apple juice recipe, how to make apple juice
Amount Per Serving
Calories 210
* Percent Daily Values are based on a 2000 calorie diet.