carrot kheer is a dessert recipe and is made with the method of making kheer by using grated carrots into it. I like to name this kheer as carrot kheer but some also look out for carrot payasam and this is that payasam one should be looking out for since it is a healthy payasam using grated carrots.
Carrots are easily available during winters and one must make full use of carrots in winter season.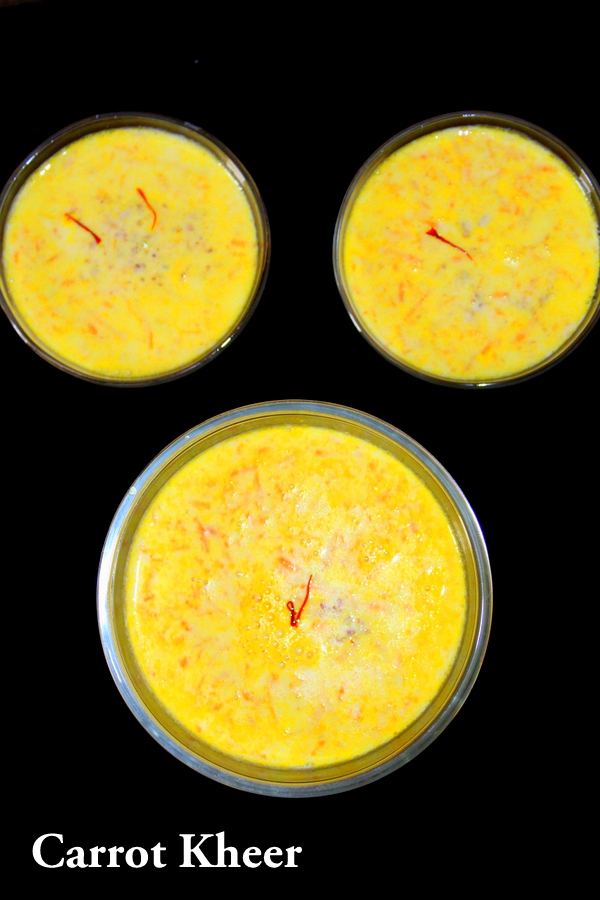 In this post I would be glad to share a delicious dessert which tastes like kheer and has carrot flavors infused into the recipe.
Overall it is a very nutritious and a healthy dessert made using milk and carrots. This carrot payasam tastes sweet and very cream one made with few ingredients that are easily available at home or in markets.
Carrot is a very healthy vegetable and having it in any form is a very healthy option and is a great source of Vitamin A for our body.
It can be taken in many forms like juices, soups, salads, curries or it is used to make desserts too.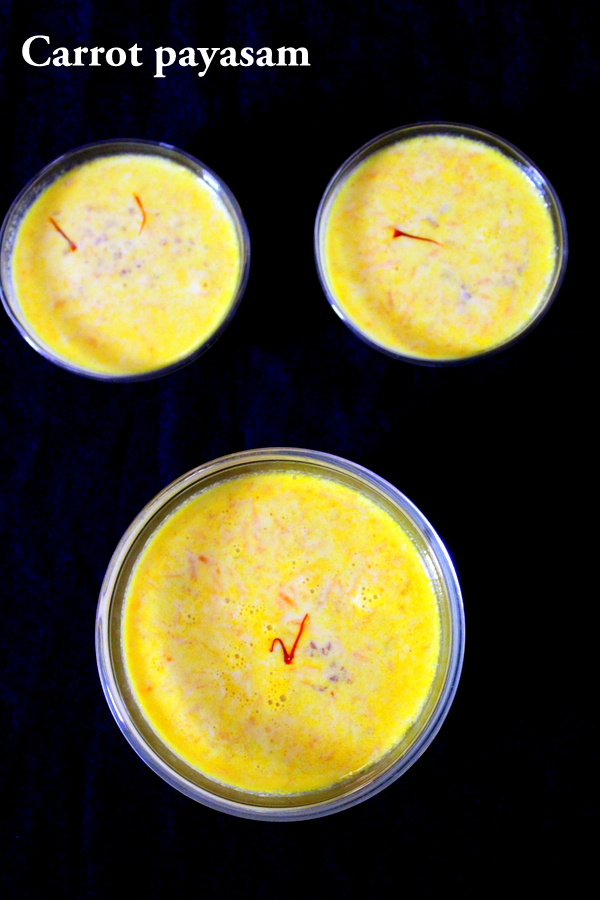 I have used carrot quite a few times in my blog recipes and some of them are like I have made a juice that is carrot juice, some in the form of fry like carrot fry, one more dessert recipe that I have made using carrots is gajar ka halwa with milkmaid.
It can be combined with several other main course recipes like rice recipes for example I have added carrots in chicken fried rice, egg fried rice etc... and in hyderabadi veg biryani. It can also be made in the form of juice mixing it with other vegetables like beetroot, orange etc...
Carrot is widely used to make salads and soups etc..
I have plenty of recipes that I would like to share in near future with carrot as the main ingredient but today I have brought a special dessert recipe for my blog readers to relish.
This kheer is absolutely yummy and a great way to include carrots in our diet.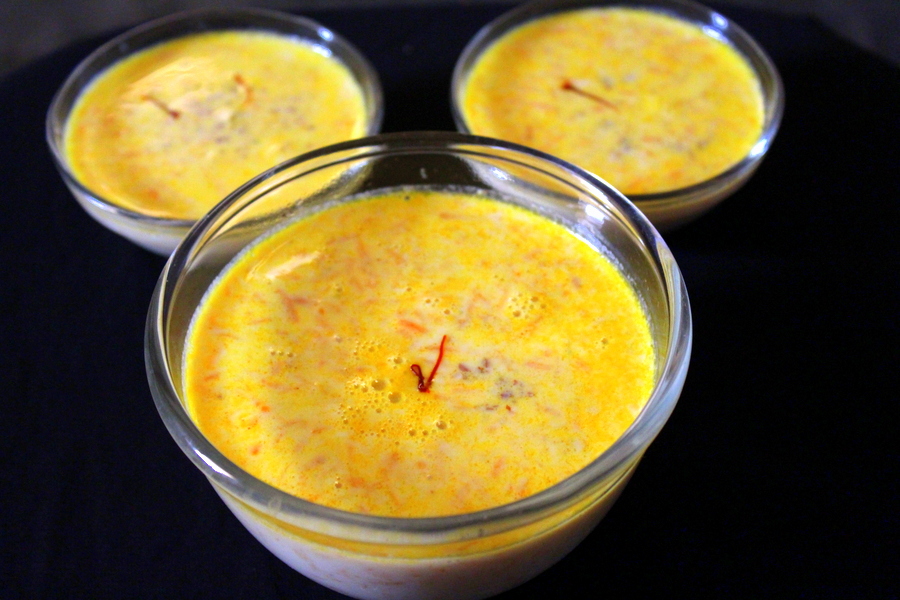 There are many ways to make kheer recipes and there are hundreds of kheer varieties and shall be posting few of the common kheer recipes that we prefer to make in our day to day life.
Having desserts is quite common in Indian households during several occasions, festivals and we sometimes get confused to decide which dessert should be made for which occasion.
This particular carrot kheer is apt to make during sundays or during small gatherings and this kheer I am sure would be loved by kids too.
Let us understand the making procedure of carrot payasam with step by step easy instructions.
How to make carrot kheer or carrot payasam:
Recipe
carrot kheer recipe, carrot payasam
Carrot kheer is a kheer kind of a dessert made with the technique of kheer and added into it are grated carrots.
Ingredients
2

fresh carrots

½

litre full fat milk

2

tablespoon

ghee

5

cashewnuts/kaju

5

almonds/badam

3

cardamoms/elaichi

1

cup

sugar/1 cup milkmaid
For garnishing:
few saffron strands

5-6

sliced almonds and cashewnuts sauteed in ghee
Instructions
Step 1:
Wash the carrots, cut off their heads, peel them.

Grate the carrots with the help of a grater and place them aside.

Heat 1 ½ tablespoon ghee in a pan, add the grated carrots, saute them for 10 minutes on low flame.

Place them aside.
Step 2:
In a pan, add 1 teaspoon ghee and heat it.

Add 5 cashewnuts, 5 almonds and saute them for few seconds.

Take them out in a bowl.

Take a jar, add the sauteed cashewnuts, almonds, 3 cardamoms.

Blend them into a fine powder.

Place them aside.
Making of carrot kheer:
Take a non stick sauce pan, add 500 ml milk, bring the milk to a boil on low flame.

After one boil, let the milk simmer for few more minutes.

Add the sauteed grated carrots into the milk.

Cook the carrots for atleast 10-15 minutes on low flame and keep stirring.

Add the blended powder of cashewnuts, almonds and cardamom.

Keep stirring and keep cooking for 5-10 minutes.

Lastly add milkmaid/sugar into it and cook for 5 minutes.

Garnish with sliced cashewnuts, almonds and few strands of saffron.

Switch off the flame.

Allow it cool down for 5-10 minutes.

Serve hot in sweet bowls.
Notes
1. Always cook any kheer on low flame and also make use of non stick pans and sauce pan for making dessert recipes.
2. Since most of the dessert recipes are made using milk, please make sure to make them on low flames and make use of non stick cookware.
3. Kheer recipes taste good if served hot or cool and I would suggest to store this carrot kheer in refrigerator for atleast an hour before serving it in sweet bowls.
Nutrition
Nutrition Facts
carrot kheer recipe, carrot payasam
Amount Per Serving
Calories 300
* Percent Daily Values are based on a 2000 calorie diet.
Do send us your feedback after making this carrot kheer and would love to hear from my blog readers on how your carrot payasam turned out and what other things have been added which has made this kheer even more delicious.