Sheer Khurma Recipe is an Eid special sweet. Sheer Khurma literally  means "milk with dates" in Urdu and is a festival vermicelli pudding prepared by Muslims all across the world.
Related Hyderabadi Desserts recipes or indian sweet recipes:
             It is a traditional Muslim dessert for celebrations. 'Sheer'  is Persian for milk and 'Khurma'  is Persian for dates. This dish is made from dried dates.
                         This special sweet contains lots of milk, dry fruits and the main ingredient in the sheer khurma recipe is Seviyan which is an urdu term for vermicelli. The sweet is incomplete without seviyan or vermicelli.
                    This special dish is served on the morning of Eid day in the family after the Eid prayer as breakfast, and throughout the day to all the visiting guests. The word is spelt sometimes as sheer kurma or sheer korma or sheer qorma but it is actually spelt as Sheer Khurma.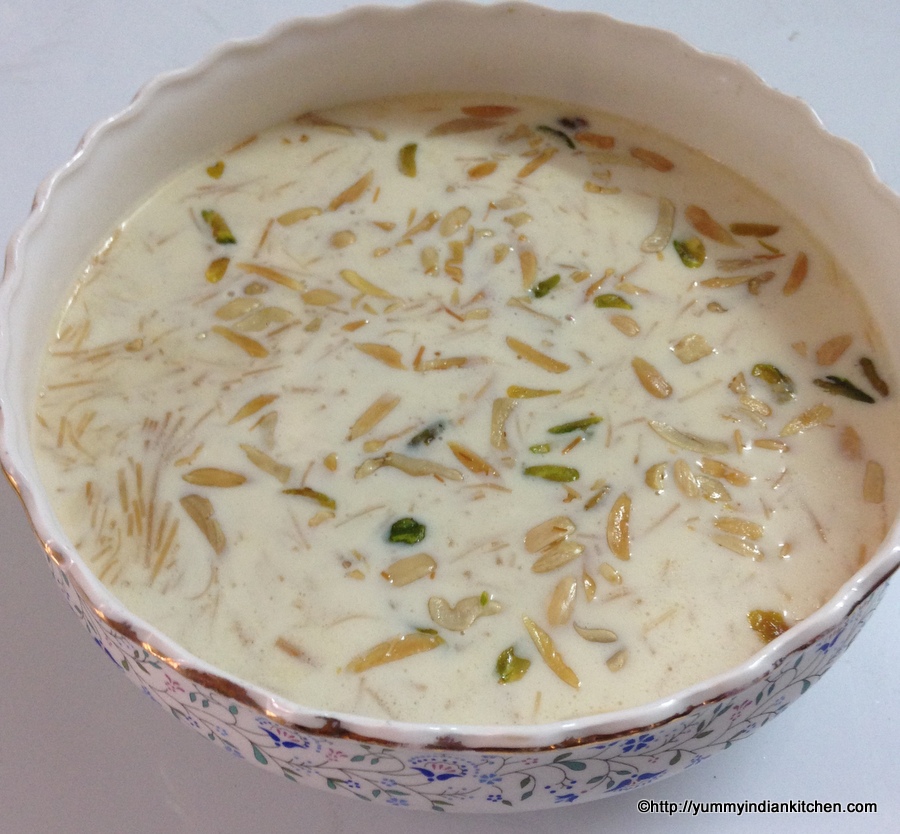 As soon as the month of Ramadan ends every muslim family eagerly waits to make this dish and relish on it during eid - ul- fitr.
I have some more interesting desserts made on the blog which are good for festivals such as suji ka halwa, moong dal halwa and also many cake recipes to be made for different regional festivals.
          Belonging to a Hyderabadi background I always love making this dessert and this is one of my favorite desserts during eid as haleem is a favorite dish during Ramadan.
                         Not only during Eid but I usually prefer preparing it during weekends too as my family loves to eat this delicious dessert. I suggest everyone to make this recipe as this is a do try dish and I am sure would be loved by everyone.
                          Eid is incomplete without this sweet and it is a Hyderabadi special dish and Eid - ul- Fitr is always enjoyed by meeting everyone with warmth and having this sweet. I cannot imagine Eid without Sheer Khurma mutton dum biryani and chicken dum biryani.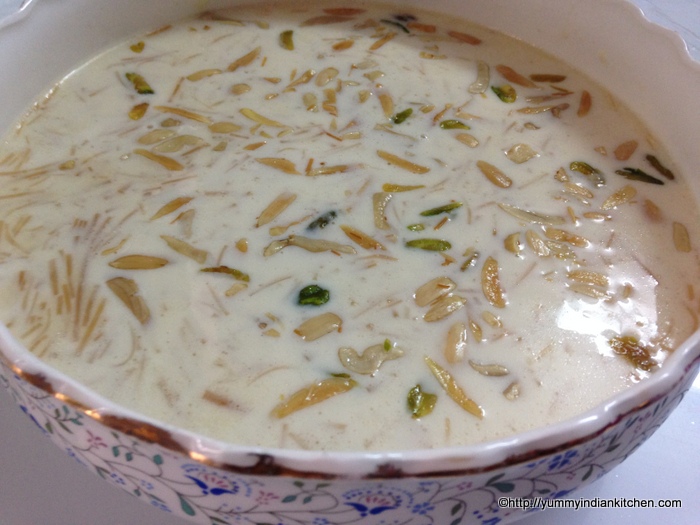 It is very popular in Asian countries and is also a very rich mughlai cuisine dessert. Apart from occasions this dish is best when relished during winters as it gives much warmth  to our body.
                                  Once the dish is tasted we always feel like having it again and again and it is a favorite among the kids as it contains lots of milk.
    I have been asked by many to share this recipe and I now thought of sharing this special Hyderabadi dessert recipe with all my readers. Here I have made sheer khurma with condensed milk to make the dessert very rich, thick and to bring out creamy taste to the sheer khurma.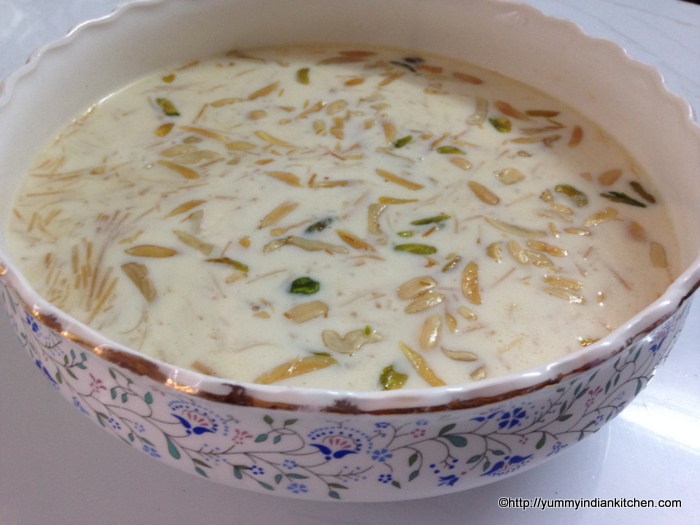 This Sheer Khurma recipe or sheer korma dessert is made with vermicelli/seviyan/sewiyan saute'd in ghee and then added to the thickened milk with dates, sugar and dry  fruits.
Below are the detailed instructions on the special eid recipe.
Sheer khurma recipe below, Ramadan eid special dessert: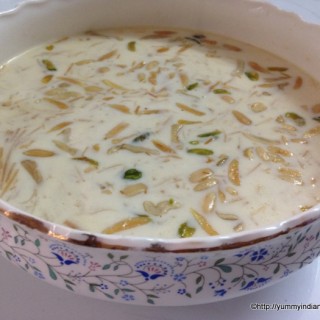 Sheer Khurma Recipe, Sheer Korma
Eid special Sheer Khurma Recipe made with vermicelli and milk.
Ingredients  
1

litre milk

100

gms/1 cup broken vermicelli/seviyan

3

tbsp

ghee

1

cup/ 2 tbsp sugar

1

tbsp

condensed milk/milkmaid

8-9

vertically sliced almonds

8-9

vertically sliced cashewnuts

8-9

vertically sliced pistachios

5-6

deseeded chopped dates/khajoor

½

tsp

cardamom powder
Instructions 
How To Slice Dry Fruits For Sheer Khurma:
Inorder to slice the almonds, soak them in water or boil them in water then peel off the skin and slice the almonds.

Boil the cashewnuts and slice them .

Similarly pista or pistachios can be boiled and sliced.

This way the dry fruits can be chopped easily.
How To Make Sheer Khurma:
Take a sauce pan, add ghee to it and heat it.

Break the vermicelli and add into the heated ghee, on sim flame saute vermicelli/seviyan till it gets golden brown.

Stirring is important while we saute them.

Keep the sauteed / fried vermicelli aside.

If there is excess ghee then strain the fried vermicelli.

In the same sauce pan, add ghee, add sliced almonds and saute slightly and keep aside.

Add sliced cashews into the same sauce pan, saute slightly and keep aside .

Saute pistachios in ghee as well and keep aside.

You can saute dates if you wish to.

In a separate vessel or cooking pot boil the milk.

Into the milk, add fried vermicelli and let it cook for few seconds on sim flame till the vermicelli becomes soft.

Add sugar, add condensed milk as well and cook for few minutes.

Do not stir much else the vermicelli will not be visible.

Taste it, add sugar if required.

Add fried almonds,fried cashews, fried pistachios.

Finally add cardamom powder, stir it and switch off the flame.

Serve hot sheer khurma in dessert bowls and garnish with ghee, dry fruits and dates and enjoy!!!!
Video
Notes
1.We get seviyan from the market which is specially used for making this dessert or you can use the vermicelli which is usually available.
2.But the real taste comes from using specially made sheer khurma vermicelli.
3.The real taste too comes out if pure ghee with wonderful fragrance is used.
4.Add rose water drops if you wish to in the finishing dish as an optional ingredient and you could also add raisins too and many other dry fruits.
5.While adding seviyan do not add it at once. Add them gradually and check the thickness. If the thickness is what you desired for then do not add more vermicelli else the sweet would thicken totally.
Nutrition
Nutrition Facts
Sheer Khurma Recipe, Sheer Korma
Amount Per Serving
Calories 400
* Percent Daily Values are based on a 2000 calorie diet.
WANT TO WATCH VIDEO RECIPES?
SUBSCRIBE US ON YOUTUBE
Liked this traditional hyderabadi recipe? Then do drop your comments below and give us your feedback and also suggestions on this Eid special sheer khurma recipe...