Dahi Kadhi or dahi bade is a Hyderabadi style or Hyderabadi version of making dahi ki kadhi which is made by using Dahi/yoghurt and mixing chickpea flour into it. Check out some more yoghurt based recipes such as kadhi pakora Punjabi style, curd rice, moru curry, boondi raita, shrikhand etc...
Kadhi mainly takes in two ingredients which are dahi and besan and no kadhi is complete without these two key ingredients.
In India and in different regions kadhi recipes are made in different way such as some kadhi recipes taste sour/tangy, some look very thick and some kadhi recipes are thin.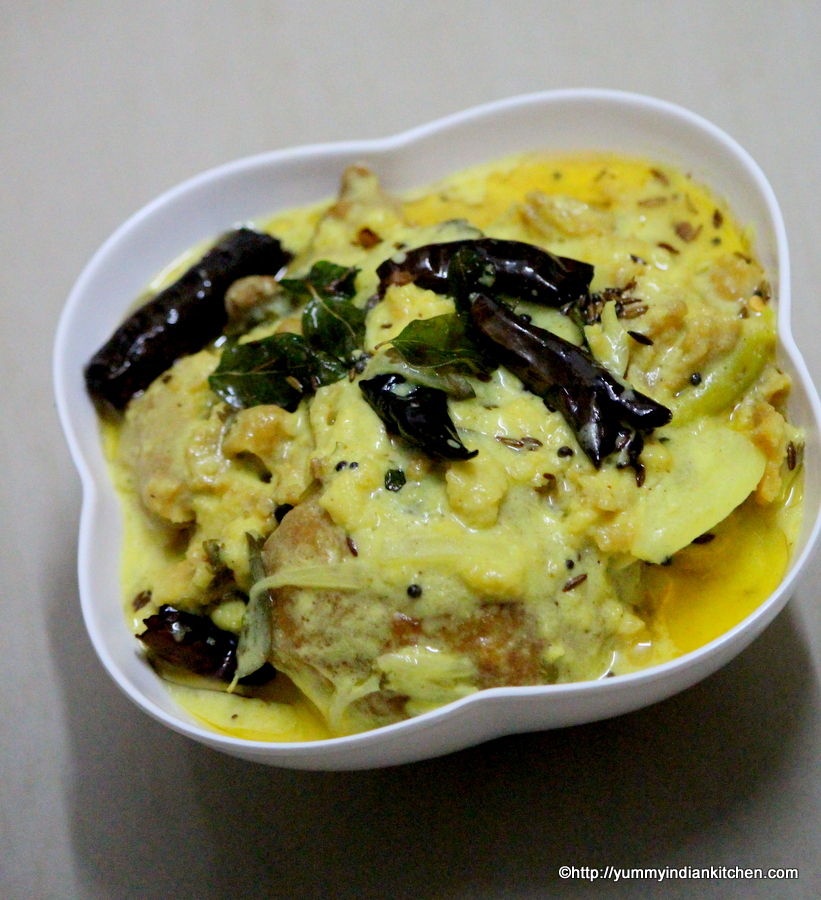 In summers if there is anything that should be preferred with rice is a kadhi or besan ki kadhi which absolutely tastes delicious with rice.
Kadhi goes perfectly if pakodas of any flavor are added into it. Kadhi is incomplete without adding bhajiya/pakoda into it. One can add pakodas of any flavor like onion pakoda, plain pakoda, aloo pakoda, methi pakoda etc...
Summers are the best time to make pakodas as eating curd during summers in any form is the best way to keep ourselves cool. Making curries with curd is the best way to beat the heat.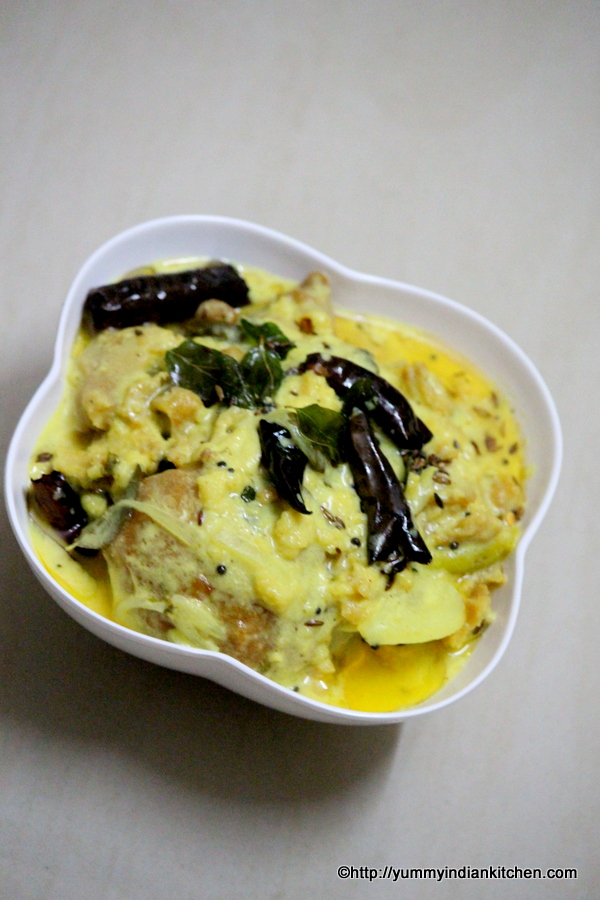 besan ki kadhi refer to same but this kadhi is a hyderabadi version and hyderabadi kadhi is quite popular in the region of hyderabad and it is a commonly made dish.
Kadhi is basically made by adding besan into it and this is added to thicken the kadhi and to add flavor and the kadhi tastes good if a proper tempering is given to it and lastly by adding pakodas into the dahi ki kadhi.
The dahi kadhi can also be eaten plain and is commonly made during the month of ramadan mainly as an iftar recipe in Hyderabad.
Check out the video procedure for this kadhi below which also has besan pakoda in it and this is a good option to make during summer and also during the month of Ramadan...
Video
Recipe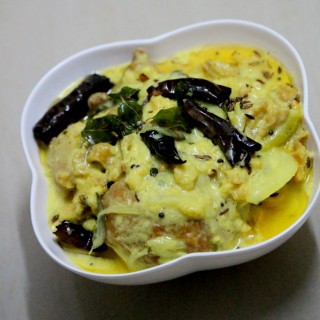 Dahi Kadhi Recipe or Besan Ki Kadhi
A kadhi recipe from hyderabad which is made using besan and dahi and by also giving an aromatic tempering.
Ingredients
For making dahi ki kadhi:
2

cups

yogurt

4

tablespoon

besan/chick pea flour

salt - to taste

½

teaspoon

turmeric powder

1

teaspoon

roasted cumin seeds powder

1

teaspoon

roasted coriander seeds powder

3

glasses of water

2

medium size onions

finely sliced

2-3

tablespoon

finely chopped coriander leaves

8-10

curry leaves

5-6

slit green chillies
For the pakodas/bhajiya:
4-5

tablespoon

besan/chick pea flour

salt - to taste

a pinch of soda

½

teaspoon

red chilli powder

¼

teaspoon

turmeric powder

1

teaspoon

ginger garlic paste

1-2

cups

of water to make the pakoda batter

oil for deep frying the pakoda
For the tadka/tempering:
2-3

tablespoon

oil

1

teaspoon

cumin seeds

1

teaspoon

mustard seeds

3-4

garlic cloves

4-5

dried red chillies

5-6

curry leaves
Instructions
For the dahi kadhi recipe:
Firstly, in a bowl, add yogurt, add besan and whisk it well.

Add turmeric powder, roasted coriander seeds powder, roasted cumin seeds powder into it and whisk it well until there are no lumps formed into it.

Strain the kadhi batter.

Add the kadhi batter into a cooking vessel.

Switch on the stove.

Gradually keep adding water and start stirring continuously to avoid any lumps.

Add water as per the consistency required.

Keep stirring continuously for few minutes.

Add salt, add green chillies, add coriander leaves, curry leaves, add sliced onions and mix well.

Keep stirring for every 2-3 minutes.

Cook the kadhi for 20 minutes on sim flame.

Set the kadi aside and make pakoda to add into the kadhi.
For the pakodas:
In a bowl, add besan, salt, mix well.

Add baking soda, turmeric power, red chilli powder and mix well.

Add ginger garlic paste and mix.

Gradually add water and mix it well to avoid lumps.

Make the batter neither too thick nor too thin.

Heat oil for deep frying.

Drop small portions of pakoda batter into the oil.

Fry the pakodas well on all sides until they turn golden red in color.

Remove the pakodas from oil.

Add the pakodas into the kadhi.
For the tempering/tadka:
Heat oil in a tadka pan.

Add cumin seeds into it.

Add mustard seeds into it and let them pop up.

Add garlic cloves into it.

Add dried red chillies into it and stir for few seconds.

Add curry leaves and let them crackle.

Transfer the tadka all over the dahi ki kadhi and pakodas.

Serve the yummy dish with rice or can be eaten plain!!!
Nutrition
Nutrition Facts
Dahi Kadhi Recipe or Besan Ki Kadhi
Amount Per Serving
Calories 130
* Percent Daily Values are based on a 2000 calorie diet.