Moru curry or moru kachiyathu is a simple quickly made buttermilk curry where the buttermilk is added to an aromatic tempering.
Other south indian recipes to be tried are kadhi pakora, dahi kadhi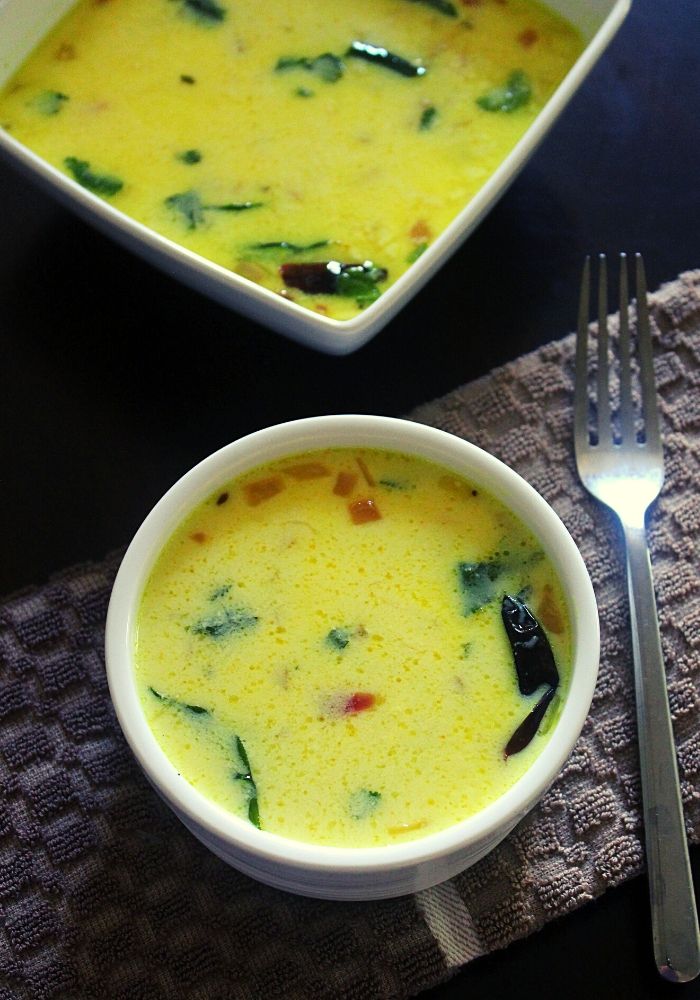 What is moru?
Moru is usually a term for buttermilk in southern india mainly in Tamil Nadu region where the buttermilk is seasoned with spices and tempered to make it flavorful and edible with rice and pickle.
This is a simple dahi curry where the yogurt is churned well and made into a buttermilk or chaas as it is commonly called in Northern India and ended by giving tadka to the chaas.
Different ways of making the curry?
There are many variations in which this curry is made and mainly it is made in two different styles.
One is it is made by mixing coconut in the spiced buttermilk and then tempering is added to the buttermilk and this method is usually common in Kerala or Tamil Nadu regions. Other south indian regions do not prefer to add coconut and make it without coconut.
Other and the second method is to make it plain and simple without using the coconut.
Both methods taste good and here I have made without using coconut and it tastes simply awesome without taking a long time to cook and is made in just a couple of minutes and is a simple lunch curry made using dahi.
Best way to eat the moru kachiyathu?
It tastes best with rice and any chutney along with it and also tastes best by serving it along with some pickle or achar or chutney with steamed rice.
When the house is running out of grocery stock and dahi is handy, this is the best way to use the left over ingredients at home. The dahi which is lying in the refrigerator can be quickly used to make a curry and using it up before the curd turns too sour.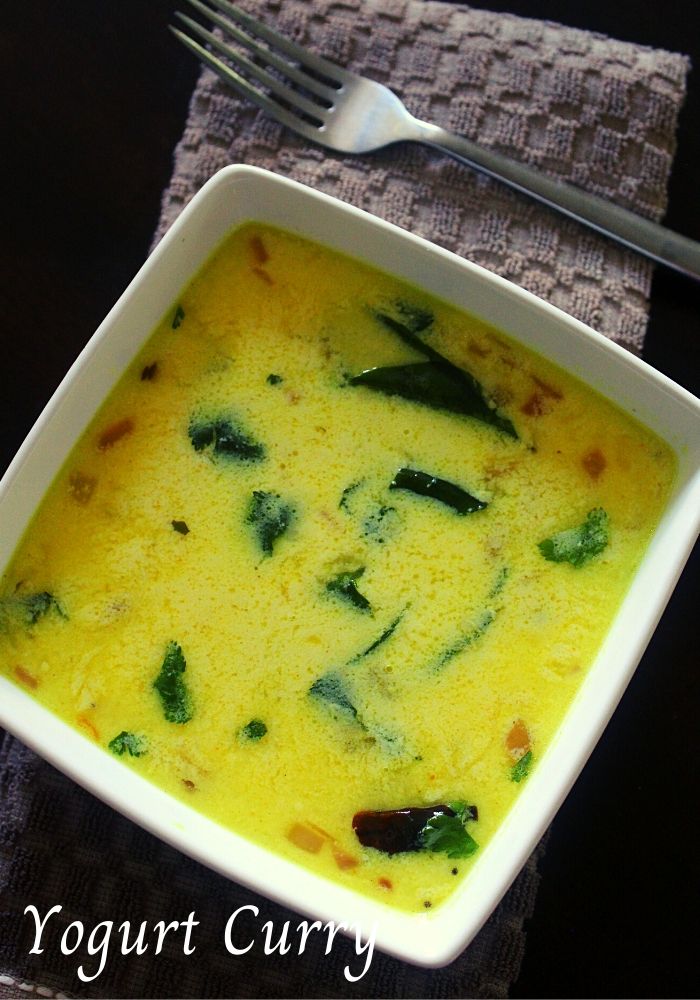 How to make the simple dahi curry?
The dahi or yogurt or curd should first be churned well by gradually adding water and making it into buttermilk.
Here, I have used a blending jar to make the buttermilk.
I have added the curd into a blending jar, some salt and 2 cups water for 1 cup of yogurt and churned it well until a creamy buttermilk is obtained.
Separately tempering has to be given by using tadka ingredients such as jeera, rai, curry leaves, chillies, dry spices and then the buttermilk is added and slightly cooked on low heat by stirring just for few seconds.
Never ever boil this buttermilk curry or moru curry as the curry splits or curdles completely due to the buttermilk.
If the curry receives high heat, it completely splits and the curry cannot be used for eating.
Make sure to cook for few seconds just to warm it or it is better to switch off the flame as soon as buttermilk is added to the tempering to be on the safe side and avoid splitting of the chaas or moru.
Is it necessary to temper the moru?
To make this curry, usually the buttermilk is given and aromatic tempering which actually tastes best than eating plain buttermilk with rice.
In India, the step to tempering is almost the same in most of the regions and in different states and the tempering forms the main step to most of the curries and dal recipes which completely changes the flavor of the veg curries.
Usually in south india, plain curd is mixed with rice and eaten but the same plain curd is made as a curry by giving it an amazing tadka and making it suitable for cooked rice.
Below are the step by step details to make the moru kachiyathu and will also be updating the video method for this post.
Recipe to make moru curry or moru kachiyathu: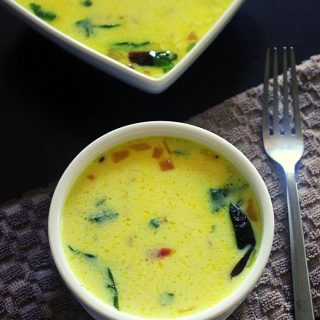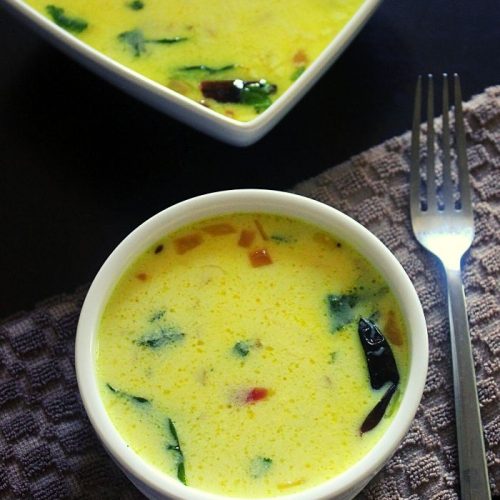 Moru Curry, Moru Kachiyathu
A spiced buttermilk recipe made by giving a simple tadka to the chaas or moru.
Print
Pin
Rate
Ingredients
To make buttermilk:
1

cup

yogurt

(dahi or curd or thayir)

salt

to taste

2

cups

water
For the tempering:
2

tbsp

oil

(any edible oil)

1/2

tsp

mustard seeds

1/2

tsp

cumin seeds

3

slit green chillies

3

dried red chillies

5

curry leaves

2

tbsp

finely chopped onions

1/4

tsp

ginger garlic paste

(or use crushed ginger)

1/4

tsp

cumin powder

(jeera powder)

1/4

tsp

turmeric powder

(haldi powder)

2

tbsp

freshly chopped coriander leaves
Instructions
Making of the buttermilk quickly:
Take a blending jar and choose a big size jar.

Add a cup of yogurt into it, add salt according to taste.

Add 2 cups of water, cover the lid tightly and blend well without lumps.

This method is the quickest way to make chaas or moru or buttermilk.

If not this way, then churn the curd with a manual beater by adding water gradually.
Tempering to the curry:
Take a wok, add oil and heat it.

Add mustard seeds, cumin seeds and allow them to splutter.

Add slit green chilies, dried red chilies, saute for few seconds.

Add the fresh curry leaves and let them crackle.

Add the finely chopped onions and cook them until they turn soft.

Add ginger garlic paste or use crushed ginger and saute for few seconds.

Add the cumin powder and turmeric powder, mix well.

Add the buttermilk and make sure the flame is on low heat while adding buttermilk.

Add chopped coriander leaves.

Switch off the flame after stirring well.

Serve hot with rice, chuney and pickle and pappadams.
Notes
Do not boil the buttermilk as the curry splits and the moru gets curdled.
Just give the curry a slight heat.
To make the curry with coconut, just add a teaspoon of freshly grated coconut powder while making the buttermilk.
Nutrition
Calories:
104
kcal
|
Carbohydrates:
3
g
|
Protein:
2
g
|
Fat:
9
g
|
Saturated Fat:
2
g
|
Cholesterol:
8
mg
|
Sodium:
35
mg
|
Potassium:
95
mg
|
Sugar:
3
g
|
Vitamin A:
108
IU
|
Vitamin C:
25
mg
|
Calcium:
83
mg
|
Iron:
1
mg
Want To Watch Video Recipes?
SUBSCRIBE US ON YOUTUBE!