Kadhi pakora, a Punjabi style kadhi recipe into which deep-fried dumplings made of besan or chickpea flour are added and served along with steamed rice. Punjabi kadhi is a quite popular curry recipe made out of beaten curd or yoghurt which is the best option to include in our daily meals during summers.
Check out other punjabi recipes which are curd recipes on the blog such as curd rice etc...also check out dahi curry which is a simple quick curd curry.... and also try punjabi chole, rajma chawal .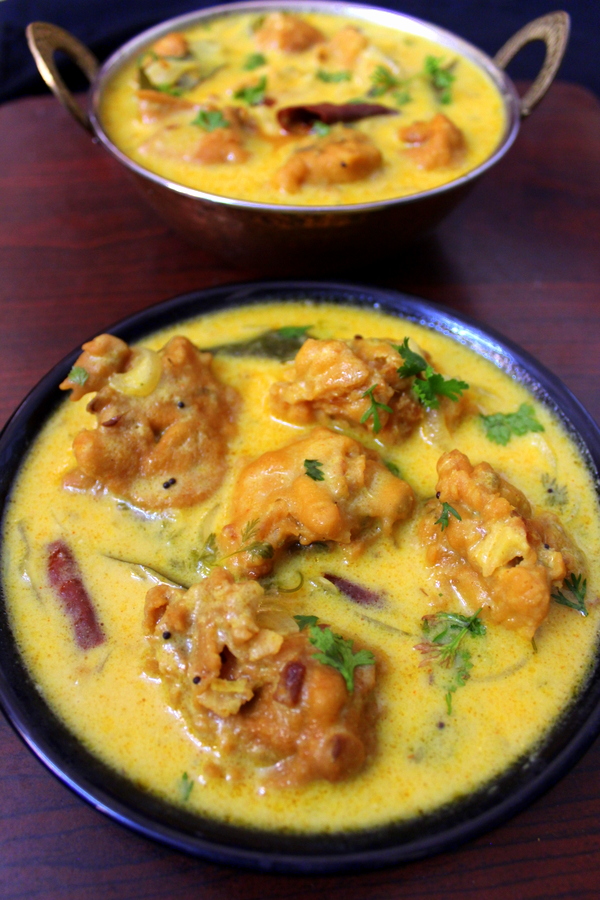 Kadhi can be made in several forms and today I have made it in a punjabi style with slight variations here and there.
Kadhi is just a curry but to make it even more delicious we add besan pakora into it which makes us eat the curry quite easily with rice or roti or paratha.
I usually come across kadhi procedures different in different states of India such as there is a dahi kadhi , gujarati kadhi, rajasthani kadhi, punjabi kadhi, hyderabadi kadhi and one common thing in all the recipes is that they all are made in curd and besan pakoras added but the spices and ingredients that are added vary slightly.
How kadhi is made?
Kadhi making is a simple process but most of it find it difficult to be made but it is one of the simple recipes made using curd.
To make punjabi style kadhi, curd and besan/chickpea flour is mixed or beaten well to get rid of lumps and then water is added, mixed well and spices are added to the curd mixture and then it is given a boil.
The spices that are added are salt, red chilli powder, turmeric powder, ginger garlic paste and some herbs such as hara dhania.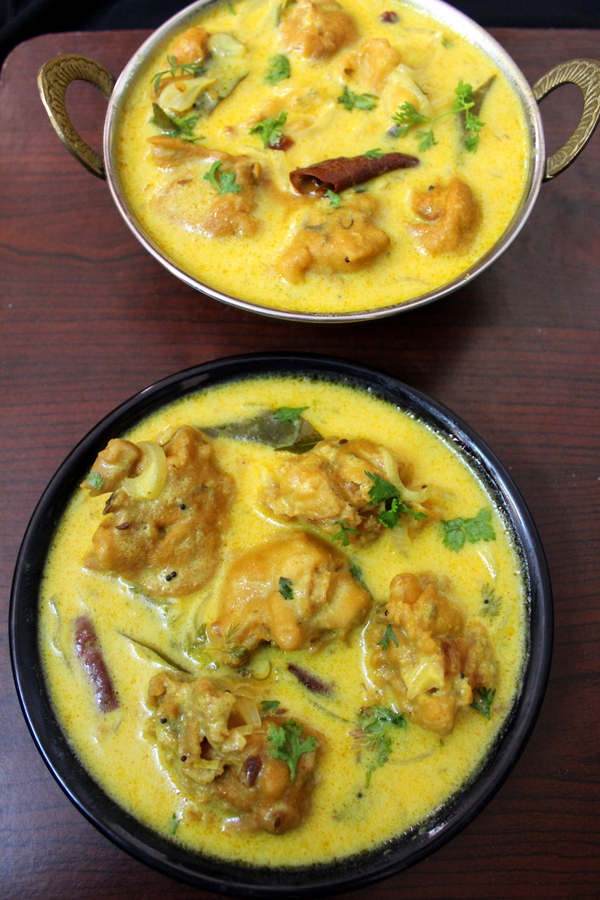 How to make pakora?
To make pakoras besan is mixed in the form of a batter along with herbs and spices and then they are basically fried in the oil by making the batter round and in biscuit shape which are fried well.
These pakoras are then added in the cooked kadhi and served with any main course dish such as rice or roti/chapati.
I have already shared some different kadhi pakora recipes on my blog and also kadhi recipe that is dahi kadhi which I have made in a Hyderabadi style and it is one of the most simple and delicious way of making curry recipes.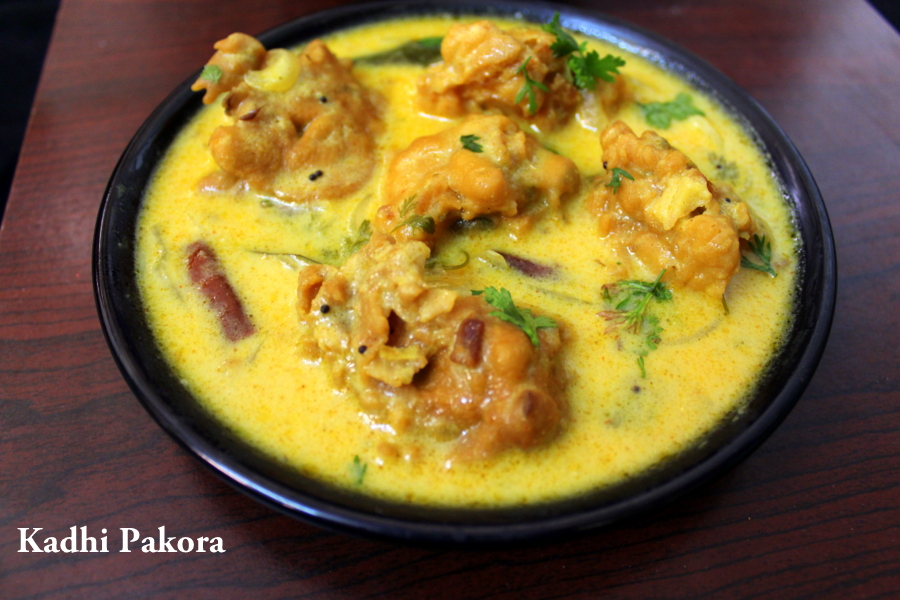 Today in this post I have slightly variated the making procedure of kadhi and made it in north indian style and added to it are yummy besan dumplings but we can also make other kinds of dumplings which are healthy and good to taste such as palak pakoda, methi pakoda etc...can be added served.
Unfortunately, there is no video procedure to this particular recipe but would love to add them as I update my videos but I have shared the written recipe with every minute detail for my viewers to read and understand.
Please have a look at the detailed recipe below and do leave your queries and we try to reply as quickly as possible.
Recipe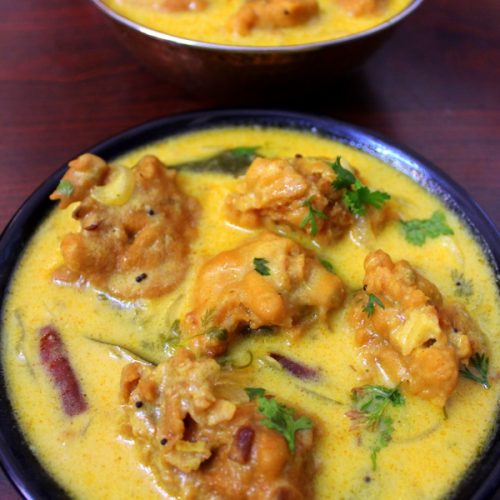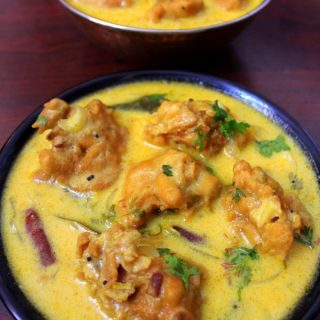 kadhi pakora recipe, punjabi kadhi recipe
A curd curry recipe into which besan ke pakodey are added and served...
Ingredients
To Make pakoras:
1

cup

of besan/ chickpea flour

salt to taste

1

teaspoon

red chilli powder

¼

teaspoon

turmeric powder

½

teaspoon

ginger garlic paste

water to make batter

¼

teaspoon

cooking soda

1

medium size onion - very finely chopped

2

tablespoon

finely chopped coriander leaves

oil for deep frying the pakoras
To make the Kadhi:
½

kg

curd/500 gms of curd

8

teaspoon

besan/chickpea flour

3-4

glasses of water
Spice paste to add in the kadhi:
1

tablespoon

salt

1

teaspoon

red chilli powder

¼

teaspoon

turmeric powder/haldi

1

teaspoon

roasted coriander seeds powder

1

teaspoon

ginger garlic paste

little water to make paste
other ingredients required while making the kadhi tempering:
3

tablespoon

oil

½

teaspoon

mustard seeds

½

teaspoon

cumin seeds

4-5

dried red chillies

4-5

curry leaves

2

medium size onions

(finely sliced)

4

slit green chillies

7-8

curry leaves

2

tablespoon

chopped coriander leaves
Instructions
(Making of pakoras):
Take a mixing bowl.

Add 1 cup of besan/ chickpea flour.

Add salt as per requirement, red chilli powder, turmeric powder, ginger garlic paste, add cooking soda.

Keep adding water gradually and make a semi thick batter without any lumps.

The batter should be mixed well.

The batter should not be thin and it should be slightly thick.

Rest the batter for 20 minutes.

Now add very finely chopped onions and chopped coriander leaves to the besan batter.

Give a good mix.

Take a kadai, add oil into it and heat it.

Make small round dumplings of the besan batter and drop them oil.

Deep fry them on low to medium flame until all the sides are fried well.

Take the deep fried pakoras out and place them on an absorbent paper.

This helps in removing excess oil from the pakodas.

Next is the kadhi making process.
Step 1:
Take a mixing bowl, add 500 gms of curd into it and beat it well.

Add besan approximately 7-8 teaspoons into the curd, keep adding little by little water gradually and mix the curd and besan without any lumps with the help of a beater or the simplest way is to blend this mixture in a mixer grinder.

Now add 3 to 3.5 glasses of water into the curd besan mixture and mix it well.

Beat or mix well without any lumps.

Keep this mixture aside.
Step 2 (Making a spice paste):
Now take a small bowl, add salt, red chilli powder, turmeric powder, ginger garlic paste, roasted coriander seeds powder.

Make a paste of these spices by adding some water, mix well without lumps and keep aside.
Final step (Cooking of the kadhi):
Take a cooking vessel, add oil and heat it.

Add mustard seeds, cumin seeds and let them splutter.

Add dried red chillies, saute them.

Add curry leaves and allow them to crackle (stay far away).

Add finley sliced onions, slit green chillies and saute them slightly for a min or 2 but do not brown the onions.

Add the spice paste which has been mentioned in step 2.

Saute the masala on low flame until oil starts appearing at the corners.

Now add the curd and besan batter which has been mentioned in step 1.

At this stage keep stirring continuously as the batter is added to get rid of lumps.

Keep stirring for few minutes.

Add some fresh curry leaves and chopped coriander leaves.

Adjust salt by checking it and add if required.

Bring the kadhi to a boil.

Cook the kadhi for 15 to 20 minutes on low flame.

Switch off the flame.

Add the deep fried pakoras into the kadhi.

Serve the kadhi with hot cooked rice or roti or paratha
Notes
Firstly, in order to save time one can start making the kadhi while the pakora batter is rested for sometime.
It appears as a lengthy recipe but, time management helps in making the curry quicker.
One one side boil the kadhi and on the other hand make the pakoras but be very careful. This way the dish can be done quickly.
If the serving people are just 3-4 then reduce all the quantities and ingredients to half of the mentioned quantities.
While frying the pakoras never deep fry them on high flame and doing so keeps the pakoda raw and tasteless from inside. Always fry them on low to medium flame.
Stirring is important while making the kadhi to avoid lumps.
Nutrition
Nutrition Facts
kadhi pakora recipe, punjabi kadhi recipe
Amount Per Serving
Calories 280
* Percent Daily Values are based on a 2000 calorie diet.