Shrikhand recipe, a chilled summer dessert made using thick curd/yoghurt in saffron flavoured milk and some more sweet flavours. Please check out the video recipe below. This is a perfect and quick dessert usually made in northern India and also called rajbhog shrikhand. It is a very healthy dessert made using rich ingredients like dry fruits, saffron, thick yoghurt etc...
Curd has many health benefits and curd should never be avoided and it should be included in our regular diet. Either in the form of buttermilk like masala chaas, lassi etc...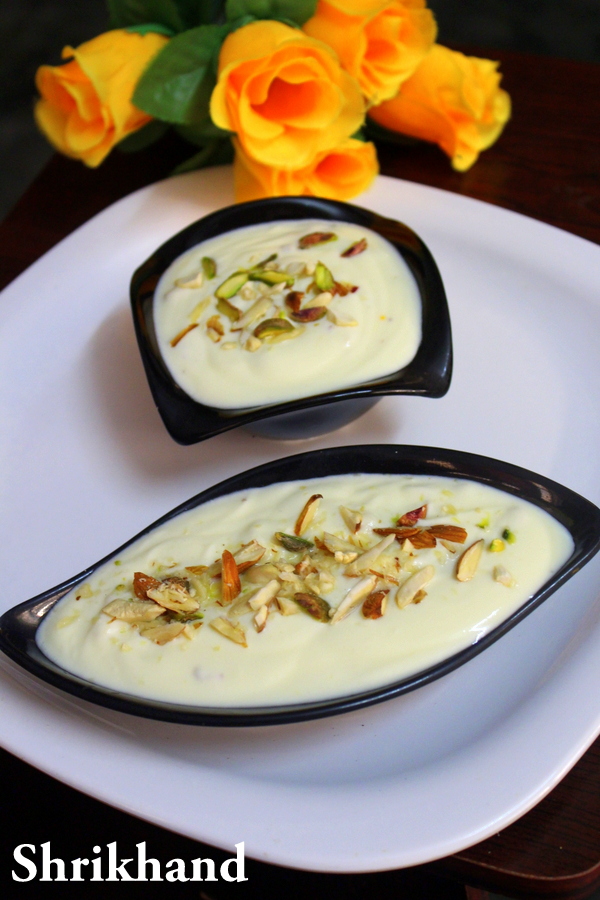 There are many ways in which yogurt can be made use of such as sweet yogurts, raita, shrikhand and many more.
Plain yogurt consumption is very healthy and it also keeps our tummy cool if we have this sweet dish regularly during summers.
Plain yogurt can't be eaten plain and to make it more flavorful, some more sweet ingredients like sugar, saffron, cardamom should be added and made it as a dessert.
I have also shared some variety recipes with curd such as curd rice, onion raita , kadhi pakora which are not in the form of sweets but can be eaten with rice and now sharing this traditional sweet dish known as shreekhand.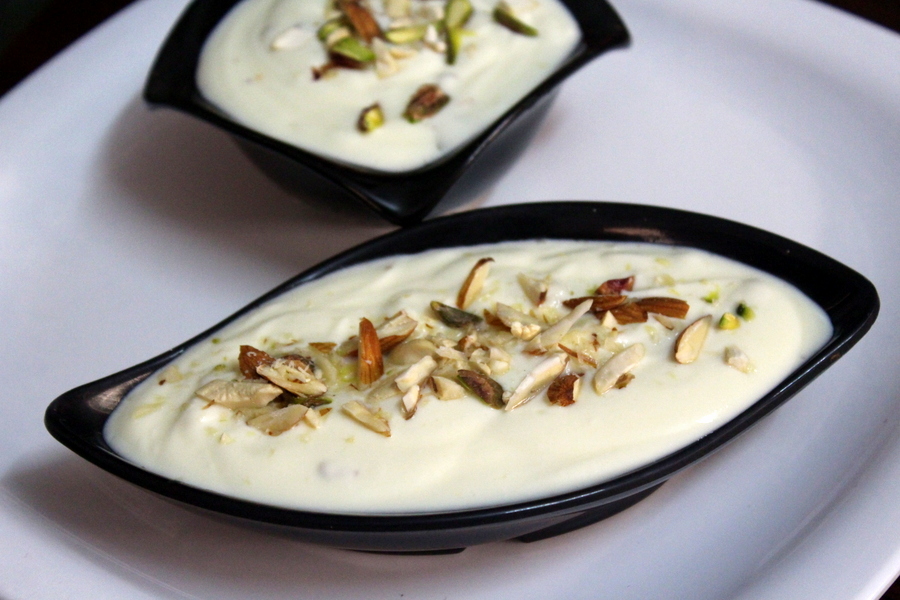 These kind of sweets are also made on occasions when someone is stepping out for good work and the person is made to eat sweet curd as a sign of good luck that should bring to him/her during his/her work.
Usually indian desserts take a long time to be prepared but, this one is the easiest and quick indian dessert that can be made in a short span of time and in just a couple of minutes if thick curd is available at home.
This is usually called as 'matho' or rajbhog shrikhand and some also refer to it as dry fruit shrikhand as we usually add kesar pista badam and make the shrikhand.
Other flavors with which shrikhand can be made is mango and one can also try it out with several other fruit pulps.
Dahi or curd is a good combination with many fruits and many raitas too are made using dahi.
Overall curd/dahi/yogurt is a perfect ingredient for a healthy diet and normally curd can also be mixed with plain hot rice, some salt and served.
I would like to add more of quick dessert recipes along with traditional sweets and desserts and hopefully would like to add a video for every recipe I make for my viewers to understand the recipe in a more better way.
Below is the simplest Indian sweet dish with step by step details made using curd/yogurt and sweet flavors...
Video procedure for Shrikhand:
How to make shrikhand:
Recipe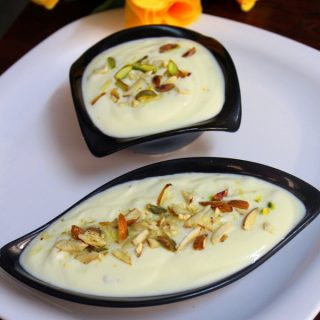 shrikhand recipe, how to make shrikhand
A simple and easy sweet dessert made using yogurt/curd.
Ingredients
500

gms yogurt/curd

3-4

tablespoon

sugar made into a powder

7-8

strands of saffron soaked in ¼ th cup milk for few minutes

½

teaspoon

elaichi powder/cardamom powder

2-3

tablespoon

finely sliced dry fruits

kaju/cashews, pista/pistachio, badam/almonds

some more sliced dry fruits for garnishing or topping
Instructions
Straining of the yogurt:
Firstly, take thick yogurt/curd and strain the yogurt completely until there is no water left in the yogurt.
Making of shrikhand:
Take a bowl, transfer the thick strained yogurt into the bowl.

Beat the yogurt well without any lumps.

Add the powdered sugar and mix it well.

Add the saffron flavored milk into the yogurt and mix it well.

Add cardamom powder and mix well.

Add sliced dry fruits and mix.

Finally garnish with some sliced dry fruits.

Shrikhand is ready and serve chilled.

It can also be chilled in refrigerator and served when required.
Notes
1. If one finds it hard to strain the yogurt, then hung the curd using a muslin cloth for a while and then use that curd to make shrikhand.
2. The yogurt should not have any water and hung it until the yogurt is thick and free from water content.
3. If one wants more of orange color dessert then soak more saffron strands in milk which gives a dark orange color and can be added to the dessert which gives a deep color to the sweet curd.
4. We can also add some chopped fruits like mango, banana, pomegranate, papaya or any other seasonal fruit that is finely chopped and added into the shrikhand and served..
Nutrition
Nutrition Facts
shrikhand recipe, how to make shrikhand
Amount Per Serving
Calories 240
* Percent Daily Values are based on a 2000 calorie diet.