Masala Vada Recipe is a deep fried vada recipe made with chana dal. Chana dal is a wonderful ingredient to make any kind of fritters and here I am with vada recipe made with bengal gram or chick pea.
The vadas made out of chana dal are called so as there are few spicy ingredients added into it which makes the vada a bit spicy. However, those spicy ingredients can be skipped if one is not willing to add them. It is also called as masala vadai down south.
Masala vada recipe is something that I make when its heavily pouring or during winter evenings or during iftar times in the month of Ramadan.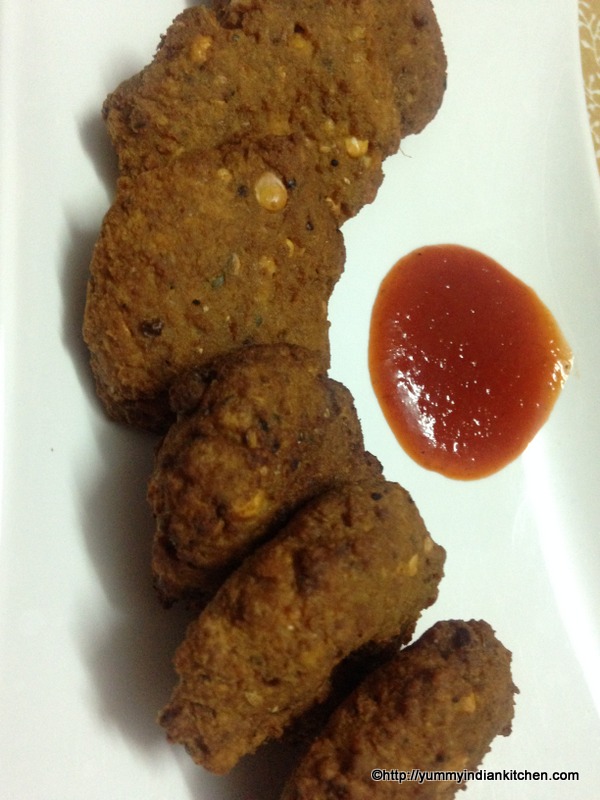 The vadas such as urad dal vada are best when served with sauce or chutney or ketchup and is a wonderful snacks dish to be eaten during a gathering along with lots of fun...
Here, to make this masala vada recipe the chana dal has been soaked for many hours and then blended to make the delicious vadas. Without soaking the dal these vadas cannot be made.
The chana dal vada gives a very coarse texture from the outside. The vada can be made very light too by just adding few ingredients. However, here I have added few spicy ingredients and I shall also update with a simpler version of it.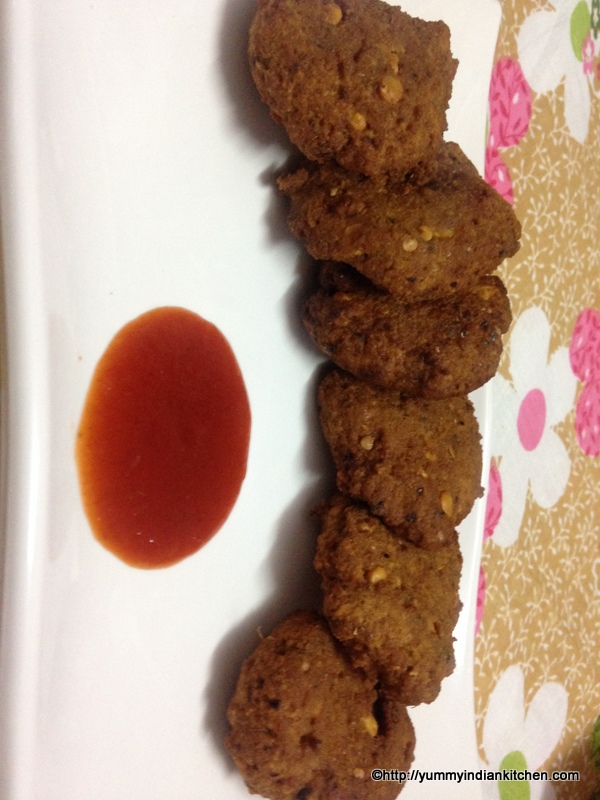 Masala Vada recipe is a very common recipe all across India and different regions calling it with different names but the main ingredients are almost the same with slight variations here and there.
Snacks are something that cannot be resisted by kids and they are a kids favorite. Its good to give them as evening kind of snacks.
The chick pea flour and chana dal is the main batter coating that is given to most of the snacks that are made. However, indulging in these kind of snacks once in a while and having fun with family is cool...
There are various vadas that are usually made with other lentils and they are moong dal vada, urad dal vada etc which are made with different kinds of lentils... Lentils are a great way to use to make snacks.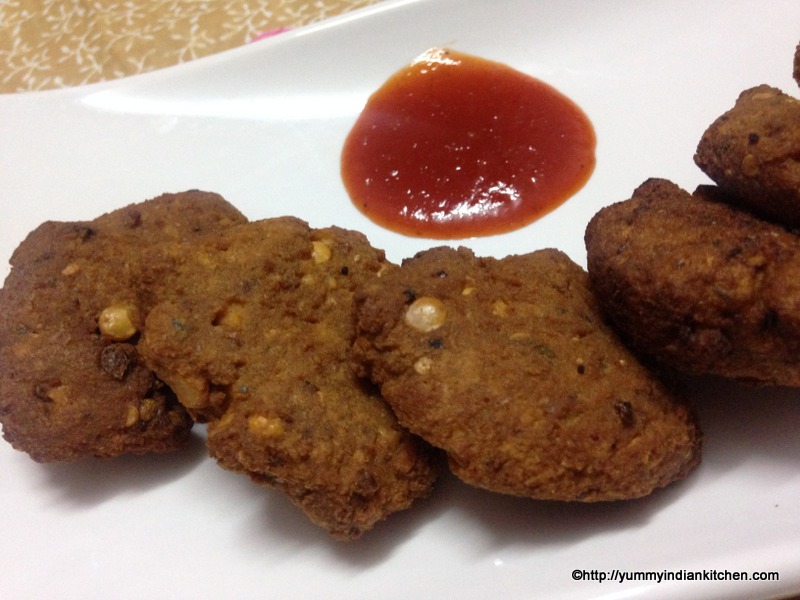 Snacks are something that can be made during occasions too and good to serve during gatherings etc...
Let us look at the step by step instructions on how to make masala vada that could be enjoyed with a hot cup of tea...
Masala Vada Recipe below:
Recipe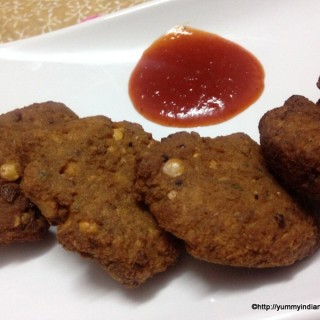 Masala Vada Recipe, How To Make Masala Vada
Spicy deep fried fritters made with chana dal / bengal gram...
Ingredients
1

cup

chana dal

split bengal gram

2

chopped green chillies

2

dried red chillies

1

tablespoon

coriander seeds powder

1

teaspoon

cumin seeds powder

½

teaspoon

garam masala powder

1

teaspoon

ginger garlic paste

salt - to taste

1

tablespoon

finely chopped coriander leaves

1

tablespoon

finely chopped onions

oil for deep frying.
Instructions
Firstly, soak chana dal(split bengal gram) for about 7 - 8 hours in water.

After soaking the dal, drain the water completely from the chana dal.

In a blender, add the soaked dal, into it add the salt, add the chopped green chillies, dried red chillies.

Also add into it coriander seeds powder, cumin seeds powder, garam masala powder, ginger garlic paste.

Blend the whole mixture coarsely in a blender.

Take the blended mixture out in a bowl.

Into it, add chopped coriander leaves, chopped onions and mix well.

Check the taste of salt and add if required.

Heat oil in a wok for deep frying.

Take small portions of the thick batter and make round patties.

Drop the vadas one by one carefully into the oil.

On medium flame fry the vadas until golden brown on all sides for about ten minutes.

Take them out and spread them on an absorbent paper.

Serve hot with sauce or ketchup or chutney dip.
Notes
1.While blending, water is not added as we require a very thick and coarse paste to make these vadas.
2.Few more ingredients like black pepper, fennel seeds powder, carom seeds, curry leaves too can be added to enhance the flavor or to give more spicy flavor.
3.Garam masala powder and dried red chillies can be skipped to reduce the spicy flavor.
4.Do not deep fry on high flame as frying on high flame would make the vadas cook outside but the inner side is not cooked completely.
5.Soaking of the dal is must to make the masala vada.
Nutrition
Nutrition Facts
Masala Vada Recipe, How To Make Masala Vada
Amount Per Serving
Calories 450
* Percent Daily Values are based on a 2000 calorie diet.