Missi Roti Recipe is an authentic roti recipe from Punjab and Rajasthan.  It is a basic roti recipe made by adding few spices almost similar to a paratha.
             In this missi roti we would be using two kinds of flour which are gram flour(besan) and wheat flour. These two ingredients are the key ingredients.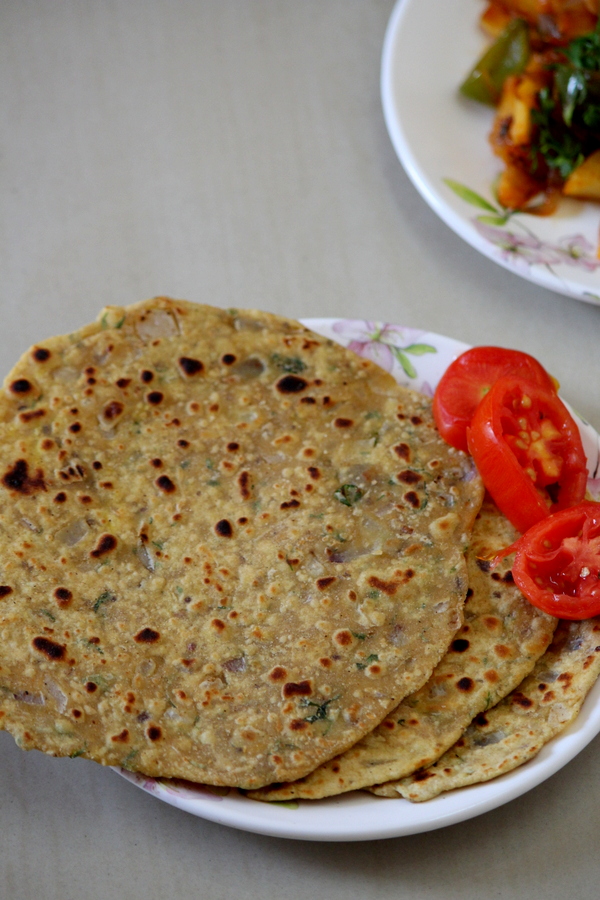 The recipe all needs is atta and few herbs like coriander leaves, dry spices of one's choice and finely chopped onions. The missi roti is so simple to make if one knows how to make a roti.
              Add few spices into the flour or atta, knead the dough and make a roti which is a very wonderful snack recipe for kids or one can have it as a breakfast recipe.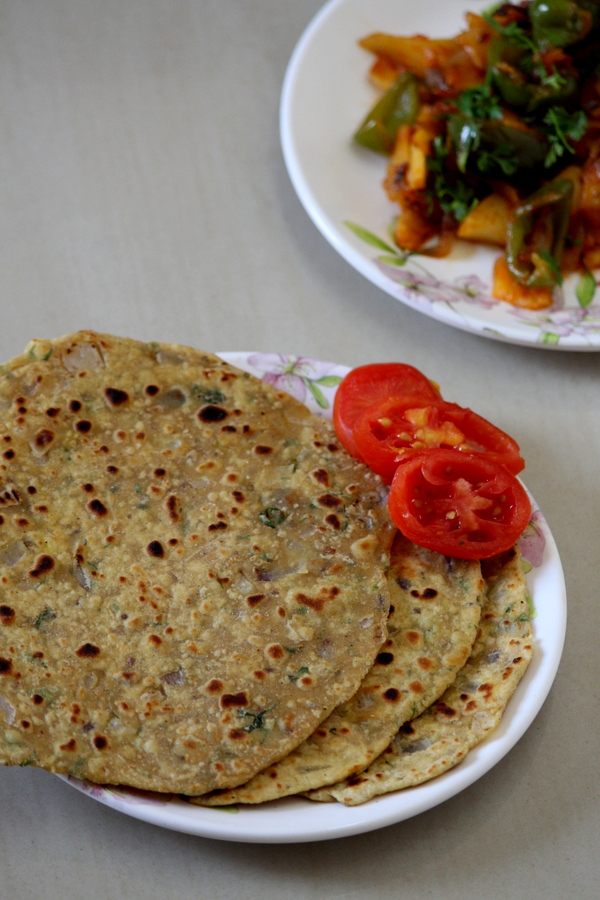 Into the flour I have added basic ingredients but if one would like to make methi missi roti then add finely chopped methi leaves and palak leaves too can be added to make palak missi roti.
           Different green leafy vegetables can be chopped and can be added into the flour and kneaded into a dough to make a roti….
Below are the instructions to make missi roti recipe which is a healthy recipe and can be eaten any time of the day…
Missi Roti Recipe Below:
Missi Roti Recipe Punjabi Style
Missi Roti Recipe from punjab made roti out of besan and wheat flour.
Ingredients
2 cups - besan(chick pea gram flour)
1 cup whole wheat flour(atta)
salt - to taste
½ tsp red chilli powder(lal mirch powder)
¼ tsp turmeric powder(haldi)
½ tsp roasted coriander seeds powder
½ tsp roasted pomegranate seeds finely crushed(anaar dana finely crushed)
½ tsp garam masala powder
½ tsp carom seeds(ajwain)
1 tbsp finely chopped green chillies
1 tbsp finely chopped coriander leaves
2 medium size onions, very finely chopped
water for kneading the dough
Instructions
Firstly, take a mixing bowl.
Into it add besan(chick pea flour), whole wheat flour.
Add dry spices such as salt, red chilli powder, turmeric powder.
Add carom seeds, roasted coriander seeds powder, finely crushed anaar dana, garam masala powder.
Mix all the ingredients well.
Add finely chopped green chillies, finely chopped coriander leaves, very finely chopped onions.
Mix all the ingredients with the flour.
Gradually add water and knead the dough.
Do not make a thin dough and make a thick dough.
Add little oil into the dough and knead soft.
Divide the dough into medium size portions.
Take each dough, dust some flour on the rolling board.
Put the dough portion on the board and roll it like a roti.
The roti cannot be rolled out thin and it is better if it is thick.
Heat the tawa/griddle and place the roti on the tawa.
After few seconds, flip the roti and apply oil/butter/ghee all over.
Flip it again, apply oil/ghee/butter all over.
Press and cook the roti well on both sides.
Continue making rotis with the rest of the dough.
Remove it from the tawa and serve it with any chutney or raita or pickle.
Notes
1.One can also add finely chopped spinach leaves or methi leaves before kneading the dough.
2.While roasting the roti, either oil or ghee or butter could be applied.
3.The ratio of besan and wheat flour can be taken in 2:1 ratio or 1:2 ratio...