Mutton Pulao Recipe is an amazing pulao recipe made with mutton and rice. This is one of my favorite rice recipes. This is a variation to the mutton tahari recipe which I posted earlier.
I have also shared another pulao variations that is chicken pulao along with a video procedure and also a veg pulao made using only vegetables.
Check below for more mutton/meat recipes:
The mutton pulao is almost same like the pulao recipes where aromatic spices are used to make rice but, meat is added to the rice to lift up the flavors of the pulav and make it as a very special dish.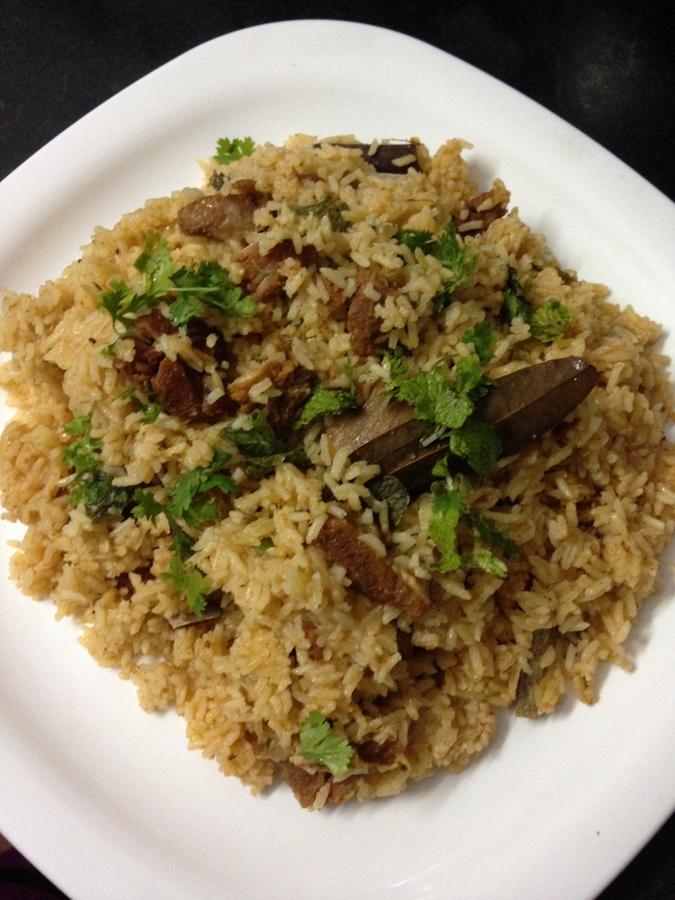 In my mutton tahari recipe I have used onions and tomatoes but, in this pulao recipe I have not made any use of tomatoes but I have used only yogurt.
The taste of the recipe is so delicious and yummy that one would make this pulao very often. I have used very fresh and red meat to make mutton pulao as choosing the right meat makes a lot of difference to the pulao.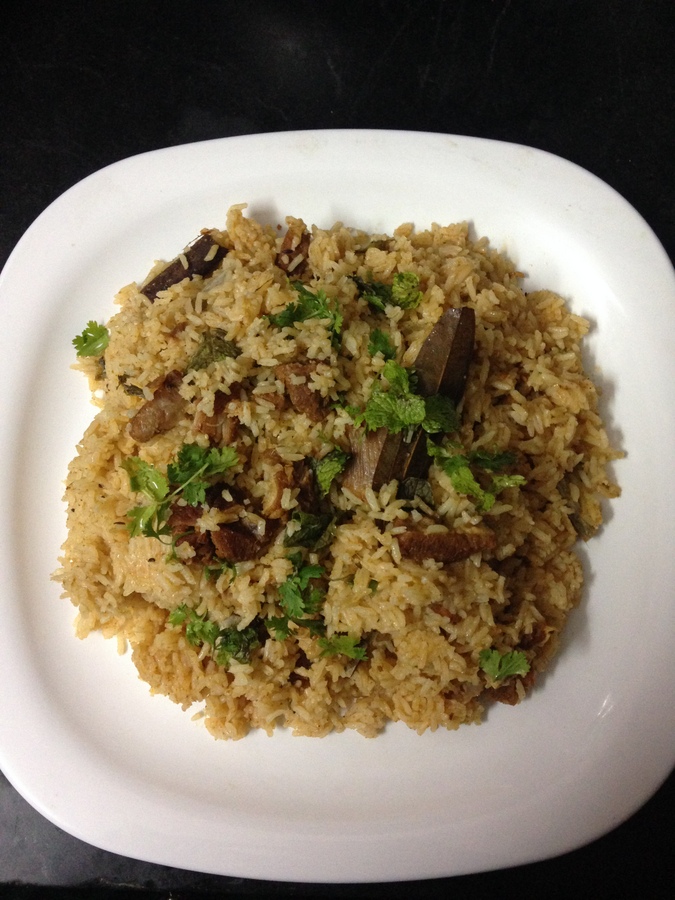 Spices too play a key role as the whole aroma is based on the spices we use. The spices have to be freshly bought and they should be very aromatic as that gives wonderful fragrance to the whole mutton pulav.
The recipe is easy and simple but does take time as meat is being used and meat takes certain amount of time to get tenderized. This is not yakhni pulao but it is a variant of it.
Mutton pulao is very common in Hyderabadi recipes and also in different regions of India and Pakistan.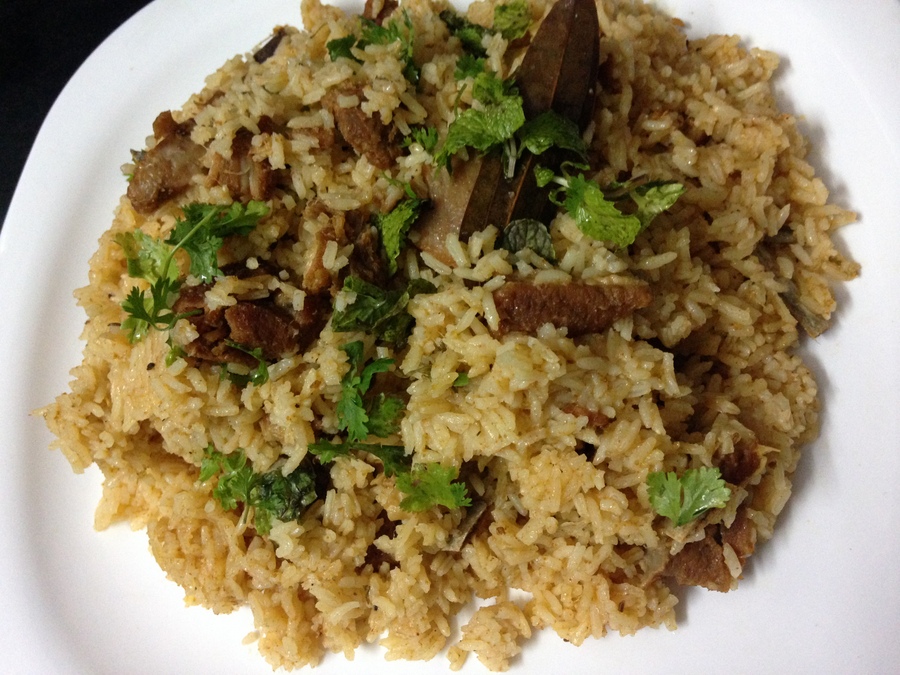 I try to make pulao recipes of mutton in various ways and this recipe is one among them. Whenever I get bored of making non veg biryani recipes, I try to make pulao recipes which bring a different taste and improves our innovation in cooking.
This is a do try dish and I am sure my blog readers are going to like this mutton pulao…
Let us take a look at making this delicious recipe and do stay tuned and watch this space for more of the mutton recipes.
How To Make Mutton Pulao Recipe:
Mutton Pulao Recipe, Mutton Pulav
Mutton Pulao is a rice recipe made with mutton and rice.
Ingredients
For The Mutton Curry:
500 gms mutton/meat pieces cleaned and washed well
2 tbsp edible oil
3 medium sized onions finely sliced
2-3 slit green chillies
1 tbsp ginger garlic paste
salt - to taste
2 tsp red chilli powder
¼ tsp turmeric powder
1 tsp black pepper powder(kali mirch powder)
½ tsp garam masala powder
1 cup beaten yogurt
1 tsp coriander seeds powder
½ tsp cumin seeds powder
For The Pulao:
3 cups of rice(ordinary/basmati)
1 tbsp edible oil
1 medium sized sliced onion
1 tsp ginger garlic paste
1 small cinnamon stick(dalchini)
2 bay leaves(tej patta)
2 cardamoms(elaichi)
2 cloves(loung)
½ tsp caraway seeds
1 tbsp chopped coriander leaves
1 tbsp chopped mint leaves
2 slit green chillies
2 tbsp beaten yogurt
6 cups of water
salt to taste
Instructions
For The Mutton Curry:
Firstly, in a pressure cooker, add oil and heat it.
Add the sliced onions and saute till translucent.
Add vertically slit green chillies and stir well.
Add ginger garlic paste and saute for few minutes.
Add mutton pieces and roast them well.
Add salt, red chilli powder, turmeric powder, coriander seeds powder, cumin seeds powder and mix well.
Add beaten yogurt, mix well and cook for few minutes.
Add little water and pressure cook the mutton till tender.
Reduce the steam, add black pepper powder, garam masala powder, coriander leaves and cook for few minutes.
If there is lots of water in the curry then cook for few minutes by keeping the lid uncovered.
Switch off the flame and put it aside.
For The Pulav:
Take a cooking vessel, add oil and heat it.
Add cinnamon stick, bay leaves, cardamoms, cloves, caraway seeds and saute them.
Add the sliced onion, slit green chillies and saute for a minute.
Add ginger garlic paste and saute for few seconds.
Add coriander leaves and mint leaves.
Add yogurt and mix well.
Keep stirring and cook for few minutes.
Add water, salt, stir and bring the water to a boil.
Wash rice well and add it to the boiling water.
Also add the cooked mutton curry into it.
Mix everything well.
Check for salt and add if required.
Cook the rice until it is completely done from medium flame to low flame.
Always place a tawa under the cooking vessel inorder to avoid burning the base of the vessel.
Switch off the flame.
Serve the rice on a plate.
Garnish with fried onions and chopped coriander leaves and lemon slices.
Serve hot with raita!!!
Notes
1.If basmati rice is used then the rice needs to be soaked for about half an hour before adding to the boiling water.
2.Strain the rice and add it to the boiling water.
3.Lemon drops can be added to the cooking rice.
4.Boiled, peeled and sliced potatoes too can be added to the rice and mutton to make the recipe more yummy!!!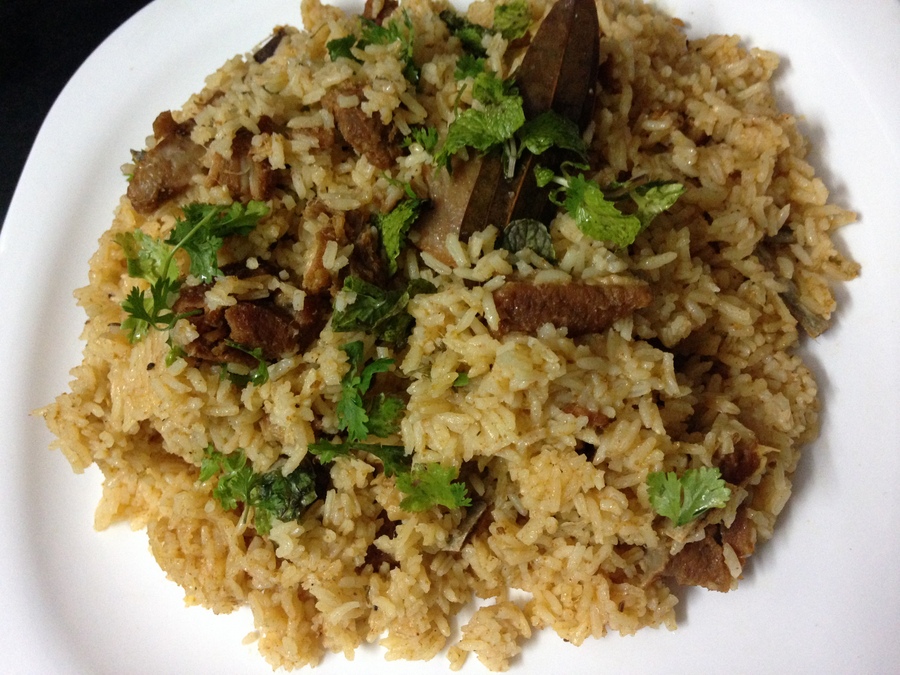 Enter email address, Subscribe and get the latest recipes in your inbox