Today's recipe is quite popular down south and it is called as pachi pulusu in andhra region. It is a popular rasam kind of a recipe which is too tangy and perfect for winters and rainy.
If making pulusu with buttermilk then do check out majjiga pulusu and moru curry.
There are many rasam varieties that are tried in south india and every rasam has its unique taste and some rasam varieties are sour and tangy, some are sweet and some can be made into spicy soups.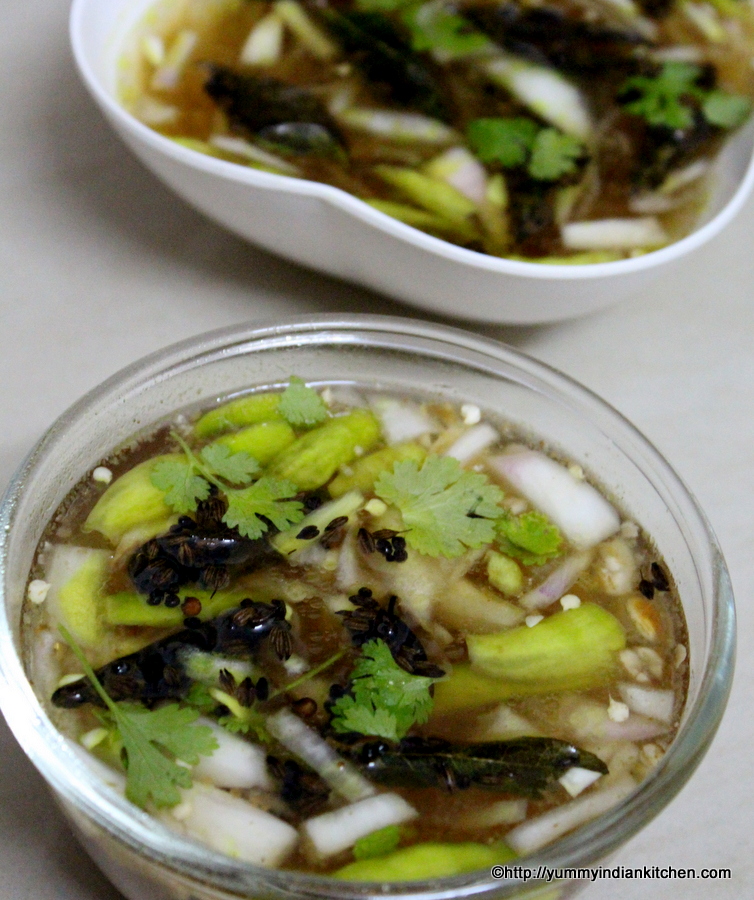 Every region has its own rasam variety. This pachi pulusu is made plainly with tamarind juice and the tamarind pulusu is not boiled. This rasam requires only tempering and onions and chillies.
It is the most quickest rasam that can be made in a couple of minutes and requires very few ingredients.
This recipe goes perfectly with hot steamed rice and along with it we need to have some papad or fries which taste very well with the pulusu.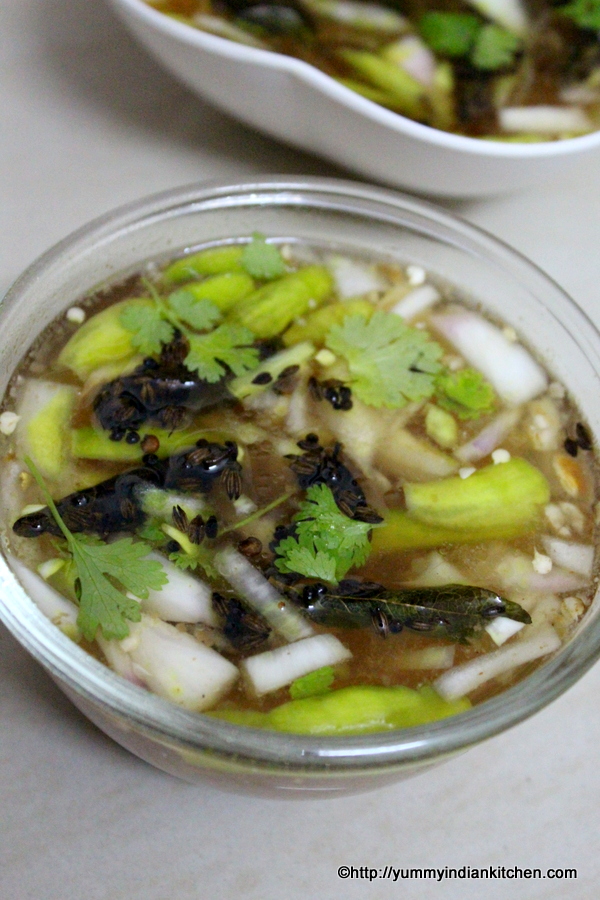 South Indian's prefer to eat lots of tangy flavors in their recipes and we tend to make lots of recipes which has tamarind as the main ingredient and adding tamarind into some curries or rasam gives an interesting flavor and also taste to the recipe...
Do check out this simple and easy raw rasam recipe called as pachi pulusu meaning raw in english and it should always be accompanied by some side dishes like veg fries or any non veg fry recipes...
In Hyderabad this recipe is usually referred to as 'imli ka khatta' or simply 'khatta' and in andhra region the same recipe is termed as pachi pulusu...
Check out the detailed steps below of the rasam which is often served with various rice recipes and also with sambars and different rice platters.
Pachi pulusu recipe below:
Recipe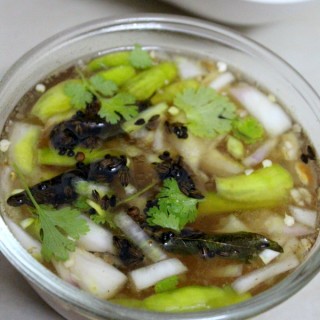 Pachi Pulusu Recipe Andhra Style, Raw Rasam
A quick and easy raw rasam recipe made using tamarind and is a tangy soupy liquid quite popular in south indian andhra region...
Ingredients
1

lemon size tamarind//10-12 pieces of tamarind

salt - to taste

1

medium size onion

finely and thickly sliced vertically

4-5

green chillies vertically slit

¼

teaspoon

roasted cumin seeds powder

¼

teaspoon

roasted coriander seeds powder
For tempering:
3

tablespoon

oil

½

teaspoon

cumin seeds

½

teaspoon

mustard seeds

4-5

dried red chillies

5-6

curry leaves

½

teaspoon

turmeric powder

2

tablespoon

finely chopped coriander leaves for garnishing
Instructions
Step 1(Making tamarind juice):
Soak tamarind pieces in water for about half an hour, squeeze the soaked tamarind and extract its pulp out.

Add water and keep extracting the pulp out from soaked tamarind.

Discard the tamarind pieces.

Set the extracted juice aside.
Step 2(Make the pachi pulusu):
Take a vessel, into it add onions, slit green chillies, salt and mix the mixture well with the hands.

Into it add the extracted tamarind juice, add water if the juice is too tangy.

Add salt into the pulusu and mix it well as per requirement.

Add cumin seeds powder and coriander seeds powder, mix well and rest aside.
Step 3(Give the tempering):
In a tadka pan, add oil and heat it.

Into it add cumin seeds, mustard seeds and let them crackle.

Add dried red chillies and stir well.

Add curry leaves and allow them to crackle.

Add turmeric powder into the tadka pan and stir.

Transfer this to the pachi pulusu and garnish with fresh coriander leaves.

Serve hot with steamed rice!!!
Notes
Tip: If the pachi pulusu is too tangy then add jaggery(approx...½ tsp) or as per requirement and stir well until it is dissolved...
Nutrition
Nutrition Facts
Pachi Pulusu Recipe Andhra Style, Raw Rasam
Amount Per Serving
Calories 150
* Percent Daily Values are based on a 2000 calorie diet.