Palak Dal Recipe is another dal recipe from my blog made with spinach leaves and toor dal or toovar dal or pigeon peas. 'Palak' is an Hindi word for spinach. This dal recipe is an awesome recipe as it contains a healthy green leafy vegetable and also dal which is high in proteins. The combination of both ingredients adds great value to the dal.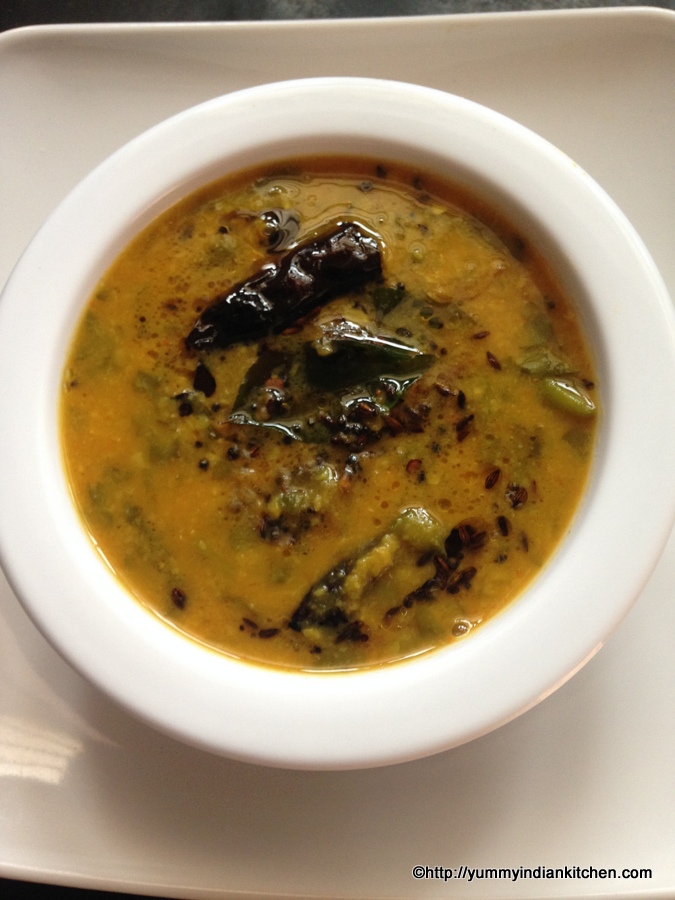 There are many varieties of dals and some of them are masoor dal, green moong dal, methi dal etc.
This dal is also called as 'palakura pappu' palakoora pappu down south especially in Andhra Pradesh.
The dal is a common and everyday dish made in Indian households and is loved by every Indian. However there are many variations in making them and also all types of dal can be used to make different dal recipes.
Dal or lentils are so useful and healthy and one cannot ignore them. The lentils are packed with wonderful health benefits and each dal has its own benefit.
My today's recipe is palak dal which is made with yellow lentils and is neither too thick nor too thin and it can be eaten with rice or roti. This palak ki dal is made without tamatar into it. Dal is a wonderful accompaniment for rice and is mostly a preferred dish.
Palak dal too can be made in various ways and here I am showing one way of making them. In this recipe I have not added tomatoes as its a tomato free dal.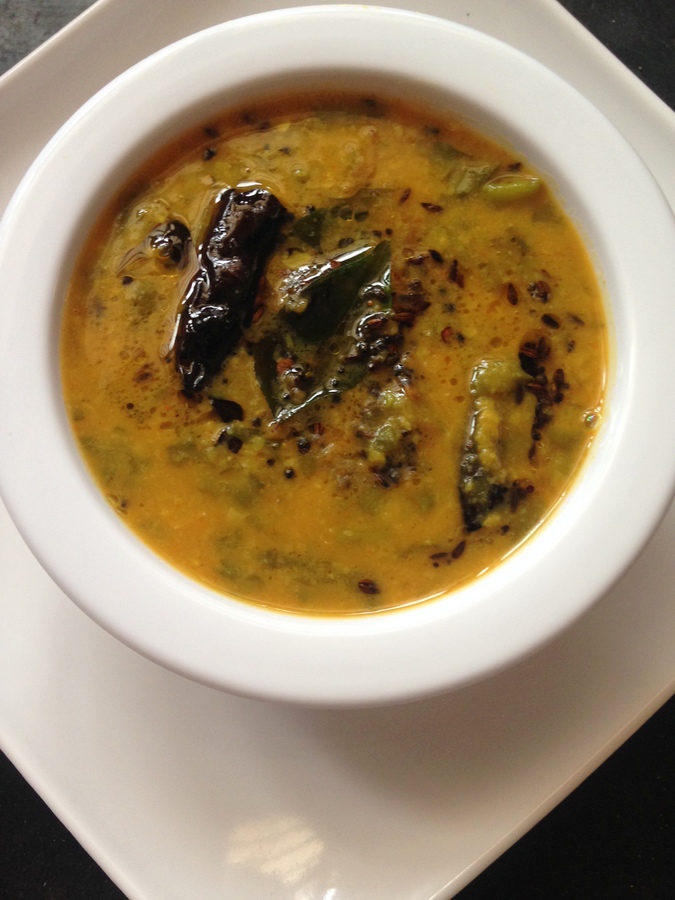 I would love to flood my blog with many dal recipes and I hope to reach out to all those who just like to eat different dal dishes.
Dal recipes appear to be complicated but they are the easiest of all in making though they require a little more time in making.
Some dals can be made in such a way that they can be eaten only with roti but dals such as palak dal goes very well with rice and roti.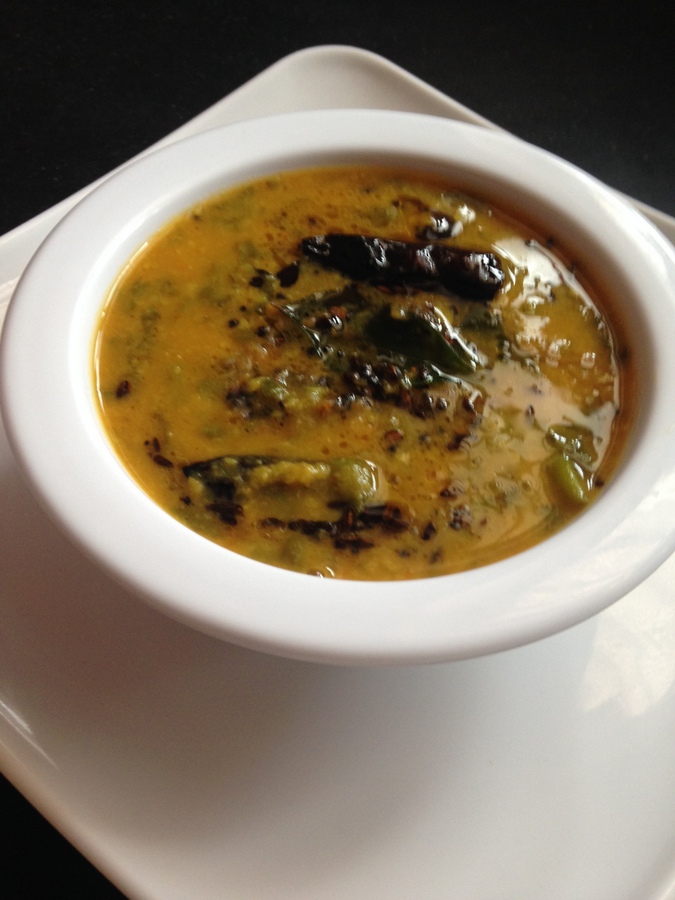 Let us take a look at making this wonderful palak dal recipe and I hope it is liked by my blog readers. Before we start making this dal it is better to chop the fresh spinach leaves and keep them handy.
      Along with the dal it is always better to have  a veg stir fry as a side dish too and make the meal more interesting. 
Video

Recipe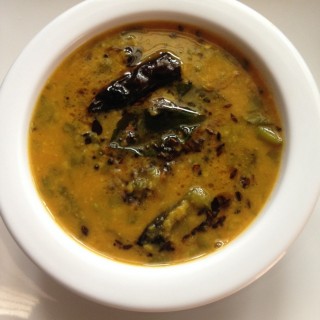 Palak Dal Recipe, Spinach Dal Recipe
Palak dal made with toor dal and spinach.
Ingredients
2

cups

- toor dal/toovar dal/pigeon peas

3 - 4

green chillies

2 - 3

tamarind strands

½

teaspoon

turmeric powder

½

teaspoon

red chilli powder

1

large bowl - spinach leaves

1

teaspoon

oil

2

cups

- water

salt to taste
For tempering of dal/tadka:
1

tablespoon

full oil

1

teaspoon

cumin seeds

1

teaspoon

mustard seeds

4 - 5

dried red chillies

6 - 7

curry leaves
Instructions
For tenderising the dal:
Firstly, in a pressure cooker, add the toor dal.

Add green chilles, add tamarind strands.

Add turmeric powder and red chilli powder.

Add the spinach/palak leaves.

Add about a teaspoon of oil.

Add about two cups of water.

Give the mixture a mix.

Pressure cook the dal for about 3-4 whistles or until the dal gets tender.

Reduce the steam, add salt as per taste and mash the dal finely.

Place the cooking pot with mashed dal on gas stove on sim flame for a slight boil.

Meanwhile get ready with the tadka.
For the tadka/tempering:
In a tadka pan/sauce pan, add oil, heat it.

Add cumin seeds, mustard seeds and let them splutter.

Add dried red chillies and stir well.

Add curry leaves and when they give out a crackling sound, take the tadka pan and transfer the tadka into the cooked dal.

Switch off the flame.

Serve the dal with rice or roti.
Notes
1. Dal can be soaked for few hours before making palak dal. However, it can also be made directly,
2. Soaking the dal tenderizes the dal quickly.
3. Tomatoes can be added as an optional ingredient while pressure cooking the dal .
4. Additional ingredients can be added in the tadka such as garlic and black lentils for enhanced flavor.
5.Adding oil while pressure cooking the dal speeds up the process of tenderizing the dal.
Nutrition
Nutrition Facts
Palak Dal Recipe, Spinach Dal Recipe
Amount Per Serving
Calories 150
* Percent Daily Values are based on a 2000 calorie diet.