Mutton Paya Soup or lamb trotters soup is a heavy stew created from trotters/ feet of goat or lamb, bones from the leg with rich gelatin marrow covered with meat. Most cultures will have variations of the Paya recipe in their own way.
Related mutton recipes:
India being such a culturally varied country, each region adapted this recipe and added a few changes according to their taste. In North India, mutton/goat/lamb paaya is served as a dish with rotis or usually naan or as a soup. Whereas in South India it is prepared as a main dish to be served with rice or rotis.
Mutton Paya shorba or soup is basically made from lamb trotters, the feet of a goat or lamb or any cattle, consumed mostly by recuperating patients for its nourishment. This recipe is perfect to be taken during winters as it keeps us warm and we always make this soup during winters and rainy to get warmth.
The recipe below has been cooked with pressure cooker. You can also choose between cooking it in the traditional method, or cooking it in pressure cooker - either way, it's delicious. It has to be cooked for a long time to get all the juices extracted from the paya to a thick soup.
This is especially famous among the muslim community, basically a mughlai dish, expensive and widely popular among the riches(nawabs), who consume this soup with meat and marrow cooked in exotic spices to get the full benefits and nourishing goodness. It has numerous health benefits such as strengthens joints especially the spine, absolute wonder food for post delivery recovery, good for aging bones as its full of calcium.
This mutton paya soup can also be given to babies for nourishment and to get warmth and can also be given to the sick. I am sure nobody wants to miss making such a healthy paya soup especially during winters... It can not only be made as a soup but can also be made into paya nihari which I shall be updating very soon.
It is made in different ways in different regions across India but every way is a tasty turned out dish as the trotters itself give out a delicious taste. Before cooking please make sure paya is washed very well with any flour like wheat flour etc. It has to be washed many times.
Lamb Trotters Soup Recipe Details Below:
Recipe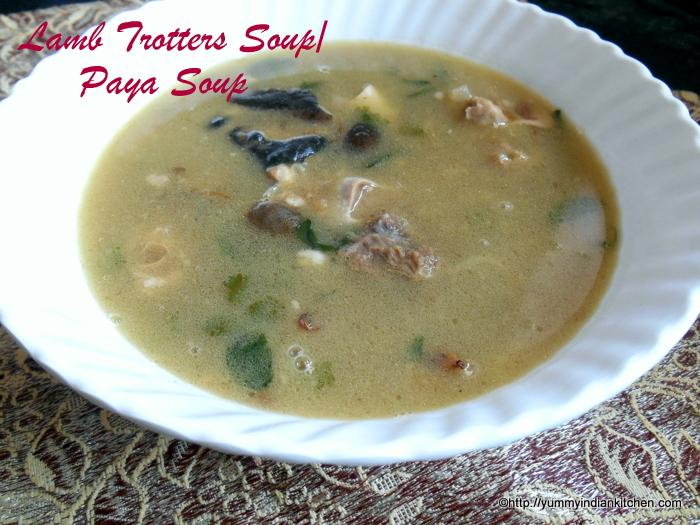 Lamb Trotters Soup
A soup made using lamb trotters called as aatu kaal soup
Ingredients
4-6

lamb legs/paya

salt - to taste

2

teaspoon

grated ginger

adrak

2-3

cloves

of garlic

lehsun

4-5

black pepper corns

2

tablespoon

finely chopped coriander leaves

1

teaspoon

finely chopped mint leaves

½

cup

onions finely sliced

3-4

cups

of water

1

teaspoon

oil
Instructions
Firstly, in a pressure cooker add the legs of lamb/paya/trotters.

Add water for about 3 cups.

Add salt as required, add grated ginger, garlic which is optional, black peppercorns.

Pressure cook for about 20-30 minutes on low flame and keep aside.

Meanwhile in a sauce pan, heat oil, add sliced onions and fry till slight brown.

Transfer the fried onions to the paya soup, add coriander leaves, mint leaves.

Cook for few minutes and switch off the flame.

Serve hot as a soup or with rotis or rice.
Notes
In this soup I have added the basic ingredients and avoided spicy ingredients such as cloves, cinnamon etc which can be added if one wishes to. If this soup is given to children then it is better to strain out the soup and feed them the filtered soup.
Nutrition
Nutrition Facts
Lamb Trotters Soup
Amount Per Serving
Calories 300
Calories from Fat 9
% Daily Value*
Fat 1g2%
Sodium 1mg0%
Potassium 1mg0%
Carbohydrates 1g0%
Protein 1g2%
Vitamin A 1IU0%
Calcium 1mg0%
Iron 1mg6%
* Percent Daily Values are based on a 2000 calorie diet.