Punugulu or punukulu is a famous andhra snack recipe with small round dumplings and they are usually served with tea or chutney as an evening snack.
Other snacks recipes or iftar recipes on the blog:
Punugulu or punukulu are made with dosa batter and also with idli batter and making them is quite easy….The round dumplings looks so lovley but making batter for andhra special punukulu is a little time consuming process.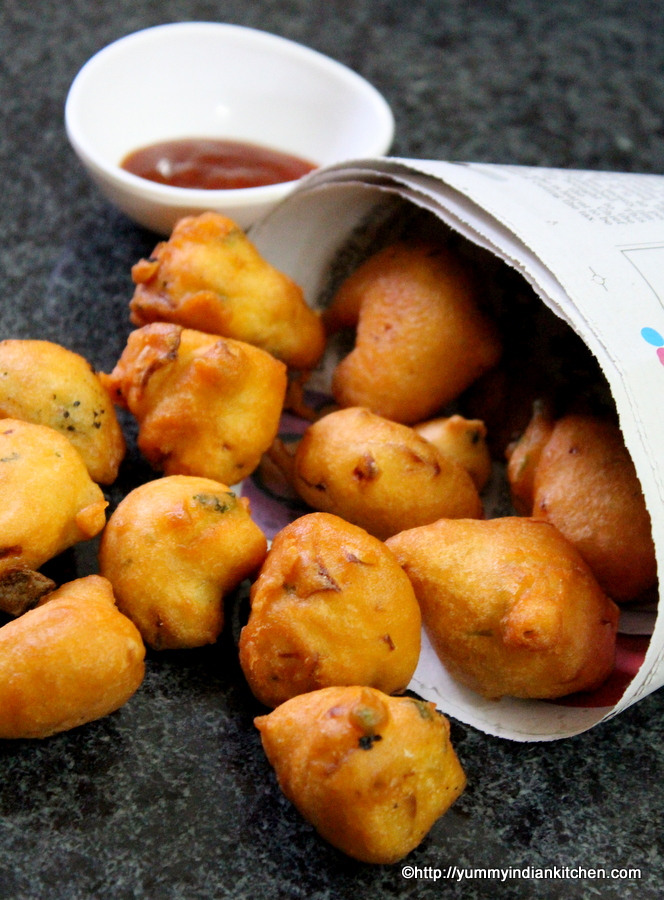 We can also try them out with left over batter of dosa and idli or make a batter specially to make these small cute dumplings.
It is similar to soaking dosa batter but we do not add methi leaves into the punugulu batter and it can be made with few main ingredients…
We just need to soak urad dal and rice for few hours, blend the batter, ferment it, add some spices and make very small dumplings out of it and deep fry…
 They are also made using idli batter usually called as idli pindi punugulu…
These are usually found on the streets of andhra and basically they are served as tea time snacks on the road side. When I first heard the name I found it quite interesting and I thought it is with simple available ingredients that can be easily tried at home…
                         The snack is soft from inside and fermentation makes the batter light and thus helps in making soft punugulu.
            These can be served with coconut chutney or any chutney and they taste simply awesome with all kinds of chutney or they can be eaten plain without any chutney.
I have seen kids loving this snack more than anyone else as the size of the punukulu is so small and looks lovely…The punugulu can be made plain or we can add some herbs like coriander, cumin and chillies to make it little spicy.
Steps on how to make punugulu batter with dosa batter:
Firstly, in a bowl, add rice, urad dal and wash it well, soak it for 6-7 hours.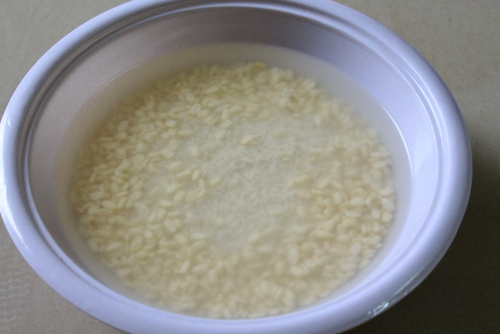 Blend the batter into a bit thick paste by adding little water. Do not make a thin batter. Ferment the batter for about 7-8 hours or ferment it overnight.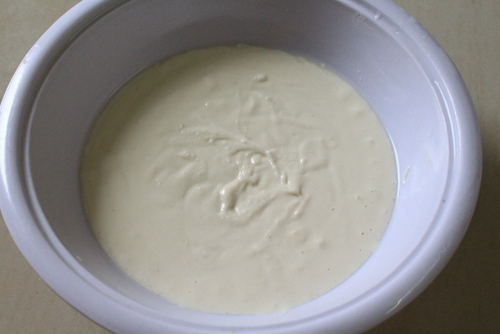 After fermentation, into it, add salt as per requirement, add baking soda(soda bicarb), mix well. Also add some finely chopped chillies, finely chopped onions, finely chopped coriander leaves.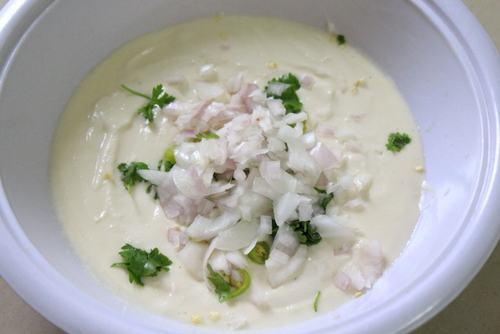 Mix the whole batter with these ingredients.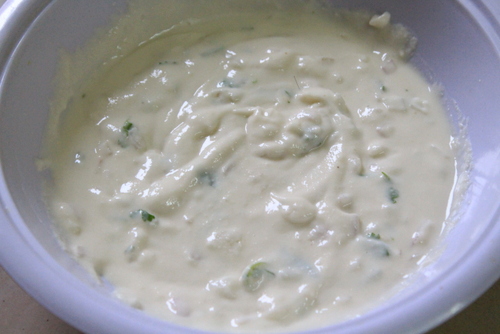 Make small dumplings and deep fry in oil.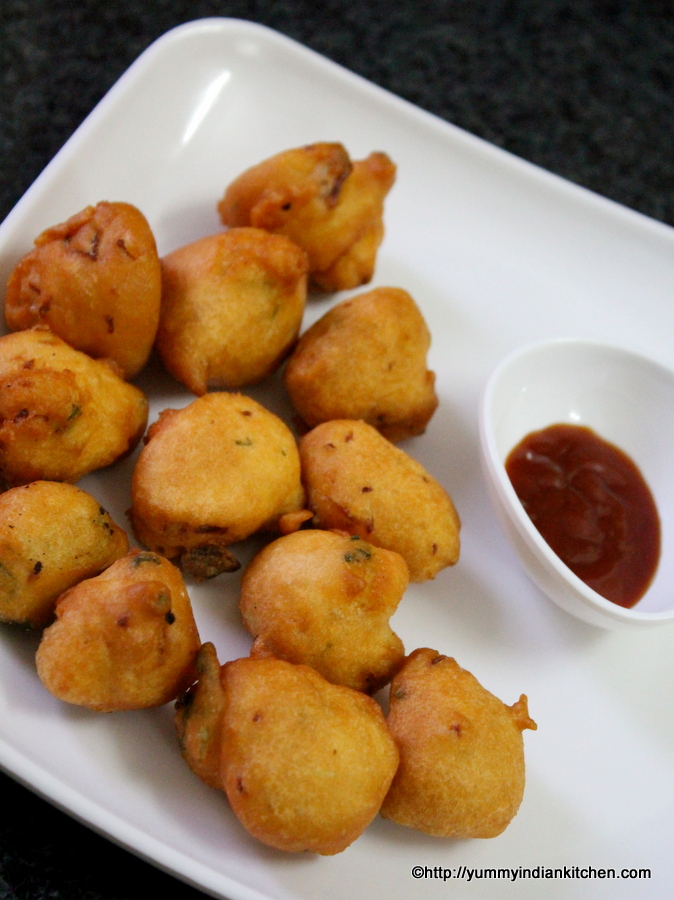 How to make south indian style andhra punugulu or punukulu: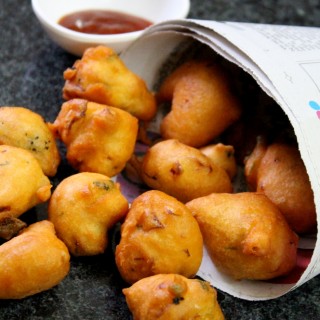 Punugulu Recipe With Idli and Dosa Batter, Andhra Punukulu
A simple two ingredient snack recipe made using urad dal and rice in the form of small round deep fried dumplings...
Print
Pin
Rate
Ingredients
For making batter:
1/2

cup

urad dal

1/4

cup

rice
Other ingredients:
2

tbsp

very finely chopped onions

2

tbsp

very finely chopped green chillies

2

tbsp

very finely chopped coriander leaves

oil for deep frying

salt - to taste

a pinch of soda bicarb

baking soda

1/4

tsp

cumin seeds

optional
Instructions
For soaking, blending and fermenting the batter:
Firstly, in a bowl or a vessel, add urad dal and rice.

Wash these ingredients well.

Soak them in good amount of water for 7-8 hours.

Strain the soaked water.

Add the soaked ingredients into a blender.

Add little water and blend into a fine paste.

Make a thick batter and not a thin batter.

Ferment the batter for about 7-8 hours or overnght.
For deep frying:
After fermentation, mix the batter well.

Into it, add salt, add baking soda and mix.

Add very finely chopped onions, very finely chopped green chillies, very finely chopped coriander leaves. also add cumin seeds as an optional ingredient.

Mix all the ingredients properly.

The batter should be thick enough to form a round dumpling with hands.

Heat oil in a wok for deep frying.

Take very small portions of the batter, make small dumplings/round balls and drop them in oil.

Deep fry them until golden brown on all sides on low to medium flame.

Take them out and place them on an absorbent paper.

Serve them hot with coconut chutney or peanut chutney!!!
Notes
Punugulu with idli batter:
For 1 cup of idli batter:
Take the leftover idli batter.
Into it add salt if not added earlier.
Into it add 1 tbsp maida, 1 tbsp rice flour, mix well.
Also add finely chopped green chillies, onions, coriander leaves, cumin seeds and mix everything well.
We can also make the batter without adding maida and rice flour, but, if the batter is runny and to make it a bit thick we add maida and rice flour.
Make very small dumplings and deep fry them.
Nutrition
Want To Watch Video Recipes?
SUBSCRIBE US ON YOUTUBE!