Spinach Fritters Recipe is another version of palak pakoda where the whole leaf is dipped into the batter and deep-fried to make these spinach fritters. In another version of palak pakoda I have used finely chopped palak/spinach and sliced onions and these are totally different as I would be using whole spinach leaf to make the fritters.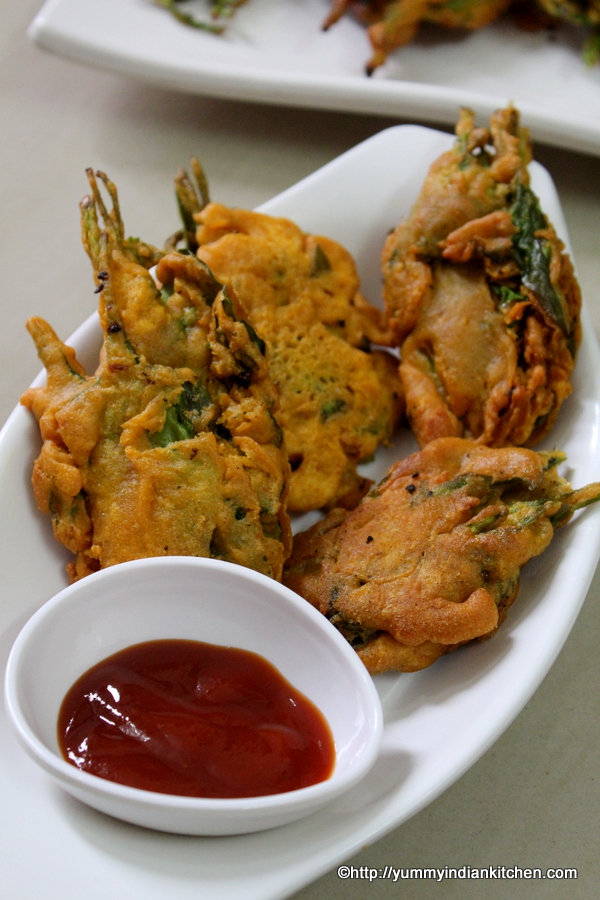 These deep fried bhajiya too are an amazing snack which are similar to palak pakora but here, I have made use of spinach leaf to make the pakodas and the batter which I have used to make them is plain besan batter without adding onions into it.
The batter is made of besan and spices and to get a crispy taste I have used rice flour. This cold weather is the perfect time to make this winter and rainy special fritters with the main ingredient being spinach leaf...
Adding baking soda always gives a very soft texture from inside and adding rice flour to the batter gives a very crisp texture from outside...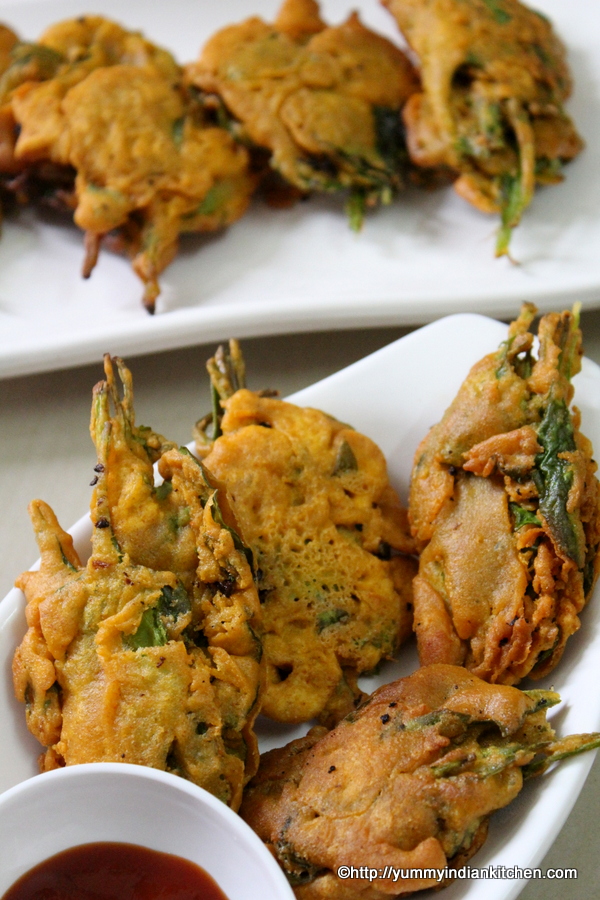 These fritters are as tasty as the palak pakoda which I have already shared...
The pakodas are quite popular all through the Indian regions and in hyderabad we usually call them as pakodey or bajji or bhajiya and they are quite popualar in south indian regions too...
This recipe too is perfect for rainy and winters and it is also usually made during the month of ramazan as an iftar snack recipe..
All we need to keep handy is few fresh spinach leaves and besan batter to dip the spinach leaves in batter and deep fry...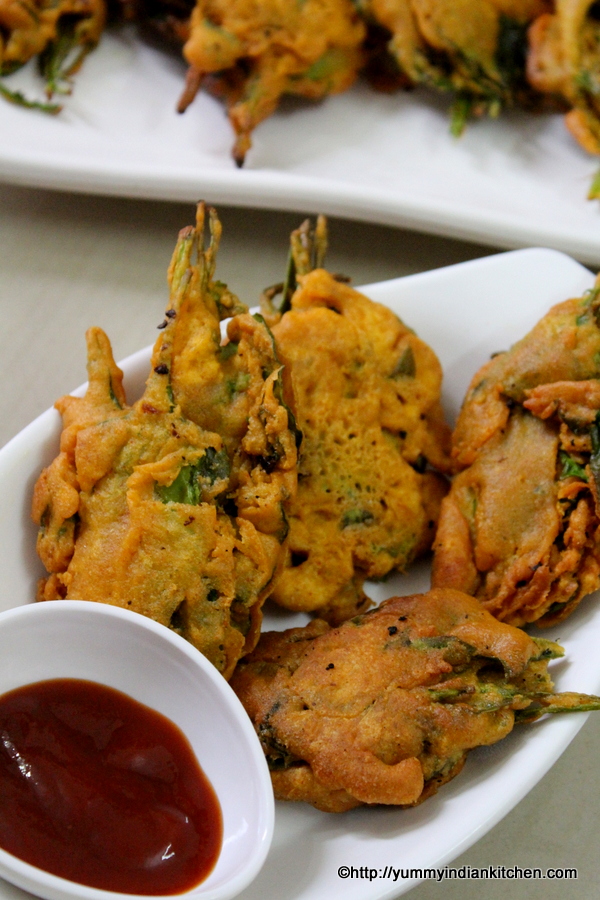 This is a must try fritter recipe as it is easy, quick and a great snack food to be had as an evening tea time snack or even served to kids...
Indians prefer lots of deep fried snacks and among them pakodas or pakoras are quite popular recipes apart from vada recipes...
Do try this simple and easy snack recipe commonly called as spinach fritters in english and palak bhajia in hindi...or palak ke bhajiye in urdu...
How to make spinach fritters recipe below:
Recipe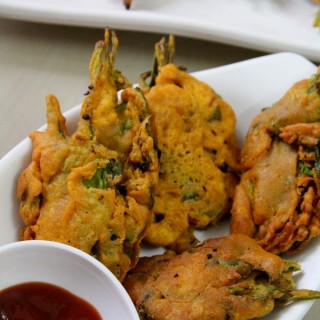 Spinach Fritters Recipe, Palak Bhajia(Pakora)
A quick and easy spinach fritters recipe made with palak leaves and chick pea flour batter...
Ingredients
1

bunch of spinach/palak whole leaves

finely washed

7-8

tablespoon

chick pea flour/besan batter

½

teaspoon

rice flour

salt - to taste

½

teaspoon

red chilli powder

¼

teaspoon

turmeric powder

¼

teaspoon

ginger garlic paste

¼

teaspoon

roasted coriander seeds powder

½

teaspoon

carom seeds

ajwain

1

tablespoon

coriander leaves

1

teaspoon

oil

a pinch of baking soda

¾

cup

water approx... to make the batter
Instructions
In a bowl, add the chick pea flour.

Add rice flour, baking soda and mix well.

Add salt as per taste, red chilli powder, turmeric powder, roasted coriander seeds powder, carom seeds and mix.

Add ginger garlic paste, oil, coriander leaves and mix.

Add water gradually and make a batter without any lumps.

The batter consistency should neither be too thick nor too thin.

Heat oil in a wok for deep frying.

Take 2-3 leaves, arrange the leaves properly, hold the stalk with fingers and dip the palak leaves into the batter.

Drop the dipped palak leaves into the oil.

Deep fry them until golden on all sides on low flame.

Serve hot with ketchup and tea!!!
Notes
In Hyderabadi pakodas we usually tend to add ginger garlic paste in every batter made to make fritters...But, this ingredient can be added as an optional ingredient in other parts of India...
Nutrition
Nutrition Facts
Spinach Fritters Recipe, Palak Bhajia(Pakora)
Amount Per Serving
Calories 320
* Percent Daily Values are based on a 2000 calorie diet.