Palak pakoda is yet another perfect snack recipe for the upcoming rainy or winter seasons...These are deep-fried fritters recipe made using finely chopped palak and besan/chickpea flour. These are wonderful tea time snack recipes and also best snack food given to kids as soon as they are back from school in the evenings...
Other pakoda recipes on the blog are chicken samosa, egg pakoda, kanda bhaji.
.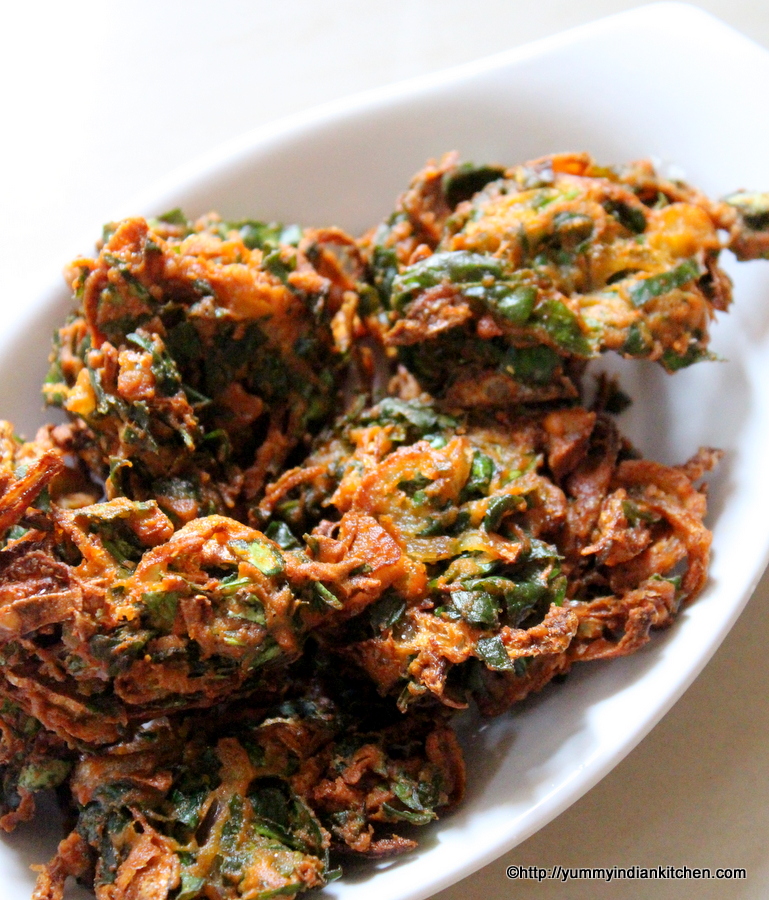 Palak pakoda is one of the favorite snack recipes at home and I would love to update more snack recipes as I keep writing down recipes and also hope to add on videos for a better understanding...
In this palak pakoda I have used finely chopped pakoda to make the fritters but I shall soon be updating another version where I will be using whole spinach leaf to make the spinach fritters and they taste awesome too...
These pakodas are crispy and too tasty which do not require any dip or chutney and can be eaten plain just along with tea and are a good tea time snack recipes...
I would like to suggest these palak pakora snack as an iftar recipe during the month of ramadan and they are perfect iftar snacks as they taste good to our tongue after fasting the whole day....
Also check out other evening snack recipes such as masala vada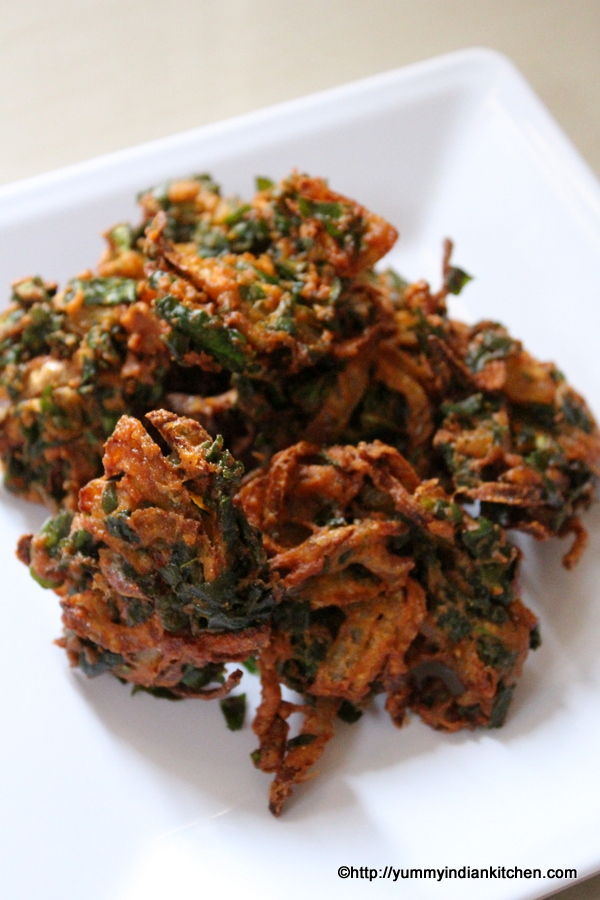 These pakoras are also good to be eaten when its pouring heavily outside and I love to make different kinds of fritters when its too chill or raining outside...
I also try to make many appetizers during Ramadan which serve best as iftar snacks and these are one among them... In hyderabad palak ke pakodey are quite popular and a commonly made snack food during cold weather or during iftar.
Pakora recipes are usually crunchy crispy and if we would like to make a crispy pakoda then it is necessary that we add some amount of rice flour to the pakoda batter to give a crisp and crunchy bite...
Every pakoda gives a best taste only by adding onions and I prefer to add atleast some quantity of finely sliced onion in all the pakoda recipes I make as they really enhance the taste of the main ingredient pakoda...
Adding cooking soda to the batter makes it soft from from inside.
Step by step pics for making palak pakora recipe: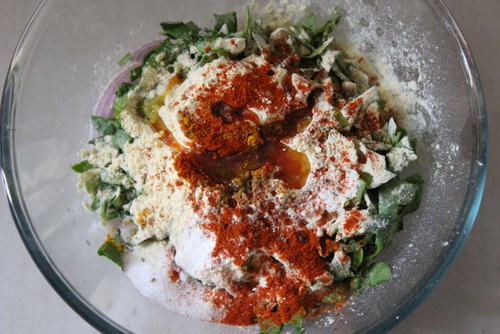 In a bowl, add finely chopped spinach, add finely sliced onion, chick pea flour and rice flour, add salt, red chilli powder, turmeric powder, coriander seeds powder, carom seeds/ajwain, add oil and mix all the ingredients well.

The batter should be thick. No need of adding water as washed spinach leaves its water and if required just sprinkle drops of water...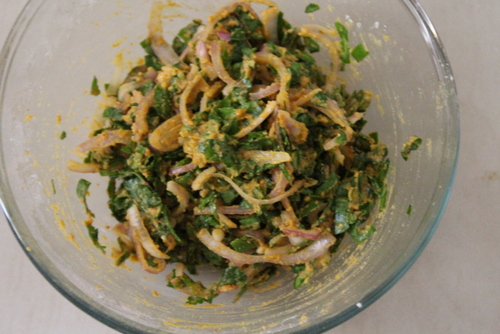 Take small portion of batter press and drop them in heated oil and fry them until golden color on all sides...Do not stir it immediately, wait for some time and let the pakodas cook before stirring the pakodas...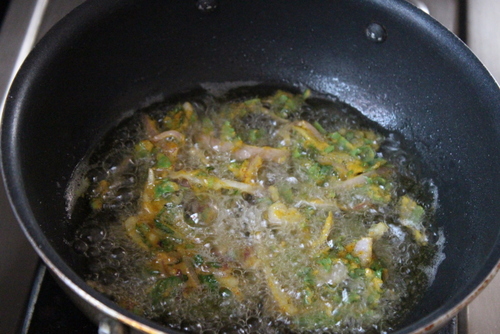 After frying and removing from oil they appear to be delicious pakoda as in the pic below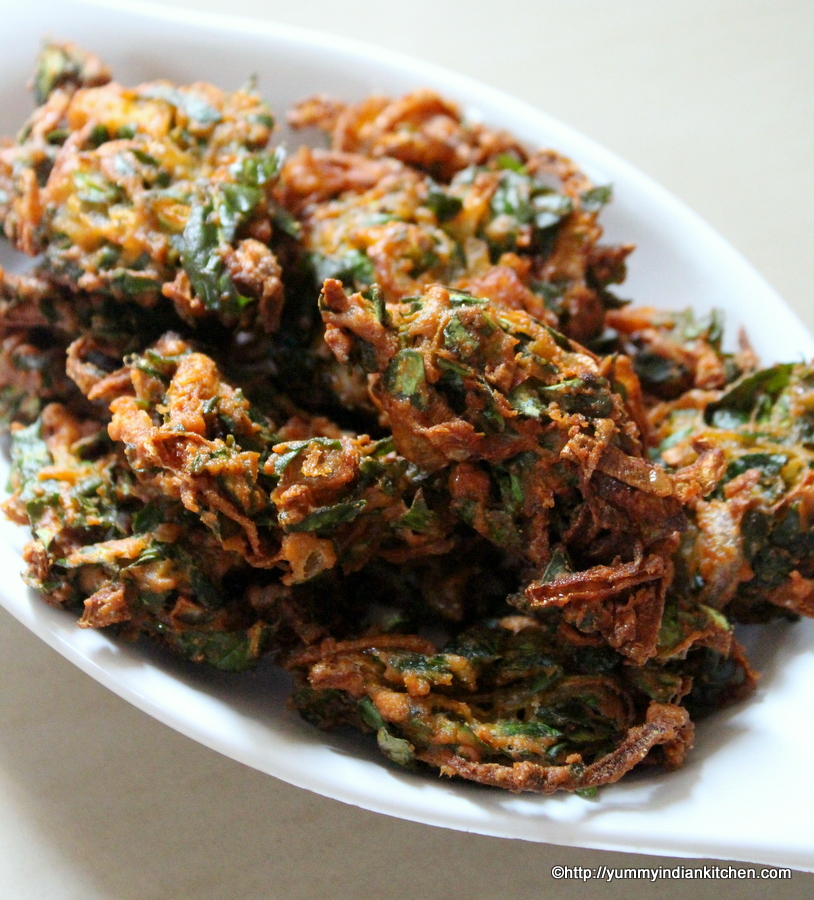 Below are the recipe details for the palak pakoda and the taste of the pakoda is mouth watering...
How to make palak pakoda crispy :
Recipe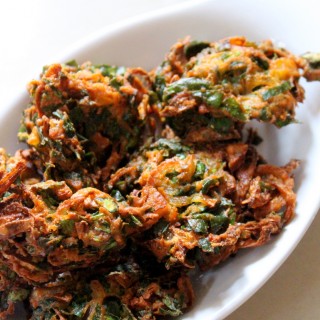 Palak Pakoda Recipe Crispy or Palak Pakora
A quick, simple and tasty palak pakora perfect with a hot cup of tea during winters or rainy.
Ingredients
3

medium size bunches spinach/palak finely chopped

1

medium size onion

finely sliced(not large size)

6

tablespoon

besan/chick pea flour

½

teaspoon

rice flour

salt - to taste

1

teaspoon

red chilli powder

¼

teaspoon

turmeric powder

¼

teaspoon

roasted coriander seeds powder

¼

teaspoon

ajwain

carom seeds

1

teaspoon

oil

a pinch of baking soda

optional
Instructions
Wash finely chopped spinach and add into the bowl.

Into it, add finely sliced onion.

Into it add chick pea flour and rice flour.

Add salt, red chilli powder, turmeric powder, coriander seeds powder, carom seeds.

Add oil and mix all the ingredients well.

Washed spinach already leaves its water and therefore, batter can be mixed easily.

The batter should be thick.

If required just sprinkle few drops of water and mix the batter.

Heat oil in a wok for deep frying.

Take a portion of the batter in your fingers, press or flatten the batter with fingers and drop in oil.

Similarly drop the rest of the pakodas batter into the oil.

Deep fry the palak pakodas on low flame until they turn golden color on all sides.

Take them out.

Serve hot with chutney dips or ketchup.
Notes
1.Here, to enhance the taste of palak pakora I have used onions but if one doesn't prefer to add onions then skip the onion and add in 1 or 2 more spinach bunches which are finely chopped.
2.Adding onions along with any vegetables gives a real taste to the pakodas...
3.Frying on low flame cooks the pakodas well from inside and tastes well.
4.I have not used cooking soda but it can definitely be added in a minute(a pinch) quantity if preferred...
5.We can also add some freshly chopped coriander leaves too.
Nutrition
Nutrition Facts
Palak Pakoda Recipe Crispy or Palak Pakora
Amount Per Serving
Calories 320
* Percent Daily Values are based on a 2000 calorie diet.