Tala hua gosht is a Hyderabadi dish that is nothing but mutton fry taken as a starter or eaten along with dal and rice. It is an amazing mutton dish. This is one of my favourite Hyderabadi mutton recipes. The dish is a fried dish and 'tala Hua gosht' or talawa gosht term is a Hindi version of mutton fry recipe.
The common dals in hyderabad which go best with this recipe are palak dal, khatti dal, mutton dalcha, masoor dal etc...
This crispy fried gosht is most commonly dish made in Hyderabadi households.
This dish is made by taking boneless mutton pieces and the mutton should be very fresh and cannot be made with bones attached to the mutton. Therefore tala hua gosht requires solid meat pieces cut into small cubes and no fatty white substance attached to it.
The recipe is made by marinating pieces with dry spices and then shallow frying until crispy in oil. Hyderabadi cuisine is very spicy and tasty and one of the best cuisines served across India.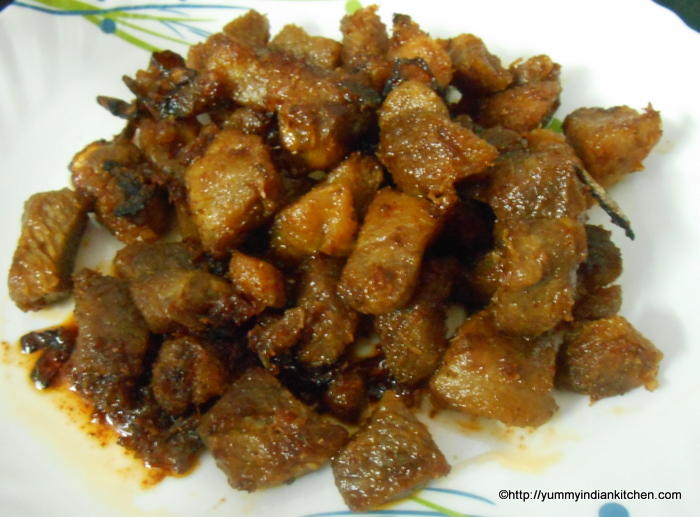 Tala gosht is one of the simplest and quickest recipes from Hyderabadi cuisine.
In this recipe I have marinated mutton and then pressure cooked but if one is in a hurry then the recipe can be made without marinating and directly adding the spices while pressure cooking mutton and then followed by frying.
In Hyderabad, we get to see every Muslim household making this amazing dish once a while and I prefer using lamb meat more often as it tastes good and is easy to cook.
If the mutton is not tender then the best option is to pressure cook the mutton before stir-frying these mutton pieces.
Check out the details for the recipe as this is a simple and quick recipe and there are many variations to this recipe as well which I shall update on the blog as I keep posting.
Recipe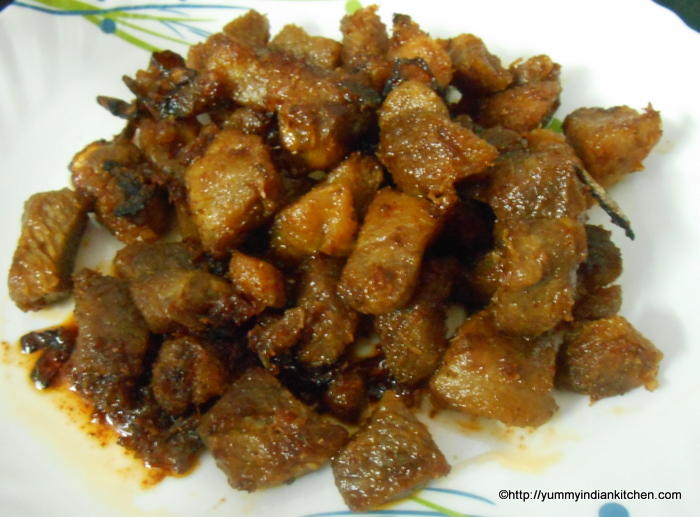 Tala Hua Gosht, Mutton Fry Recipe
stir frying boiled mutton in spices.
Ingredients
½

kg

boneless mutton pieces washed well

salt - to taste

1

teaspoon

full red chilli powder

¼

teaspoon

turmeric powder

1

tablespoon

ginger garlic paste

2

tablespoon

oil
For Garnishing:
½

teaspoon

garam masala powder

1

tablespoon

lemon extracted juice

1

tablespoon

coriander leaves
Instructions
Firstly, take the mutton pieces and wash them well.

Drain off the excess water content in the pieces.

Add salt, red chilli powder, turmeric powder, ginger garlic paste into the mutton, mix everything well.

Marinate the mutton for about 30 minutes.

Take a pressure cooker, into it add the marinated mutton, add one and half cup of water and pressure cook the mutton on medium flame until mutton gets tender.

Reduce the steam,there should not be any water content present in the cooked mutton.

If there is any water present then evaporate the excess water on a sim flame by keeping the lid open.

Add 2 tablespoon oil into the cooked mutton and fry the mutton pieces until crispy brown for about 10 minutes.

Cook for few minutes on sim flame and when dark reddish/brownish color appears with oil on the corners, take the pieces out on a plate.

Sprinkle garam masala powder and lemon juice over the tala hua gosht and garnish with coriander leaves.

Serve hot.
Notes
I sometimes prefer to add few slightly brown onions into the mutton while pressure cooking which is totally optional and can be added if one is willing to try out mutton fry with few more added ingredients....
Nutrition
Nutrition Facts
Tala Hua Gosht, Mutton Fry Recipe
Amount Per Serving
Calories 552
Calories from Fat 54
% Daily Value*
Fat 6g9%
Sodium 1mg0%
Carbohydrates 1g0%
Protein 1g2%
Iron 1mg6%
* Percent Daily Values are based on a 2000 calorie diet.