Chicken rezala, a traditional chicken recipe in Bengali style made using chicken and some rich ingredients like Kaju, khus-khus, fried onions and curd. It is a white rich chicken gravy recipe and is basically a Bangladeshi recipe now usually made by people of Bengal. Other interesting and gravy chicken recipes to be checked on the blog are murgh makhani, chicken leg fry, Andhra chicken curry, chicken shahi korma etc...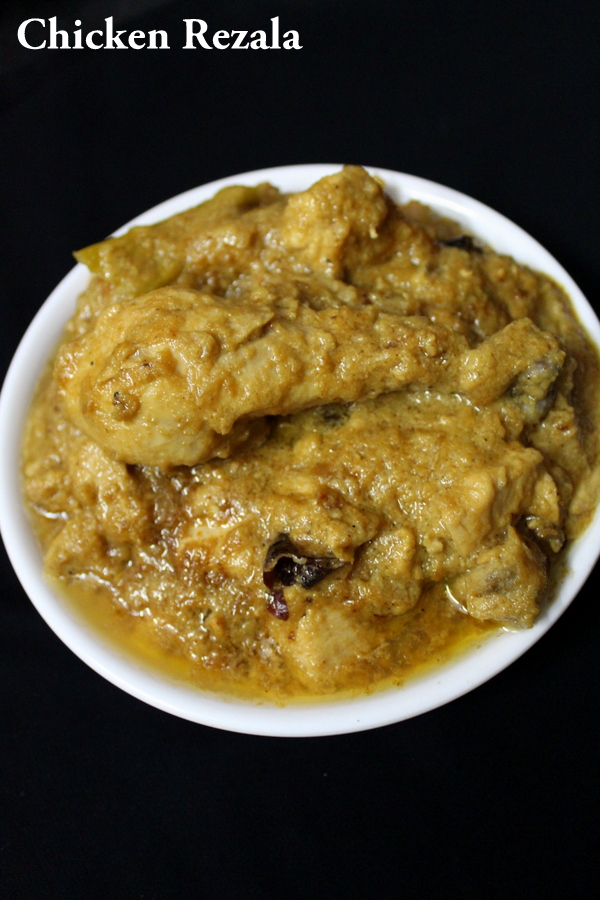 "Rezala" is nothing but regal which defines the dish as very Mughlai and rich and something eaten by the Mughals during that era.
It is usually a Mughlai cuisine made by using rich spices and here we do not use any red chilli powder. We only use green chillies to get the spice flavor and the gravy turns out white by using kaju, khus khus, curd etc...
Murgh rezala does take few steps and directions that should be followed carefully to get a perfect outcome and here in the recipe I have shared every step by step detail carefully.
Chicken can be made in various forms of curries in different regions and this is a very special and restaurant kind of gravy which takes almost all the rich ingredients and to add an aromatic flavor, fried onions too are added which makes the gravy quite rich.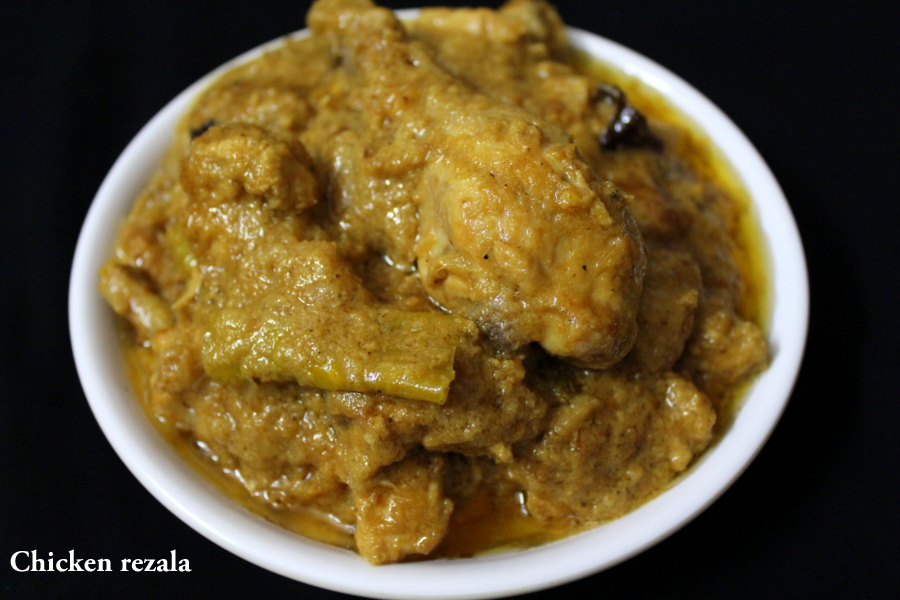 My blog has already various kinds of chicken recipes and shall be adding many more recipes which are not only curries but various chicken snacks recipes, chicken main course recipes and many more.
Step by step procedure to make chicken rezala recipe
Firstly boil the masala ingredients separately and then blend all the ingredients into a fine paste.
Also make sure the onions are fried well.
Make sure the masala paste and the fried onions are kept ready.
The rest of the chicken making procedure is just easy if the above things are handy and kept readily available.
The most important part of the dish is the gravy is basically white and here we do not add any red color ingredients and mostly all white ingredients go into this curry like poppy seeds, yogurt etc...
The spice flavor comes out by adding whole red chillies and green chillies and the fried onions give a sort of creamy white texture to the gravy.
I would suggest my blog readers to do try this variety chicken recipe since it is a very rich kind of chicken gravy that can be served with roti or steamed rice.
I made and tried this recipe for the first time and believe me it has turned out amazing and worth the try with all my efforts and it turned out perfectly the very first time and would love to make the dish again and again.
It goes well with any pulao be it plain pulao or bagara rice or any flavorful rice which can make a good combination for several occasions or during Eid or festivals.
I have written detailed steps on how to make murgh rezala and do leave us your queries regarding the recipe below in the comment box and I shall try to update a video procedure too for this recipe as I update my blog with videos.
Do not worry as every step has been written carefully on how to make the recipe and if one finds any doubt in the recipe procedure please leave your comments below and leave us your queries for us to answer.
Recipe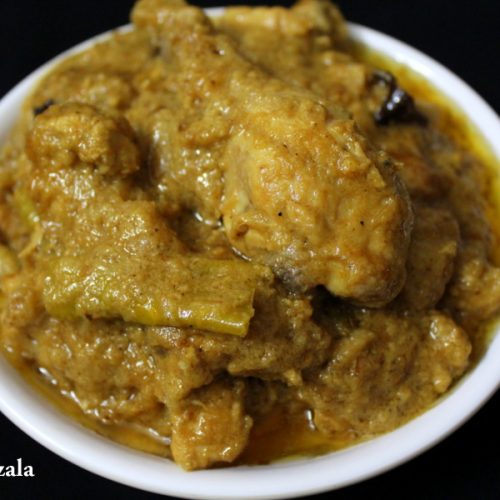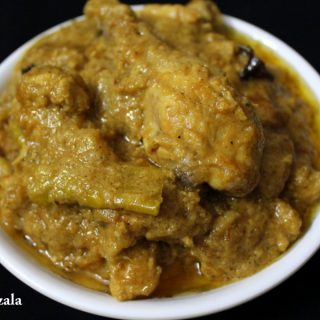 chicken rezala recipe, murgh rezala
A bengali style of making chicken curry commonly called as chicken rezala.
Ingredients
For frying onions:
oil for frying

3

medium size onions finely sliced

(to golden fry)
For masala paste:
2

onions

cashewnuts/ kaju - 8

poppy seeds/ khus khus - 1 tbsp
To make chicken rezala:
500

gms chicken pieces cleaned and washed well

3

tablespoon

oil

whole garam masala

(3 cloves, 2 cardamoms, 1 medium size cinnamon stick, 1 bay leaf, 2 whole dried red chillies)

1

tablespoon

ginger garlic paste

4-5

slit green chillies

salt to taste

1

cup

yogurt/curd beaten well without lumps

blended masala paste

(paste of boiled onions, kaju, khus khus)

½

cup

golden fried onions

½

teaspoon

kali mirch powder

(black pepper powder)

½

teaspoon

white pepper powder

½

teaspoon

roasted coriander powder
To give tadka:
1

tablespoon

oil

1

onion cut into cubes/rings

2

whole dried red chillies
Instructions
Step 1( Making of masala paste):
Firstly, take a vessel and boil 2 onions for few minutes, switch off the flame and rest them aside.

Boil 8-9 cashew nuts in a separate vessel for 10 minutes and keep them aside.

Boil 1 tablespoon poppy seeds or khus khus in little water for 10 minutes and keep them aside.

Now in a blending jar, add boiled cashew nuts, boiled poppy seeds, add very little water and blend all the masala into a fine paste.

Now add the boiled onions into the jar and make a fine paste of all the ingredients.
Step 2 (Frying of onions):
Take a non stick pan, add oil and heat it.

Add the 3 sliced onions into the oil.

Fry the onions until they turn slight golden color.

Take the fried onions out and rest them aside.

Let the onions cool and crush them well.
Step 3(Making of chicken rezala):
In a vessel, add 3 tablespoon oil and heat it.

Add whole garam masala such as 3 cloves, 2 cardamoms, 1 medium size cinnamon stick, 1 bay leaf, 2 whole dried red chillies.

Add 1 tablespoon ginger garlic paste, saute them for few minutes on low flame, be careful.

Add chicken pieces, salt as per taste and roast them for few minutes until color of the chicken changes.

Add 4-5 slit green chillies.

Add the beaten yogurt into the chicken and mix well.

Cook for 10 minutes.

Add the masala paste (paste of boiled onions, boiled kaju and boiled khus khus).

Mix well and cook for 10-15 minutes on low flame by covering the lid.

Add the crushed brown onions and mix them well.

Add black pepper powder, add white pepper powder, add roasted coriander powder, adjust salt if required and mix well.

Cook the chicken rezala for 10 minutes on low flame or until chicken gets tenderized.

Cook well and cook until oil starts floating.
Step 4(Give the tadka):
Take a tadka pan, add a tablespoon oil and heat it.

Add onion rings/cubes into the oil.

Add the dried red chillies, saute well.

Add the tadka into the chicken rezala.
Step 5:
Switch off the flame and serve the chicken with rice, roti or paratha.
Notes
At the end of the cooking process one can add 2-3 soaked saffron strands (saffron soaked in 1 or 2 tablespoon of milk)  into the curry for more mughlai flavors else one can skip this step and yet enjoy the current flavors.
Nutrition
Nutrition Facts
chicken rezala recipe, murgh rezala
Amount Per Serving
Calories 600
* Percent Daily Values are based on a 2000 calorie diet.