Coriander powder or dhania powder, a basic Indian spice used in every recipe as a dry spice to make the curries or dishes delicious and yum. Also, check out other homemade spices and paste on the blog such as cumin powder, ginger garlic paste etc...
These freshly home made spices are used to make many vegetarian indian recipes such as baingan masala, gutti vankaya, bagara baingan etc...
This Indian dry spice is the most commonly used spice in every Indian kitchen and it gives aromatic flavors to every curry recipe added.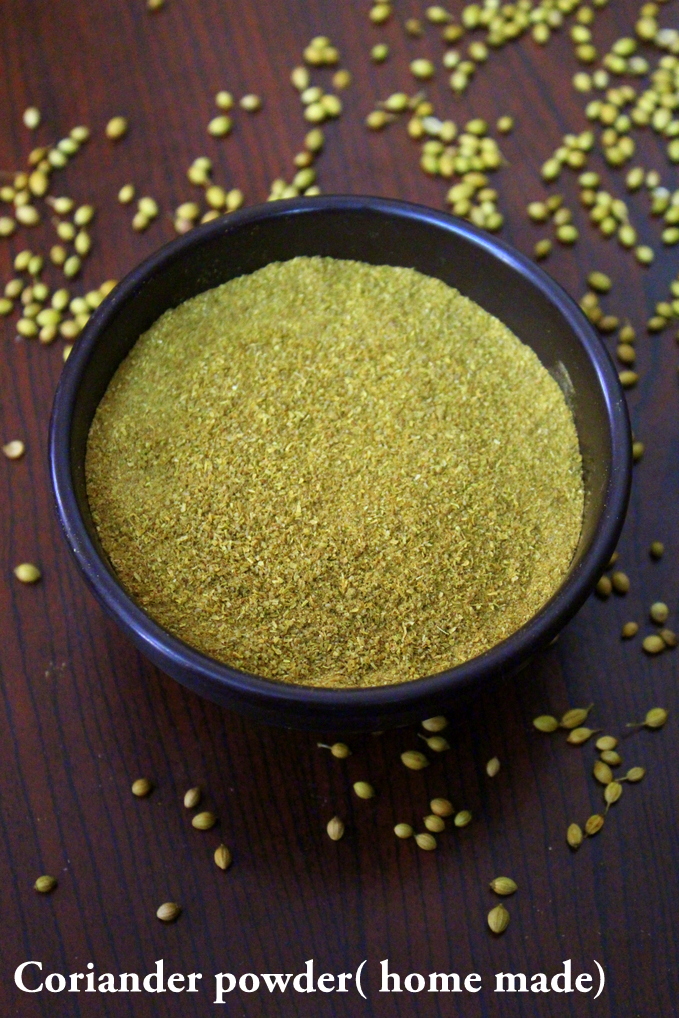 This spice is added in most of the vegetarian dishes and non vegetarian dishes as well. I am sure we all are familiar with this basic Indian spice.
Coriander powder is made by dry roasting the coriander seeds and the coriander seeds are useful in many ways.
How to grow coriander leaves at home:
Take few coriander seeds available at home, take a pot or we can even grow them on a fertile land. Just dig out some soil and spread the coriander seeds all over and then cover the seeds with the soil.
Sprinkle some water and make sure the area is moist. If planted in pots, then make sure to sprinkle water into the pot and keep it moist.
Make sure it gets sufficient sun. After few days it starts germinating and then it slowly develops into small and tiny herbs. The leaves appear to be fresh and they take around 20 to 25 days for the coriander leaves to appear fully and are ready to be used.
The plants again give out seeds and these seeds are powdered to be used as dhaniya powder at home.
The seeds appear slight brown in color and the leaves of coriander are green in color.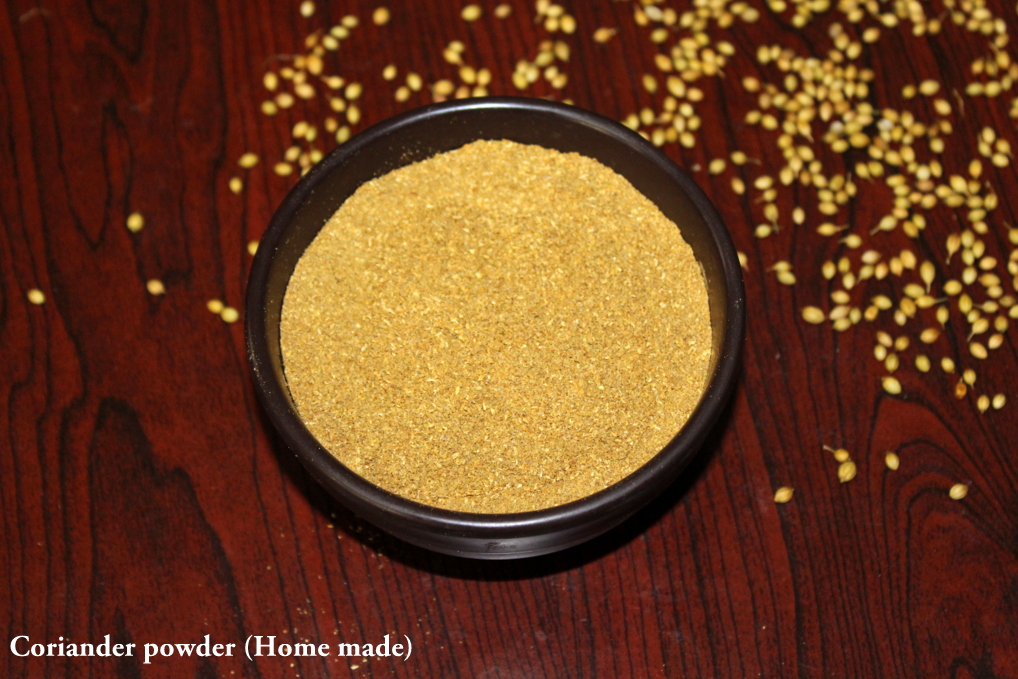 How to make coriander powder from coriander seeds:
It is very simple to make this powder and the powder is made by dry roasting the seeds, cooling the seeds and blending them into a fine powder.
This powder is ready to be used in all the curries made.
Uses or benefits of coriander powder:
It is mostly used in curries because it helps in curing any stomach upset problems and it also treats all our tummy related problems like bloating, diarrhea etc...
It reduces cholesterol levels, also lowers blood pressure levels.
It also regulates menstrual cycle, nausea, stomach and most of the eye problems and allergies...
Which powder is better homemade or store bought?
I usually make all the spices such as garam masala, cumin powder, coriander powder at home as these are fresh and give lots of fragrance compared to the store bought one's.
I have used the store bought spices a lot many times and the taste varies a lot and the curries do not give out a good taste as compared to the home made spices.
I also make ginger garlic paste at home and never uses spices which are bought from markets.
I suggest everyone to make dhaniya powder at home as this is the best way to use in curries or in stir fry recipes since it has fresh aromatic flavors.
How to store the powder made at home:
1.After making the powder, store it in an air tight container and it can last upto many months if used regularly.
2. I suggest to make at least 250 gms of dhaniya seeds once in a while, powder them and store and not use more than that quantity because the powder loses its aroma if stored for long.
3. Long storage of the powder loses the aroma and also spoils the powder and is not suitable to be used in curries.
It is better to make the coriander powder in small quantities to sustain the aroma, fragrance and freshness.
All the above experiences are totally mine since I usually make the powder at home and use them in every dish I make.
It is not difficult to make and it can be made in just a couple of minutes.
Do share your thoughts on it and also please make sure to follow the directions as mentioned below to make the recipe.
How to make coriander powder or dhania powder at home:
Recipe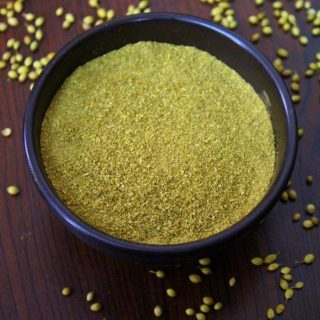 coriander powder | dhaniya powder
A simple coriander powder, an Indian spice made at home.
Ingredients
250

gms coriander seeds/dhania seeds

wok to roast the seeds
Instructions
How to buy the seeds:
Buy the coriander seeds from a good store and of a good brand. Make sure it has no stones and try to hand pick if any stones are spotted.
Dry roasting:
Take a non stick pan, heat it.

Add the dhania seeds and dry roast them for few minutes on low flame.

Keep stirring while roasting and do not dry roast on high flame.

When the seeds are roasted well, a pleasant and aromatic fragrance comes out and that is when we come to know the seeds are dry roasted well.

It takes about 4-5 minutes if we roast them on a very low flame for them to dry roast well.

Once they are done, immediately switch off the flame.

Allow the seeds to cool down.

Take a blending jar, add the dry roasted seeds into the jar, blend them very finely.

Take an air tight container.

Make sure the container is totally dry and not even moist.

Transfer the coriander seeds powder into an air tight container.

Close the lid.

Store them in your kitchen shelves.

It is ready to be used in all the curries or gravies.
Notes
1. Always make the powder at home after roasting.
2. Never make the powder without dry roasting as it tastes very raw and not suitable to be added in curries.
3. No need of adding any preservatives and it lasts longer since we have dry roasted it and blended.
Nutrition
Nutrition Facts
coriander powder | dhaniya powder
Amount Per Serving
Calories 200
* Percent Daily Values are based on a 2000 calorie diet.