Andhra fish fry recipe is a simple, easy and yet flavorful shallow fried seafood recipe with fish made by adding basic dry spices and this fried fish can be used as a starter. There are several different ways to make fish fry and also fish recipes and today in this post I am sharing the Andhra version of the fish fry recipe which is usually followed all over South India.
Other fish related recipes are fish curry, fish pulusu...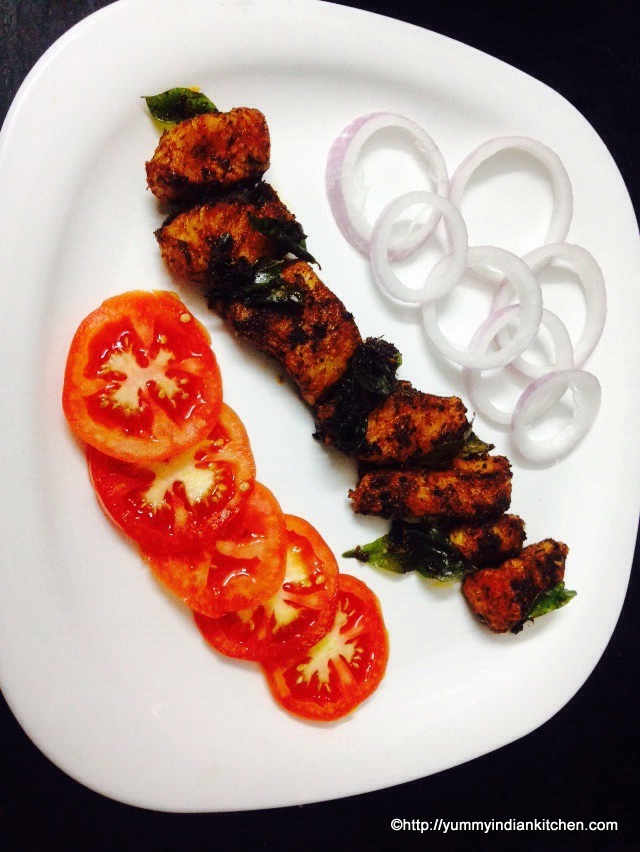 Fish curries, Fish fries, steamed fish etc are made using fish. In every different region fish is made differently. Different fish species give a different taste. Coastal cuisine is incomplete without fish recipes.
We all are very familiar with all the benefits that a fish has and below I would like to list down quickly some of the benefits that a fish gives when included in our daily diet...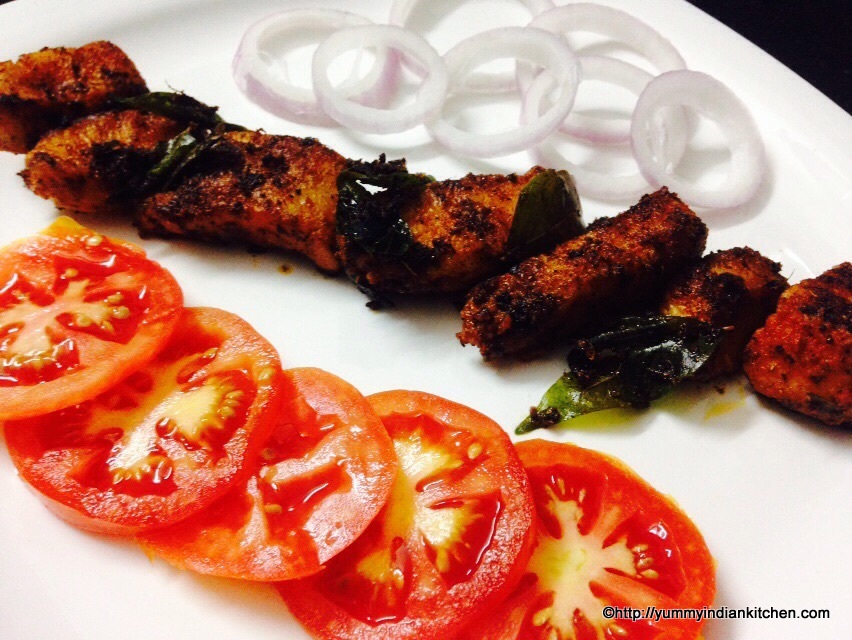 Benefits of eating fish:
1.Selecting a good fish type is essential for us.
2.Fishes are of of different types and among them Salmon, Mackerel and Tuna are mostly preferred one's.
3.Fish is a rich source of Vitamin - A and this vitamin is very helpful for a good vision and eyesight.
4.Eating fish in your diet reduces the risk of heart related diseases.
5.Fish is very good for hair and skin as most of us are familiar with this benefit.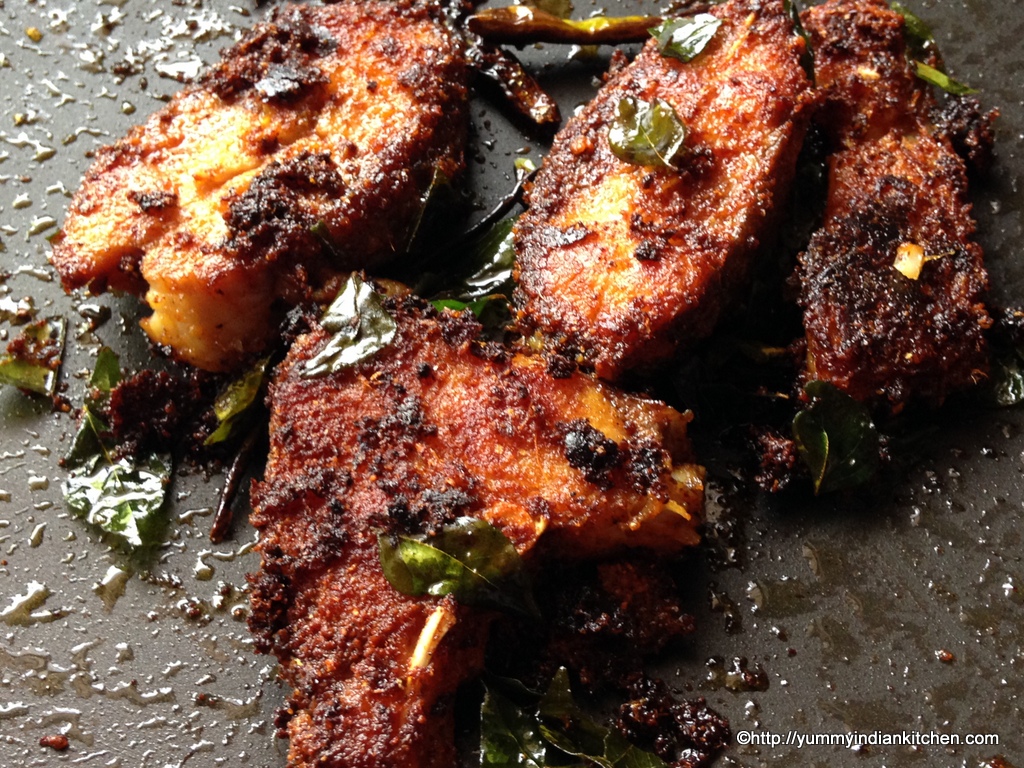 These are only few heath benefits but, fish has got lots of benefits and having them regularly during rainy or winters work wonders for our body...
This easy Indian fish fry recipe is made using common dry spices and marinated for a while and one can opt to deep fry or shallow fry the recipe.
Fish recipes are common in South india. Fish fry can be done by either shallow frying or deep frying and the same procedure is followed in hyderabad as well...
Making fish fries do not take a long time and are the quickest in making compared to other non veg curries.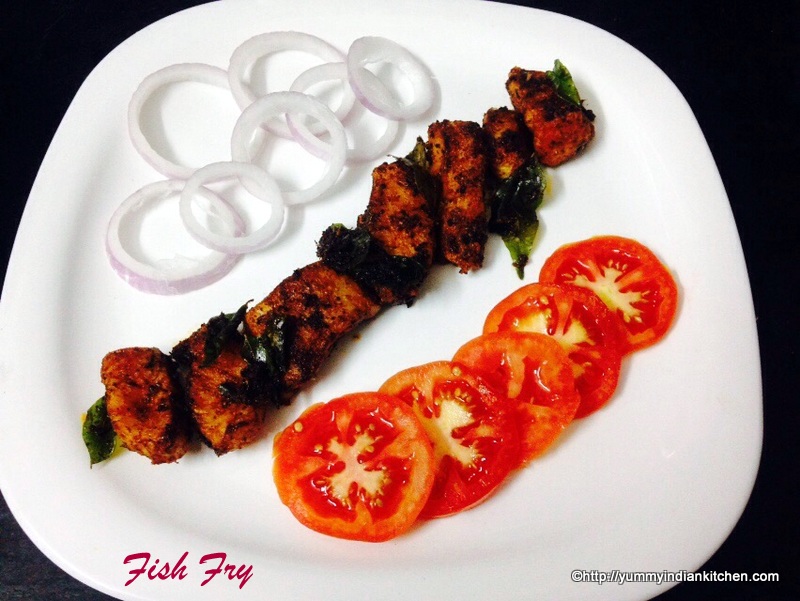 Before stepping forward it is very important to clean the fish properly....
How to wash fish:
1.When we get store bought fish home, there is more one can do to get rid of the raw smell.
2.Firstly, wash the fish pieces and rinse every piece well with water to clean and remove all the unwanted remains over the fish.
3.Apply salt and turmeric powder to all the fish pieces and rest aside for a while(about 5-10 minutes).
4.Wash the fish pieces well with water.
5.Use lemon juice or vinegar on all the fish pieces and rest it for a while and then wash them with water, doing this helps in removing the unwanted smell/odour from the fish.
Let's look into making this amazingly looking Easy South Indian Fish Fry Recipe:
Recipe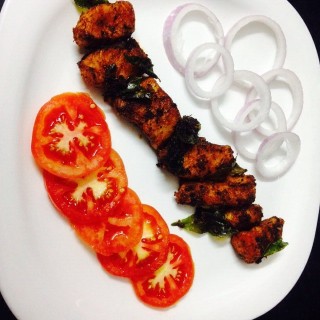 Fish Fry Recipe Andhra Style(chepala vepudu), South Indian Fish Fry
A quick and easy fish fry commonly done method all across south india and a perfect starter...
Ingredients
750

gms of fish/1 kg boneless fish pieces cut into medium size

2-3

tablespoon

ginger garlic paste

salt to taste

2-3

tablespoon

red chilli powder

1

teaspoon

turmeric powder

2-3

tablespoon

roasted coriander seeds powder

oil

for shallow frying

8-10

curry leaves

7-8

vertically slit green chillies

2

tablespoon

lemon juice
Instructions
Firstly, wash the fish with salt and turmeric powder and water to get rid of the smell that comes from the fish.

Add ginger garlic paste to the fish.

Add salt, red chilli powder, turmeric powder, coriander powder and mix well.

Every fish piece should be mixed well with the masalas.

Marinate the fish mixture by refrigerating it well for about 15-20 minutes so that the masala gets absorbed well into the fish.

Add 2-3 tablespoon of oil in a pan and heat it, add 3-4 fish pieces and shallow fry each side for about 6-7 minutes on low flame until fish is fried well on both the sides.

Also add some curry leaves and slit green chillies onto them while frying.

Take fish pieces out from the pan and spread it on an absorbent paper.

Continue frying the rest of the pieces in the similar manner.

Garnish the fish with onions and sprinkle some lemon juice all over.

Serve hot.
Notes
1.In this recipe I have shallow fried the fish pieces but the same fish pieces can also be deep fried...
2.Fry the fish pieces on low to medium flame whether they are deep fried or shallow fried.
3.Fry for a longer time if it is shallow fried i.e for about 5-6 minutes on each side until both sides are cooked well and coated well with the masala.
4.Additional spices like garam masala powder too can be added while marinating the fish.
Nutrition
Nutrition Facts
Fish Fry Recipe Andhra Style(chepala vepudu), South Indian Fish Fry
Amount Per Serving
Calories 400
* Percent Daily Values are based on a 2000 calorie diet.
Watch the video procedure below: