Mango Pachadi Recipe is an authentic Andhra style mamidikaya pachadi made with raw mango. This is a kind of an instant pachadi that can be eaten with hot rice and ghee. It is accompanied by a mamidikaya chutney along with Indian dal recipes... To make this pachadi one needs to select tangy raw green mangoes.
Related mango recipes:
Availability of mangoes:
Mangoes are available in India in plenty in the month of Summer and there are thousands of varieties of mangoes usually found in different fields across India. We find sour mangoes to sweet mangoes and every Indian almost goes crazy for mangoes during Summers.
The different varieties of mangoes that are available are alphonso, daseri, totapari, benishan/banaganapally to name a few but the list goes on... We get every size of mango in this season and mango lovers just can't stay away from mangoes during the mango season.
Use of mangoes:
The mangoes in India are used in several ways. They are made into pickles so that mangoes can be consumed even though the season is gone. There are also used to make ice creams, juice recipes, added in milkshakes and also many chutney varieties are made with them.
Benefits of eating mangoes:
Mangoes are pretty much good source of Vitamins and mainly it has Vitamin A and B. It is a good way to have ripe mangoes which helps in improving vision and also boosts our haemoglobin levels.
Care taken after buying mangoes:
When buying mangoes one should not buy too ripe mangoes as they tend to rot quickly due to hugh room temperatures in Summer. Buy a hard ripe mango which can sustain to the room temperatures and can remain fresh for 2-3 days if let open to the rooom temperature.
If the mangoes are too raw and sour then use them for making pickle or they can be kept warm by covering with a newspaper and let them sit to ripe for 2-3 days. They turn into juicy mangoes which can then be used to make aam ras or any other mango recipe.
To make mango chutneys:
Always make sure to use sour mangoes to make either pickles or chutneys and never use ripe mangoes in pickles or pachadi recipes.
Summers naturally bring in the craze for mangoes and mango season is incomplete without pickles and chutneys or pachadi. Whenever mango season arrives we make this instant pachadi to eat with steamed rice...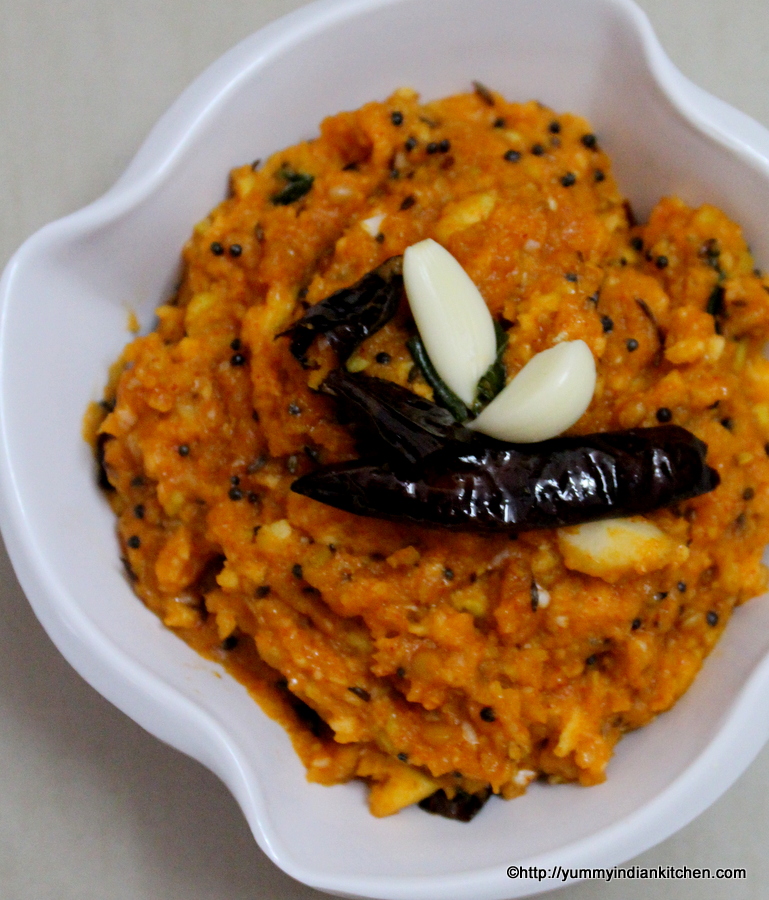 Sweet mangoes do not work out well for this mango pachadi. Selecting tangy mangoes and chopping them into fine pieces or blending them gives us a delicious chutney and this is a kind of instant mango pachadi where I have not used any coconut.
Raw mango chutney with coconut variation is another version of making mango chutney recipes...
I have made this recipe with few ingredients and yet it tastes delicious as this pachadi needs to be tempered and tempering brings out all the hidden flavors of the blended raw mango.
This mango pachadi definitely is a spicy one as we need to add lots of red chilli powder which actually gives out a yummy taste to the mangoes.
Andhra region is famous for various pachadi recipes and every pachadi recipe is popular through out south india. Pachadi recipes are made with mangoes, brinjals, cucumber, green leafy vegetables...
Meal platters are incomplete without vegetable pachadi or chutneys and papad, pickles and I would like to share and update all the regional andhra cuisine as I keep updating my blog.
Some pachadi recipes are good to be eaten along with roti/chapati and some taste good with rice and some taste delicious with dosa varieties...
The mango pachadi has to be tangy and spicy and this is a must recipe in every household in andhra region in summers...
Below are the recipe details on how to make mango pachadi or mamidikaya pachadi recipe...
Video
Recipe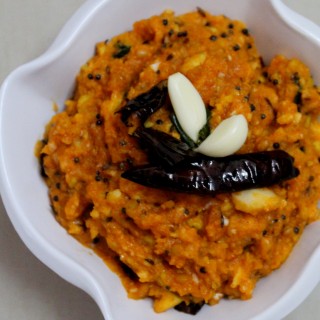 Mango Pachadi Recipe, Mamidikaya Pachadi
An instant pachadi recipe or chutney made using raw green tangy mangoes by blending them into a paste and giving an aromatic tempering...
Ingredients
To blend mangoes:
3

medium size raw mangoes

1

teaspoon

full red chilli powder

salt - to taste

12-15

garlic cloves
To give the tempering:
3

tablespoon

oil

½

teaspoon

cumin seeds

½

teaspoon

mustard seeds

½

teaspoon

chana dal/bengal gram

½

teaspoon

split black gram/urad dal

6-7

dried red chillies

7-8

curry leaves
Instructions
Blend the mangoes:
Firstly, peel the raw mangoes and make slices of the raw mangoes and chop them.

Take a blender, add raw mango pieces into it, add salt as per taste, red chilli powder and garlic cloves into it.

Blend all the ingredients into a coarse paste.
Give the tempering for the blended chutney:
Take a wok, add oil and heat it.

Into it, add mustard seeds and cumin seeds and allow them to pop up.

Add urad dal and chana dal and stir for few seconds.

Add dried red chillies and mix well.

Add curry leaves and let them crackle.

Add the blended chutney, mix well and cook for 4-5 minutes on low flame while stirring in between.

Serve yummy instant mango pachadi with steamed rice.
Notes
1.Making coarse paste or just keeping small pieces of the raw mangoes brings out more flavors into the chutney.
Nutrition
Nutrition Facts
Mango Pachadi Recipe, Mamidikaya Pachadi
Amount Per Serving
Calories 220
* Percent Daily Values are based on a 2000 calorie diet.
Do leave us your queries, comments and feedback on this recipe and do not forget to follow us on all our social media handles and never miss any update...